16 Best Products For 2B Hair In 2023
Give these products a whirl to make your hair look wavy, voluminous, and healthy.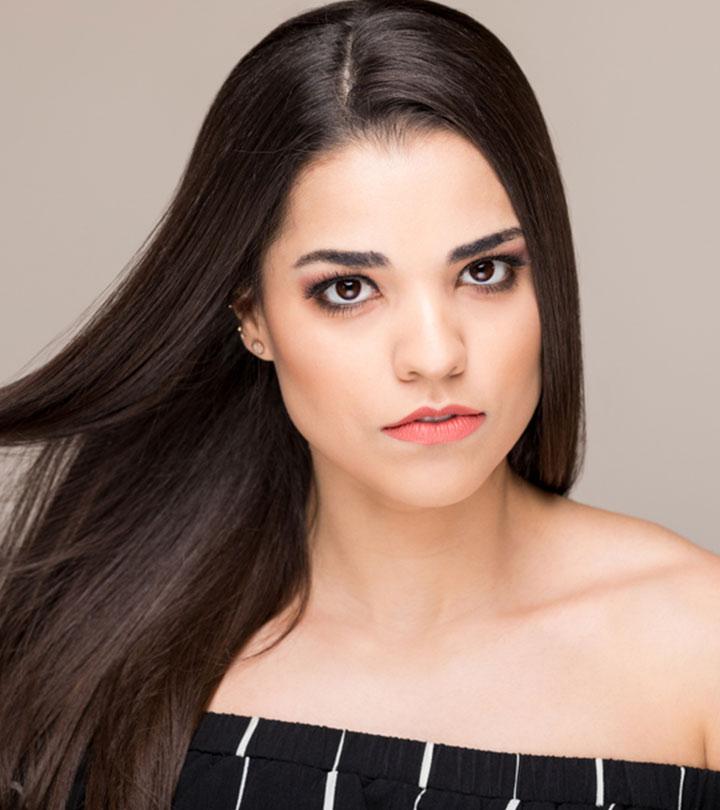 Finding the best products for 2B hair is quite the challenge. Maintaining 2B hair is not as easy as it seems because the strands are straight from the roots but start to curl at the tips. This hair type does not do well in humid conditions. Although other people would pay to achieve the finished look of 2B hair, in reality, this hair type can behave unpredictably.
Licensed cosmetologist and hair expert Laura Dale further adds, "2B hair tends to be dry and frizzy so it is super important to use the right products to hydrate and enhance those ringlets and curls."
If you have been looking for products that help maintain hair health without getting them frizzy and dry, we have a compilation with everything you could ever ask for. Go through our list of 11 specially curated products that help you keep your natural 2B hair picture perfect always.
The 16 Best Products For 2B Hair in 2023
If you want to enhance your natural curl pattern and style your hair without any frizz or damage, the Coconut Curls Air-Dry Cream is the right choice for you. It will offer a natural shine and bounce to your hair. Especially, if you are struggling to battle frizz and want tight and smooth curls, apply this air-drying cream whenever you want to style your hair for a special occasion or an everyday look. The cream is enriched with the goodness of coconut oil and shea butter that hydrate and nourish the dry scalp and reduce frizz. Give this hair care product for 2b waves a try, and bring your good hair day to life! Ready to ride the wave lock journey to flawless curls? If you want to know more about how OGX Locking+Coconut Curls Air Dry Cream works and learn about the tester's experience, do check out this YouTube video.
Pros
Hydrates dry scalp
Enriched with coconut oil and shea butter
Prevents breakage and frizz while styling
Offers shine and natural bounce
Has a refreshing scent
Not tested on animals
Cons
Feels heavy and greasy on thin hair
The Color Wow Dream Coat for Curly Hair is the ultimate game-changer in achieving frizz-free, defined curls. This innovative formula provides long-lasting humidity protection that keeps your curls intact even in the most challenging weather conditions. The weightless, non-greasy spray does not weigh down your curls, allowing them to move naturally with a soft and touchable feel. This breakthrough formula creates a hydrophobic shield around each curl, repelling moisture and preventing frizz from ruining your style. Say goodbye to frizz and hello to smooth, shiny and bouncy curls that last for days. Check out this video to understand how this product works and know about the reviewer's experience.
Pros
Unscented
Lightweight
Adds shine
Non-greasy
Sulfate-free
Paraben-free
Gluten-free
Alcohol-free
No animal testing involved
Cons
 Applicator may not work well for thicker hair
One of the common problems for women with 2B hair is hair tangling and knotting. If your hair often looks like dreadlocks, you can use this coconut and hibiscus styling milk to de-tangle your hair. This styling milk gently removes knots and leaves you with loose and bouncy hair. The milk is loaded with the nourishment of shea butter, hibiscus, and coconut to repair your damaged and unmanageable hair. This styling product for 2b hair will reduce damage, soften it, and will also give definition to your wavy hair. Use the right hairbrush, maybe one with anti-static pin bristles for easy detangling. If you need further convincing on how Shea Moisture Coconut & Hibiscus Curl & Style Milk works to detangle curly hair, check out this YouTuber's review.
Pros
Great for detangling hair
Nourishing milk prevents frizz and damage during styling
Offers a silky smooth texture to hair
It has a mild scent
No test on animals was conducted
Cons
Consistency of the product is extremely thick
If you love styling your hair but are worried about damage, you should give this styling hair gel a try! This styling gel is formulated for curly and wavy hair and features a non-sticky and flaky formula that holds the hair in place without causing damage to the roots. This frizz-control product revitalizes hair strands and is excellent for pulling off a variety of hairstyles. It will rinse out quickly with a little shampoo. So if you are looking for a premium-grade styling gel that can style your hair without causing any damage, this is the gel to choose. In this YouTube video, you will find a detailed review of the Schwarzkopf Got2B Glued Invincible Styling Hair Gel.
Pros
Offers great hold
Features a non-sticky and no-flake formula
Easily comes off with a shampoo and conditioner
Great for extremely curly or frizzy hair
Cons
Hair might feel stiff
Not for daily use
The Curlsmith Bouncy Strength Volume Spray is the ideal product to add volume spray and hold your layering style without fail. This protein-enriched formula gives immense volume at the roots and the perfect definition to the layers. The foam is enriched with the plant-based unique complex of rice protein and hemp seeds. This combination acts best in holding the hair stronger without losing its elasticity. This weightless product effectively gives a lustrous coating without weighing the hair down. This protein-rich product for 2b waves is perfect for dull, damaged, and porous hair. Also, this product has received positive reviews for its ability to enhance hair texture without making it crunchy.
Pros
Sulfates-free
Siliconefree
Minerals-free
Phthalates-free
Cruelty-free
100% vegan
Cons
If you think that wearing your natural hair is cool but the frizz will not let you do it, this clinically-proven reparative leave-in conditioner will do miracles to your hair. Some products work effortlessly on curly hair, and this leave-in conditioner is the one that will improve the texture of your natural hair and will give you the confidence to wear it natural! This leave-in conditioner for 2B hair is formulated with nourishing ingredients: grapeseed oil, coconut oil, blueberry extracts, and mango butter to restore hydration and condition natural curls, making it one of the best moisturizing products for 2b waves.
Pros
Prevents damage and restores the texture of dry or frizzy hair
Enriched with organic ingredients
Great for curly, wavy, and frizzy hair types
Easily absorbed
Has a refreshing scent
Cons
May tangle your hair if you don't wash the hair for long
Get fresh hair and extended hairstyles with the dermatologist-tested DevaCurl DevaFresh Scalp & Hair Revitalizer. The lightweight product for 2b waves offers an instant cooling sensation and a boost of moisture and frizz control. This revitalizer offers a refreshing natural scent for 48-hour odor control. It boosts volume and definition in dry and medium coarse curls, coils, and waves. This amazing product also adds incredible shine and softness to your curls, making them healthy and bouncy.
Pros
Natural fragrance
50% recycled packaging
Alcohol-free
Paraben-free
Silicone-free
Gluten-free
Phthalate-free
SLS-free
SLES-free
Dermatologist-developed
Cruelty-free
Cons
None
The Urtheone Detangling Hair Brush is suitable for a variety of curls, coils, and kinky hair. The smooth, long bristles with 'hollowing out' design help dry the hair quickly. This brush is suitable for scalp massage and improves blood circulation. It features an adjustable design, a removable control bar, and a flexible brush head that easily detangles African-American hair. The ergonomic handle with a non-slip grip helps reduce arm fatigue.
Pros
Suitable for all curl types
8 rows of combing teeth
Lightweight
Soft handle
Cons
Give your curly hair protection from humidity with this natural Papaya Neroli Milk Gel from Shea Moisture. It will not only give you frizz-free curls but also keep your hair moisturized and shiny. It contains papaya, neroli, elderflower, and shea butter that work together to lock in moisture and control frizz, giving you natural-looking, well-defined curls. The shea butter in this natural product for 2b hair provides intense hydration to your thirsty curls without making them greasy. The gel can be used on dry or wet hair to hold your curls for a long-lasting, stylish look. Say goodbye to messy and wild hair!
Pros
Lightweight
Does not weigh down hair
Paraben-free
Color-safe
All day frizz control
Cruelty-free
Cons
If you want to make your curls or wavy hair look super shiny and bouncy, leave it to this super shine hair silk serum. This shea butter enriched fluid comes with a fresh formula that hydrates the scalp and offers touchable hold and bouncy hair without feeling crunchy. Formulated with nourishing ingredients, It fights frizz and delivers long-lasting hydration for revived and moisturized curls. This gel product for 2b waves works miracles on color-treated, permed, or textured hair too. Apart from this, the fluid feels weightless and super soft on the strands, so you'll end up getting bouncy, beautiful waves and shinier curls!
Pros
Smoothing and nourishing fluid
Lightweight and non-sticky formula
Makes hair feel bouncy and soft
Prevents build-up and locks styles
No animal testing involved
Cons
Works only for a short time
The Philip Kingsley Elasticizer Extreme Deep-Conditioning Hair Mask is a nourishing pre-shampoo treatment that gives hair immediate hydration and nourishment while offering advanced frizz protection. The nourishing ingredients in this formula protects your hair from looking frizzy and dull. It enhances hair's elasticity, bounce, and shine and is clinically proven to reduce breakage after just one wash. In addition, this curl-enhancing product for 2b waves contains castor and olive oil with glycerine, which helps your hair get an intense shine quickly. This creamy conditioner, which acts a hair mask for 2B hair, even helps reduce frizz and makes hair more manageable and easier to style.
Pros
Cruelty-free
Sulfate-free
Paraben-free
Alcohol-free
Cons
None
Light hold and soft curls are every curly girl's dream. This soft styling balm from Curlsmith helps you achieve just that. It is enriched with rosemary oil, apricot kernel oil, olives, and avocado that give you ultra-soft, bouncy curls with a lightweight hold. This curl cream for 2B hair also controls frizz and adds shine, making your curls look natural and absolutely gorgeous. Thus, this is one of the best shine-enhancing products for 2b waves.
Pros
Lightweight
Does not leave residue
Does not leave hair crunchy
Non-greasy
Sulfate-free
Paraben-free
Silicone-free
Mineral oil-free
Phthalate-free
Cruelty-free
Vegan
Cons
The Not Your Mother's Curl Talk Frizz Control Sculpting Gel is specially crafted for curly hair, providing all-day frizz control and hold without any stiffness or crunch. It effortlessly enhances your curls' natural shape and adds a healthy dose of shine for a stunning, polished look. This gel is enriched with key ingredients that hydrate and strengthen your hair, ensuring that your curls stay healthy and vibrant. It's the ideal styling partner to achieve the flake-free bouncy curls you've always dreamed of.
Pros
Flexible hold
Flake-free
Unscented
Frizz control
Nourishes the hair
Silicone-free
Alcohol-free
Gluten-free
Dye-free
Not tested on animals
Cons
May feel greasy and heavy
The Carol's Daughter Goddess Strength Leave In Conditioner Cream is the ultimate nourishing treatment for resilient and beautiful locks. This luxurious formula is enriched with powerful ingredients like castor oil, black seed oil, and botanicals that fortify your hair from root to tip. It strengthens and repairs weak strands, reduces breakage and promotes healthier, more luscious hair. This hair-strengthening cream provides intense hydration without weighing down your hair, leaving it soft, manageable, and full of shine. It's the perfect product for reviving damaged and stressed hair.
Pros
Hair detangler
Strengthens the hair
Adds shine
Paraben-free
Mineral oil-free
Artificial colors-free
Petrolatum-free
Vegan
Cons
Scent may be overwhelming for some
The LUS Brands Love Ur Curls All-in-One Styler is the ultimate solution to enhance, define, and nourish your beautiful curls. Its versatile formula combines the power of a leave-in conditioner, curl enhancer, and styling gel in one bottle. It tames frizz, adds volume, and promotes the natural texture of your curl formation without any sticky or crunchy residue.
It is enriched with antioxidant-rich, nourishing shea butter and vitamin-rich moringa oil. These work together to lend intense moisturization to the hair strands. The non-greasy formulation leaves hair soft, manageable, and bouncy all day long. It's a true game-changer for curly hair enthusiasts looking to achieve effortless and stunning curls.
Pros
Hypoallergenic
Suitable for sensitive skin
Versatile
Gluten-free
Vegan
Cruelty-free
Dermatologist-tested
Cons
The MopTop Curly Hair Custard Gel is perfect for achieving soft, frizz-free, and bouncy curls. This unique formula for dry hair provides deep hydration while managing your wavy locks. It is enriched with nourishing ingredients like aloe, sea botanicals, and honey that hydrate and condition your curls, leaving them smooth and full of shine. It helps in providing long-lasting hold without any heaviness or crunch, enhancing your curls' natural shape. This frizz-control hydrating gel is easy to use and is free of any harmful chemicals. It can be your ideal styling partner for achieving salon-worthy results at home.
Pros
Long-lasting
Adds shine
Lightweight
Non-greasy
Ideal for wavy, curly, and coily hair
A little goes a long way
Paraben-free
Sulfate-free
Silicone-free
Phthalate-free
Cons
*The prices provided in this article are based on the latest available information. However, they may vary due to changes in pricing by the seller and/or promotional offers.
To add bounce and definition to your curls, you must choose the right products that enhance and keep your locks hydrated, instead of weighing it down. To help you out we've put together a few features to consider when choosing some of the common products for 2B hair.
How To Choose The Best Products For 2B Hair
1. Formulation
Always opt for a product with lightweight, moisturizing ingredients, which do not wear down your hair and change its appearance. Instead of deep conditioners, go for leave-in gels or serums that keep your hair frizz-free and bouncy.
2. Ingredients To Avoid
Sulfates are cleansing and lathering agents that can easily damage your strands, and leave your hair prone to frizz. Opt for sulfate-free hair products to keep the frizz to a minimum and improve your hair health. Sulfate-free formulas gently cleanse the scalp without stripping away its natural oils.
3. The Right Tools
Always go for a wide tooth comb instead of a brush to manage your wavy locks as 2B hair gets easily entangled, and brushing your hair can damage it further. A wide tooth comb is gentle on your strands and helps enhance its natural wavy texture.
When choosing a hairdryer for 2B hair, always consider choosing a diffuser instead of a blow dryer. A diffuser adds definition and enhances the natural waves of this hair type. If you want straight hair, refrain from using a flat iron, and instead choose a round brush along with an old-fashioned hair dryer to straighten your hair.
4. Styling Products
2B hair is all about texture. In order to get the perfect beachy wave texture without coarse, brittle, or dry and frizzy strands, get a texturizing sea salt spray. Use gels, serums, curling mousse, and leave-in conditioners that enhance the natural wave pattern. Some of these formulas have sun protection in their formulation, which is perfect for sunny beach days.
Why Trust StyleCraze?
Medha Deb, the author, is a beauty and hair care fanatic. And so, she ensures that her readers receive the highest quality information by using her skills in writing product articles on beauty and hair care. She's produced a list of the best products for 2B hair to help you keep your locks looking great without going to the salon. After studying and comparing customer feedback and user experiences online, she chose these products. This post also offers a description of each product, as well as its benefits and drawbacks, to assist you in selecting the best.
Frequently Asked Questions
How often should I wash 2b hair?
Washing 2b hair once in three days works perfectly well for keeping your hair and scalp clean.
How do I moisturize my 2b hair?
The best way to moisturize 2b hair is by applying a moisturizing hair mask that offers deep-conditioning to prevent frizz and also adds shine, and volume. Look for ingredients such as shea butter, mango butter, argan oil, coconut oil, avocado oil, etc..
Is a leave-in conditioner good for 2b hair?
Yes. Since this type of hair has the tendency to get frizzy, using a leave-in conditioner can help control the texture making it smooth and shiny.
How can I make my 2b hair curlier?
You can use products that are free of sulfates and parabens. Also, look for products that impart enough protein to allow your curls to stay intact without weighing them down. Also, look for moisturizing ingredients like oils and shea butter to nourish your curls.
How can I make my 2b hair look good?
To improve the quality of your 2B hair you can follow the steps given below:
1. Use a sulfate-free shampoo to beat frizz.
2. Add the right type of leave-in product post-wash to maintain the curl pattern .
3. Opt for a wide-toothed comb or brush.
4. Blow dry your hair only with a diffuser.
5. Avoid straightening the hair too much to prevent heat damage,
Recommended Articles