15 Best 4C Hair Products Of 2021 For Soft, Beautifully Defined Curls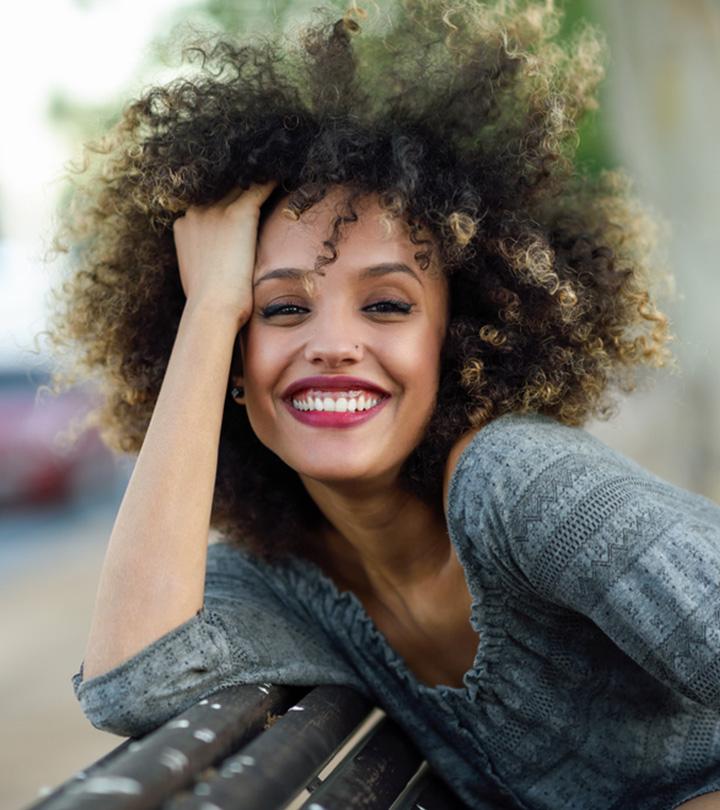 Who doesn't love gorgeous luscious curls? But what many don't realize is the blood, sweat, and tears that go into finding the perfect shampoo, conditioner, moisturizer, mask, and other hair products to ensure you have healthy hair. Ditch those traditional shampoos that are drying your hair and look for a shampoo designed for 4C hair. Anyone with 4C hair will tell you that it takes millions of trial and error experiments to find the products that make your hair happy.
We all want the 4C versatile curls that Lupita Nyong'o rocks so beautifully. She serves serious "red carpet goals" looks from head to toe and pulls off from dramatic to edgy and elegant hairstyles with her natural hair. Honestly, she takes our breath away every time, and there is no shame in being absolutely obsessed with this gorgeous woman. So, do you have strong and healthy curls like hers? Well, like her hairdresser and frankly any top hairstylist would tell you, the way to happy 4C hair is daily moisturization and great hair products. We have put together a list of the 15 best 4C hair products in 2021 that lend you beautiful and defined curls.
15 Best Products For 4C Hair Type In 2021
Say goodbye to unruly curls with Aunt Jackie's Curl La La Defining Curl Custard. This product has mega-moisture humectants that add definition to your spirals and coils. Just apply this product generously and style your hair with your fingers. If you are looking for elongated curls, gently stretch your hair as you apply or use a diffuser instead. Simply air-dry the product, and you will have beautiful curls that you can style any way you like.
Pros
Tames frizzy hair
Long-lasting shine
Adds bounce to curls
Works on dry and wet hair
Cons
Regular conditioners letting you down? This Shea Moisture Jamaican Black Castor Oil Strengthen & Restore Conditioner nourishes and strengthens damaged hair without weighing it down. The castor oil and shea butter detangle and moisturize your hair, reducing breakage and shedding with regular use of this conditioner formulated for 4C hair. Powered with peppermint oil, this formula stimulates your scalp to encourage hair growth.
Pros
Cruelty-free
Silicone-free
No harsh chemicals
Sulfate and paraben-free
Cons
May not dissolve in water easily
Persistent knots stressing out your curls? Well, Knot Today! See what we did there? Unlike our puns, this herbal conditioner works every time. This is exactly what you need if you have a 4C tightly-coiled hair that is difficult to detangle. Just apply right after you rinse off the shampoo and work through your knots with a wide-tooth comb. It smoothens your hair texture and makes it more manageable.
Pros
Removes snarls
Creamy formula
Smoothens the cuticles
Can be used as a leave-in conditioner
Cons
May take longer use to achieve desired results
Are your curls drying out? Well, for starters, you may want to lay off on products with harsh chemicals and give this tgin Honey Miracle Hair Mask a try. The olive and jojoba oils in this formula nourish and heal damaged hair. Enriched with raw honey, this formula deeply conditions your hair and renders softness and shine.
Pros
Tames frizzy hair
Reduces breakage
Hydrating formula
Works on color-treated hair
Cons
The scent may be a bit overwhelming.
Immerse your 4C curls in rich and decadent moisture just as this product suggests. Quinoa protein and chufa milk in the formula offers nourishment but does not rob your curls off its natural oils. It has a comforting light floral scent that makes your hair smell lovely. This product gently cleanses your curls without ever being harsh or stressing your knots; it actually detangles them, leaving you with smooth and healthy tresses.
Pros
Vegan
Gluten-free
Cruelty-free
Silicone-free
Sulfate and paraben-free
Cons
If you have been following the Curly Girl method and swear by scrunching for healthy curls, then this Carol's Daughter Hair Milk is just for you. Spritz it evenly on your hair, be it wet or dry, to reactivate your tresses. Just use your fingers to scrunch after to shape your curls better. Infused with shea butter, pro-vitamin B5, agave nectar, and cocoa butter, this formula will add definition to your beautiful curls.
Pros
Lightweight
Tames frizz
No artificial colors
No sulfates, parabens, or mineral oil
Cons
Finding hair products for 4C hair can be difficult, especially something as basic as a comb. Is your hair brush your worst nightmare? As a curly hair girl, one of the biggest struggles is to detangle your tight coils. Well, with this Messen Detangle Brush you can detangle hair without pulling your curls. It has 8 rows of separated bristles that ensure you comb your hair without pain and reduced shedding. The hollowing out design on the top allows airflow, drying your hair faster. The non-slip rubber handle ensures a comfortable and firm grip. This product comes with a size control bar.
Pros
Sturdy
Lightweight
Detangles hair
Available in 9 colors
Cons
It is always a good idea to use a co-wash once in a while to replace the shampoo-conditioner routine. This product forms a hydrating mask around your hair. Not only would you be stimulating your scalp while you are applying this product, but this will also rejuvenate your hair. Powered with argan oil, this Pantene Gold Series Deep Hydrating Co-Wash will moisturize your curls and make them soft. It will also protect your tresses from environmental damage.
Pros
Dye-free
Sulfate-free
Paraben-free
Tames frizz
Cons
The fragrance may be a bit overwhelming for few.
Revitalize your curls with some coconut water. Well, if you are parched, then so could be your curls. This product is a triple-hydrating monoi moisture mix of wild cherry, coconut water, and chamomile. This Design Essentials Coconut Water Curl Refresher is powered with silk proteins and active botanicals that will moisturize and hydrate your curls.
Pros
Gluten-free
Tames frizzy curls
Lightweight formula
Strengthens hair shaft
Free of phthalates, petrolatum, and parabens
Cons
Hair may feel a bit greasy
Welcome tight and beautiful curls with the Ouidad Curl Quencher Moisturizing Styling Gel. This styling gel is able to balance your curly hair needs with being lightweight and strong enough to hold the curls all day. This hydrating gel has meadowfoam seed oil, panthenol, and castor oil to infuse and lock in moisture for frizz-free and defined curls. Additionally, it doesn't weigh your hair down and makes it softer. Reclaim your natural curl pattern with this curl styling gel instantly.
Pros
 Non-greasy
 Tames frizzy curls
 Defines curls
 Reclaims natural curl pattern
Cons
 May dry out hair
 Doesn't give a long-lasting hold
Give your curls that extra oomph with this Not Your Mother's Kinky Moves Curl Defining Hair Cream. This salon formula has extracts of grape seeds and jasmine that will moisturize your hair and make it smooth and manageable. This hair cream adds bounce and strengthens your curls, adding definition and volume.
Pros
Detangles
Tames frizzy hair
Locks in moisture
Eliminates flyaways
Cons
The fragrance may be a bit overwhelming for few.
Is your dry scalp making you itchy and leading to dandruff? Well, then you need to step up your game with this LivSo Moisturizing Shampoo. This powerful formula has extracts of coconut oil, glycolic acid, and xylitol. The xylitol controls growth of yeast to prevent irritation and itch, the glycolic acid exfoliates your scalp, and the coconut oil moisturizes your scalp.
Pros
Sulfate-free
Unclogs pores
Strengthens hair
Improves scalp health
Reduces hair breakage
Cons
May not be suitable for sensitive scalp 
Got straggling ends while braiding? Well, this Shine 'n Jam Magic Fingers will let you lay and tuck in a smooth braid. You can also apply it to style your hair into a twist or for a ponytail. Shine 'n Jam partnered with star hairstylist Stasha Harris to create this great formula that has olive oil and is really easy to apply. It offers excellent hold, making it easy for you to part your hair and braid.
Pros
Lightweight
Renders shine
No greasy residue
Alcohol-free formula
Cons
May not hold on to hair too long
Looking for a good leave-in conditioner for 4C hair? This EDEN BodyWorks Coconut Shea Leave-in Conditioner penetrates your curls and deeply conditions them. Made with shea butter, aloe vera blended with jojoba, avocado oil, and coconut oil, this formula moisturizes your tresses and nourishes them for healthy growth and added volume. It is great for a leave-in treatment and renders shine and gives your curls definition.
Pros
Sulfate-free
Creamy formula
Seals in moisture
Repairs damaged hair
Cons
If you have been stressing out about styling your impossibly thick curls, then don't. This Oribe Shampoo For Moisture & Control will smoothen your beautiful curls, making them manageable and easy to style. This formula has extracts of Edelweiss flower, sunflower, amber, watermelon, and lychee that will nourish your hair and protect it from damage.
Pros
Tames frizzy hair
Moisturizing formula
Paraben and sulfate-free
Leaves polished shine on curls
Cons
How To Take Care Of 4C Hair
Curly girls know that 4C hair type means not only the tightest but also the driest tresses. Here are a few steps you can follow to take care of your curls. 
Moisturize daily: Do not let your hair dry out. Always moisturize your hair, be it with oil or cream, to ensure it has elasticity. This will prevent breakage caused because of brittle hair.
Wash your hair: We are not asking you to do the shampoo-conditioner routine every day. No, that is a big no. But you must wash them at least once in 2 weeks and set specific days of the week. Make this a part of your routine. 
Condition: Every 2 weeks, deeply condition your tresses if you want long and healthy hair. This will also add vibrance to your curls.
Finger combing: Detangle your hair with fingers as much as you can. When you use your hands, you know when a hair strand is about to snap and can avoid such a situation.
Trim: Trim your split ends to encourage healthy hair growth. It may seem counterproductive initially, but believe us trimming really does wonders to your volume. Split ends will end up traveling further down and breaking your hair.
Massages: Well, it is always a good idea to pamper yourself with some head massages. This will elevate blood circulation in your scalp, encouraging hair growth.
No two curly heads are the same. It is important you know this before going through suggestions from friends and family. What works for them may not necessarily work for you, even if you think you have similar hair. So, the lesson is not to be frustrated but to experiment and have fun. Love your gorgeous curls and pamper them with nourishing hair products. Look for products that will hydrate your hair to its fullest without weighing it down. Our list is packed with hair products with ample amounts of moisturizing ingredients that will make you fall in love with your curls all over again. We hope our guide to the 15 best 4C hair products for beautiful curls blesses you with healthy, moisturized, and soft hair. 
Frequently Asked Questions
How often should you wash natural 4C hair?
For deep conditioning, it is important that you shampoo and condition your hair once in 2 weeks. Also, with each wash, make sure you moisturize well too.
How long does it take for 4C hair to grow?
It roughly grows ½ an inch per month. That would translate into a growth of 6 inches per year. Of course, this varies depending on your diet, environment, and well-being.