11 Best Products For Athlete's Foot Treatment – 2022
For clean, healthy feet that support you while you reach for your dreams every day.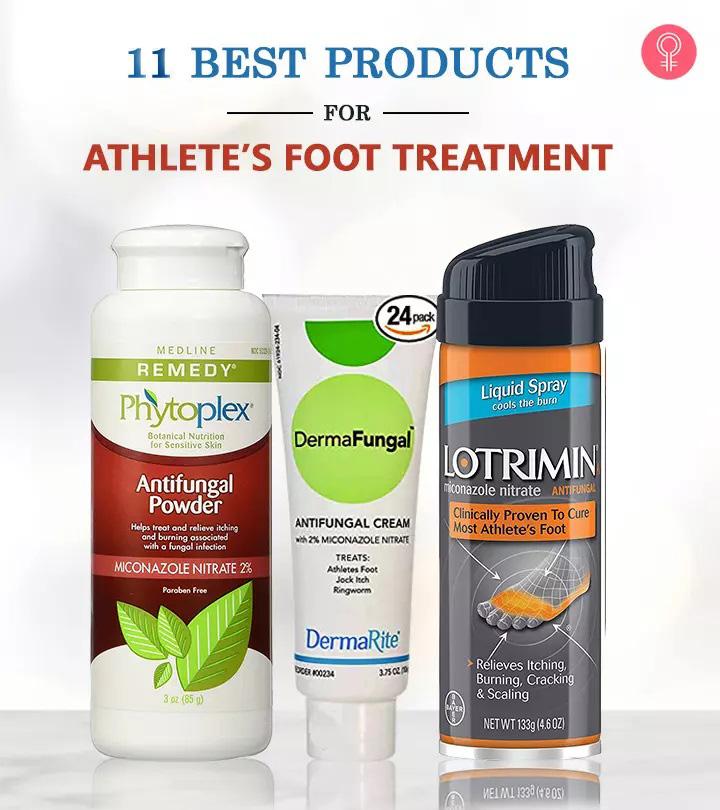 If you see cracked and red rashes between your toes, then chances are you have athlete's feet. Painful and annoying, it is commonly seen in athletes wearing sneakers for hours on end. Before it becomes worse, you can treat it with some of the best products for athletes' feet on the market. Although doctors recommend maintaining strict personal hygiene and airing your feet out after a workout, sometimes these tips may not work. Highly contagious, it can be painful and may disrupt your daily activities. That's why using over-the-counter products can kill the fungus and lead to a quick recovery. To help you out, we have compiled a list of products you can try, to say goodbye to athletes' feet. Scroll down for more information!
What Is Athlete's Foot?
Athlete's foot, or tinea pedis, is a foot infection caused by fungal growth between the toes. It usually affects sweaty feet that are confined in ill-fitting shoes for long periods. The symptoms include scaling and cracking of the skin. Patients may feel varying degrees of itching, burning, and stinging.
How To Treat Athlete's Foot
Athlete's foot treatment is, fortunately, not too complicated. Most cases of fungal infections, including ringworm and jock itch, may be cured with over-the-counter antifungal medication. Athlete's foot is no different. A cream or powder base containing the antifungal ingredient is sufficient for recovery.
However, you must be diligent with the application. Also, note that the infection may spread through clothing, towels, and floors, which is why foot hygiene is crucial. It helps to wear ventilated footwear and avoid repeating socks without washing. Keeping your feet dry at all times goes a long way as well. Read on to learn about the 11 best products for the treatment of athlete's foot that you must check out.
Top 11 Products For Treatment Of Athlete's Foot
This unique foot soak from Fine Vine Organics contains a soothing blend of seven essential oils that help your feet relax after a long and exhausting day. But that's not all it does. Its therapeutic properties help heal several foot ailments, including athlete's foot, toenail fungus, and foot odors.
Apart from Epsom salt, sea salt, and MSM, the foot soak also contains peppermint, eucalyptus, rosemary, cajuput camphor, lavender, and tea tree oils. It helps soften rough calluses and relieve pain from achy, tired feet.
Pros
Relaxes tired feet
Prevents foot odors
Softens stubborn calluses
All-natural, organic ingredients
Affordable 
Cons
None 
Lotrimin Ultra is the ultimate treatment for athlete's foot. It heals itching and burning between the toes and shows results within a week. The prescription-strength formula contains butenafine hydrochloride medicine, which kills the fungus that causes athlete's foot.
It is safe to use by anyone over the age of 12. The cream is also effective for jock itch and ringworm, both of which are also caused by fungus on the skin. It provides quick and lasting relief from itching, burning, cracking, and discomfort you may be experiencing. If you want a detailed review of the product, make sure to take a look at this video.
Pros
Prescription-strength medicine
Provides relief in 1 week
Safe for users over 12 years of age
Travel-friendly packaging
Antifungal medication
Clinically proven 
Cons
None 
If you are looking for an all-rounder formula for many skin conditions that also works for your athlete's foot, Remedy Tea Tree Oil Balm is the one for you. It is enriched with essential oils that deeply cleanse, soothe, repair itchy, inflamed, and cracked skin. It has moisturizing properties that provide relief from the athlete's foot while also removing smelly feet odor.
The non-greasy balm reduces redness and itching, keeping the skin healthy and soft. It is free from harsh chemicals and is suitable to be used by both men and women. The formula is free from harsh chemicals, making it ideal for various skin types and conditions.
Pros
Suitable for various skin types and conditions
Paraben-free
Sulfate-free
Alcohol-free
Ideal for the whole family
Cons
The smell might be bothersome.
The Foot Finish Foot Repair Cream has antifungal properties that effectively treat athlete's foot and toenail fungus. It can fight stubborn bacteria and fungi that cause psoriasis, ringworm, and other foot ailments. The antiseptic properties of the Love Lori cream provide relief from pain and discomfort and also help your feet recover faster.
It also takes care of stinky feet caused by foot odor. The formula contains skin-loving essential oils of rose, tea tree, and lavender, which aid in the healing of nail fungus. The cream feels soothing on dry, itchy feet. To top it all, it comes with a money-back guarantee if you are not satisfied with the product in any way.
Pros
Antifungal cream
Soothes itchy feet
Eliminates foot odor
Money-back guarantee
Treats toenail fungus
Contains essential oils 
Cons
If you are looking for a miracle to help treat your athlete's foot condition, how about the Miracle Foot Repair Cream? The unique aloe vera-enriched formula in this cream provides fast-acting relief for dry, itchy feet, helping treat symptoms of athlete's foot. It also helps rejuvenate and soften tired, achy feet.
The soothing cream has been a trusted brand for 40 years, so that you can trust its effectiveness. It contains exclusive Ultra Aloe – a processed organic gel sourced from mature aloe vera leaves. The leaves are harvested at their peak potency, ensuring that the cream produces impressive results. You can also check this YouTuber's detailed review to know more about the results after using this product.
Pros
Safe for use by diabetics
Provides intense moisturization
Soothes itchy skin
Heals cracked feet
Travel-friendly packaging
Affordable 
Cons
Inconsistent results with different users. 
The Lotrimin AF Cream For Athlete's Foot is a trusted formula that promises soothing relief from itchy skin. It also heals cracked feet and extremely dry, dehydrated skin effectively. The cream controls the fungus responsible for tinea pedis, or Athlete's Foot, and is clinically proven to cure most foot infections of this type.
The composition is safe for usage by kids above the age of 2, so your little one can stay active without being held back by their itchy feet. It contains 1% clotrimazole – a clinically proven ingredient – that is quite effective on infections like athlete's foot, ringworm, and jock itch.
Pros
Antifungal formula
Contains 1% clotrimazole
Easy to apply
Fragrance-free
Non-greasy
Non-staining 
Cons
The Remedy Phytoplex Antifungal Powder is effective on several common fungal foot ailments, such as ringworm, jock itch, and athlete's foot. It provides relief from burning, itching, and irritation caused by fungal infections.
The Remedy powder is free-flowing and stays put for a long time. The formula is free of talc and comes highly recommended for use on the feet and skin folds, as well as with shoes and socks.
Pros
Antifungal
Gentle on sensitive skin
Stays in place for a long time
Paraben-free
Talc-free 
Cons
The Globe Clotrimazole Antifungal Cream is a medicated antifungal treatment for healing fungal infections associated with athlete's foot, ringworm, and jock itch. The cream provides soothing relief from itching and burning sensations and symptoms, such as scaling and cracking of skin on the feet.
The active ingredient – 1% Clotrimazole – is comparable to the one found in Lotrimin AF. You can apply a thin layer of this cream on the affected area after washing and drying it. For best results, it helps to apply it twice daily for up to four weeks. However, if your symptoms persist, consider consulting a medical professional.
Pros
Medicated formula
Antifungal cream
Contains 1% clotrimazole
Affordable
Relieves itching 
Cons
The Lamisil AT Athlete's Foot Antifungal Cream is an excellent treatment for most fungal infections, including ringworm and jock itch. It also provides relief from associated symptoms, such as burning, itching, scaling, and cracking of the skin. Use the cream twice daily for quick results. It also helps to wear ventilated, well-fitting shoes when treating athlete's foot.
Pros
Clinically proven
Prescription-strength formula
Antifungal medication
Delivers quick results
Travel-friendly packaging 
Cons
Cure the athlete's foot, jock itch with the Ting Athlete's Foot Spray. It effectively relieves itching, burning, scaling, and discomfort. You can also use it daily to prevent infection of athletes' feet. The spray is packed with a powerful agent that helps to fight against fungal infection. It also fights foot odor.
Pros
Clinically proven
Travel-friendly
Anti-fungal packaging
Cons
None 
The Dermafungal Athlete's Foot Antifungal Cream works well on common skin rashes and various fungal infections, including jock itch and ringworm. It provides immediate soothing relief to itchy, burning skin. It also prevents stinky feet by forming a moisture barrier over the skin that controls odor build-up.
The cream is clinically tested by dermatologists and proven to be safe and effective. The latex-free formula protects against allergic reactions for added safety. Miconazole nitrate – the active ingredient – helps control fungal growth on the skin.
Pros
Dermatologist-tested
Contains 2% miconazole nitrate
Prevents foot odor
Latex-free 
Cons
May dry out the skin.
Inconsistent results 
Why Trust StyleCraze?
The author, Sakshi Bahal, is a health and fitness enthusiast. She went through numerous reviews and feedback available on multiple forums and brand websites to curate a list of the best products for athletes' foot treatment. The products listed in this article heal itching and burning between the toes and shows results within a week. The antiseptic properties of these products provide relief from pain and discomfort.
Recommended Articles