9 Best Products For Back Acne To Get Rid Of Bacne Quickly – 2023
No more back-scratching when you have your hands on greatly safe skin care formulations.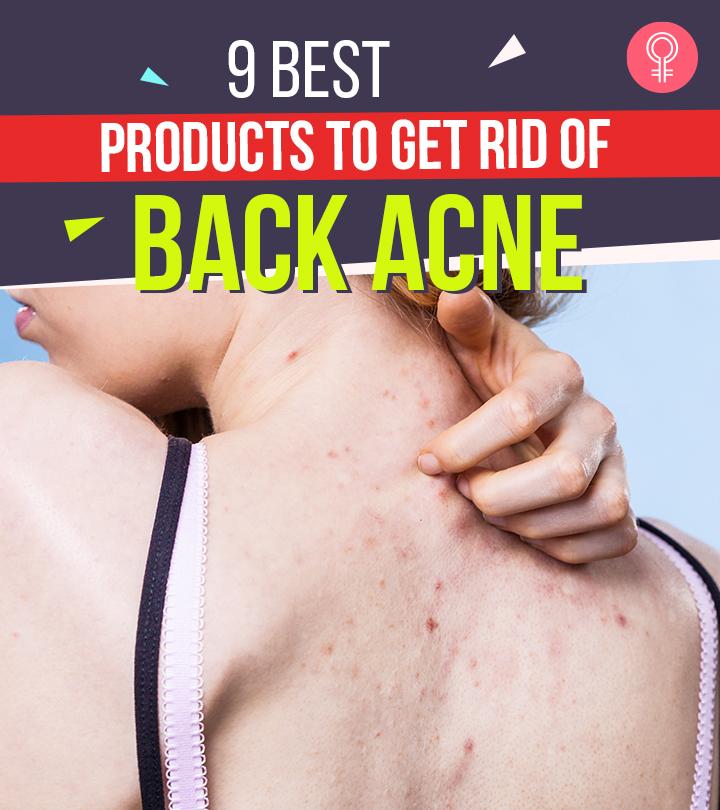 Acne is an inevitable struggle, and it can pop up anywhere, be it your face, scalp, or back. The latter is also known as bacne, which might not seem very annoying because it is not visible, but treating and managing it can be more frustrating. Dr. Elizabeth Mullans, a board-certified dermatologist with over 20 years of experience, says, "Back acne is caused when sweat, bacteria, and skin oils are trapped on the skin. Pores on the back are much larger than those on the face, which makes the back an easy target for bacteria buildup." Thankfully, there are products in the market that can be used specifically as solutions for acne. For example, your back has thicker skin than that on your face. So, you can use more active anti-acne ingredients (acids, retinoids, exfoliators, etc.) that work as a spot treatment. Also, the skin on your back is not as exposed to sunlight like the other parts of your body, and hence you can use ingredients that make your skin sensitive to the sun without thinking about sunburns and irritation.
Want to know how to get rid of bacne once and for all? Keep reading this article to find out the 9 best products for back acne worth trying!
9 Best Products To Get Rid Of Back Acne
The PanOxyl Acne Foaming Wash is one of the best cleansers for acne-prone skin, which tackles even the worst breakout. It is a fast-acting foaming wash containing 10% benzoyl peroxide to clear acne quickly. This dermatologist-recommended product combats all the acne-causing bacteria effectively to clear existing breakouts as well as prevent new blemishes from forming when used as part of a daily routine. In addition, it cleans and unclog pores on the face, chest, and back. All the major reasons for you to test it out now!
Key ingredients: Benzoyl peroxide
Pros
Fast-acting formula
Dermatologist recommended
Suitable for daily use
Unclogs pores
Cons
None

Price at the time of publication: $24.16
The Cetaphil Moisturizing Cream has a rich, non-greasy formula that offers intense and 48-hours of long-lasting hydration. The body moisturizer formula has a dermatologist-backed blend of niacinamide (vitamin B3), panthenol (vitamin B5), and hydrating glycerin to improve the resilience of sensitive skin. This moisturizing cream defends against 5 signs of skin sensitivity, including irritation, roughness, tightness, dryness, and a weakened skin barrier. The non-comedogenic formula is brilliant to cure acne as well. This dermatologist-tested product will ensure you achieve a clearer and smoother back in no time!
Key ingredients: Niacinamide (vitamin B3), Panthenol (vitamin B5), and Glycerin
Pros
Defends against 5 signs of skin sensitivity
Non-greasy
48-hours hydration
Paraben-free
Hypoallergenic
Fragrance-free
Clinically-proven
Dermatologist-tested
Cons
None
If your back acne looks more like a few big zits than a breakout over the entire area, use the Differin Adapalene Gel Acne Treatment. It is non-comedogenic and helps prevent breakouts, blackheads, whiteheads, blemishes, and clogged pores. The formula is enriched with dermatologist-recommended adapalene (retinoid) in 0.1% concentration, which helps restore your skin tone and texture by clearing acne. In addition, countless reviewers have noted that it reduces the risk of scarring and hyperpigmentation. The gel also offers clinically proven results with high reduction in acne after 12 continued weeks of application.
Pros
Non-comedogenic
Oil-free
Alcohol-free
Fragrance-free
Cons
None
Price at the time of publication: $27.89
Are you finding it difficult to cleanse those hard-to-reach areas of the body? The Proactiv Silicone Body Brush helps you cleanse areas like your back, neck, and shoulders. This silicone brush removes all the stubborn impurities dirt and feels gentle on your skin. You can use it as your daily exfoliating brush as a back acne prevention strategy and get soft, radiant skin. You can use it as your daily exfoliating brush and get soft, radiant skin. This brush will help you root out acne-causing clogged pores and bacteria and help you get healthy, clean skin.
Pros
Suitable for all ages and skin types
Offers deep cleansing
Water-resistant
Cons
Price at the time of publication: $38.96
The AQUIS Double-Sided Exfoliating & Cleansing Back Scrubber has a dual texture specifically designed for exfoliation. It is meant to cleanse your skin gently, and you can easily use it on all the hard-to-reach areas. It quickly wicks water away from the skin. Exfoliation is one of the most effective back acne remedies, and this body pad helps clear clogged pores and flushes out acne-causing bacteria. The proprietary Aquitex technology cleanses better and dries faster without releasing microplastics or toxic dye into our water systems. The material is ultra-durable and made to last. After use, you can use the handles to hang the product for drying. If you require further convincing, check the product's Amazon page to read numerous positive reviews and testimonials from skin care enthusiasts.
Pros
Dual textured
Quickly wicks water away from the skin
Ultra-durable
Easy to hang
Cons
Might be too long for some users
Price at the time of publication: $13.99
The Paula's Choice Clear Acne Body Spray targets multiple skin concerns like body acne, clogged and enlarged pores, uneven skin texture and tone, and redness. The formula of this body spray is enriched with ingredients like barberry extract that soothes skin sensitivity and offers antioxidant benefits. Salicylic acid, a BHA, penetrates deep into the pores and helps to clear breakouts. The licorice extract soothes redness and other skin irritation. Simply spray it on and let the formula work its magic and provide you with clearer, blemish-free skin. It even eliminates all the acne-causing bacteria, dirt, and oil.
Key Ingredients: Barberry extract, Licorice extract, and Salicylic acid
Pros
Gentle for all skin types
Cruelty-free
Paraben-free
Fragrance-free
Cons
Price at the time of publication: $28.0
The Exposed Skin Care Body Wash has a gentle formula that works like an exfoliating cleanser to treat and eliminate breakouts all over the body. This back acne treatment body wash is infused with acne-fighting salicylic acid that unclogs and shrinks pores; pro-vitamin B5 to control oil production; and sage extract that prevents dryness and irritation. In addition, it has a soap-free formula that won't over-dry your skin. This back acne-friendly product is designed to be used daily.
Key Ingredients: Salicylic acid, Provitamin B5, and Sage extract
Pros
Gentle formula
Contains pure natural extracts
Cruelty-free
Paraben-free
Sulfate-free
Cons
None
Dr. Anna Chacon, a board-certified dermatologist, says, "Salicylic acid helps treat acne by unclogging pores that may be blocked. It does so by helping to break down the bonds between skin dead skin cells to release them from the pores more easily. This, in turn, helps to break down natural oils such as sebum. In addition, salicylic acid also helps to decrease the sebum production of the skin, which in turn leads to fewer breakouts."
Price at the time of publication: $29.85
The Pelican For Back Medicated Soap deep cleanses your skin and clears up all the clogged pores. The formula features a blend of charcoal, mud, and papain to deeply cleanse your skin and treat back acne. All these ingredients will give your skin smooth and bright-looking. It helps to clean all the acne-causing bacteria and prevents them from recurring. It contains moisturizing ingredients such as collagen, ceramide, and concentrated glycerin to help hydrate your skin. The soap has a herbal citrus fragrance.
Key ingredients: Charcoal, Mud, and Papain
Pros
Medicated formula
Works for the entire body
Soothing fragrance
Cons
Not for the sensitive areas
Price at the time of publication: $6.55
Keeping your skin moisturized is a key step that you can't miss out on. The Koji White Kojic Acid Body Lotion visibly brightens your skin and helps to reduce the appearance of scars, age spots, and uneven skin tone. The formula contains concentrated Kojic Acid to reveal brighter, smoother skin. It has antibacterial properties that help to treat and prevent acne. It has a lightweight and quick-absorbing formula that is gentle enough for everyday use. As a result, this body care lotion promotes soft and supple skin texture. In addition, it has a pH-balanced formula and strengthens the natural moisture barrier of your skin. The product has also not been tested on animals, making it a great cruelty-free choice.
Key Ingredients: Kojic acid
Pros
Suitable for all skin types
Lightweight
Quick-absorbing
pH-balanced formula
Cons
None
Price at the time of publication: $15.95
Back acne or "bacne" is caused due to different reasons like hormonal imbalance, medication-induced, excessive sweating, overactive sebaceous glands, or simply just friction from your clothes. Whatever the cause may be, it can be annoying to deal with. Luckily there are a number of effective treatments from washes and cleansers to back scrubbers and brushes. Read on to know of some important factors to keep in mind when you choose the best products for back acne.
How To Choose The Best Products For Back Acne
As with any skin care product, knowing your skin type is the first step in choosing your bacne product. Choose a product that matches and complements your skin type for it to be most effective. Non-greasy formulas with a blend of ingredients like niacinamide (vitamin B3), panthenol (vitamin B5), and glycerin work well for oily skin. For dry skin, moisturizing ingredients along with the presence of sage or tea tree oil extract reduces irritation and soothes the skin.
Key ingredients like benzoyl peroxide and salicylic acid help in killing the acne-causing bacteria to prevent and treat breakouts effectively. For exfoliation and promoting cell turnover, low-concentration alpha hydroxy acid-based products work extremely well on the back. Stay away from products with heavy oils and petrolatum-based products when treating back acne as these can aggravate acne conditions.
Being able to reach each and every part of your back can be challenging. A spray can come in handy if you have to manage on your own. And some sprays even feature an easy continuous spray mechanism that allows you to spray the bottle upside down to reach all the spots on your back.
Keep in mind, if your back acne is severe and you are not able to manage the situation, consult your dermatologist. The dermatologist may recommend prescription products combined with OTC treatment to solve your problem.
Note: "Exfoliation helps remove dirt from the top layer of the skin. Be sure not to scrub the skin too hard, as it can irritate peeling off the top layer, causing acne scars. Avoid heavy moisturizers and only use non-comedogenic products. Spot treat pimples with a salicylic acid, sulfur, zinc, or 2.5% benzoyl peroxide gel," suggests  Dr. Elizabeth Mullans
How To Get Rid Of Back Acne
Though there are a number of remedies for acne, every treatment works with an exceptional skincare routine. Dr. Ahmad Fayyaz Chaudhry, MBBS. RMP, suggests three simple tips for preventing acne naturally.
"First, cleanse your skin twice a day with a gentle cleanser. Avoid scrubbing or using harsh chemicals, as this can irritate the skin and make breakouts worse. Instead, opt for a product that contains natural ingredients such as tea tree oil or aloe vera.
Second, eat a healthy diet and avoid sugary foods or drinks. Sugar can trigger inflammation and cause breakouts. Instead, focus on eating plenty of fruits, vegetables, and whole grains.
Finally, reduce stress in your life. Stress can cause hormonal imbalances that can lead to breakouts. Consider yoga, meditation, or spending time outdoors to help reduce stress levels."
Why Trust StyleCraze?
StyleCraze articles are backed by expert opinions and insights from professionals. The author, Oyendrila Kanjilal, is a certified skin care coach who believes that using the right products works effectively to treat back acne. She has consulted experts and carefully reviewed all the products on the list to help her readers make the right choice.
Frequently Asked Questions
Does salicylic acid help with back acne?
Yes, salicylic acid can help both treat and prevent back acne.
Is back acne hormonal?
Yes, back acne might occur due to hormonal issues, accumulation of dirt, or friction with clothes.
Why am I getting acne on my back, chest, and shoulders?
One of the most common types of acne to develop on the shoulders and back is usually caused by friction. However, it's possible to get acne on the chest as well.
How long does back acne last?
If you use the right products to treat back acne, the treatment is likely to show visible results within 4 to 8 weeks. After this span, if you don't see any improvement, you should seek advice from a dermatologist.
How often should you use back acne products?
You can use back acne products for 10 days. After that, use them every week for maintenance.
Does salicylic acid acne face wash work on back acne?
Yes. Salicylic acid is an exfoliator that unclogs pores, reduces back acne, and prevents further breakout.
Can I use face acne cream on my back?
Yes, products for face acne can help treat your back acne.
Should I moisturize back acne?
Yes, moisturizers help soothe the burn and itch caused by back acne. However, look at the label for non-comedogenic products to avoid clogging your pores and further breakouts.