14 Best Products For Bikini Razor Bumps, According To Reviews
Ace all your beach looks this summer with perfectly smooth and flawless skin.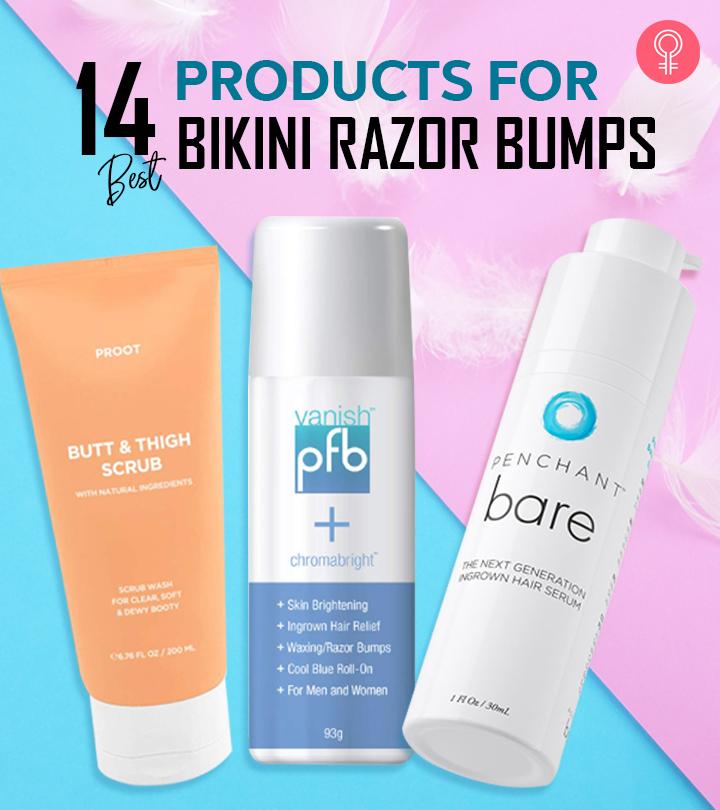 Rest assured, you are not the only one who gets razor bumps. It's absolutely normal and occurs when you remove hair from sensitive areas like your bikini line. You can avoid them by using some of the best products for bikini razor bumps available on the market. Take a look at our top products you can use to save bye to those razor bumps! There are a host of serums, creams, and gels that contain ingredients that soothe the area after a shaving or waxing session.
What Is A Razor Bump?
Razor bumps are small red rashes or ingrown hairs that curl up under the skin after shaving with a dull razor or without shaving cream, especially around the delicate areas of the body. These red bumps can cause skin darkening, irritation, or painful rashes that can last up to two weeks. Often razor bumps are more prone to pop up around the folds of the body, where there are more chances of skin-on-skin contact and increased moisture content.
Frequently changing the razor can help in preventing razor bumps. Let's learn a few more hacks to prevent them.
How To Prevent Razor Burn
Often, a razor bump is caused by the friction of a dull razor running across the skin surface. Hence, changing the razor more often can help in managing this condition. Shaving in the direction of the hair after a steamy shower is recommended. Also, applying vitamin E oil after shaving can help prevent razor burns.
Using anti-inflammatory agents can also help prevent these tiny bumps on the skin. Rubbing moisturizing and anti-inflammatory ingredients like shea butter, shea oil, or aloe vera gel on the skin after shaving is helpful in taming the irritation or burning sensation.
Keep scrolling for a comprehensive guide and a list of the best products for preventing bikini razor bumps.
14 Best Products For Bikini Razor Bumps
Pros
Easy to use
Smoothens the skin
Reduces inflammation
Reduces redness
Unscented
Can be used around the bikini line
Cruelty-free
Cons
May cause an allergic reaction
Price at the time of publication: $16.99
Completely Bare Bikini Bump Blaster contains easy-to-use pre-moistened pads soaked in salicylic acid and glycolic acid. These active ingredients gently exfoliate the skin for a smooth and rejuvenated appearance. Other ingredients like green tea extract, witch hazel, and Drago-oat-active provide antioxidants that further nourish the delicate skin. The pads cleanse, balance, soothe inflammation, promote cell regeneration, and provide lasting relief. Regular usage of this product eliminates razor bumps.
Pros
Gives smooth skin
Easy to use
Hydrates the skin
Anti-aging ingredients
Mild exfoliant
Dermatologist-tested
Cruelty-free
Vegan
Paraben-free
Phthalate-free
Sulfate-free
Synthetic dye-free
Mineral oil-free
Oxybenzone-free
Retinyl palmitate-free
Coal tar-free
Hydroquinone-free
Triclosan-free
Triclocarban-free
Cons
Price at the time of publication: $21.98
Pros
Professional-grade ingredients
Prevents ingrown hair
Smooths skin texture
Reduces skin discolouration
Soothes irritated skin
Prevents redness and itchiness
Paraben-free
Silicone-free
Cruelty-free
Eco-friendly packaging
Cons
None

Price at the time of publication: $16.95
Proot's fragrance-free formula effortlessly heals acne, pimples, blackheads, ingrown hairs, zits, and bumps, making way for smooth and soft skin. It is enriched with madecassoside and asiaticoside, which reduce the redness and itching caused due to shaving and heal the skin. Witch hazel extract relieves inflammation and tightens the pores, while licorice extract controls melanin production and inhibits dark spots. This lightweight lotion is non-greasy, quick-absorbing, and reduces razor bumps. It also balances the skin's pH level and restores the oil-moisture balance in it without clogging pores.
Pros
Lightweight
Balances pH level of the skin
Exfoliates the skin
Non-greasy
Quick-absorbing formula
Vegan
Artificial color-free
Cruelty-free
Paraben-free
Preservative-free
Fragrance-free
Cons
Price at the time of publication: $16.99
This razor bump cream has a premium formula that reduces the dark spots and hyperpigmentation caused by razor burn, ingrown hair, waxing, shaving, or tweezing. It is infused with glycolic acid, salicylic acid, and lactic acid that exfoliate the skin and give the hair follicles an opening to grow uninterrupted. Anti-inflammatory ingredients gently soothe the inflammation and redness of the skin. The solution comes in a roll-on bottle that makes it easy to use around sensitive areas like underarms, bikini line, inner thighs, chin, nape of the neck.
Pros
Non-irritating
Brightens the skin
Soothing formula
Moisturizing ingredients
Vegan
Cruelty-free
Preservative-free
Anti-inflammatory properties
Ideal for sensitive skin
Cons
Price at the time of publication: $26.12
This ingrown hair serum from Penchant Bare is the most effective treatment for preventing razor bumps and ingrown hairs after waxing, shaving, electrolysis, and laser hair removal. Its gentle formula hydrates the skin while taking care of ingrown hairs. The serum is enriched with witch hazel, which tames inflammation, shrinks pores, and reduces acne. Aloe vera extracts soothe the skin and offer a cooling sensation. The serum can be applied after shaving for lasting relief from pain and discomfort.
Pros
Reduces inflammation
Restores skin balance
Vegan
Cruelty-free
Smoothens the skin
Mild fragrance
Travel-friendly packaging
Paraben-free
Cons
May cause an allergic reaction
Price at the time of publication: $16.99
Pros
Treats acne and blemishes
Vegan
Toxin-free
Hydrating ingredients
Dermatologist-tested
Oil-free solution
Lightweight
Paraben-free
Synthetic fragrance-free
Colorant-free
Cruelty-free
Cons
Price at the time of publication: $27.0
The alcohol-free B&C Skin Tight Crème helps reduce razor bumps and ingrown hairs after shaving, waxing, or electrolysis. This vegan formula hydrates the skin and keeps it soft and smooth. Tea tree oil is an anti-inflammatory ingredient that soothes irritated skin and calms the redness. This crème has a mild fragrance and is suitable for sensitive skin. You can use this cream on delicate areas like bikini lines, thighs, and underarms.
Pros
Anti-inflammatory ingredients
Lightweight
Cruelty-free
Vegan
Quick-absorbing formula
Stain-free
Alcohol-free
Pleasant fragrance
Cons
Price at the time of publication: $9.45
Dermatologically tested after shave crème from Bikini Zone is an effective remedy against bikini bumps. Its medicated formula reduces irritation, redness, and itching to give you instant relief. Its active ingredients – menthol and lidocaine – soothe the skin. Camphor has antibacterial and antifungal properties that heal infections. It is transfer- and sweat-resistant and does not stain lingerie and other clothing. It is perfect to use on sensitive areas like bikini lines and underarms.
Pros
Quick-absorbing formula
Dermatologist-tested
Gentle formula
Reduces redness and itching
Stain-free
Transfer-resistant
Sweat-resistant
Cons
Price at the time of publication: $19.99
This soothing gel from Lavo combats unwanted razor bumps and ingrown hairs from shaving, electrolysis, and waxing. The gel has anti-inflammatory ingredients like tea tree oil, aloe vera, and salicylic acid that heal irritation and soothe the skin. Its formula gently exfoliates the affected region and prevents acne from popping up. You can apply the product directly onto ingrown hairs and razor bumps for instant relief from pain.
Pros
Quick-absorbing formula
Gentle formula
Reduces redness
Smoothens the skin
Hydrates the skin
Cons
Price at the time of publication: $19.99
These supersized exfoliating pads from SweetSpot Labs are dermatologically tested and safe for the intimate area. Its naturally derived ingredients balance the pH level of the skin and nourish the skin. The pads are infused with AHA that gently exfoliates dead skin and helps prevent uncomfortable razor bumps and ingrown hair. BHA helps fade dark marks associated with repeated hair removal and brightens the skin. Witch hazel, allantoin, and aloe vera soothe irritation and diminish the visible signs of razor burn.
Pros
Natural ingredients
Brightens the skin
Reduces dark spots
Soothes irritation
Dermatologist-tested
Exfoliates the skin
Vegan
Cruelty-free
Sulfate-free
Glycerin-free
Paraben-free
Essential oil-free
Propylene glycol-free
Gluten-free
Dairy-free
Cons
Price at the time of publication: $22.5
This razor bump-removing scrub from Proot exfoliates the dead skin cells and detoxifies the skin by cleaning out the impurities, oil, and environmental toxins. Its unique formula helps balance moisture levels and reduce dryness. Natural ingredients like asiaticoside, madecassoside, rosemary leaf oil, and licorice extract come together to heal irritated and inflamed skin, leaving it smoother and softer. This scrub is safe to use around the bikini line and the intimate area.
Pros
Detoxes the skin
Exfoliates dead skin
Vegan
Cruelty-free
Lightweight
Superfine texture
Brightens the skin
Balances moisture
Paraben-free
No artificial fragrance
No colorants
Cons
Price at the time of publication: $14.99
Clement Cooling After Shave Gel is a one-step solution against alleviating all the after-shave woes. Its 100% natural formula comprises aloe vera, chamomile, witch hazel, and BHA that hydrate and soothe inflamed skin post-shaving. These ingredients enhance cell regeneration and bring down swelling and redness. The metal roller ball at the top spreads the gel evenly on the targeted region without any mess. The product is safe, high-performing, quick-absorbing, and reduces ingrown hair and razor bumps without irritation. It is safe to use around the bikini line, nape of neck, legs, and underarms.
Pros
Soothes irritation
Natural ingredients
Safe to use
Alcohol-free
Paraben-free
Fragrance-free
Vegan
Cruelty-free
Cons
Price at the time of publication: $19
The Razor Bump Stopper Solution from Estetist has a unique formula for treating and preventing razor bumps and ingrown hair. The salicylic acid and glycolic acid in it gently exfoliate the skin and unclog the pores to slough off dead skin cells. The ingredients further reduce the dead cell build-up. Vitamin E and lactic acid reduce damaged skin cells and promote cell regeneration. Camphor reduces inflammation and offers a cooling sensation. Its roll-on applicator is handy to use on the legs, bikini area, face, neck, and armpits.
Pros
Exfoliates dead skin
Natural ingredients
Vegan
Cruelty-free
Lightweight
Reduces irritation
Cons
Price at the time of publication: $18.99
Shaving or waxing pubic hair causes uncomfortable sensations and razor bumps, burns, and rashes. The soothing creams in the list above help to moisturize and rejuvenate your sensitive skin while treating dryness and irritation. But which one is the best for you? Check out the guide below to understand all the factors you can consider before narrowing down on one product.
Things To Consider Before Buying A Product For Bikini Razor Bumps
Gentleness: The skin around the bikini razor burns is very sensitive. Strong and overpowering products can harm sensitive skin and even cause allergies. So, you must choose creams, lotions, and gels that are pH-balanced and enriched with soothing ingredients like ceramides, green tea, licorice, chamomile, etc. that are ideal for places like inner thighs and underarms. Gentle formulas will not aggravate skin conditions and instead, treat redness, inflammation, or dryness.
Chemicals: Waxing or shaving around the bikini area makes skin dry and hard. So, the creams and lotions for this area must be free from ingredients such as paraben, phthalate, sulfate, triclosan, and triclocarban. These chemicals can take away the natural moisture of the skin. They also cause dullness and dryness and aggravate sensitive areas.
Moisture: Apply lotions and creams that offer deep hydration and keep the skin soft and smooth. Look for formulas with natural ingredients such as essential oils, lactic acid, and glycolic acid, salicylic acid that gently exfoliate the skin and make it smoother. Moisturizing ingredients like glycerin, aloe vera, coconut oil, and argan oil soother and rehydrate your skin.
Anti-inflammatory Ingredients: Post-shaving skin is prone to bumps, rashes, and redness. If you scratch that itch, you risk developing ingrown hairs. This is why you need products with anti-inflammatory ingredients like cucumber, green tea, calendula, aloe vera, oatmeal, etc.
Why Trust StyleCraze?
The author, Shiboli Chakraborti, is a certified skin care coach and understands the struggles bikini razor bumps put women through. Hence, she put her research glasses on and brought to you the above-listed products that work best to soothe your skin and reduce razor bumps in the bikini line. These products have also been shortlisted keeping in mind the user reviews posted on trusted online forums.
Frequently Asked Questions
Why is my bikini line so bumpy?
If you shave your bikini line without shaving cream it can burn your skin and develop small bumps. Using a razor wrong may also create ingrown hairs that result in uneven skin.
What is the difference between razor burn and razor bumps?
The burning sensation that you experience after shaving your bikini line without shaving gel is called razor burns. On the other hand, razor bumps are caused due to the growth of ingrown hairs that causes uneven bikini area.
Why don't my razor bumps go away?
If razor bumps are left untreated, they will keep bothering you. With every passing day, the bumps will darken and develop itchy rashes. So, use creams rich in anti-inflammatory and moisturizing ingredients to heal and even out your bikini lines.
Why do I get so many razor bumps on my pubic area?
Improper shaving techniques and regularly shaving without shaving creams lead to the development of ingrown hair and cause uneven bumps in your pubic area.
Does Vaseline help razor bumps?
Yes. Vaseline is a hypoallergenic and non-comedogenic formula that hydrates and treats uneven or bumpy bikini line. It also calms down itchiness and redness.
How do swimmers keep their bikini line smooth?
Swimmers use hydrating shaving gel and good-quality razors that feature sharp blades to shave their bikini line. They shave with steady strokes and impose very light pressure to avoid accidental cuts. They also use good moisturizers to lock the moisture in the skin post-shaving.
How long does it take for razor bumps to go away on VAG?
Razor bumps take around four to six months to heal and disappear from your bikini line.