15 Best Products For Blackheads That Are Very Effective – 2022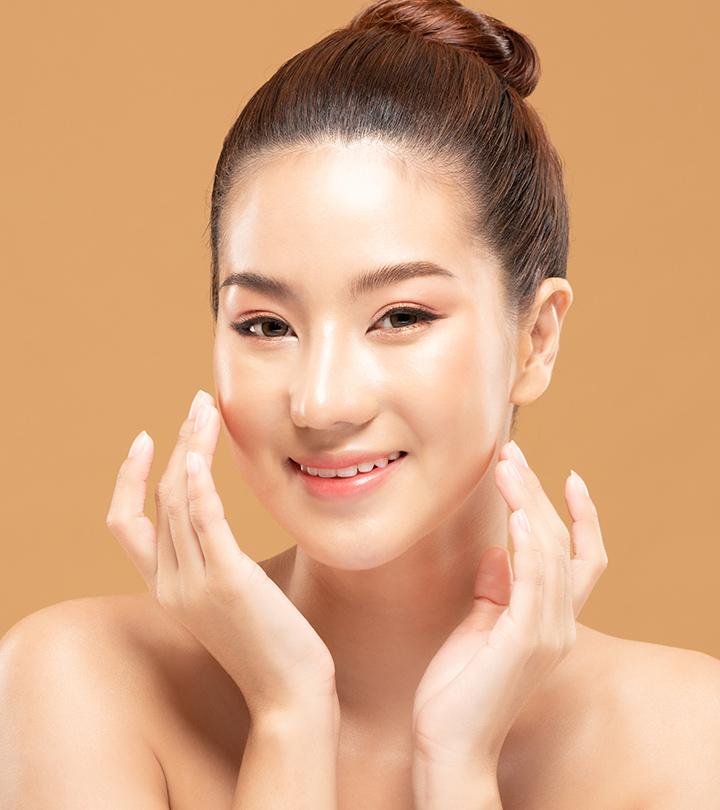 We can all agree that blackheads are one of the most persistent skincare problems that no matter how much you extract and pick, they keep coming back with a vengeance. To address this problem, popular brands have come up with some of the best products for blackheads that can unclog your blocked pores and get rid of blackheads swiftly. Take a look at our list of products for blackheads to know more!
How To Get Rid Of Blackheads Quickly?
The best answer is exfoliation. Nothing scares blackheads like a good exfoliator. The best blackhead treatment uses exfoliating ingredients to unclog pores, eliminate dead skin cells, purify skin and prevent future breakouts. And to make the task simple and user-friendly, there are multiple types of products to get rid of blackheads today.
From cleansers, serums, masks to facial tools, you name it, and we have the best of the best for you below. Go on, browse through our list of 15 best products for blackheads in 2022 for you:
15 Best Products For Blackheads To Reduce Breakouts And Blemishes – Top Picks Of 2022
With a pH level between 3.2-3.8, meet one of the gentlest exfoliators for your congested skin. It sheds dead skin cells without irritating your skin's natural barrier. The leave-on exfoliant contains 2% salicylic acid (BHA), which mimics the exfoliating actions of younger skin to unclog pores and eliminate dull, damaged, and dead skin. In addition, this lightweight formula has green tea to reduce the appearance of fine lines and wrinkles, sun damage, and encourage younger-looking, toned, and clearer skin. And more importantly, it combats blackheads and shrinks enlarged pores!
Pros:
Unscented
Hydrating
Non-abrasive
Quick-absorbing
Paraben-free
Ideal for daily use
Cons:
Slightly sticky
May be strong for sensitive skin
If you need quick and instant results, try these to unclog pores! More like a dirt and sebum magnet, these nose strips infused with natural charcoal will pull out weeks of gunk, sebum, and blackheads and purify clogged pores in just 10 minutes. An oddly satisfying process, the strip pulls the impurities effortlessly and will also leave the nose area 3 times less oily. The brand uses patented c-bond technology to remove blackheads without damaging the skin's natural barrier.
Pros:
Vegan
Cruelty-free
Pore minimizer
Deep cleansing
Instant unclogging
Suitable for oily t-zone, acne-prone, and oily skin types
Cons:
Slightly difficult to remove
Go beyond the conventional methods to get rid of pesky blackheads, whiteheads, and acne! This therapeutic scrubber uses 24k high-frequency vibration to unclog and purify pores. The spatula head is made of skin-friendly stainless steel and has a convenient charging socket and USB cable for fast charging. And as far as unclogging is concerned, there are 4 adjustable modes! Cleaning mode is for daily facial cleansing, Ion+ mode deep cleans and removes gunk and dead cells, Ion- mode helps the skin absorb cream and nutrients, and lifting mode tightens and stimulates collagen production.
Pros:
Cruelty-free
2 silicone bristles included
Water-based exfoliation technology
Suitable for all skin types
Cons:
May require practice
Not suitable for sensitive skin
Body acne is painful and can ruin your beach getaways. But not anymore! Gentle and pH balanced between 3.2-3.8, this alcohol-free acne treatment by Paula's Choice penetrates the skin to remove blackheads and leave it blemish-free. It contains 2% salicylic acid (BHA) to eliminate acne and bumps while calming redness. Don't believe us? The brand claims 88% of users witnessed a decrease in acne, and 96% claimed their pores appear smaller! Plus, this hydrating body spray is free from harsh chemicals and is non-drying too.
Pros:
Non-abrasive
Quick-drying
Non-irritating
Non-tightening
Works on cystic acne
Suitable for hard-to-reach areas
Cons:
Smell may be overwhelming for some
On days when you want to pamper your skin, this peel-off mask will deliver more than just therapeutic benefits. Infused with high-quality charcoal powder, it'll exfoliate intensely to remove blackheads and treat acne and bumps. This mask will also nourish with skin-loving ingredients such as grape seed, citrus nobilis fruit, oat protein, calendula, and Rosmarinus. All you have to do is apply it and watch your skin look toned, brighter, and cleaner than before. Suitable for all ages, this pore-shrinking peel-off mask is ideal for men too.
Pros:
GMP-certified
ISO-certified
MSDS-certified
Silky-soft skin
Gentle exfoliation
Suitable for oily, acne-prone, and normal skin
Cons:
May pull facial hair
Not suitable for sensitive skin
With 4% BHA as the hero of this powerful Korean liquid, you can consider those stubborn blackheads taken care of! The liquid seeps deep into the pores to unclog, clean, nourish, and tighten them. It also exfoliates dead skin cells and encourages new skin cell growth. And it doesn't stop there! This formula will also reinforce the moisture shield of your skin, and it contains willow bark water instead of mineral water to exfoliate without irritation. Safe and free from harsh chemicals, the formula does not contain parabens, sulfates, and phthalates.
Pros:
Vegan
Cruelty-free
Hypoallergenic
Dermatologist-tested
Suitable for daily use
Cons:
Slightly expensive
Some may find it slightly sticky
Unlike other exfoliators, this one is powerful and has 7% glycolic acid and lactic acid in the toner. Tough on acne, blackheads, dullness, and aging lines (but gentle on skin), this toner is all you need to restore your glowing and clear skin. And no, it does not have harsh chemicals such as parabens, SLS, mineral oil, formaldehyde, petroleum, synthetic dyes, and more! Instead, the toner contains vitamin C, hyaluronic acid, and other botanical ingredients such as witch hazel, rosemary, hibiscus, licorice root, meadowfoam, cucumber, sage, and apricot. The formula also soothes and hydrates with skin-loving ingredients such as lavender, raspberry, apple, bergamot, safflower, arnica, and camellia.
Pros:
Cruelty-free
Non-irritating
Skin-refining
Non-drying
Shrinks pores
Improves texture
Works best for aging, hyperpigmented, and all skin types
Cons:
May be strong for sensitive skin
Not ideal if you are sensitive to smell
If your skin is too sensitive for masks and creams, try this mild cleanser instead. While washing away the gunk, this all-natural cleanser will exfoliate dead skin cells, lighten dark spots and refine skin to appear clear, healthy, and firm. Cleansing without stripping, the formula soothes and hydrates with organic ingredients such as aloe vera, olive oil, rosehip oil, borage seed oil, gotu kola, and horsetail. The infused vitamin C lightens dark and sunspots, vitamin E protects and moisturizes, whereas tea tree oil combats acne and prevents future breakouts. The formula is also free from parabens, sulfates, silicones, and phthalates.
Pros:
Vegan
Cruelty-free
Pore minimizer
Gentle exfoliation
Deep cleansing
Improves skin texture
Suitable to use twice a day (AM and PM)
Cons:
Eyes may sting on contact
Not suitable for dry skin
What if we tell you that this prestigious cleanser will restore your even-toned skin? Enriched with exfoliating and nourishing qualities of orange peel (vitamin C) and sunflower seed oil, this face wash will eliminate impurities, scrub away the dead skin cells gently, and hydrate in a 30-second wash! More like a polishing cleanser to alleviate dryness, flakiness, dullness and restore the natural radiance, it'll keep your pores clean and blackheads away with every use.
Pros:
Zesty scent
Deep cleansing
Skin-brightening
Micro-exfoliating beads
Award-winning formula
Suitable for aging, sensitive, and all skin types
Cons:
Slightly expensive
Exfoliation may be too gentle for some
Are enlarged or open pores resulting in breakouts? Shrink them with this vitamin-mineral serum. Infused with 10% niacinamide, this blackhead serum will minimize pores, lighten dark spots, acne scars, and blemishes. It also contains 1% zinc to control excess sebum and rebalance the oil secretion on the skin. A fantastic choice to soothe your problematic skin without causing redness or irritation, you can include this facial oil twice a day in your skincare routine.
Pros:
Lightweight
Skin-brightening
Suitable for acne-prone and oily skin
Cons:
For your acne emergencies, try this gentle and soothing gel. A travel-friendly tube that can easily fit in your everyday bag, this gel will dissolve acne by deep cleansing pores and absorbing unwanted oil. It contains salicylic acid to clear acne, shrink pores, and prevent future breakouts. The gel also exfoliates with lactic acid and soothes and calms skin with nourishing aloe vera. An ideal combo to restore your soft, toned, and healthy-looking skin, you can also use this gel for spot treatment.
Pros:
Gentle
Skin-brightening
Dermatologist-tested
Non-comedogenic
Suitable for sensitive skin
Cons:
Here's a solution that'll make blackhead extraction at home easy, gentle, and less painful. It contains 12 herbal and botanical ingredients to eliminate dead skin cells and pore build-ups. Using full-spectrum extraction technology, the formula has aloe vera, ginger, yellow dock, burdock, red root extract, dandelion, and spirulina. It also uses pau d' arco, echinacea, sheep sorrel, chaparral, turkey rhubarb, cleavers, and chlorella to loosen, soften, and ready pores for extraction. With lavender essential oil adding a heavenly whiff to the extraction session, watch your skin appear toned, refined, and cleaner with this one.
Pros:
Gentle
pH balanced
Deep cleaning
100% naturally derived
Ideal for congested pores
Suitable for normal to oily skin
Cons:
Not suitable for dry, mature, and sensitive skin
With pomegranate and raspberries, your scrub cannot get more delicious than this! Take a fruity route with this scrub to eliminate pesky blackheads. The formula contains gentle acids such as lactic acid and hibiscus flower acid to unclog pores and eliminate the gunk. Free from parabens, sulfates, phthalates, mineral oil, and more, the scrub will exfoliate intensely to remove a week's gunk with volcanic sand, pink salt, and pomegranate. Following this, raspberry and witch hazel will purify and minimize the appearance of pores, and probiotic extracts will restore your natural radiance with touchable-soft and visibly smooth skin. The brand also claims that 87-90% of users witness lesser blackheads and more radiant and healthier skin after 1-week use.
Pros:
Cruelty-free
Gluten-free
Silicone-free
Refreshing
Deep cleansing
Suitable for mature, oily, dry, and combination skin
Cons:
Slightly strong for sensitive skin
For professional-level facial exfoliation at home, try this easy-to-use and cordless skin scrubber. Suitable for all skin types, even sensitive, the multi-purpose scrubber will make you feel good about your skin with every use. Its benefits? The scrubber uses high-frequency vibrations to remove blackheads, dead skin cells, excess sebum, gunk, impurities, and makeup. Gently massaging the skin, it improves circulation, stimulates absorption, and aids in cellular regeneration. Besides this, the scrubber will restore your youthful glow and touchable softness by firming and hydrating the skin.
Pros:
Lightweight
Rechargeable
Travel-friendly
Balanced and supple skin
Wireless charging stand included
Cons:
What's good about this gel-to-foaming cleanser? It's dermatologist-tested, and it minimizes blackheads, sebum, and other imperfections with natural ingredients! Gentle and non-drying, unlike other blackhead cleansers, this face wash is also refreshingly calming. It contains salicylic acid to unclog and reduce the appearance of pores, rose water, peppermint, and rosemary to tone and add a healthy glow, and other essential oils such as lavender and lemongrass to make those washes heavenly. Besides this, it moisturizes with organic grape water and combats aging signs with polyphenols. 98% naturally derived, the formula is free from toxic chemicals such as parabens, sulfates, phthalates, mineral oils, artificial fragrances, and more.
Pros:
Soap-free
Alcohol-free
Non-comedogenic
98% naturally derived
Suitable for combination skin
Cons:
Slightly expensive
Not suitable if you are sensitive to smell
Let's break up with breakouts, shall we? Give your skin a reason to glow with one of the 15 best skin care products for blackheads on our list. However, if you are still wondering how to choose the best product for blackheads, we have some tips for you in our buying guide below.
How To Choose The Best Blackhead Removal Products?
There are two different types of exfoliants— physical and chemical.
Physical exfoliants such as cleansers, scrubs, and masks involve manual scrubbing to eliminate dead skin cells and unclog pores. They deliver instant results by leaving the skin soft, smooth, and naturally radiant. For example, BIORÉ Charcoal Nose Strips are great for eliminating blackheads and gunk on the nose instantly. If you have oily or combination skin, Tula So Poreless Deep Exfoliating Blackhead Scrub will exfoliate blackheads and impurities effortlessly. Likewise, Eve Hansen Vitamin C Cleanser and Proactiv Blackhead Dissolving Gel will exfoliate without irritating the skin and are best for sensitive skin.
If you are looking for long-lasting results and don't mind waiting to see a visible difference in your skin, you can choose a chemical exfoliant. They include exfoliating hydroxy acids such as glycolic acid, lactic acid, and salicylic acid that penetrate the skin to eliminate the root cause of blackheads over time. They also shrink pores and make skin appear firmer, clear, and younger-looking than before.
For example, Insta Natural AHA Toner with 7% glycolic acid is a fantastic choice for a powerful exfoliation. If you have enlarged pores, Paula's Choice Skin Perfecting Liquid Exfoliant or Caudalie Vinopure Pore Purifying Gel Cleanser is ideal for unclogging and shrinking pores. And for the best experience, you can combine physical and chemical exfoliation by using a facial tool with any chemical exfoliants.
Why Trust StyleCraze?
Kirtana Divakar has a keen interest in skin care and loves to try on and review different skin care products. She has done extensive research on various products for blackheads, read many customer reviews online, and compiled the list of best products for blackheads. These products exhibit a long-lasting effect and are ideal for daily usage.