10 Best Products For Blonde Hair In 2021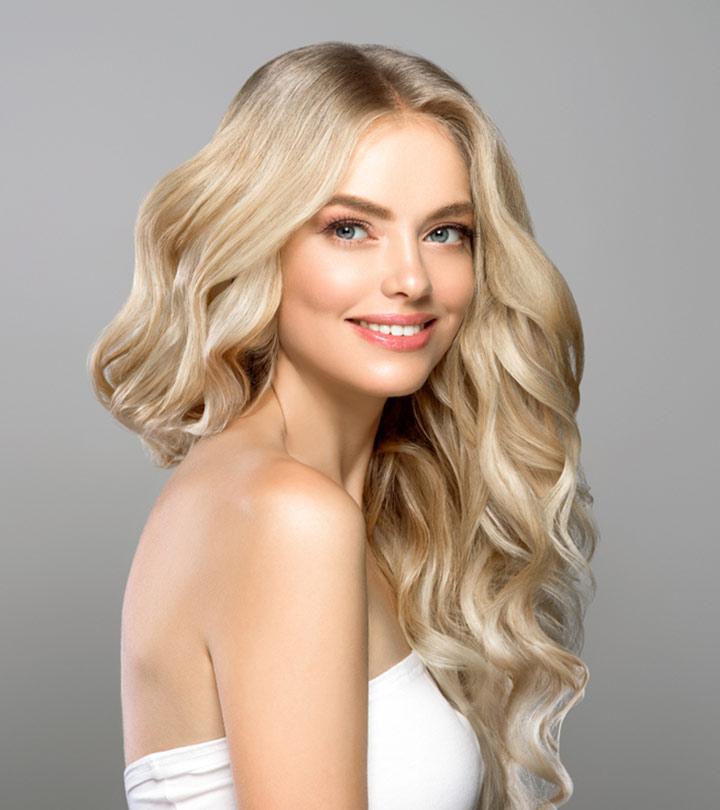 Blonde girls are beautiful with a naturally attractive persona and can keep the room focused on themselves with their charm and wit. Many famous personalities all around the globe have at some point or the other donned the natural blonde or the platinum blonde look and have left us drooling for that luscious mane of hair for ourselves wondering which are the best products for blonde hair. But the celebrities have an army of hairstylists at their disposal to keep the blonde, blonde. Blonde hair requires special treatment which is why we have compiled a list of the 10 best products for blonde hair to use in 2021.
Maintaining blonde hair feels like a rigorous routine. With a wide range of products available to you at your disposal, you don't have to worry anymore! With or without an army of hairstylists you can now confidently carry that crown of gorgeous golden hair. We know how much damage your hair goes through especially with the use of dye and toner for that perfect shade. Our comprehensive list of the best products for blonde hair will have you wishing you could purchase them all instantly! Read on to find out more.
The Top 10 Products To Buy For Blonde Hair In 2021
John Frieda Sheer Blonde Go Blonder Lightening Spray is filled with active ingredients to treat your hair with a blend of citrus and chamomile. This product works with styling heat to gradually lighten and brighten your hair for that amazing blonder look. The John Frieda product can be safely used on natural, color-treated, or even highlighted hair. Using this product on wet hair and curling it or straightening it with a hot iron gives the best results.
Pros
Brightens hair precisely where it is applied
Can be used on all types of hair be it natural or color-treated
It cleanses and creates a shimmery pearlescence.
Cons
Some may experience damage when used excessively
Paul Mitchell Platinum Blonde Shampoo helps cool brassy tones in natural blonde and color-treated hair with a violet-tinted, color-enhancing formula. This platinum blonde shampoo softens the hair strands and adds shine to it. To get the best result massage it on wet hair and rinse it off in approximately 5 minutes. The conditioner for blonde hair helps hydrate the hair and intensify the shine too.
Pros
Has a refreshing cucumber melon fragrance
Ideal for color-treated hair
Helps eliminate gold or yellow tones when used weekly
Cons
Some users had issues with the smell
Redken Color Extend Blondage Color Depositing Purple Shampoo instantly tones and strengthens the brassy looking blonde hair. The formulated purple pigments counteract the yellow undertones to give a notifiable blonde color. This color depositing drugstore purple shampoo for blonde hair has ultraviolet pigments and a triple acid protein complex that help tone, strengthen, and brighten the hair. It is the best shampoo to use for blonde hair.
Pros
Using it 2 to 3 times a week gives optimal results
Triple acid protein complex helps strengthen and increase hair elasticity
Keeps undertones away
Cons
Some users reported brassiness in hair color post-use
It's a 10 Haircare Miracle as the very name suggests is a miracle product infused with natural ingredients such as Chinese purple leaf extract, hydrolyzed silk protein and acai that enhances our hair's natural oils giving more strength and shine to it. This quick spray-in formula helps detangling and smoothing your precious hair. It's infused with ingredients that will protect your hair from thermal styling and other hair-damaging products.
Pros
Adds shine and restores moisture as well
Protects hair from fading and dullness
Helps prevent split ends and hair breakage
Cons
The smell is too heavy and perfumery.
The Clairol Professional Shimmer Lights Shampoo has a protein-enriched conditioning formula giving your hair a smooth and shiny look. When used on blonde and silver hair, it tones down the brassiness as well. This formula removes the dullness from the silver hair and leaves it looking visibly healthier without any residue. It is the best shampoo and conditioner for platinum blonde hair
Pros
Adds strength and brightness to your hair
Available in brunette and red formulas
Perfect to renew highlights that have faded
Cons
The smell may not be appealing for all.
Joico Color Endure Violet Shampoo removes the oxidized yellowing and maintains the integrity of the gray hair. This formula gives vitality, color, and shine to the otherwise dull hair. When massaged into wet hair and kept for 3 to 5 minutes, the result is amazing. It also boasts of controlling damage to environment aggressors, UV rays, and also the daily use of heat-styling products.
Pros
Sulfate-free product
Contains hydrating elements for added moisturization
Helps in boosting the blonde color
Cons
May cause brassiness in the hair color
The Pureology Strength Cure Best Blonde Miracle Filler Hair Treatment comes in new packaging and is similar in effect to the Perfect 4 Platinum Miracle Filler. The silicone-free product is a great treatment for dry, color-treated hair. Being packed with essential nutrients, it softens and strengthens your hair. Derived from natural plant extracts, it adds sustainability and richness to the hair. It is the best moisturizing shampoo for blonde hair.
Pros
A 100 percent vegan and sulfate-free product with antifade complex
Prevents damage and hair breakage
The presence of naturally derived corn, coconut and sugar helps cleanse hair.
Cons
Product quantity is too less
Slightly overpriced
OGX Hydrate & Color Reviving + Lavender Luminescent Platinum Shampoo contains lavender oil and chamomile extract that blend well to brighten the platinum blonde tresses. It helps remove the yellow brassiness and gives your precious hair the much-deserved radiance and shine. The OGX Hydrate & Color Reviving Shampoo is inspired by nature, making your gorgeous hair look fuller, smoother, and bouncy.
Pros
Has a pleasant fragrance
Contains UVA/UVB protecting your hair from sun damage
Suitable for all hair types and textures
Cons
May not suit extremely dry hair
The Kevin Murphy Blonde Angel Wash is richly formulated and helps counteract brassy tones. This color enhancing shampoo is lavender-infused and helps refresh the blonde tones of your hair. It replaces the dullness of your hair giving it the much-needed shine and bounce too.
Pros
Suitable for daily use
Helps prevent color stripping
Sulfate, paraben, and cruelty-free product
Cons
Needs a lot of product to lather
L'Oreal Paris Hair Care Expertise Everpure Reviving Treatment Formula contains vivid iris botanicals to help clear the dryness and banish the brassiness. This product gives a salon-quality refreshing mask, intensely nourishing over-processed hair. It boosts blonde hair for a fresh, lustrous look. It is the best shampoo for light blonde hair.
Pros
Sulfate and paraben free product
Perfect when used with a conditioner
Improves blonde hair with a pure lustrous look
Cons
Excessive use can cause dryness
What products should I use for blonde hair?
Our list of the best products to use on blonde hair will help you choose the perfect product to suit all your needs. The brands featured on our list of the top rated purple shampoo for blondes range from John Frieda to Redken and Kevin Murphy which are all great and can be used on most hair types. So go ahead and choose your best product for all your blonde hair needs.
How do you keep blonde hair healthy?
Blonde hair gives one a stunning look but at the same time requires an extra effort for its maintenance. Blonde hair is more fragile and delicate as compared to other colors and needs to be protected from the rays of the sun and other harmful products. One must switch to sulfate-free shampoos and avoid washing the hair frequently as well. Keeping the blonde tresses healthy is equally important. Keeping them hydrated by using a good leave-in conditioner will go a long way in bringing the dry brittle hair back to life.
How do you tone down blonde hair?
Many a time one needs to use a toner to get rid of the tones that we do not like; those brassy, orange-tinted or gold highlights can be softened using these post-coloring solutions. Using a purple shampoo goes a long way in toning down the gold or brassy highlights.
How to take care of blonde hair?
Taking extremely good care of the blonde hair though tedious can help you maintain the perfectly achieved result for a long time. Following these tips religiously has proven beneficial.
Using sulfate-free shampoos is an absolute must
Replenishing the lost moisture by using a hair treatment
Using a lavender-tinted conditioner that subtly cleanses the scalp, brightens, and hydrates the hair well
Give your hair a treatment mask once a week
How do you know what blonde is right for you?
If you are planning to go blonde you might as well choose the right shade of blonde and there are a few pointers to keep in mind while choosing it.
shade of skin– Considering the shade of your skin will help you decide the perfect shade of blonde for you. Paler or pink skin tones require cooler shades of blonde like beige or baby blonde, while golden-toned or darker skin requires honey blonde or caramel hues of blonde.
Eye color– The depth of your eye color will also help choose the right shade of blonde for your hair. For lighter eye colors choose soft shades of blonde while darker eye colors require a richer blonde hue so as to contrast the color of your eyes.
Maintenance– The kind of commitment you are planning to put in to maintain the color of your hair is also important as certain shades of blonde require regular touch ups.
Health of your hair– The health of your hair also counts as lighter shades require stronger hair colors and can cause a great deal of damage to your hair. Using the right products such as shampoo and conditioner for blonde highlighted hair to keep your hair healthy and happy.
Blonde hair is definitely much more difficult to maintain considering the amount of damage that it takes with the numerous products that go into making it look beautifully blonde. With our list of the best products available for blonde hair, we hope you find the right product that suits all your blonde hair needs.
Frequently Asked Questions
What colors make blonde hair stand out?
Wearing warmer colors will help in bringing out the warmth of your skin. Shades of pinks and yellows are the best colors to pull off blonde hair.
Which oil is best for blonde hair?
Blonde hair tends to be porous and to help with that, choose oils such as linseed oil, sunflower oil, and grapeseed oil which are great to help give your hair the strength it requires.
What conditioner should I use for blonde hair?
Using a good quality purple conditioner will help keep your blonde hair smooth, shiny and healthy.
Can you tone blonde hair to brown?
Yes, using the right toner will help you darken your hair to a desirable brown shade.
Will purple shampoo lighten natural blonde hair?
The purple shampoo helps in keeping the undertones under control.
How can you keep blonde hair from turning brassy?
Using the right shade to color your hair, avoiding the sun or pool, and using a purple shampoo and hair mask will help in keeping your hair from turning brassy.
Recommended Articles