12 Best Products For Combination Skin For Better Results In 2023
Power-packed formulations that work on blended skin types and treat difficult skin issues.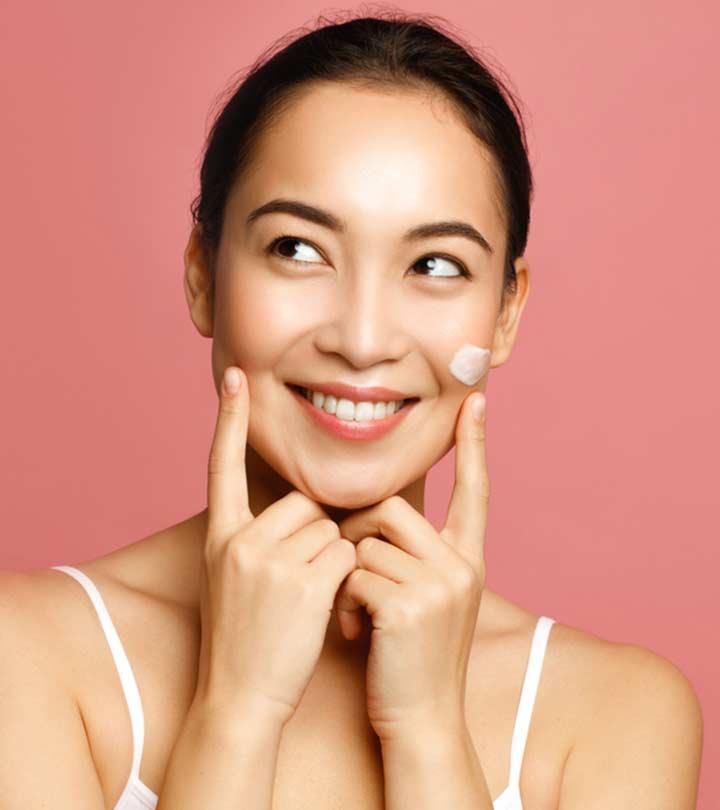 Combination skin requires killer products to take a good effect and show amazing results. It is often tough to find the best products for combination skin as none seem to provide a balanced effect and give you the desired results. It is more confusing since you need something that gives the right amount of moisture to the dry parts and controls the sebum production in the oily parts of the face.
Many skin care experts and dermatologists always suggest looking out for ingredients like AHAs (Alpha-hydroxy acids) and BHA like salicylic acid. The main purpose of these expert-recommended ingredients is to make the skin firm without causing dryness and provide gentle exfoliation for combination skin to leave a bright and healthy glow. If you include these products in your morning and night skincare routine, they will definitely show visible results and do wonders for your unpredictable skin conditions. Here is a list of the 12 best product options for combination skin that you may purchase online. Scroll down and take a look.
What Is Combination Skin?
Before we get into the various types of combination skin products, you need to understand the basics. If you have this skin type, you will notice that some areas of your skin are oily while the others are dry.
Usually, the leading cause of combination skin is genetics, but it can also result from the environment, stress, and hormones. Many times, people also experience combination skin after using harsh products that have aggressive, pore-clogging ingredients. Therefore, it's crucial to choose the right skincare products for this skin type.
12 Best Products For Combination Skin With Buying Guide (2023)
TruSkin Vitamin C Serum is a crowd favorite because of its compelling blend of ingredients, which result in radiant and flawless skin. Indeed one of the exceptional serums for combination skin, it contains vitamin C, hyaluronic acid, vitamin E, witch hazel, and jojoba oil. While vitamins C and E, and hyaluronic acid, improve elasticity, brighten and hydrate the skin, jojoba oil nourishes it from within. The formula also contains organic aloe vera, abundant in antioxidants, which replenishes the skin with moisture by creating a protective barrier. If you are still unsure, check out this honest review.
Pros
Vegan
Paraben-free
Cruelty-free
Sulfate-free
Offers UV protection
Clinically-tested
Dermatologist-tested
Cons
Product may cause irritation or breakouts with certain skin types. It is recommended that you do a patch test before using the serum
This is one of the best combination skin treatments in the market known for improving the skin's texture and tone. The scientifically formulated product is enriched with salicylic acid to minimize and clear clogged pores, exfoliate dead skin cells, and reduce the appearance of fine lines and wrinkles. It also contains green tea extracts to fight signs of aging and leaves you behind with smooth, nourished and brighter skin. If you want to stir away from harmful chemicals, this results-driven serum is the one for you. It is free of parabens and synthetic fragrances, making it ideal for everyday use. Click this video to learn more about this skincare product based on the tester's experience.
Pros
Paraben-free
Fragrance-free
Hydrates and brightens
Contains salicylic acid and green tea
Not tested on animals
Cons
The scent may be overpowering for some.
Bid farewell to all your struggles of having combination, acne-prone skin with this L'Oreal Paris Revitalift serum. It contains dermatologist-recommended 1.5 % pure hyaluronic acid, which provides hydration and reduces the early signs of aging like fine lines and wrinkles while treating acne on combination and mature skin. The formula also contains castor oil and glycerine to prevent wrinkles, add moisture and fight acne. Apply this serum twice every day for glowing, smooth skin.
Pros
Lightweight formula
Instant hydration
Gel formulation
Paraben-free
No synthetic dyes
Dermatologically tested
Allergy tested
Cons
May not be hydrating enough
The InstaNatural face wash is one of the best cleansers for combination skin. It includes potent ingredients like vitamin C and aloe vera, which reduce hyperpigmentation and provide hydration for combination skin. Want to get rid of clogged pores? Now, you can! This formula is also enriched with the goodness of coconut water, sugarcane extract, and green tea to help clear clogged pores, treat blemishes, and moisturize the skin from within apart from treating enlarged pores on combination skin. It is proven to deliver visible results.
Pros
All-natural ingredients
Enhances your complexion
Cruelty-free
No mineral oils
Paraben-free
Cons
May not be suitable for sensitive skin
Enhance your skin texture and tone by incorporating this cream into your daily skincare routine. It is one of the best anti-aging products for combination skin. It is infused with 92% snail extract that restores and maintains the natural skin barrier and leaves it revitalized and repaired. Besides, it also includes other nourishing ingredients that effectively treat wrinkles and fine lines and protect the skin from sun damage, while reducing redness and acne trouble on combination skin. It treats large pores or dry patches of skin while stimulating collagen production and improving elasticity.
Pros
Anti-aging benefits
Long-lasting hydration
Artificial color-free
Artificial fragrance-free
Paraben-free
Cons
What if we told you that your dream of achieving glowing, flawless skin is just a mask away? With the InstaNatural exfoliating mask, it takes less than 10 minutes to attain the skin you've always longed for. It contains effective exfoliants such as glycolic acid, turmeric, and vitamin C, which clear dead cells, minimize pores, improve uneven skin texture, and brighten the appearance of dull and tired skin. Free of harmful chemicals, this formula also contains aloe vera, pumpkin extracts, and ginger to nourish and hydrate the skin. Learn more about the skin care product in this video.
Pros
Cruelty-free
Paraben-free
Sulfate-free
Petroleum-free
Minimizes pores
Evens out skin tone
Free of synthetic dyes and mineral oils
Cons
Some might find the texture a bit thick and clumpy.
The COSRX lotion is the oil-free skin savior that you need in your skin arsenal immediately! It's a lightweight daily moisturizer that is an excellent addition for day and nighttime skincare routine for combination skin. The formulation is light and is quickly absorbed into the skin, and it doesn't leave a greasy residue. This formula's key ingredient is willow bark water, packed with vitamins and antioxidants that effectively calm and treat inflamed skin. It also contains lemon leaf oil, tea tree oil, and glycerin to nourish and hydrate, leaving it soft and smooth.
Pros
Natural ingredients
Oil-free formula
Lightweight finish
Not tested on animals
Paraben-free
Hypoallergenic
Suitable oily to combination skin
Cons
The smell of the product might be unpleasant for some.
There's nothing better than feeling refreshed and hydrated after a long tiring day, and the Neutrogena moisturizer for treating oily T-zone and dry cheeks does just that. The oil-free formula from this dermatologist-recommended brand is the perfect combination skin treatment because of its water-based, dual-action formula that doesn't add any greasiness or shine to the oily T-zone. It contains glycerine to lock in moisture and provide hydration. An ideal addition to your skin care routine, it is dermatologically proven to mattify oily skin and moisturize dry skin.
Pros
Oil-free
Lightweight
Alcohol-free
Hypoallergenic
Fragrance-free
Water-based formula
Cons
It contains silicone and parabens.
What better way to indulge self-care than to put on a hydrating face mask that not only purifies the skin but prevents frequent breakouts and blemishes. The Proactiv Skin Purifying Acne Face Mask is an excellent addition to your skin routine for combination skin. It contains active ingredients like tea tree oil and sulfur to calm inflammation, clear out clogged pores, and prevent acne, offering hydrated and healthy skin. Suitable for all types of skin, it works as one of the best spot correcting treatments and acne-fighting products for combination skin as well. It is an expert-recommended product for its proven efficacy.
Pros
Suitable for all skin types
Fast healing of active pimples
Clears grime and oil from clogged pores
Loaded with antioxidants and vitamins
Dermatologist-tested
Cons
The scent may be overpowering for some.
There is no better feeling than freshly exfoliated and moisturized skin, and the Brown Sugar Body Scrub does just that! The Brown sugar crystals prevent any moisture loss while gently polishing away any dead skin cells. It also has a refreshing peppermint scent that tingles the senses and ginseng extract that rejuvenates skin cells. This exfoliant can be used on delicate body parts like the face and lips and as a body scrub, too. If nourishment is what you want, then nourishment is what you will get with this exfoliating scrub! It contains sweet almond oil, apricot oil, jojoba oil, and evening primrose to maintain the skin's health while reducing the appearance of cellulite and stretch marks. The bonus point is that it dissolves quickly and doesn't leave a grainy messy residue behind.
Pros
Cruelty-free
Reduces skin impurities
Moisturizing properties
Doesn't leave any residue
Contains a refreshing, light fragrance
Cons
The exfoliating sugars may dissolve too quickly
The What a Melon Jelly Hydrator is ideal for combination skin because of its weightless formula and hydrating properties, which quenches your skin's thirst without leaving it feeling sticky or greasy. It is enriched with extracts of watermelon, cucumber, willow bark, and passionflower, containing vitamins and nutrients to control excess sebum production, clear pores of impurities, boost collagen production, and moisturize without any shine. This moisturizer choice for combination skin can be used daily, as it only targets the oily T-zone and the dry patches on your face, resulting in balanced hydrated skin. It is one of the best effective targeted treatments for combination skin issues.

Pros
Lightweight formula
No greasy residue
Minimizes the appearance of large pores
Controls excess oil production
Maintains skin's pH levels
Not tested on animals
Dermatologist-tested
Cons
Some may find the fragrance overwhelming
Here is another great addition to our list of best products for combination skin, this cream does wonders at balancing skin texture, controlling shine, and providing hydration. It contains natural ingredients like aloe vera, rosemary, arnica, chamomile, and lemon, which absorb excess oil and moisturizes the dry parts of your face. If you need more convincing, it also contains the goodness of vitamin E, cucumber, and safflower seed oil to maintain the skin's health and clear pores without clogging them.
Pros
Moisturizing and soothing
Controls excess sebum production
Regulates the skin's pH levels
Non-comedogenic
Cons
*The prices provided in this article are based on the latest available information. However, they may vary due to changes in pricing by the seller and/or promotional offers.
Now that you know the top 13 best products for combination skin, here are some points that you need to know before investing in the right skincare product.
What Causes Combination Skin?
Many things, including the following, can cause combination skin type
Genetics undoubtedly plays one of the most influential roles in determining what skin type you have. If one or more than one family member has a combination skin type, then the chances of you having the same are pretty high.
We cannot disregard the impact our lifestyle has on our lives. This includes eating habits, use of daily products, pollution, etc. Often, the use of harsh products may cause combination skin. It may trigger oil production in some and can lead to overdrying in the other parts.
Your skin and its health are dependent on the inner workings of your body and mind. When you are feeling stressed, it definitely starts to show on your skin. The cortisol levels in your body begin to increase, which trigger oil production and may cause combination skin type.
Excessive exposure to the sun without any protection like sunscreen may leave skin susceptible to combination skin. The UV rays are harmful and lead to reduced skin elasticity and premature aging. Not only does it cause combination skin, but it also leads to hyperpigmentation.
What Is The Best Skin Routine For Combination Skin?
Step 1: Start with a gentle cleanser that cleans clogged pores
Step 2: Use a toner that is suitable for your skin type and ensure it is alcohol-free
Step 3: Follow with a hydrating serum
Step 4: End with a lightweight, non-comedogenic moisturizer. It should not be heavy enough to clog pores because that will lead to breakouts.
How To Choose The Best Products For Combination Skin?
Here are some other points to look out for when selecting skincare products for combination skin:
When choosing products for a combination skincare routine, you need to look at the ingredient list. Some ingredients to look for are glycolic acid, salicylic acid, hyaluronic acid, aloe vera, oatmeal, and glycerin. They help gently exfoliate the skin while providing hydration that your skin craves.
Combination skin type is prone to pore-clogging, and sensitive to harsh chemicals. To ensure you achieve clean and clear skin, pick lightweight, water-based, hypoallergenic, and non-comedogenic products.
Regardless of the skin type, you need to steer away from harmful chemicals and preservatives that may cause irreversible damage. Opt for products that are free of parabens, sulfates, mineral oils, and petroleum.
Why Trust StyleCraze?
The author of this article, Kirtana Divakar, is a skin care enthusiast who believes in regular self-care and loves writing about beauty and lifestyle. She has conducted thorough research and gone through multiple reviews to hand-pick the best products for combination skin. She evaluated the ingredients and also checked the brand websites to shortlist only the best products for the list.
Frequently Asked Questions
Is aloe vera good for combination skin?
Aloe Vera is suitable for all skin types, especially if you have sensitive combination skin. Perfect for treating sensitivity on combination skin, it helps hydrate dry combination skin and treats conditions like acne as well as sunburns.
Do I have to moisturize combination skin?
Yes, you do. However, choose a moisturizer that is a combination of mattifying ingredients and oil-free hydration. Preferably with the best ingredients for combination skin like salicylic acid which help fight and prevent breakouts.
Is a toner necessary for combination skin?
If you have large pores and textured skin, then toners can be a useful addition in combination skincare. It's a nice way of adding potent ingredients like retinol and antioxidants in your current skincare routine, as well.
How can I get glowing skin for combination skin?
• Use a gentle facial cleanser twice daily to remove product buildup.
• Exfoliate once weekly to keep your pores clear and relieve dry areas.
• Use a non-comedogenic, water-based moisturizer for oily areas and creamy formulas for dry parts of the face.
• Apply a lightweight sunscreen for combination skin with at least SPF 30 every time you step out.
What does combination skin look like?
A combination skin type has both dry and oily areas on the face. For example, your T-zone is oily with dry cheeks.
Which type of serum is best for combination skin?
Hydrating serums are ideal for combination skin. They are oil-free and moisturize the skin without causing blemishes.
Recommended Articles: