The 12 Best Products For Crepey Skin – Our Top Picks Of 2023
Treat sun spots, reduce wrinkles, and improve your skin texture with effective products.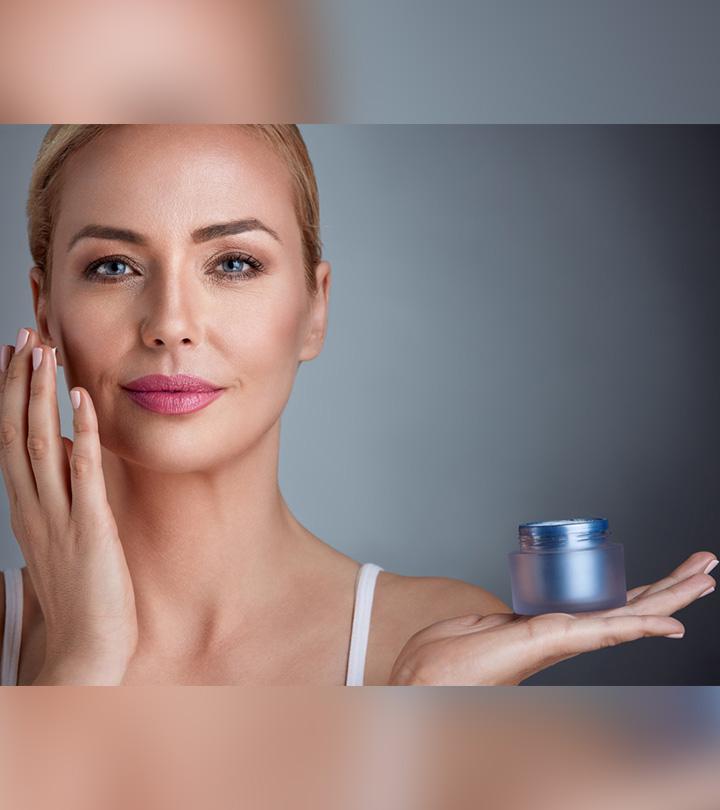 If you are looking for the best products for crepey skin, we got you covered here! If your sagging, wrinkly skin has started bothering you, it's time you invest in certain skincare products that can help tighten your crepe-paper-like skin. While many think that crepey skin is a result of the aging process, that's actually not the whole truth! There are instances wherein teenagers and young adults have also had to deal with thin papery skin. It could be because of various environmental stressors like pollution, UV rays, dehydration, and lack of moisture, sudden weight loss, or hormonal imbalances as well! While you need to address these factors, to help improve things from within, there are a few products that may help you change the look on the outside meanwhile. To help you know more about this condition and what products can be beneficial, we have shortlisted the 12 best products for crepey skin to help you look and feel better!
 2023 Reviews: Top 12 Best Products For Crepey Skin
Retinol + Ferulic Acid Anti-Sagging Treatment
Medix 5.5
Pros
Vegan
Cruelty-free
Improves skin elasticity
Free of harmful chemicals
Tightens loose and saggy skin
Can be used on the face and body
Restores glow in mature and acne-prone skin
Cons
Some may find the scent overwhelming.
Price at the time of publication: $15.62
Pros
Gluten-free
No parabens
Light formula
Tightens saggy skin
Brightens your decollete
Boosts collagen in the skin
Facilitates a slimmer neckline
Cons
Price at the time of publication: $27.25
If you are looking for a hydrating formula that makes your skin firm, smooth, and adds glow, this is the best moisturizer for crepey skin. It is formulated with honey, hyaluronic acid, and glycolic acid, which reduces fine lines, wrinkles and enhances the overall texture of your skin. It also contains moisturizing ingredients like shea, aloe, coconut oils, and vitamin E that rejuvenates your dry and dull skin.
Pros
Deep nourishment
No harsh chemicals
Suitable for all age groups
Enhances the skin elasticity
Suitable for the face and body
Minimizes the appearance of wrinkles
Cons
Might lead to a slight, tingling sensation
Price at the time of publication: $24.99
Pros
Easy to use
Adds firmness
Free of harsh chemicals
Enhances the skin texture
Cons
The consistency might be slightly sticky.
Price at the time of publication: $14.99
With anti-aging properties, the natural components present in this formulation such as retinol, jojoba oil, and green tea extract prevents sagging, makes skin firm, boosts skin cell turnover, and elasticity. What we love the most about this product is that it repairs wrinkles, fine lines, and blemishes by tightening the pores in the neck and decolletage, giving these areas a sleeker look. Plus, it is a 3-in-1 solution for your skin goals — neck firming, anti-aging, and moisturizing cream!
Pros
Treats turkey neck
Soft and supple skin
Suitable for all skin types
No parabens and sulfates
Works for crepey skin in arms, legs, and elbows too
Cons
Some may find the formula slightly sticky.
Price at the time of publication: $19.97
Don't miss out on this incredible crepey skin cream by Vernal Skincare, which comes with many skin benefits! This advanced repairing formula is rich in antioxidants such as vitamin B3, A, and C which stimulates collagen, boosts skin elasticity, treats wrinkles, and adds firmness to your skin. Besides, the natural components such as watermelon, apple, aloe vera, and shea butter hydrate, prevent dryness, slow aging, and restores crepey skin with firmness and radiance. It also contains hyaluronic acid, which makes your skin feel soft, fresh, and youthful.
Pros
Soothing effect
Suits all skin types
FDA approved product
Smooth and plump skin
Ideal for usage in all parts of the body
Cons
Might not provide immediate results
Price at the time of publication: $35.45
Here is the best product to repair crepey skin by pH Factor 5.5 that will treat and nourish your skin! Its anti-aging ingredients like retinol and ferulic acid decrease fine lines, wrinkles, and correct sun-damaged skin effectively. As it is formulated with black tea, aloe vera, shea butter, chamomile, and botanimoist AMS, it deeply hydrates your skin up to 88% and leaves it soft, firm, and supple.
Pros
Vegan
100% cruelty-free
Free of toxic chemicals
Gives an even skin tone
Improves elasticity of the skin
Boosts shine in acne-prone and mature skin
Cons
Some may find it slightly greasy.
Price at the time of publication: $14.99
Considered to be one of the best lotions for crepey skin, this is another great option to pamper, nourish, and protect your skin. The essential oils of olive, coconut, argan, almond, kukui nut, soy, and macadamia nuts along with honey, vitamin E, and hydrolyzed collagen brightens your skin and reverses aging by repairing wrinkles. Plus, the Alpha Hydroxy Acids (AHA's) facilitates skin regeneration to restore a youthful appearance. As an added benefit, the hyaluronic acid retains water in the skin to prevent dryness, boosts elastin, and collagen production to help you achieve soft and plump skin.
Pros
Cruelty-free
Lends firmness
For both face and body
Enhances texture and vibrancy
Helps achieve fresh and younger looking skin
Cons
Might not give immediate results
Price at the time of publication: $22.95
Pros
Lifts your skin
Nourishing formula
Rejuvenating effect
Keeps skin hydrated
Reduces inflammation
Cons
Might not be suitable for sensitive skin
Price at the time of publication: $39.97
Are you obsessed with serums? This nourishing face firming serum by Amaira may be the best choice for you. With this product for crepey skin that contains plant-based ingredients like aloe vera, witch hazel, and manjakani extracts, you will get firm and hydrated skin. Crafted with anti-aging components, it fades out fine lines, wrinkles, spots and gives a glow and even tone to your skin.
Pros
Cruelty-free
Lifts your skin
Stimulates collagen
Suitable for all skin types
Cons
The consistency might be slightly thin
Price at the time of publication: $49.97
Insta Natural Crepe Skin Firming Cream is formulated with hyaluronic acid, collagen, and shea butter which fights signs of aging, reduces fine lines and wrinkles, nourishes the skin, and keeps it hydrated. Glycolic acid infused in the cream exfoliates the skin, making it smoother and radiant. Caffeine reduces puffiness, improves circulation, and minimizes discoloration. You can also use this cream on the chest, arms, legs, and hands. This cream works effectively to tighten the skin and smoothen the uneven texture.
Pros
Cruelty-free
No mineral oil
Paraben-free
Easy-to-use container
Ideal for all skin types
Cons
Price at the time of publication: $29.97
Check out this best product for crepey skin, which comes with a pleasant smell of frosted lime cupcakes. Its anti-aging qualities with ingredients like hydrolyzed collagen, vitamin E, olive, coconut, almond, and argan oils effectively reduce fine lines, wrinkles, and spots,  restoring glow and health to your skin. Free of sulfates, parabens, silicones, and other chemicals, it shields your skin from damage. It contains hyaluronic acid that boosts collagen, hydrates, and lends you supple and plump skin.
Pros
Softens skin
Promotes firmness
Even tone and texture
AHA's for restructuring skin
Binds elastin and collagen together
Cons
Expensive
Scent may be overpowering for some
Price at the time of publication: $25.99
It can be frustrating and hard to deal with crepey skin. But fortunately, there are several products that can help improve your skin tone and texture. Check out our buying guide to understand what to look for in a product for crepey skin.
Things To Look For In A Product For Crepey Skin
Ingredients: While trying to find a product that works well for crepey skin, it is important to understand what the condition is. Some common ingredients found in products to treat crepey skin are topical retinoids (tretinoin or adapalene), AHAs (glycolic acid or lactic acid), and BHAs ( azelaic acid). These ingredients help lighten and improve the appearance of the skin by breaking down pigmentation in the top layer of cells. Also, look for a product with glycerin as one of the key ingredients. Glycerin helps retain natural skin moisture and prevents dryness.
Formulation: Make sure the product is lightweight and absorbed quickly into the skin. Since crepey skin is often dry and sensitive, products that are heavy or greasy may cause further irritation.
Things To Avoid: Look for a fragrance-free product that will not cause breakouts or clog your pores. Also, make sure to check the ingredients list for any potential irritants. Avoid products with sulfates, parabens, and phthalates. These chemicals can strip the natural oils of your skin, making it dry and crepey.
When it comes to choosing the best product for your crepey skin, there are a few important points to consider.
Ingredients To Look For To Prevent Crepey Skin
This particular ingredient attracts water from the body and keeps skin hydrated all day. It boosts skin metabolism, regeneration, and elasticity. Plus, it also possesses terrific anti-aging properties to repair wrinkled skin.
This vitamin A derivative promotes collagen (for proper skin structure) and elastin (for the required stretch) production in the skin, resulting in a soft, clear, and even skin tone. It also eliminates fine lines, boots collagen, and fights wrinkles. So keep a lookout for this ingredient in your anti-crepey products.
Antioxidants are a natural cure for crepey skin as they help in fighting against and preventing skin damage. The most common among them are vitamin C and E. They help you get rid of dead skin cells effectively. Ferulic acid, a popular antioxidant, heals sun-damaged crepey skin, eases out wrinkles, spots, blemishes, and marks.
AHA's are one of the best components to exfoliate dead skin. The most common constituents are glycolic and lactic acid. They treat wrinkles, fine lines, acne, sagging, and make the skin more firm and clear. It is an effective chemical that can improve your skin's texture and create a world of difference in helping you achieve a smooth, blemish-free appearance.
Natural components are always an excellent option for crepey skin. Essential oils of jojoba, argan, almond, and extracts of shea butter, honey, green tea help you achieve supple, plump, and well-hydrated skin.
How To Prevent Crepey Skin
Crepey skin is often caused by excessive sun exposure and hence, it is essential to protect the skin from harmful UV rays. A sunscreen with SPF 30+ can be of great help.
Make sure that your skin feels hydrated and nourished all day. Choose a moisturizer suitable for your skin type and include it in your daily skincare routine. Opting for a product that promotes the production of collagen, elastin, and comes with anti-aging qualities is highly recommended.
Exfoliation is required to eliminate dirt, grime, and damaged skin cells. It can be done once or twice a week with a mild scrub or mask. Never over-do it as it may irritate and inflame your skin.
Cultivate healthy food habits to protect and enhance your skin. Eat foods rich in antioxidants and omega-3 fatty acids such as fruits, green vegetables, whole grains, flax seeds, fish, eggs, and nuts. In addition to eating well, drinking plenty of water every day keeps skin clear and hydrated!
Why Trust StyleCraze?
Kirtana Divakar, the author of this article, is a skin care aficionado. She believes almost all skin care trouble can be improved if you know the right product to use. Her in-depth study of user feedback and strong knowledge about the latest products and trends have helped her prepare the list of the best products for crepey skin. These products help tighten sagging and loose skin.
Is there anything that really works for crepey skin?
Using products formulated with hyaluronic acid, AHA's, retinol, and essential oils can help you heal crepey skin sooner. Also, olive oil, green tea extracts, sugar & honey scrub are effective natural remedies for crepey skin.
Can crepey skin be reversed with exercise?
Yes, regular facial exercises tighten face muscles, correcting loose and saggy skin.
Is coconut oil good for crepey skin?
Since coconut oil has healing and collagen-boosting properties, it can be used to treat crepey skin to achieve firmness and health.
Does Vaseline help crepey skin?
Though not scientifically proven to correct crepey skin, Vaseline locks in moisture, lending you plump and supple skin. While Vaseline does have moisturizing abilities, it is oily and can clog pores particularly in people with naturally oily or acne-prone skin.
What is the best over the counter product for crepey skin?
Products with AHA's and hyaluronic acid are the best for crepey skin as they offer numerous benefits like glow, hydration, firmness, collagen, and elastin generation, which is essential for the skin to feel healthy.