15 Best Products For Dreadlocks And Locs (2022 Update)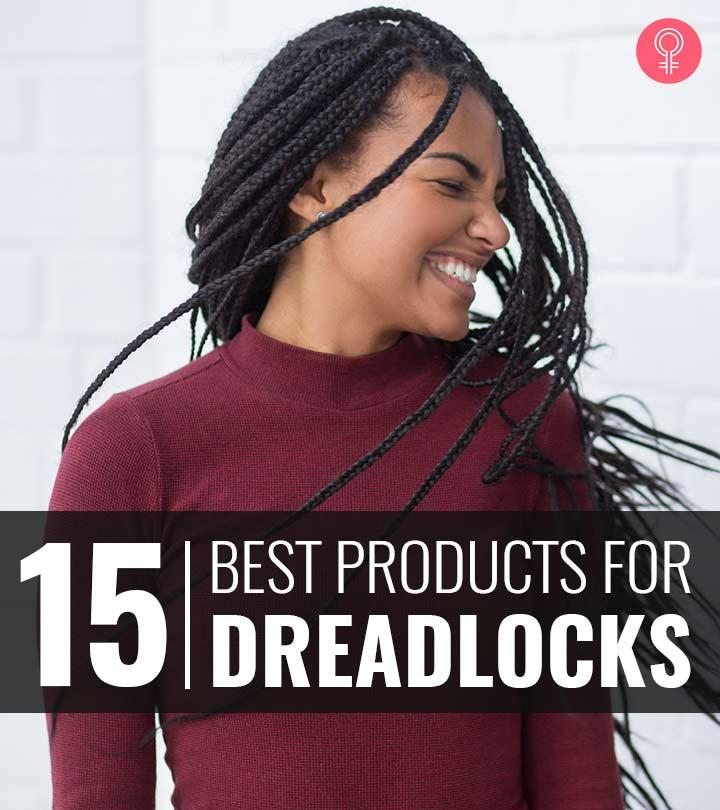 Dreadlocks, also known as locs or dreads are rope-like hair set by braiding or interlocking your hair strands. While there are many ways to make and flaunt these string-like hair braids, these need some extra TLC to maintain the shape without straining the hair too much. Polina Bukovza, US based hair and makeup artist says, "Use the right products. When you have dreads, it's important to use hair products that won't weigh them down or cause build-up. Look for light-weight gels or mousses that will help to define your curls without being too heavy." If you are doing dreadlocks care for the first time, or even if you are a pro at it, you can choose any of the 15 best products for dreadlocks to make them look even better.
Top 15 Products For Dreadlocks 
This Braid, Loc & Twist Gel from African Pride is a holy grail product for maintaining dreadlocks. It is perfect for keeping your braids and locks under control and looking neat. It smooths flyaways and calms frizz to make your style last longer. It also boosts shine to make your hair look as gorgeous as if you have just stepped out of a salon. The formula contains hair-nourishing ingredients like coconut oil and black castor oil. Coconut oil provides intense hydration and conditioning and helps repair damaged hair. Black castor oil nourishes the scalp and encourages healthy hair growth.
Pros
Contains natural ingredients
Conditions and repairs damaged hair
Promotes the growth of healthy hair
Non-sticky
Paraben-free
Mineral oil-free
Sulfate-free
Petrolatum-free 
Cons
None
The Jamaican Mango & Lime Island Oil is a non-greasy, nourishing blend of essential oils formulated to care for your roots and scalp. For those with dreads, this oil also helps strengthen your locks, making them appear radiant and healthy. The formula contains an innovative combination of traditional Jamaican recipes with nutritious natural ingredients. It enables you to get started with and maintain your locks, keeping them healthy and well-groomed. Watch this video to understand more about this product.
Pros
Nourishes hair roots
Strengthens locks
Inbuilt applicator tip
Provides hydration to dry hair
Paraben-free
Sulfate-free
Non-greasy
Pleasant fragrance 
Cons
None
Taliah Waajid Black Earth Products Lock It Up is a hair styling product for dreadlocks. It provides a visible difference to your hair from the first application. You can use it to maintain your twists and locks or for styling natural hair. It also helps define the natural curl pattern. The gentle formula uses colors and fragrances exclusively derived from dried fruit extracts and juices. It adds both shine and moisture to your hair and keeps it healthy. This video will provide you better insights about the product.
Pros
Provides moisture
Adds shine
Keeps hair healthy
No harmful additives
Natural color and fragrance
Alcohol-free
Paraben-free
Cruelty-free 
Cons
May irritate sensitive skin.
The Dread Head Dread Soap cleans your hair thoroughly, without leaving behind any residue. Conventional soaps and shampoos contain several ingredients that can slow down the dreading process. The Dread Soap contains none of that. It is formulated without oily perfumes or conditioners or any other irritant. All of this helps make your dreads tighter. It cleans your hair so well and removes oil and dirt so thoroughly that the hair is able to dread and tighten quicker than it usually would. If you are still unsure, check out this honest unboxing review.
Pros
Gentle on sensitive scalp
Residue-free
Non-irritating formula
No oily perfumes
Tightens dreads
Lasts a long while
Lathers well
Soothes itchy scalp 
Cons
The Cantu Shea Butter For Natural Hair has a moisturizing twist and lock gel formula. It helps make natural hair, braids, and dreads more manageable. It provides a silky smooth hold and controls frizziness. The result is soft and shiny twists and locks that look great and fetch compliments wherever you go. The gel is formulated, keeping your hair health in mind and contains no harmful or stripping ingredients like parabens, sulfates, silicones, or phthalates.
Pros
Suitable for all curl types
Gives a silky smooth hold
Pleasant fragrance
Sulfate-free
Silicone-free
Paraben-free
Mineral oil-free
Affordable 
Cons
May irritate sensitive skin.
The Locsanity Rosewater & Peppermint Daily Moisturizing Spray is a perfect solution for everyday care for your locks. It balances moisture in the hair and provides soothing relief from dryness and irritation. The all-natural formula has a light floral scent and provides a cooling, tingling sensation upon application. The spray contains a blend of several nourishing oils and vitamins, along with peppermint, rosewater, and plant extracts. In addition to keeping your locks hydrated, it also improves scalp health and prevents dandruff.
Pros
Suitable for all dreadlocks types
Soothes itchy scalp
Lightweight formula
Pleasant fragrance
Cruelty-free
Organic ingredients
Vegan
Made in the USA 
Cons
The ORS Lock and Twist Gel is available in a pre-mixed creme formula that is an effective combination of moisture and hold. It does not leave behind any flaky residue, nor does it cause buildup that may ruin your locks. The lightweight gel quickly provides a fabulous shine while helping control frizz. It is free of alcohol and sodium, which helps minimize hair damage. The Lock and Twist Gel is exceptionally moisturizing and easy to wash out of your hair.
Pros
Suitable for natural hair
Moisturizes hair well
Non-greasy formula
Smooth texture
Pleasant fragrance
No flaky residue
Cruelty-free 
Cons
The Lock Peppa Mega Tightener from Dread Head is one of the best products for dreadlocks, no matter what stage of your lock journey you are on. It is easy to create knots from straight hair using this product. Whether you are starting new dreads or trying to knot up new growth, the Lock Peppa makes palm rolling and twisting very convenient.
Pros
Speeds up the locking process
Non-sticky
Chemical-free
Easy to apply
A little goes a long way
Non-irritating 
Cons
The Jamaican Mango & Lime Rasta Locks & Twist Locking Creme Wax helps maintain the health and freshness of natural locks. It provides a soft and gentle hold while conditioning your hair with creme and Jamaican beeswax. What you get is soft, hydrated locks without any flakes, buildup, or greasy residue.
Pros
Helps maintain healthy locks
Pleasant fragrance
No greasy residue
No flaky buildup
Provides good hold
Non-irritating 
Cons
The Bronner Brothers Tropical Roots Firm Locking Gel is made using natural tropical ingredients. It helps you begin and maintain your braids, twists, and locks without a fuss, keeping them lightweight and healthy. The gel works to calm frizz and leave your locks with a natural shine. The formula contains several ingredients that boost healthy hair growth. It is gentle on your hair as it is made without synthetic dyes or artificial colors. The gel also contains a potent hair vitamin that gives it a reddish hue.
Pros
Provides extra firm hold
Pleasant fragrance
No greasy buildup
No synthetic dyes
No artificial colors
Promotes healthy hair growth 
Cons
The Hairobics Unlimited All Day Locks Braid Gel is the perfect product for dreadlocks when you want to lock your hairstyle in place. It can also be used to braid your hair and smooth edges and flyaways. The premium braid gel preserves and maintains your style for longer and keeps your hair free of flakey residue and buildup. The formula contains tea tree oil that can help soothe itching and provide relief.
Pros
Suitable for all hair types
Can be washed out easily
Can be used on braids and locks
No flakey residue
No greasy buildup
Cruelty-free 
Cons
May dry out hair.
Not enough hold.
The Lion Locs Hair Loc Growth Oil and Scalp Relaxer is a lightweight styling oil to help you better manage dreadlocks. It is formulated using organic, all-natural ingredients sourced from India. The nourishing blend of essential oils and carrier oils provides your hair and scalp with adequate nutrients to encourage the healthy growth of dreadlocks. It revitalizes curls and locks, adds shine, and prevents hair breakage by making hair healthier. It also soothes itchiness in the scalp and removes dandruff and dry flakes.
Pros
All-natural ingredients
Lightweight
Organic
No harsh chemicals
Non-drying
Promotes healthy growth 
Cons
Not enough hold for retwists.
Expensive
The Isoplus Dreads Molding Creme provides you with grip and control you need to lock or twist your hair correctly. It penetrates the hair shaft to provide intense nourishment and leave your hair with a lasting and fabulous shine. It makes your hair strands stronger and better able to lock. The creme is formulated with ultra-rich conditioners that deliver maximum hydration to dry hair but may feel heavy on oily hair.
Pros
Lightweight
Non-flaky
Pleasant fragrance
Moisturizes hair and scalp
No greasy residue 
Cons
Contains petrolatum
Contains mineral oil
The Jamaican Mango & Lime Blax Black Wax lends your locks a natural black temporary color while giving them long-lasting hold. The hair-nourishing formula is enriched with real Jamaican ebony root, moringa seed oil, manuka, and blue mountain honey. This natural black temporary hair colorizer can be used for covering grays as well. It is formulated without harsh hair damaging ingredients like parabens, sulfates, and mineral oil.
Pros
Non-sticky
Pleasant fragrance
Paraben-free
Alcohol-free
Sulfate-free 
Cons
Contains petrolatum
Expensive
Okay, so all the products for dreadlocks that we have covered so far are meant to help you style them, clean them, and care for them. But what if you are considering removing your dreadlocks? No matter the reason behind your decision, the Dread Head Dread Zasta Dreadlock Removal System has got you covered. It works for all hair types and helps you to remove your dreadlocks without cutting or damaging them. It even repairs and restores your locked hair to health.
Pros
Helps remove dreadlocks
Does not damage hair
No need to cut hair
Leaves hair smooth
Detangles neglected hair 
Cons
Takes time and effort.
Not value for money.
Why Trust StyleCraze?
The author of this article, Sakshi Bahal, is a hair care enthusiast. She has browsed through several online forums for user feedback and put together the list of the best products for dreadlocks to keep your hair manageable. These products can help you care for and maintain your dreadlocks easily. They are lightweight, non-sticky, and suitable for all hair types.
Recommended Articles