10 Best Products For Fine Curly Hair In 2023 For Spectacular Tresses
Say goodbye to frizz and dryness and pamper your curls with these products.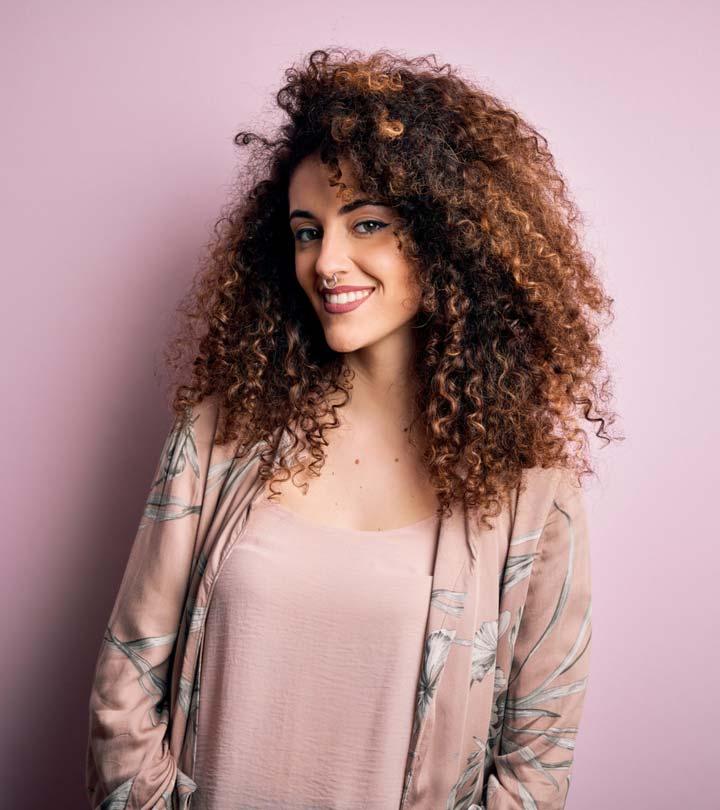 Curly-haired grab attention even in crowds. But maintaining curly hair is tiresome, and it would be more worrisome if it is fine curly hair. This is where the best products for fine curly hair come to the rescue to repair your tresses and make your hair look fantastic.
Fine hair is more prone to hair fall, frizz, and tangles. The right product will infuse each hair strands with moisture, thus eliminating frizz and making your tresses tangle-free. It will make your hair thicker, smooth, and manageable. It will also make hair voluminous, magnificent, and healthy. So enjoy the beautifully managed curly mane that stands out spectacularly by using a potent curly hair-friendly product.
Finding a product that matches the fine curly hair type can be demanding. So, we have carefully compiled a list of the 10 best hair products suitable for fine curly hair. Grab your ideal product below. Keep scrolling!
10 Best Products For Fine Curly Hair In 2023 For Glorious Locks!
Looking for a product that detangles hair, reduces frizz, and gets rid of split ends forever? Turn your attention to this genie in a bottle that can do all three and leave your hair feeling soft, healthy, and visibly thick. Infused with the nourishing goodness of caffeine, vitamin E, and ginseng, this creamy formula spreads through hair evenly to fight breakage and promote rapid growth. So, if strong and hydrated hair is the hair of your dreams, you need to get your hands on what is perhaps the best conditioner for fine curly hair. Watch this YouTuber's honest review to get a better idea about the product and its features.
Pros
 Contains caffeine and ginseng
 Formulated with vitamin E
 Sulfate-free
 Boosts hair growth
 Combats breakage and split ends
 Anti-frizz
 Can be applied to dry and wet hair
Cons
 Some may find it too sticky
Price at the time of publication: $8.99
As the name suggests, this keratin mask comes as a fresh breath of air for dry and damaged hair. Specially formulated for fine curly hair, the mask contains a host of superhero ingredients like castor, Moroccan argan, and coconut oils to revitalize dull hair and bring it back to life. Also formulated with biotin, the mask acts as a boost of hydration of lifeless hair, aiding in being a scalp and roots reviver. While keeping your hair and scalp hydrated throughout the day, the mask also provides heat protection so you can use hair tools like flat irons and hair dryers without a care in the world!
Pros
 Anti-frizz
 Safe for colored hair
 Sulfate and paraben-free
 Cruelty-free
 Long-lasting hydration
 Curl booster
Cons
 Some may find the fragrance overwhelming
Price at the time of publication: $19.98
This hair treatment smells so heavenly, you just might want to eat a few spoonfuls! But, don't do that! Instead, leave it for your hair and watch your dry and brittle curls transform overnight! Packed to the brim with nourishing and hydrating oils like avocado, soybean, sunflower seed, and coconut oils among others, this leave-in styler keeps our curls bouncy and intact for up to 24 hours. Infused with rosemary leaf extract, this smoothie styler makes your hair anti-frizz and nourishes all curly hair types from root to tip. This video will give you a better insight into the product.
Pros
 98% biodegradable formula
 Sulfate-free
 Paraben-free
 No mineral oils
 Smooths frizz
Cons
 Some users felt that the smoothie made their hair too crunchy
Price at the time of publication: $6.99
With a name as promising as this one, a product can seldom go wrong. Allow this miracle product to help you achieve the curly hair of your dreams! Formulated with hydrolyzed keratin this moisture mist rejuvenates dry and damaged hair to give it a new lease of life. A lightweight alternative to mousses, gels, and hair treatment creams, a few spritzes of this mist will make your curls bouncy and add a high-gloss shine. Watch this video for a thorough understanding of the product.
Pros
 Suitable for color-treated hair
 Alcohol-free
 No parabens or sulfates
 Gluten-free
 Cruelty-free
Cons
 May not be suitable for type 4 hair and above
Price at the time of publication: $24.0
You may have had some custard that hit all the right spots but have you ever heard of custard for curly hair? Well, if you haven't, now is a great time to try this moisturizing product that is specially formulated for wavy, curly, and coily hair. Formulated with a host of natural ingredients such as aloe leaf extracts, honey, silk almond acids, red algae extracts, nettle extracts, and rosemary leaf extracts, this styling product makes your hair shiny, keeps the scalp and hair moisturized, and also fights frizz like a pro!
Pros
 Frizz control
 Adds shine to limp hair
 Moisturizing benefits
 Citrus scent
 Safe for the hair shaft
Cons
 May flake after several hours
Price at the time of publication: $17.99
Answer a few questions for us. Is your fine yet curly? Is it a dry and sad mess? Do you wish your hair was voluminous and hydrated? If you answered yes to all these questions, it's time to get yourself this whipped curl hair mousse. Why? Allow us to elaborate. Powered by natural ingredients such as vitamin E and aloe vera, the mousse helps shape your curls, adds an insane level of volume, and offers an incredible hold for hours! It also fights frizz, even in humid conditions, and doesn't feel sticky, neither does it make the hair crunchy. Oh! It's vegan too!
Pros
 Paraben-free
 Talc-free
 Sulfate-free
 Phthalate-free
 Non-sticky
 No frizz
Cons
 Some may find it slightly heavy once it settles
Price at the time of publication: $8.99
The name of the product itself is quite self-explanatory but if you need more information before hitting that "Add to cart" button, read on. Perhaps the best shampoo for fine curly hair, this gentle shampoo coats each hair strand with the love of flaxseed and promotes a healthy scalp. As flax seeds are rich in vitamin E, it also improves circulation in the head and boosts hair growth and helps you achieve defined spirals that are bouncy and shiny. The non-oily shampoo is also infused with coconut water and a hint of citrus oil to keep your hair thoroughly cleansed and de-frizzed. Also, wherever you go, you'll be smelling of white orange and tonka bean throughout the day!
Pros
 Defines curls
 Non-oily
 Pleasant fragrance
 Anti-frizz
 Boosts hair growth
Cons
Price at the time of publication: $7.32
Wondering how to style fine curly hair? Here's an answer to all frizzy hair woes and the ultimate reviver for a dry and lifeless scalp. A root booster spray, this sea salt wonder makes your hair look bouncy by adding volume. Formulated with the magical properties of argan oil and sea kelp, the spray helps add a glorious shine to your tresses. The on-the-go spray is lightweight, aids hair growth, adds textures, and is perhaps the best solution for beachy waves.
Pros
 Lightweight
 Volumizing
 Contains argan oil
 Dry texturizing spray
 Ideal for beachy waves
 Can be used as a heat protectant spray
Cons
 Some may find it slightly sticky
Price at the time of publication: $12.95
Ask anyone with curly hair if they've heard of Shea Moisture and they'll tell you that they swear by it. If you too have a head full of curly hair, your makeup counter might be over-flowing with Shea Moisture products. But, it's time to add a new one now! Enriched with papaya and neroli milk, elderflower extract, shea butter, and orange flower oil, this hybrid milk gel blesses your tresses with all the moisture and hydration they will ever need. It tackles humidity like a pro to reveal frizz-free hair throughout the day while giving your curls unparalleled definition and bounce.
Pros
 Ultra moisturizing
 Anti-frizz
 Hydrating properties
 Contains shea butter
 Paraben-free
 No mineral oil
 Works for all curl types
Cons
 Some may find the fragrance overpowering
Price at the time of publication: $13.43
Fine curly hair needs all the moisture and conditioning it can get and this shampoo and conditioner duo hugs your hair with all the care it needs. Arguably the best shampoo for curly fine hair, the Deep Hydra Nourishing Shampoo contains argan oil along with a UV thermal protectant full of vitamins and antioxidants to repair damaged hair. The Deep Moisture Repair Conditioner on the other hand is formulated with vitamin E that penetrates deep into the hair's cuticle for hair that's visibly stronger and healthier. Although considered the best shampoo and conditioner for fine curly hair, it is also suitable for all other hair types.
Pros
 Sulfate-free
 Paraben-free
 Gluten-free
 Heat protection
 Anti-hair loss
 Deep conditioner
Cons
 Some may find the conditioner slightly oily
Price at the time of publication: $25.99
Now that we've looked at the 10 best products for fine curly hair in 2023, let's take a look at how you can buy some of the best hair products for yourself.
How To Buy The Best Products For Fine Curly Hair
Taking care of curly hair is a feat in itself, add fine to the mix and you have a bigger problem at hand. Fine hair is often dry, damaged, and brittle, so the shorter your hair is, the better it will be. Pixie cuts are an excellent choice but if you feel like this style won't suit you, try shoulder-length bobs or asymmetrical bobs as they make for great haircuts for thin fine curly hair.
If you've always heard that you shouldn't wash your hair more than twice a week, you did not hear wrong, but this is largely true for any other hair type. For those with fine curly hair, they should shampoo at least thrice a week to avoid product build-up and condition even lesser. As the hair is already very fine, the conditioner may make the hair flat and greasy.
 Avoid chemical treatments
If you have fine curly hair, it is best to stay clear from all chemical treatments and processes as it further damages brittle hair. This also includes coloring hair and using heat styling tools. The more the hair has to put up with, the more the chances of looking dull and lifeless.
To get to the root of fixing fine curly hair problems, we must figure out which ingredients work best. Some of the best moisturizing ingredients include shea butter that is full of vitamin E prevents scalp dryness while argan oil reduces frizz. Jojoba oil, on the other hand, penetrates the hair fiber to keep it moisturized and promotes a healthy scalp while coconut oil, the all-encompassing hero boosts hair growth, conditions the scalp, smoothes hair follicles, and lends a rich shine. Abyssinian seed oil derived from yellow mustard plants help detangle hair without feeling greasy while also reducing breakage.
Why Trust StyleCraze?
Kirtana Divakar, the author, is passionate about hair care and loves to experiment with different products. Curly hair is more prone to damage, and curly-haired beauties should use the best products meant for their specific hair type. She has reviewed multiple products and gone through several user feedback to put together the best products for her readers and help them make the right choices.
Frequently Asked Questions
How to treat fine curly hair?
Keep your hair short, avoid any chemical treatments, and always use products that are full of nourishing and moisturizing oils.
How do you moisturize fine curly hair?
To keep fine curly hair moisturized, shampoo your hair at least thrice a week and condition less. Use hair products with ingredients like shea butter, argan oil, jojoba oil, and coconut oil.
Should fine curly hair have layers?
Yes, fine curly hair looks best when it's shoulder length and cut in layers.
How can I improve my fine curly hair?
Here are some tips to improve the appearance of your fine curly hair.
• Keep your hair length short for easy maintenance.
• Do not dry your hair with a towel aggressively.
• Use special shampoos for curly hair.
• Condition your hair sparingly.
• Detangle your hair with a wide brush gently.
• Incorporate hydrating creams and leave-in treatments.
Does fine curly hair need leave-in conditioner?
Yes, you should apply a leave-in conditioner to curly hair. This ensures your hair receives the required dose of moisture, along with shielding your hair from the effects of heat tools.
How do I keep my fine hair curly all day?
Holding curls on fine hair can be tricky. A curl-boosting spray can come in handy at such times. After blow drying your hair, use clips to hold the curls.
Is gel good for fine curly hair?
A gel with thick consistency may not be a good choice for fine curly hair as it may weigh them down. You can instead use gels with thinner consistency to define the curls.
How often do you wash fine curly hair?
Depending on the humidity levels and the condition of your hair, you can wash your hair once or thrice weekly.
Recommended Articles: