13 Best Products For Frizzy Hair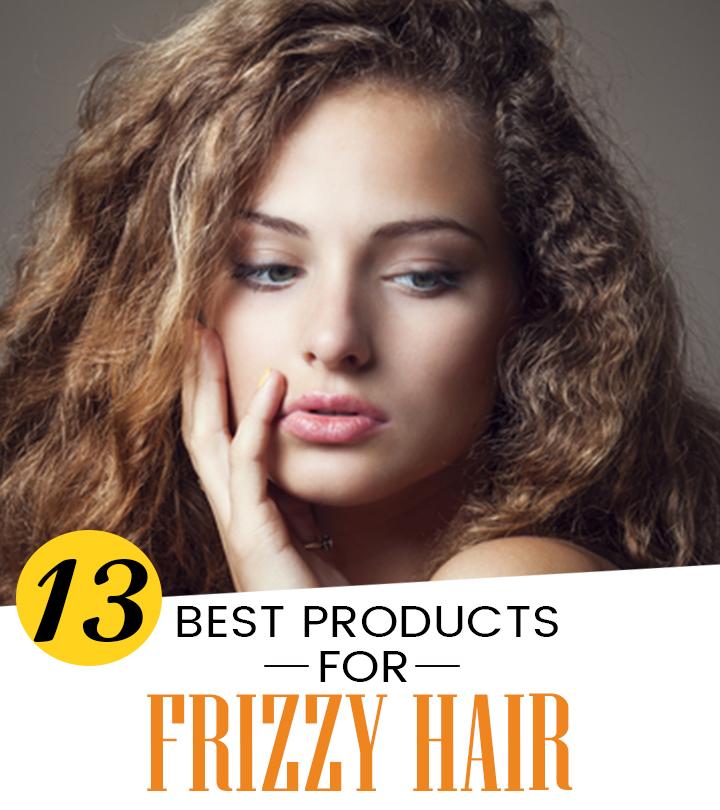 Imagine waking up with untameable frizzy hair on an important day. Although frizzy hair is natural, it is frustrating when nothing seems to tame it. The struggle is real, especially for girls with curly hair. Several hair brands know the struggle and have come up with many products to defrizz hair – like shampoos, conditioners, masks, serums, and sprays. In this article, we have put together a list of some of the best products that can help you get gorgeous, frizz-free hair and have a great hair day, anytime. Take a look.
What Is Frizzy Hair?
Frizzy hair means strands of dry hair with a rough texture. This happens due to the loss of moisture from hair. Dry hair strands repel each other and appear separate and upright, making your hair look wavy and puffy. The four major causes of your frizzy hair are genetics, damage due to humidity, frequent use of heat, and hairstyling chemicals. Moisture loss damages the hair cuticles and hair shaft, while heat can damage the keratin layer.
The products listed below can help you tackle a few of the above issues and tame your hair. Scroll down for more information.
13 Best Products For Frizzy Hair
Stepping out without hair care during humid weather is the same as going out without a raincoat in the monsoon. The Color Wow Dream Coat Hair Spray can be a quick solution to your frizzy, unmanageable hair in a humid environment. Not just humidity, consistent exposure to heat, and hair styling products make your hair prone to dryness and frizz. This hair spray coats your hair providing shielding effect against moisture.
You need to apply this hair spray on damp hair. Blow drying your hair after applying this spray activates the cross-linking polymers present in the hair spray, which gives a smooth and sleek texture. The result of the spray remains intact even after three to four hair washes.
Pros
Non-greasy
No product build-up
Stays for a long time
Makes hair silky and smooth
Effects last up to 72 hours or 2-3 shampoos
Cons
None
The John Frieda Frizz Ease Extra Strength Serum makes your hair immune to moisture. The hair serum adds volume to thin hair, giving it a fluffy, bouncy consistency. It contains bamboo extract, silk proteins, and seaweed extract that transform unmanageable hair into smooth and silky locks.
After shampoo, apply a little amount of hair serum on wet hair with your palms, avoiding the roots. Let the serum diffuse in your hair until each strand gets coated with it. Air dry your hair.
Pros
Non-greasy
Smoothes strands
Tames flyaways
12-hour moisture resistance 
Cons
This is a set of three hair masks that contain papaya extract, avocado extract, and coconut extract that repair damage, smoothen your hair, and nourish it, respectively. All of these hair masks claim to do this in just 1 minute. These hair masks can be the best choice for vegans because they are cruelty-free and have a 94% biodegradable formula.
You can use these hair masks in three ways – as a mask, as a conditioner, and as a leave-in conditioner. Apply the hair mask onto wet hair and leave it on for a minute. Rinse off and get smooth, shiny hair. If you are using it as a leave-in conditioner, apply the mask on damp hair and leave it on for controlling frizz.
Pros
Natural
Cruelty-free
Biodegradable formula
Paraben-free
Silicone-free
No artificial colorants
Cons
The Moroccan Oil Smoothing Lotion is the ultimate frizz fighter. This lightweight blow-dry lotion contains Morrocan oil, argan oil, argan butter, vitamin E, and essential fatty acids.
These ingredients not only nourish frizzy hair but also make it manageable, soft, smooth, and shiny. It offers medium hold and facilitates effortless styling. The effect lasts for up to 72 hours. Apply a small amount of the lotion to damp hair and blow dry it.
Pros
Does not weigh the hair down
Tames frizz and flyaways
Detangles hair
Provides medium hold
Repels humidity 
Cons
None
The Frizz Wrangler is a 100% soap-free and pH-balanced shampoo bar. It is equivalent to three bottles of liquid shampoo. It contains Samoan coconut oil and cocoa butter that nourish very dry or frizzy hair and make it silky smooth and easy to style.
It is perfect for those who use bleach, curlers, hair dryers, or hot irons often. It smoothes your hair without weighing it down. Wet your hair and the bar. Slide the bar a few times on your hair and lather until it foams. Rinse your hair and follow up with a conditioner.
Pros
Eco-friendly
Nourishing
Paraben-free
Vegan 
Cons
Contains sulfates
May not work well for colored hair
The Uspicy Hair Straightening Brush is a ceramic brush. It releases negative ions to eliminate frizz, knots, and split ends and make your hair smooth and shiny. This hair straightening brush has a temperature lock feature and an auto-shutoff timer that shuts off after 30 minutes.
The handle of the brush is made of flame-retardant material that protects your hands from the heat. It also comes with a heat-resistant glove for extra protection. The package also includes a velvet bag, which makes it easy to carry it on travels.
Pros
Easy to use
Auto-shutoff
Varied sizes of hairbrush teeth provide maximum coverage
Convenient temperature reading
Heat insulated tips prevent the scalp from scalding.
Cons
Chances of damage due if used excessively.
This luxurious Moroccan argan oil shampoo contains botanicals that deeply cleanse your hair and rejuvenate it from root to tip. This shampoo is enriched with seasonally harvested Moroccan oil and collagen protein and keratin that restore hair health.
It also contains vitamin E that makes your hair stronger and thicker and a UV thermal protectant that prevents hair damage from chemical treatments, blow dryers, or straightening irons. This shampoo helps control frizzy hair and makes it soft, smooth, and shiny. All you need to do is wet your hair, apply the shampoo and lather. Rinse off and follow up with a conditioner for frizz-free hair.
Pros
SLS-free
Paraben-free
Phthalate-free
Gluten-free
Deeply nourishes hair
Restores damaged hair
Recommended by stylists for all hair types
Cons
Lather formation may vary according to the pH of the water.
May cause itching.
The Ultrafine Microfiber Hair Towel, unlike the usual cloth towel, doesn't create friction in your hair and reduces frizz fast. The highly absorbent material feels soft and can dry your hair up to 70% in just 15 minutes. It has a drawstring closure that ensures that the towel stays on your head while you go about your routine.
The turban shape of the towel locks moisture in and softens your curls. The lightweight hair towel is suitable for all hair types and one of the best frizz control products. You can wrap it around your head in five different ways – bun, front twist, back twist, plopping, and plunking.
Pros
Soaks up to 7 times its weight in water
Helps prevent tangles and breakage
Dries hair quickly
Suitable for all hair types (short, long, curly, straight, and wavy)
Cons
None
Rusk Sensories Leave-in Conditioner is for people with unruly or frizzy hair. It contains passionflower and aloe that make your hair smooth, shiny, and healthy by eliminating static, adding texture, and providing sunscreen protection.
After you have shampooed your hair, towel dry it and apply the leave-in conditioner. Do not rinse it off. Style your hair as desired.
Pros
Sweet fragrance
Makes hair shiny and healthy
Only a little amount is required
Cons
No more pulling or tugging at hair. The Garnier Fructis Style Smooth Blow Dry Anti-Frizz Cream can help you achieve easy at-home blowouts. This cream gives a sleek finish to your hair while offering 450o F heat protection.
Apply a quarter-sized amount of the cream to wet hair and then blow dry it. It can tame frizz and give you smooth and shiny hair for up to 24 hours. You can use a paddle brush for a sleek blowout. Section your hair and blow dry your hair, positioning the nozzle downward as you brush your hair. If you are looking for a bouncy blowout, use a round brush. Wrap your hair around the brush and blow dry it, positioning the nozzle downward as you unwind your hair.
Pros
Non-greasy
Cream consistency
Long-lasting
No product build-up 
Cons
The ColorProof CrazySmooth Anti-Frizz Shampoo is specially formulated for colored hair. It contains a blend of camellia oil, Abyssinian oil, seaweed, and shea butter that help eliminate frizz, repair hair, and make it smooth and shiny.
It also contains rosemary, sage, shiitake mushroom, geranium, and yarrow that provide essential nutrients to your hair and restore its shine. The multiweight proteins derived from soy and potatoes strengthen and repair your hair. Wet your hair, apply a coin-sized amount of the shampoo to your hair, lather, and rinse it off.
Pros
Vegan
Nourishes hair and restores youthful shine
Strengthens and repairs hair
Has a sweet, tropical scent
Sulfate-free
Cons
Faulty pumping mechanism (according to user reviews)
The Rusk Str8 Anti-Frizz And Anti-Curl Lotion is a grease-free styling lotion that transforms frizzy, curly, or unruly hair into smooth, straight hair. It eliminates frizz and removes curls temporarily. It blocks humidity for up to 24 hours.
Wash your hair and towel dry it. Apply a dime-sized amount of the lotion to your hair and distribute it evenly. Style your hair as desired.
Pros
Greaseless
Lightweight
Long-lasting effect 
Cons
The Suave Professionals Sleek Anti-Frizz Smooth & Shine Cream smooths hair and tames frizz. It contains silk protein and vitamin E that provide all-day frizz control and shine. The smooth, lightweight formula can be applied to dry hair to tame flyaways. This anti-frizz cream delivers brilliant shine and extreme control.
Rub a pea-sized amount of the cream between the fingertips and apply it to the ends of the hair that are the driest and frizzy. Apply the remaining cream on the top to tame fly aways.
Pros
Makes hair smooth
Makes hair shiny
Lightweight
Light fragrance 
Cons
Frizz does not discriminate. It can happen any time – whether you are dealing with summer humidity, spring showers, autumn drizzles, or winter snows. If you are struggling to keep your hair sleek, try any of these anti-frizz hair products for perfectly styled locks.
Recommended Articles