11 Best Products For Ingrown Toenails In 2021 For Beautiful Feet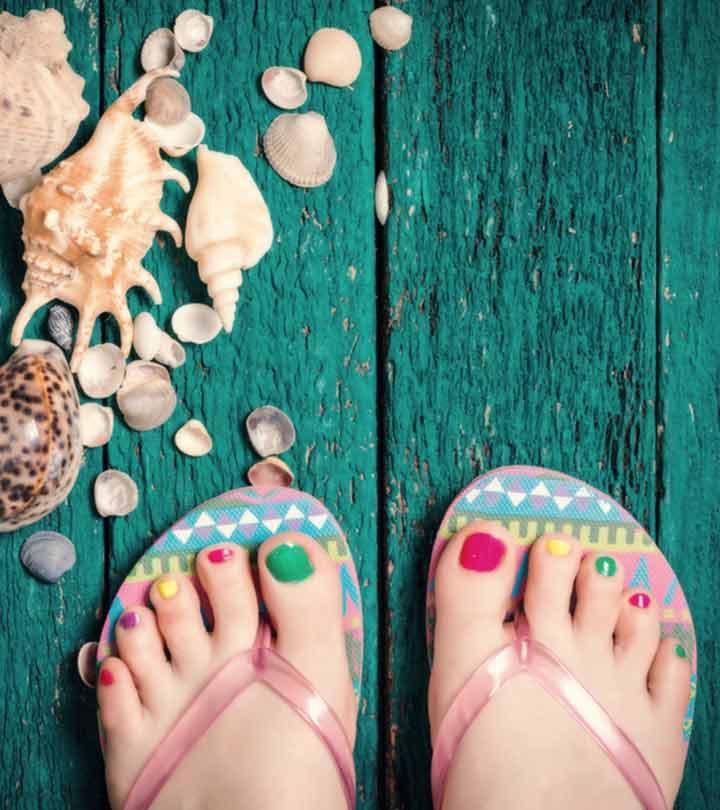 When the corners or edges of your toenails curve and grow into the surrounding skin, an ingrown toenail occurs. Subsequently, pain, redness, and swelling may follow. Don't worry though, the condition is fairly common in both men and women, is easily treatable and preventable too. It is most likely your big toe that will be affected. Most of the embedded toenails are not serious. Within a week or so, they should improve without causing permanent damage with proper care at home.
Ingrown toenails when left untreated can cause severe pain and infections that might spread to the bone. An ingrown toenail can make you painfully aware of your feet and ridding yourself of this worrisome problem can be easy, with the right tools. Healthy people without signs of infections like redness, swelling, or odor can treat ingrown nails at home. With our list of the best products for ingrown toenails, you can ease the discomfort and eliminate the chances of any infections.
11 Best Products To Remove Ingrown Toenails In 2021
Made for all skin types, the Purely Northwest Tea Tree Oil Foot And Nail Soak is a 100% natural blend of pure essential oils that can help you combat the worst foot and nail fungus. Formulated with Epsom salt, Atlantic sea salt, tea tree oil, peppermint oil, cajuput oil, camphor oil, rosemary oil, eucalyptus oil, and lavender oil, this product is gentle enough for those with sensitive skin, even if it is to battle psoriasis and eczema. Not only will this leave your skin clean and odor-free, but it also softens dry and calloused skin, making the removal of ingrown toenails easier.
Pros:
No synthetic fragrance
Softens and moisturizes sore, rough callus patches
Extra-strength therapeutic grade essential oils
No added dyes
Cruelty-free
Cons:
It may take time to visibly see the desired effects
The only treatment among over-the-counter products that are proven to relieve ingrown toenail pain is Dr. Scholl's Ingrown Toenail Pain Reliever. Not only does this medicated gel alleviate pain, swelling, redness, and discomfort, it also softens nails for easy trimming, and the foam ring and bandage cushion protect the affected area from infections. With 1% purpose sodium sulfide as its active ingredient, this gel is an advanced treatment for ingrown and stubborn toenails.
Pros:
Easy to apply
Relieves ingrown toenail pain at home
Softens nails for easy trimming
Safeguards from infections
Cons:
The gel may have a pungent odor.
Thick, irregular, or ingrown nails can be difficult to trim with regular nail clippers, and that's where the Zizzili Basics Premium Stainless Steel Toenail Clippers come into the picture. With a large soft-grip rubber handle, this tool is effective for thick and ingrown nails caused by a fungus, diabetes, paronychia, aging, and other health concerns. The wide jaw opens up to 1 inch to easily trim through even the toughest nails and that makes this clipper also a suitable pedicure tool for seniors. This versatile product can be used as a cuticle nipper and cuticle remover and its sharp, hand-sharpened cutting edges give you a smooth and clean cut.
Pros:
Cushioned handle for better control
Hassle-free use
Heavy-duty spring
Slight contour allows more access
Versatile product
For men and women
Cons:
The blade may be sharp and requires careful attention while using
If you're looking to ease discomfort, relieve inflammation, or treat common stubborn skin conditions, the Bioveco Antifungal Cream will work wonders for you. This effective non-prescription fungus treatment is a proven remedy that will help you tackle itching, stinging, and burning, which can be by-products of an ingrown toenail or infection. Not only does this cream improve your skin condition, but it also instantly relieves peeling, cracking, and scaly skin. The 100% organic composition includes aloe vera, grapefruit seed extracts, licorice extracts, turmeric, and apple cider vinegar that work in harmony to relieve you from discomfort without any side effects.
Pros:
Extra-potent fungus treatment
Contains 100% organic ingredients
No side-effects
Clinically-proven remedy
Non-greasy texture
Fast-absorbing formula
Cons:
May not treat severe symptoms
Best suited for softening embedded toenails and calloused tissue, the Uriel Ingrown Nail Drops prevents ingrowth and enables the straightening of nails. This liquid potion is an advanced over-the-counter treatment that is incredibly effective. As it comes with an easy custom-designed applicator, this product will help you simplify the nail-clipping process, support healthy nail regrowth, and help you in getting rid of ingrown toenails.
Pros:
Easy to use
Softens embedded toenails
Enables straightening of nails
Prevents ingrowth
Cons:
Not recommended for diabetic patients
Formulated to eliminate fungus and restore your nail's natural health, the Gold Mountain Beauty Fungal Nail Eliminator is a remedy that is formulated by expert physicians. With ingredients like nourishing sea buckthorn oil and regenerating omegas 3, 6, 7, and 9 to promote skin hydration, elasticity, and cell regeneration, this product works like a charm. Along with tolnaftate, a clinically proven antifungal treatment, this product is recommended for diabetics and you can expect to see a visible improvement in just one week.
Pros:
Antifungal foot therapy
Recommended for diabetics
Contains sea buckthorn
Brush application maximizes benefits by reaching around and under the toenail.
Cons:
The liquid may take some time to dry completely.
Dr. Frederick's Original Gel Toe Caps are big toe guards for the protection of ingrown nails. You can protect yourself from calluses, blisters, and irritation caused by physical activity. Made of a soft rubber called thermoplastic elastomer or TPE, this product easily stretches and slips on. You can even wear it on under socks and shoes without it feeling bulky or uncomfortable. The non-slip material on this ingrown nail removal tool stays on even when you are active and exerting pressure. The cap provides instant pain relief and does not require the complications of bandages or creams to get the work done.
Pros:
Easy to adjust
Latex-free
Allows walking without discomfort
Feels like medical-grade silicone cushions
Slim design
Made with TPE
Cons:
May wear out after intensive use
If you are looking to eliminate fungus and accelerate nail metabolism, turn to the Vibrant Glamor Nail Repair Cream for immediate results. Suitable for onychomycosis, atrophy, an uneven surface, stratification, thickening and yellowing, deck shedding, turbidity, and discoloration, this cream pretty much covers all nail problems. Ingredients like water, tocopherol, snake oil, simmondsia chinensis seed oil, hydroxyethyl urea, glycerin, cetostearyl alcohol, and mineral oils in this ingrown toenail ointment give the nails rich nutrients, thus repairing the nails and gradually returning smoothness and shine.
Pros:
Easy to use
Regular applications lead to visible results in a few days
Alleviates discomfort
Promotes new nail growth by strengthening and protecting them
Cons:
The product may have a watery consistency.
Removing ingrown toenails at home is a piece of cake with the Skinapeel Toenail Softener And Ingrowing Toenail Prevention Oil that is a specially formulated liquid that softens hard and thick nails that are prone to ingrowth. This nail softener for ingrown toenails also treats ingrown nails by softening them and making them easier to trim. You can easily brush this formula generously around and under the nail twice a day for visible results. This oil allows you to remove skin beneath the nail and in the nail fold as well as prevent inflamed and aggravated skin.
Pros:
Toenail softener oil
Softens hard skin
Easy to use
Prevents inflammation
Keeps nails safe from ingrowth
Cons:
It may take some time to absorb
Purely Northwest Tea Tree Nail Blend is formulated to moisturize the fingernails and improve the appearance of dull-looking nails. The nail blend is packed with the power of Oregano & Tea tree oil that eliminates the yeast, molds, and fungi. Jojoba oil, infused in the nail blend, hydrates the nail cuticle and the surrounding skin. The nail brush applicator is useful for a mess-free application. The formula also helps to soften the dry, rough, cracked heels.
Pros:
Travel-friendly packaging
User-friendly
Natural formula
Cons:
The Tweezerman Professional Pedicure Plus is a stainless steel pedicure tool that can be used as an ingrown toenail file and doubles as a nail cleaner. It effectively files thinner portions and shaves ingrown nails to relieve the pressure that may cause you extreme discomfort. It also has a curved end that can be used to clean under the nails and get into the tricky corners. For both home and salon use, this pedicure tool will help you get rid of the problem before it becomes worse.
Pros:
Easy to use
Shaves ingrown nails and relieves pressure
Cleans under nails by getting under corners
Stainless steel tool
Cons:
This product may be a little thick
Dealing with ingrown nails can be tricky and extremely painful, but with our list of recommended products, you should be able to do just fine. In case you are uncertain about any buying concerns, our guide will clear up the confusion and make this easier for you.
How To Choose Products For Ingrown Nails: A Buying Guide
There are a few main causes of ingrown toenails:
Footwear that's ill-fitting leading to poor arterial blood circulation
Trauma to the toe, caused by stubbing or jamming
Improper trimming
Heredity causes
Exertion with physical activities like running, soccer, or ballet
While the first 3 causes may be avoided, there are some people who are only susceptible to them. It's common for ingrown toenails to recur, especially if you don't take preventive steps.
Preventive Tips To Avoid Ingrown Toenails
Walk carefully to avoid toenail trauma.
Trim your nails straight across and never too short.
Wear protective gear if you are at risk of toenail injury.
Choose footwear that fits you properly and allows your toes to breathe.
Frequently Asked Questions
How can one prevent ingrown toenails?
It is important to maintain foot care and regularly trim and file your toenails.
How long does it take for ingrown toenails to heal?
Depending on the degree, it may take anywhere between a few days to a few weeks.
Ingrown nails occur when the corner of the nail, usually on the big toe, begins to grow into the skin, causing inflammation, pain, and potentially infection. If you are diabetic or have poor blood circulation, it is crucial that you see a podiatrist, because it could quickly progress to a dangerous infection. Using the right tools with a little patience can save you from a lot of pain and extremely expensive medical treatments.
Recommended Articles
The following two tabs change content below.