The 13 Best Products For Transitioning Hair In 2022
Transition your hair seamlessly with high-quality products that nourish your hair.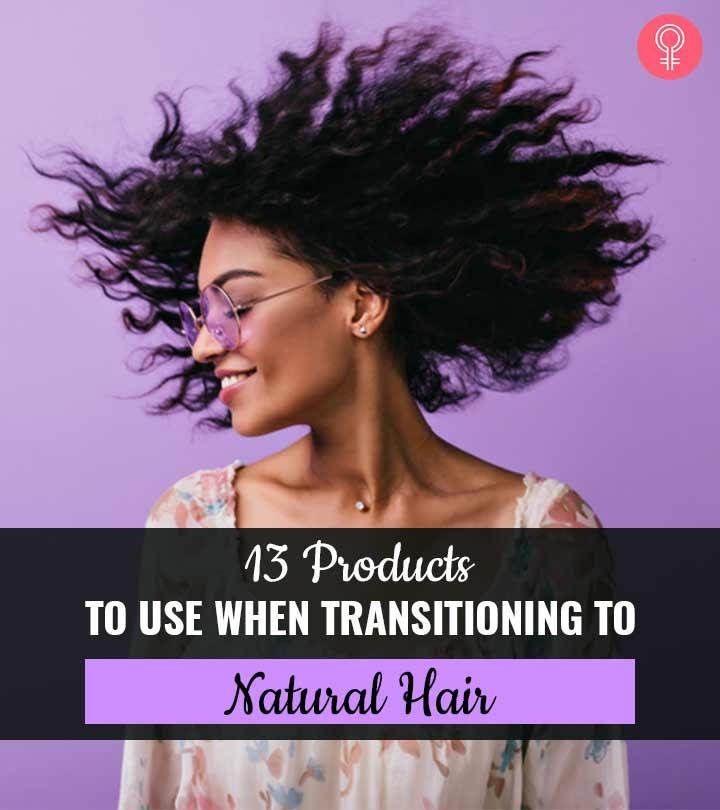 Changing your hair from chemically processed curls back to its relaxed state needs some time and patience. But do you know that there are certain products for transitioning hair that can help you traverse the change more naturally? These products nourish and strengthen your hair stimulating their natural growth. They also also help protect your hair from breakgae and further damage during this transitioning phase. While these products do their work on your hair, you need to follow a regular haircare regimen and give it some time before you see the visible results. If you are not sure where to start from, have a look at the 13 best transitioning products listed below to help you know more
13 Products For Transitioning To Natural Hair
Kinky-Curly Knot Today is a leave-in conditioner and detangler that helps detangle your hair, smoothen the hair cuticles, and remove knots painlessly. It is great for wavy, curly, and kinky hair, especially after you have removed a hair extension or braids or if your hair is transitioning. You can use it as a regular leave-in conditioner as well. Check out this video to know more about this product.
Pros
Keeps the hair soft
Defines curls
Reduces frizz
Sweet, floral fragrance
Moisturizes the hair
Improves hair texture
Contains natural ingredients
Cons
Might make the hair crunchy.
:
This is a set of three products that includes Mimosa Hair Honey, Pracaxi Nectar Curl Twisting Custard, and Black Vanilla Edge Control Smoother. Mimosa Hair Honey is a shine pomade that moisturizes your scalp, controls frizz, and conditions the hair. The Pracaxi Nectar Curl Twisting Custard is for enhancing your curls and making them pop without losing any moisture. The Black Vanilla Edge Control Smoother helps smoothen dry and brittle edges and replenishes moisture. These three products are like a complete hair care regimen for your transitioning hair. Before buying, have a look at this video for more details.
Pros
Paraben-free
Mineral oil-free
No artificial colors
Petroleum-free
Pleasant fragrance
Works for all types of curls/kinks
Cons
None
:
This butter is supposed to act like a moisturizing cream for your hair. It is a blend of natural butters, like shea butter and cocoa seed butter, and oils like coconut, sweet almond, and wheat germ oils. It helps control frizz, reduce dryness, and lock in moisture, which is very important for transitioning hair. It contains panthenol (pro-vitamin B5) that reduces split ends and makes your hair strong. Watch this video to know more about the product.
Pros
Contains natural ingredients
Paraben-free
Sulfate-free
No harmful chemicals
Makes hair soft and manageable
Cons
:
This is a leave-in conditioner that works to detangle kinky hair and keep it manageable. You can also use it if you are transitioning from relaxed hair to natural curls. It feels silky and instantly detangles knots and curls and keeps them moisturized. It is easy to apply and spreads easily all over your hair. If you do not wish to use it on your entire hair, you can apply it on the edges to prevent brittle and dry hair.
Pros
Softens the hair
Works on all types of curls/kinks
Doesn't weigh the hair down
Doesn't make hair greasy
Paraben-free
Sulfate-free
Mineral oil-free
Petroleum-free
Cons
Might make the hair sticky.
:
This is a moisturizing curl activator cream. It is a shea butter-based moisturizer for your hair. It helps smoothen your curls and enhances each strand to make your curls appear more pronounced and not just a bunch of hair. It keeps the hair frizz-free and is perfect for all hair types, including transitioning hair.
Pros
Mineral oil-free
Paraben-free
Sulfate-free
Silicone-free
Phthalate-free
Gluten-free
Delivers volume and bounce
Cons
This conditioner is for intense moisturization – something that transitioning hair usually craves. It is formulated with natural ingredients like shea butter, mango butter, coconut oil, jojoba seed oil, olive oil, silk protein, aloe, rosemary, and hibiscus extracts. They moisturize your hair, form a protective layer and shield it from external damage caused by pollutants and the environment, prevent frizz, and keep your hair tangle-free and shiny.
Pros
Paraben-free
Sulfate-free
Mineral oil-free
No animal testing
Petrolatum-free
Propylene glycol-free
Pleasant tropical fragrance
Cons
The pump dispenser doesn't work properly.
As the name suggests, this product is a thick, rich, and deep conditioning treatment for dry, damaged, and brittle hair. It is meant for providing intense moisturization to curly and kinky hair that is naturally dry. It is ultra-thick and contains hydrating ingredients like shea butter, avocado oil, cocoa butter that pamper and protect kinky and transitioning hair.
Pros
Defines the curls
Prevents frizz
Keeps hair moisturized
Works on all types of curls/kinks
Works on fine, thick, and low-porosity hair
Pleasant fragrance
Cons
Thick (tough to squeeze out of the bottle).
This product is a deeply hydrating and fortifying treatment for curly hair. It has a rich formula that penetrates your hair shaft to keep your hair smooth, strong, nourished, and hydrated. It contains coconut, green tea, sugar cane, apple, shea butter, vitamin E, and lemon extracts that are known to be hair fortifiers. It stimulates the scalp and hair roots and improves manageability, repairs split ends, and enhances hair health.
Pros
Paraben-free
No harsh chemicals
Natural ingredients
Keeps hair soft and manageable
Works well in fine hair
Cons
May not show satisfactory results on thick hair.
This intensive moisture mask is like a mushy love fest for your hair. It has a rich tropical fragrance of coconut and banana, and it intensely hydrates and moisturizes your hair. This leave-in moisture mask is especially beneficial for dry, brittle, color-treated, and damaged hair. You have to use it on wet hair after a shower.
Pros
100% vegan product
Cruelty-free
Paraben-free
Sulfate-free
Petrolatum-free
Reduces frizz
Non-greasy
Cons
Less quantity for the price.
This hair smoothing lotion is a leave-in formula that can be used after cleansing your hair or to refresh dry hair between washes. It is formulated with natural ingredients such as castor oil, olive squalene, etc. that nourish and moisturize rough and dull hair, rejuvenating it. It restores moisture into the hair, preventing it from breakage and damage. It keeps hair looking fresh and healthy.
Pros
Pleasant scent
Moisturizes the hair
Natural ingredients
Creamy formula
Suitable for all hair types
Cons
Not for people sensitive to smell
This shampoo claims to rebuild damaged hair with each application. It contains hydrolyzed quinoa that enhances moisture retention and adds shine to your hair. Moisture protection is one of the crucial things in caring for transitioning hair, and this shampoo claims to do that. The baobab tree oil acts as an intense emollient and prevents any moisture loss from dry curls. It also contains grapefruit extracts that revitalize your scalp.
Pros
Paraben-free
Sulfate-free
Formaldehyde-free
Vegan
Cruelty-free
Gluten-free
Recyclable packaging
Suitable for chemical/color-treated hair
Cons
This is a protein treatment for dry, damaged, and brittle hair. If you have transitioning hair or heat damaged hair, this product can help reverse the damage. It protects, moisturizes, and strengthens your hair. It is developed with NuFusion Protein Blend that helps to restructure your damaged hair, condition it, and reduce breakage. This is a convenient and easy one-step protein treatment for your hair.
Pros
Sulfate-free
Color-safe
Anti-fade product (for colored hair)
Makes hair smooth
Stops hair breakage
Cons
None
This is a leave-in conditioner that claims to benefit your hair in at least 14 ways. You can use it as a moisturizer for your hair. It also helps to add shine, smoothen the curls, reduce breakage, and strengthen the hair. It detangles and provides thermal protection to your hair. It has a non-staining formula infused with amino acids and cold-pressed jojoba oil that condition the hair and make it soft.
Pros
Non-greasy
Not tested on animals
Suitable for all type of curls and kinks
Can be used on both wet and dry hair
Cons
It is crucial to keep your hair moisturized to prevent breakage. When you are transitioning to natural hair, you need to provide proper moisturization and detangle your curls carefully. Moreover, deep conditioning is a must during this phase. Do not think twice – pick a suitable product for your hair from this list and go natural without the big chop!
Why Trust StyleCraze?
Oyendrila Kanjilal, the author of this article, is a hair care enthusiast. Her interest in hair care motivates her to learn more about different products and review them for her readers. Her recommendations are based on reliable user feedback and researching the products in detail. Her list of the best products for transitioning hair has conditioners, creams, masks, and more to help strengthen your hair and stimulate its natural growth.
Frequently Asked Questions
How often should I wash my transitioning hair?
It is better if you avoid shampooing your hair regularly. Instead, co-wash your hair 2-3 times a week. Shampoo once or twice in a month with a sulfate-free shampoo.
Does transitioning hair shed a lot?
Hair breakage is normal in transitioning hair. However, if you are losing excess hair, use products that reduce the stress on your hair and nourish and strengthen it.
How should I wear my hair when transitioning?
Wear a hair wrap, a fake ponytail, or a high puff, or you may use protective hairstyles like 2-switch braids and twists during transitioning hair.
How do you keep your hair moisturized while transitioning?
The As I Am Double Butter Cream is good for locking in moisture and reducing dryness and frizz. You can also use the Aunt Jackie's Knot On My Watch Instant Detangling Therapy to moisturize and make hair more manageable.
How often should you wash transitioning hair?
Co-wash and wash your transitioning hair once a week for the best results.
Recommended Articles