9 Best Products For Oily Hair In 2023, Recommended By A Hairstylist
These oils absorb the extra grease from your scalp and add bounce to your tresses.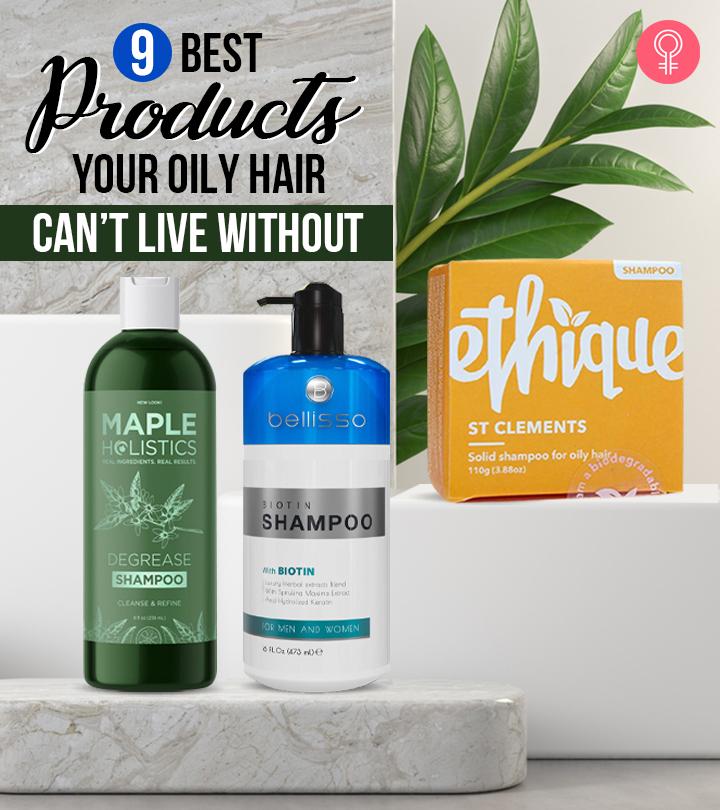 Dealing with oily hair every day is not an easy job, especially when your hair flattens just before going out. The only refuge is looking into the best products for oily hair that will help you maintain a balance between oil production and scalp health. Using the right products helps absorb excess oil and retains the needed moisture to keep your hair looking flawless; it is also essential for proper scalp care. The anti-grease formulas cleanse your scalp of dust and dirt accumulation and relieve you of dandruff as well. Here are 9 products specially crafted for oily hair needs.
9 Best Products For Oily Hair
Get rid of the greasy scalp and limp hair with this shampoo from Maple Holistics. Its lemon-infused, sulfate-free formula deeply cleanses your oily scalp and nourishes your hair shafts without leaving any residue or buildup. This clarifying shampoo is infused with 100% pure essential oils extracted from rosemary, jojoba, and cypress basil that nourish the tresses to bestow a healthy shine. It addresses common hair issues like dandruff, flakes, and hair loss. The shampoo is suitable for both oily and dry scalp.
Key Ingredients: Rosemary, Jojoba, Cypress basil, and Lemon essential oils
Pros
Nourishes the hair
Color-safe
Sulfate-free
Paraben-free
GMO-free
BPA-free
Synthetic fragrance-free
Synthetic color-free
Phthalate-free
Cruelty-free
Cons
Strong fragrance
Leaves the ends dry
Eliminate excess oil from your hair and contribute to a plastic-free world with this product from Ethique. This shampoo bar is formulated with lime and orange oil botanical extracts that cleanse your scalp and balance oil production. In a people experience test, 97% claimed to be happy with the feel of the hair after using the product. It has an 88% proven efficacy of making the curls soft and manageable. The natural humectants in this shampoo bar nourish and condition your hair and maintain pH balance. It is 100% soap-free and has no harsh foaming agents. The compostable packaging leaves no solid traces, making it an eco-friendly hair care product.
Key Ingredients: Lime oil extract, Orange oil extract, Castor oil, and Vegetable glycerin
Pros
pH-balanced
Soap-free
Safe for color-treated hair
Vegan
Eco-friendly
Palm oil-free
Cruelty-free
Cons
This biotin shampoo and conditioner duo from Bellisso prevents hair fall and promotes hair growth. The products are infused with hydrolyzed keratin, spirulina extract, zinc collagen peptides, and biotin. Together, these rich ingredients block dihydrotestosterone (DHT) – a primary reason for balding – and promote hair thickening. They strengthen your hair and fight various hair issues like hair thinning, split ends, frizz, and brittle hair. Watch this video to know more about the product and analyze the features from the tester's experience.
Key Ingredients: Biotin, Hydrolyzed keratin, Spirulina extract, and Zinc collagen peptides
Pros
Color-safe
Non-drying
Reduces hair loss
Sulfate-free
Cons
Your oily hair will love this lightweight leave-in conditioning foam from Nexxus. It provides balanced hydration and prevents flyaways without making your hair limp or flat after application. This premium hair treatment foam is enriched with deep sea minerals that restore the protective barrier of the hair and provide a little lift to your tresses. It also contains glycerin, a natural humectant, that makes your hair smooth and manageable. This video will give you more insights into the product through the tester's experience.
Key Ingredients: Glycerin and Deepsea minerals
Pros
Lightweight
Smells good
Long-lasting
Can be used on wet or dry hair
Cons
This hair oil from Moroccanoil can be a complete game-changer for your regular hair care regimen. It helps control excess oil production, combats dandruff, and makes your hair shiny. It is clinically proven to be lightweight and less oily on the scalp. The professional-grade hair oil is infused with argan oil, ginger root oil, and biotin peptide complex that stimulate the scalp and strengthen the hair follicles. A powerful blend of natural ingredients and lavender revitalizes your hair and adds shine while making it healthy. The oil does not feel greasy or heavy on the hair and leaves behind an all-day freshness and a natural aroma. To make an informed decision before buying, you can check out this video to get insights from the reviewer's experience of the product.
Key Ingredients: Argan oil, Ginger root oil, Lavender, and Biotin peptide complex
Pros
Shine control
Lightweight
Paraben-free
SLS/SLES-free
Mess-free application
Sweetnutty smell
Cons
This anti-residue conditioner from Neutrogena is infused with pink grapefruit to hydrate and clarify your hair. Its non-drying formula moisturizes your scalp, helps maintain the pH balance, removes residue and buildup, and strengthens the scalp's natural barrier. The non-medicated conditioner is free of harsh chemicals and safe for color-treated hair. Apply a generous amount from mid-lengths to the ends after shampooing to get a healthy scalp and shiny hair.
Key Ingredients: Pink grapefruit extract
Pros
Color-safe
Dermatologist-recommended
pH-balanced
Gentle formula
Refreshing scent
Paraben-free
Phthalate-free
Sulfate-free
Surfactant-free
Cons
None
7.
Best Dry Shampoo For Mid-Week Cleansing:
Waterless Dry Shampoo
No time for washing your hair? Try out this dry shampoo from Waterless that absorbs oil and sweat without leaving any residue. Its micro-fine tapioca starch-based formula are freshes the scalp, adding body and bounce to the hair. Just spritz this dry shampoo before traveling or workout and brush it off once done, and you are done for the day.
Key Ingredients: Tapioca starch
Pros
Lightweight
Smells good
Residue-free
Sulfate-free
Paraben-free
Cons
Give more power to your shampoo with the Heeta Shampoo Brush. This handy shower comb lathers up the shampoo and helps exfoliate dandruff and buildup from the scalp. You can also use it to massage your dry scalp, get rid of itchiness, and stimulate blood circulation. It has an ergonomic design that fits perfectly within your palm and does not damage your manicured nails while washing your hair. The soft silicone body makes shampooing a more effective exercise.
Pros
Portable
Suitable for all hair types
Waterproof
Can be used for pet grooming
Cons
This cleansing scalp scrub from Nexxus replenishes essential nutrients, adds nourishing ingredients to the scalp, and provides a salon-care treatment by purifying and detoxifying your scalp. It contains an exclusive blend of elastin protein and marine minerals that clarifies the scalp and smoothens the hair to add body and shine. This scalp scrub deals with buildup and helps rebalance your scalp.
Key Ingredients: Elastin protein and Marine minerals
Pros
Gentle
Sulfate-free
Dye-free
Silicone-free
Paraben-free
Cons
*The prices provided in this article are based on the latest available information. However, they may vary due to changes in pricing by the seller and/or promotional offers.
If you have oily hair, you know that it is a constant struggle to find products that work well on your hair. In this buying guide, we are going to share with you a few factors to look for in products to keep your hair looking and feeling great all day long!
Things To Look For In Products For Oily Hair
Formula: Look for products that are oil-free with sebum control and non-comedogenic formulas. These products won't clog your pores or make your hair look greasy. Choose formulas that contain ingredients like salicylic acid or glycolic acid.
Consistency: Lightweight consistencies are best, as these formulas do not weigh your hair down or encourage product buildup. Heavier products may suffocate your tresses and scalp, making them prone to damage.
Ingredients: Look for shampoos and conditioners that are specifically designed for oily hair to help control the oil production in your scalp. This can be done with special shampoos and conditioners that contain tea tree oil or mint. These products will usually contain less oil than other formulas, and they also give a volume boost to help give your hair a voluminous look.
You may also want to look for products that contain absorbent ingredients like clay or powder. These ingredients help break down the oil in your hair and on your scalp. Avoid products that contain heavy oils or silicones, as these can actually make your hair oilier.
Added Factors: Look for products that contain gentle cleansing agents. This is important because harsh cleansers can strip away the natural oils from your scalp, which can actually make your hair oilier. Instead, opt for gentle cleansers that won't strip your scalp of its natural oils.
Why Trust StyleCraze?
The author, Shiboli Chakraborti, is a hair care enthusiast who loves experimenting with different products. She went through numerous customer reviews on multiple forums and websites to curate this list of the best products for oily hair that are oil-absorbing and retain the needed moisture. The above products cleanse your scalp and help remove dust, dirt, grease, and dandruff.
Frequently Asked Questions
How do you treat oily hair?
•  Wash your hair less frequently.
•  In between washes, use dry shampoo.
•  Use a sulfate-free shampoo to wash your hair.
•  Regularly brush your hair to distribute the sclap oils evenly.
•  To revitalize your strands, use a texturizing spray.
Is having greasy hair healthy?
No. Although a little oil in your hair is acceptable, and shows a healthy sebum-regulating process, excessive greasiness may be signs of inadequate or unhealthy hair care or underlying sebum production problems.
How long does it take to train your hair not to be greasy?
It usually takes 2-3 weeks of hair care for your hair to not be greasy.
How do I keep my hair from getting greasy overnight?
•  Use a shampoo made especially for oily roots.
•  Use a clarifying shampoo once a week.
•  Use clean pillowcase every night.
•  Avoid hot showers, which activate the oil glands and increase oil production.
How do I fix greasy hair without washing it?
•  Use a dry shampoo as it absorbs the excess oils.
•  Wipe blotting paper on your scalp to remove excess oil.
•  Blow dry the oily strands slightly to make them look less greasy.
•  Brush your hair twice every day to prevent oil buildup near your roots.
What ingredients should I avoid for oily hair?
Avoid ingredients like parabens, alcohol, toxic dyes, synthetic chemicals, silicones, and fragrances, for oily hair.
How often should I wash my oily hair?
Wash your oily hair 2-3 times a week for the best results.
Do you need conditioner if you have oily hair?
Yes, since it delivers moisture and nourishment to your hair, which a shampoo alone cannot provide.
Does stress cause oily hair?
Yes, stress affects your hormone levels which in turn causes excess oil production and makes your scalp oily.
Recommended Articles