Say No To Oiliness With 16 Best Products For Oily Skin!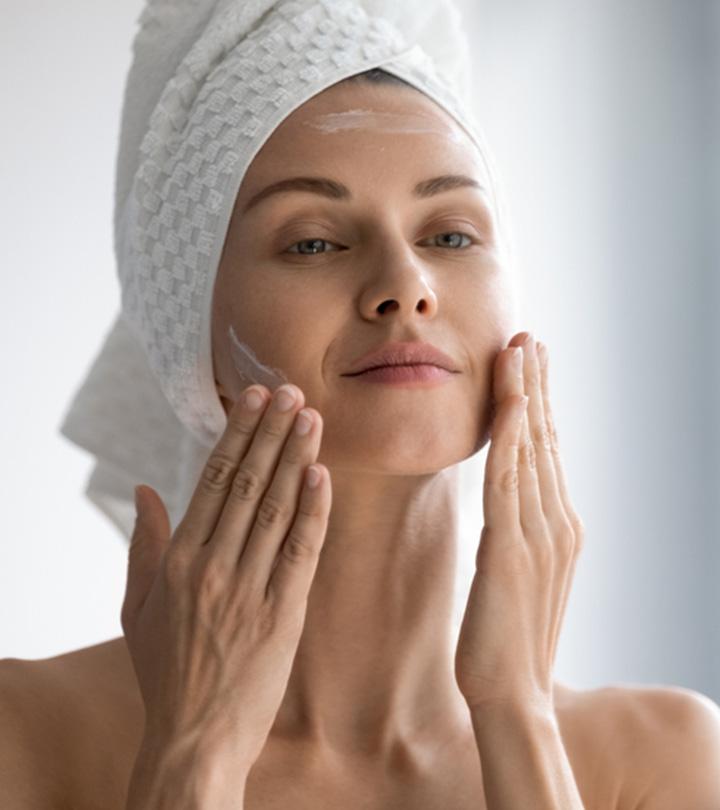 If you have not kept any stone unturned in tackling your oily skin issues and yet seem to be at a loss, fret not. We got you covered! All you need are the best products for oily skin to avoid looking like a shining glow bulb all through the day. These products take form in various scrubs, cleansers, serums, and sunscreens that can help control the grease and shine on your face! They draw out excess moisture, clear clogged pores, and control sebum production to help you deal with oily skin. With them, you can also prevent your makeup, like foundations, blushes, and eyeshadows, from melting away! With regular use, you can see the problems with oily skin, like excessive dead skin, pimples, and breakouts that will fade away. Just have a look at the 16 best products for oily skin curated especially for you, and pick one to get that face of your dreams! If you've dreamt of a naturally matte, oil-free, clean, refreshed look, then let us assure you here that dreams do come true.
Beat The Grease With 16 Best Products For Oily Skin!
This foaming gel-like cleanser claims to combat excess sebum and leaves your skin feeling fresh and grease-free! Ensuring that "cleansed" feeling with every use, this gentle face wash can be used as a makeup remover too for intense cleaning. Also, CeraVe contains ingredients such as 3 ceramides, hyaluronic acid, and niacinamide. This means it will clean without stripping the natural oils or disrupting the natural barrier of the skin. Try it!
Pros:
Rich-lathering cleanser
Dermatologist-recommended
Non-comedogenic, non-irritating, and fragrance-free
Suitable for oily to normal skin
Cons:
Not recommended for sensitive skin
Nothing spells "pamper" like a good mask. Whether you have an oil problem or breakouts, this mud mask with dead sea minerals will intensely clarify clogged pores, balance the sebum production, reduce enlarged pores, and leave skin soft and fresh. A great way to make your skin relax while the mask works on balancing the natural moisture, it is also infused with some nourishing ingredients for your skin. It contains calendula oil, sunflower seed oil, aloe vera, vitamin E, and jojoba oil for intense moisturization. Try it!
Pros:
Cleanses intensely
Exfoliates dead skin cells
Fights acne and blackheads
Promotes healthy and youthful skin
Enhances texture and stimulates blood circulation
Alcohol-free, paraben-free, and sulfate-free
Cruelty-free and suitable for all skin types
Cons:
Washing off the mask may be a hassle
With SPF 46, this broad-spectrum and oil-free sunscreen is a great pick for those with oily skin. Given how sunscreen can turn your skin greasy and sticky, this one guarantees to keep a healthy glow while protecting against UVA and UVB rays. Also, it soothes and shields skin that is sensitive to rosacea, discoloration, and acne too. Infused with transparent zinc oxide, hyaluronic acid, and niacinamide to give your skin a refreshed look, you can venture out in the sun confidently with EltaMD UV Clear Facial Sunscreen.
Pros:
Dermatologist-recommended
Silky-smooth and lightweight
Leaves no white residue
Ensures to combat aging signs
Protects against free radicals
Shields from harmful infrared radiation
Suitable for sensitive skin types
Cons:
No products found.
Cleanse that greasiness out! Claiming to draw out the impurities and excess oil, this natural charcoal-infused and salicylic acid cleanser is a must-try for those with very oily skin. Plus, it is formulated to be 2 times more intense than other oily skin cleansers when it comes to clarifying the pores and trapping the oil for elimination. Also, it does it without stripping the natural oils! Yep, this charcoal power is worth a try.
Pros:
Foaming cleanser
Dermatologist-tested
Guarantees to remove 3 times more oil
Oil-free and non-comedogenic
Formulated with Japanese Skin Purifying Technology
Suitable for sensitive and acne-prone skin
Cons:
It may have drying effects.
If you are looking for a soap-free cleanser, then you must try this option by La Roche-Posay. Gentle enough to be used for sensitive and acne-prone skin, this oil-free cleanser claims to wash away the excess oil and dirt without disturbing the pH balance of your skin. So, your natural oils and moisture stay intact, and all impurities are driven out (gently!). Also, what makes this formula a must-try is the infused zinc pidolate that will purify your skin to give a clean and refreshed appearance. Why skip it?
Pros:
Gel-like texture
Dermatologist-tested
Prevents over-drying
Alcohol-free and paraben-free
Suitable for acne-prone skin
Cons:
Not ideal if you are sensitive to smell
Not just any other moisturizer, this one has the power of 4! It hydrates, controls oil, moisturizes, and provides broad-spectrum protection from UVA and UVB rays— all in one application. Yep, can your moisturizer do that? Also, this sunscreen-moisturizer combo is lightweight, so no cakey feeling, and provides a matte finish, so no excess shine too. Besides this, it is formulated with oleosome technology to ensure more hydration and less irritation. So, if your skin tends to turn greasy and shiny quickly, or if you are mattifying products for oily skin, then this moisturizing lotion will not disappoint.
Pros:
SPF 30
Tackles dryness
Absorbs quickly and non-greasy
Non-comedogenic, fragrance-free, and paraben-free
Suitable for oily and acne-prone skin
Cons:
It might irritate the eyes.
Makeup lovers, this one is for y'all! Purifying pores, cleansing intensely, and removing makeup without any harsh rubbing, with this no-rinse cleanser, consider all the impurities, dirt, and oil buildup taken care of. A great option if you have sensitive or oily skin, it claims to pull out toxins like a magnet without over-drying and leave a mattified finish instead. Still, want to stick to your old cleanser or makeup remover now?
Pros:
Ultra-gentle cleanser
Leaves no greasy residue behind
Oil-free and ideal for removing eye makeup
Paraben-free, silicone-free, sulfate-free, and fragrance-free
Cons:
It may not remove heavy makeup.
"Oily skin doesn't need moisturizing" is the biggest misconception! Your skin needs as much moisturizing as any other skin type. However not oil-based but water-based like this one by Loreal Paris. Lightweight, quick-absorbing, and gel-like, this moisturizer claims to keep your skin hydrated and supple for up to 72 hours. Yep, it will lock in natural moisture with hyaluronic acid, and the infused aloe water will provide additional soothing and hydrating benefits too. Give it a try if you haven't already!
Pros:
Gentle formula
Reduces excess shine
Eases fine lines and wrinkles
Leaves skin soft and mattified
Instantly hydrates and refreshes skin
Suitable for oily and normal skin
Cons:
Say hello to balanced and clearer skin with this moisturizer cream. This plant-based cream is formulated with tea tree oil, salicylic acid, aloe vera, dandelion root, etc., making it an ultimate remedy for treating acne breakouts, blemishes, rosacea, and calming redness and irritation. It nourishes and balances oily, combination, and acne-prone, for a smooth and even complexion. Moreover, it is also non-toxic and free from any ingredient that might disrupt your hormones.
Pros
Calms redness and irritation
Controls acne and breakouts
Nourishes the skin
Balances skin oils
Makes skin smooth and clear
Paraben-free, cruelty-free, and vegan
Cons
Might not suit sensitive skin
How about some peach therapy for the enlarged pores and oiliness? SkinFood Peach Sake Pore Serum is infused with the traditional Japanese wine— sake extracts, silica powder, and peach extracts, which are rich in vitamin A and C to tighten pores and control excess oil production. Keeping your skin fresh, soft, and smelling like peaches, give this serum a try this season.
Pros:
Smoothing serum
Boosts hydration
Keeps the skin refreshed and cool
Suitable for combination and oily skin
Cons:
Strong fragrance
May not be suitable for sensitive skin
Are you dealing with clogged pores, acne, or excess greasiness? If yes, then you need to scrub! Here's an option by Burt's Bees packed with 99% natural ingredients, including natural fruit acid complex and jojoba beads to prevent future breakouts and clarify the pores intensely. Besides this, it also contains willow bark, which is rich in salicylic acid and helps reduce acne and tighten pores too. And the best part— it does it all gently! Yep, ready to scrub away the oiliness now?
Pros:
Soothes redness and irritation
Exfoliates without over-drying the skin
Eliminates dead skin cells and impurities
Reduces and protects from blemishes
Manages and combats excess oil production
Non-comedogenic and dermatologist-tested
Cons:
Not ideal for sensitive skin
The only kind of hydration boost that oily skin will love! A must-try for parched, dull, and tired skin, this moisturizing balm can be used after cleansing to boost hydration, improve elasticity, and minimize pores. Infused with apothecary herbs and antioxidant-rich lady's mantle, this oil-free and gel-like cream will neither turn your skin greasy, shiny nor give you a cakey feeling after applying. Try it to witness the healthy glow!
Pros:
Ultra-light cream
Doubles up as face mask
Improves uneven texture
Preps the skin for makeup
Protects from skin-damaging radicals
Free from synthetic fragrances, dyes, mineral oil, and more
Suitable for normal, combination, and oily skin
Cons:
Trap the unwanted sebum for up to 8 hours! Here's a gel that claims to keep your skin shine-free, mattified, and fresh with its microparticles that trap excess facial oils and shine instantly. Do you love wearing makeup? If yes, then you will love this gel even more because it keeps your makeup intact by controlling the oil production underneath. Gentle enough to be used daily and suitable for both men and women, give OC Eight Professional Mattifying Gel a try to enjoy a healthy and satisfying matte finish.
Pros:
Absorbs oil quickly
Evens out skin tone
Soothes redness and irritation
Suitable for combination to oily skin
Cons:
Is the excess greasiness driving you crazy? Tone it down! AcneFree Witch Hazel Mattifying Toner claims to rebalance your skin's pH levels, control oiliness, minimize pores and eliminate unwanted impurities with every use. And that's not all; it exfoliates intensely to remove dead skin cells, combat acne breakouts and leave the surface shine-free. Just what your skin needs to feel refreshed, clean and soft, the formula contains witch hazel, aloe vera, and glycolic acid to enhance your complexion too. Want more? It mattifies! Try it.
Pros:
Clarifies clogged pores
Reduces unwanted shine
Eliminates residue or dirt
Tones the skin without over-drying
Suitable for combination to oily skin
Cons:
Not ideal for acne-prone skin
Why settle for shine-free skin only when this cleanser can give you a healthy glow too? Yep, promising 3 benefits that are cleansing, purifying, and soothing, it penetrates deep into the pores to remove all the dirt, oil buildup, and impurities instantly. And if you are wondering if it will strip the skin of its natural oils, then let us assure you that this cleanser is gentle and it exfoliates lightly. Packed with salicylic acid and antioxidants, if you want to enjoy the combo of deep cleansing and hydrating, then you must give this cleanser a try.
Pros:
Gel-like texture
Refreshing cleanser
Controls excess oil production
Leaves skin hydrated and soft
Maintains the pH balance of the skin
Cons:
Lastly, this lightweight gel moisturizer that'll make you want to flaunt your skin at every chance you get! Offering more than just oil-reducing benefits, it corrects discoloration, fights aging signs, and restores skin to make it appear visibly refined, younger, and rejuvenated. One of the best anti-aging products for oily skin, this moisturizer is packed with skin-restoring ingredients, vitamin C, antioxidants, niacinamide, and hyaluronic acid to minimize pores and ease fine lines and wrinkles too. Do not skip it!
Pros:
Boosts hydration
Soothes redness and irritation
Shields skin's natural barrier
Reduces shine and greasiness
Leaves skin smooth and refreshed
Protects against environmental damages
Fragrance-free and paraben-free
Suitable for normal to oily skin
Cons:
There you go, those were the 16 best products to help oily skin fight the excess grease!. Do you still need more tips on how to buy good products for oily skin or how to get rid of excess oil? Check out our buying guide below.
Buying Guide
How To Choose The Right Products For Oily Skin?
Look out for the following features in every product before you buy:
Oil-free & lightweight formula: For oily skin, oil-free formulas are preferred to keep skin fresh and mattified. Also, inspect if it is lightweight, so it does not feel cakey or heavy after application or by the middle of the day.
Shine Reducer: Excess oil production can lead to greasiness and unwanted shine. Now, this may either lead to dullness or breakouts if not absorbed or mattified quickly. Hence pick a product that guarantees to reduce the shine and deliver a mattified finish.
Oil Control: Just reducing the shine may not be enough; controlling the excess sebum and neutralizing the pH balance of the skin is crucial too. So, when choosing a product— be it a cleanser, toner, or sunscreen, check for oil control benefits.
Non-comedogenic: Yes, the one that won't clog pores! If you have open or large pores, then choosing a non-comedogenic product is a must to prevent acne, breakouts, and blackheads due to excess oiliness.
Skin Type: Lastly, and very important, the product should suit your skin type and condition. First, figure out if your skin is oily, combination, or you have an oily t-zone. Also, consider acne-prone, mature skin, aging signs, and enlarged pores as well, before choosing the product.
How To Get Rid Of Oily Skin?
Constant care and maintaining an ideal skincare routine can help you control excess oil in no time. Here are some basic tips you can follow:
Cleanse your skin with an intense exfoliating face wash twice a day. Make sure the cleanser deep cleanses and does not over cleanse.
Use a toner regularly.
Use a face mask once a week or twice in 15 days.
Scrub with a gentle exfoliator twice a week.
Invest in acne treatments if you have acne-prone skin.
Moisturize your skin with an oil-free or water-based formula.
Use blotting paper to absorb all the excess oil and shine.
Also, always wear an oil-free sunscreen to protect skin from skin-damaging free radicals.
Products To Use For Oily Skin:
Here are the types of products you should opt for if you have oily skin:
Oily skin needs as much moisturization as any other skin type. Hence, you must pick a moisturizer with ceramides as they retain natural moisture.
Choose a cleanser that deep cleanses and has sebum-control benefits.
Keep your makeup removers and makeup water-based or oil-free for satisfying and non-greasy results.
Avoid soapy cleansers and opt for foam-based face washes instead.
Products with hyaluronic acid are good for oily skin too, as they retain moisture and keep your skin hydrated.
If you are dealing with clogged pores and oiliness, then products with salicylic acid would best suit your skin for unclogging pores and intense exfoliation.
That's all folks! With that, we bet you'll have no problem being a pro at handling your oily woes. Yep, don't let the greasiness control your skincare or ruin your makeup when these skincare products for oily skin can make your skin stand out without the unwanted shine. So, go ahead, choose your products carefully, and get ready to enjoy oil-free and healthy skin forever.
Why Trust StyleCraze?
Sneha Manandhar, the author of this post, is a skin care enthusiast. She loves to explore skin care products and updates herself with the latest advancements in skin care trends. This list of the best products for oily skin is complied after extensive research and reading many customer reviews online on various trusted platforms. These products effectively tackle oily skin issues like greasiness, clogged pores, and excess sebum.
Frequently Asked Questions
Are water-based products good for oily skin?
Yes, water-based products are great for oily skin. Oily skin needs to be hydrated, and water-based products help keep the tissues lubricated without turning greasy or shiny.
Is coconut oil good for oily skin?
No, coconut oil is not ideal for oily skin because it is comedogenic and can clog pores. Though they may be beneficial for acne, they can clog pores and result in breakouts in severe cases.
Are moisturizers good for oily skin?
Yes, moisturizers are good for oily skin. Though there is a misconception that oily skin does not require moisturization, moisture and oil are two different things. Oily skin needs hydration to stay healthy and look fresh, which is why water-based moisturizers are a must-have in the skincare routine.
Are primers good for oily skin?
If you have oily skin or you are dealing with excess oiliness, then using a primer before applying makeup is ideal. It mattifies the skin, controls oil production, hydrates the skin, and minimizes the appearance of the pores too, thus giving your makeup a perfect base to set on.
Does oily skin cause large pores?
It depends. Aging signs, environmental damages, and excess oiliness can cause large pores in some cases. Hence, taking good care of the skin as well as exfoliating and moisturizing can help maintain pores.
Does oily skin get fewer wrinkles?
Yes, oily skin people are blessed with natural nourishment to ease the fine lines and wrinkles. Also, constant moisturization keeps the skin hydrated enough to ward off aging signs.
Recommended Articles: