The 11 Best Products For Over-Processed Hair – 2023
Restore the original texture and quality of your hair while combatting frizz and damage.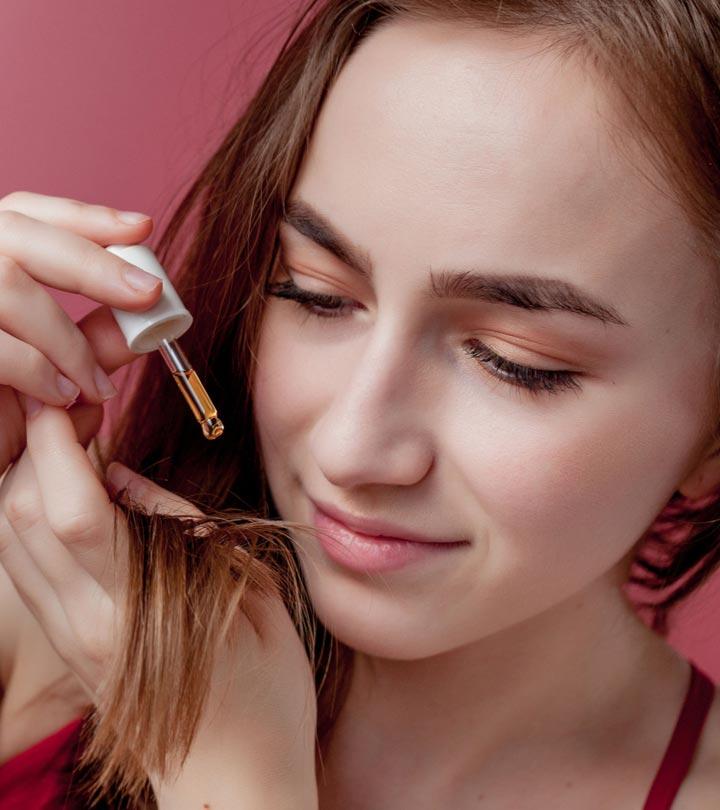 Suppose you are someone who loves to experiment with their hair texture and color and doesn't shy away from a big change. In that case, you are no stranger to the after-effects of these treatments and would really benefit from the use of the best products for over-processed hair. Bleaching sessions, toners, and colors can have a huge impact on your precious strands, and if you don't invest in the best products for over-processed hair, it will get dry and damaged. So, to avoid burning your hair and feeling horrible, you have to look for products that hydrate and strengthen it.
Whether your hair is damaged from styling products or chemical treatments, a good hair care routine that is catered specifically for overly processed hair can help prevent a bad situation from getting worse. Additionally, it would help if you remembered that the products you use on your normal, non-processed hair would differ from what your processed hair needs. Most times, your old products can be quite drying on your over-processed hair. Well, you don't have to worry anymore because, in this article, we have listed the 11 best products for over-processed hair that will repair any damage and strengthen your lovely strands. Keep reading to know more!
Top Picks
11 Best Products For Over-Processed Hair To Keep It Happy And Healthy
Pros
 Doesn't cause buildup
 Easy to apply
 Tames frizz
 Mild fragrance
 Suitable for wavy/curly hair
 Detangles
Cons
Price at the time of publication: $23.0
Pros
 Hydrating
 Strengthens and protects
 Suitable for loose and tight curls
 Nourishing natural ingredients
 Tames frizz and flyaways
 Suitable for heat and chemical processed hair
Cons
 May leave a greasy residue
Price at the time of publication: $17.97
Pros
 Anti-frizz protection
 Optimal hair manageability
 Detangling
 Smoothening
 Softens
 Enhances the natural movement of your hair
 Strengthens each strand
 Sulfate-free
Cons
 May not be suitable for fine hair
Price at the time of publication: $33.83
Everyone knows that almonds are filled with vitamins that benefit your hair, and this conditioner does just that! The nourishing formula is made from almond milk and is aimed at repairing super-damaged hair. It also has shea butter, aloe vera, and proteins aimed at all types of curly hair because it moisturizes each strand from top to bottom. The formula is lightweight and won't weigh your hair down, no matter how much you apply. The moment you slather on the conditioner, it creates a protective layer on your hair that shields it from harmful external factors like heat and pollution. Also, the product makes the detangling a breeze, so you don't have to worry about any snags or breakage while styling your hair. In the end, you will surely be delighted with your shiny and bouncy curls.
Pros
 Lightweight
 Suitable for all types of natural and processed curls
 Detangles
 Stimulates hair growth
 Shields and strengthens weak strands
Cons
 Some may find the fragrance strong
You can never go wrong with coconut hair oil, can you? But what about when it comes to over-processed hair? Won't it damage your precious strands even further? Well, fear not because this coconut hair oil mask will fix all your hair woes, even on chemically processed hair. This potent repair mask is filled with the goodness of coconut fats and vitamin E, which are crucial factors responsible for hydrating and nourishing your hair. The hair mask ensures that each strand is deeply conditioned and hydrated so that it results in a silky texture and a brilliant shine. We recommend that you use this mask twice a week, just before you wash your hair, and keep it on for 20 minutes. If you have thick, long hair that is damaged due to heat or chemicals, then this mask is the savior your strands need.
Pros
 Hydrating
 Suitable for thick straight or curly hair
 Doesn't fade color
 Shine enhancing
 Strengthens hair shaft
Cons
 Must not be applied directly to the scalp
Price at the time of publication: $14.98
Update your hair care products for over-processed hair by adding this clarifying shampoo. The formula is a potent blend of vitamins, nutrients, and proteins that enhance hair strength while keeping it dry and lifeless. It is infused with gentle ingredients like aloe vera, rosemary, and botanical extracts specially designed to hydrate over-processed and damaged hair. Unlike ordinary clarifying shampoos, this one cleanses your scalp without stripping any moisture. The formula is quite gentle and can be used every day without worrying about split ends or dull hair. Also, it's great for sensitive scalps because it won't trigger any itching or nasty allergic reactions while ensuring your hair is hydrated, moisturized, and pH balanced.
Pros
 Vegan
 Cruelty-free
 Sulfate-free
 Gentle formula
 Suitable for frequent use
 Hypoallergenic
 Suitable for fine hair
Cons
 Some may find the consistency thin
Price at the time of publication: $19.99
Turn your fried and over-processed hair around with this game-changing shampoo by MATRIX. Not only does it make your scalp squeaky clean by removing any annoying product buildup, but it also primes and fortifies your bonds. This shampoo formula is targeted at hair that has been damaged due to excessive chemical processes and heat styling. We highly recommend this shampoo for people who have damaged platinum blonde/bleached hair. With consistent use and a rigorous hair care routine, your hair will start feeling soft and healthy. This is also an excellent purchase for people allergic to/overwhelmed by synthetic fragrances because the formula is unscented and won't irritate your olfactory senses.
Pros
 Unscented
 Suitable for bleached damaged hair
 Removes product buildup
 It can be used on oily scalps
 Reduces frizz and breakage
Cons
 May trigger dandruff on dry scalps
Price at the time of publication: $26
Most people concentrate on the mid or ends of their hair strands when treating over-processed hair; but, not many focus on the scalp and hair follicles while cleansing. This shampoo ensures that your follicles are hydrated and your scalp is clean with every wash. It is specially formulated for chemically or heat-damaged hair that is now dry and brittle. The color-safe formula contains natural ingredients like common sage oils, ginkgo leaf extract, and Mediterranean strawflower extract, which keep your hue from bleeding out while moisturizing your beloved tresses. Haircare professionals from all over highly recommend this purple shampoo for bleached hair, mainly to prevent it from getting brassy or looking dull/lifeless. You can use this shampoo frequently, and it will not strip any of the natural oils or leave it in a tangled mess.
Pros
 Suitable for oily scalp
 Prevents color from fading
 Suitable for bleached hair
 Detangling
 Contains natural ingredients
 Removed product buildup
 Easy to rinse
Cons
Pros
 Naturally derived ingredients
 Suitable for color-treated hair
 Hydrating and strengthening
 Shine enhancing
 Detangling
Cons
 May not be suitable for type C curly hair
Price at the time of publication: $70
Suppose your hairstylist has recommended a leave-in treatment that is light and protects color-treated hair. In that case, we suggest you choose this product. Not only will it infuse some much-needed moisture into your dried strands, but it will enhance the hair's elasticity as well. The lightweight formula contains natural ingredients like organic olive oil, pomegranate oil, and other botanical oils that protect your hair against sun damage and extend the vibrancy of your hair color. You must use this product every time you use any heat styling product to maximize the color's life. In addition, the formula is soft, has a mild scent, and is non-greasy, so you don't have to worry about it leaving any residue after application.
Pros
 Lightweight
 Non-greasy
 Natural moisturizing ingredients
 Extends color vibrancy
 Heat protecting
 Mild scent
Cons
 May not be suitable for thick hair
Price at the time of publication: $21.95
Now don any style with your favorite heat tool without the fear of dry, damaged hair, thanks to this leave-in conditioner that protects your strands and strengthens them as well. The lightweight formula contains soy and rice proteins, along with lavender extract and sunflower seed oil, which protects your hair from sun damage and hydrates it from within. It is suitable for colored or chemically processed hair, and it will eliminate any frizz while taming flyaways as well. Spray all over your hair, especially at the ends, to prevent any splits before using your curling iron or blow dryer to get the desired results, which is super soft and shiny hair!
Pros
 Lightweight
 Refreshing scent
 Heat protecting
 Prevents split ends
 Tames frizz
 Easy to apply
Cons
Now that you are aware of the top products for over-processed hair available online, you have to know the essential components to look for when choosing one that meets all your needs. Keep reading our buying guide to know more!
How To Choose The Best Products For Over-Processed Hair
When looking for products that can repair damaged and over-processed hair, you have to look for stuff to protect it from future damage. This will encourage a healthy and shiny new growth that will help you start new and take better care of the new growth. Also, look for products that save your hair from sun damage and styling tools, as the heat can cause the color to fade and make the hair texture all dry and brittle.
Hydrating and moisturizing ingredients are crucial because they bring life to dull, lifeless strands. Look for products that have naturally derived oils because they go deep within the hair shafts and repair any damage done by heat or chemicals.
If you want to avoid any frustrating product buildup, you need to look for formulas that work with your hair type. For instance, if you have processed dry and curly hair, you will need creamy and oil-based formulas because they will keep the strands moisturized. If you have fine hair, along with an oily scalp, then look for lightweight formulas that are non-greasy but settle well on your strands.
Why Trust StyleCraze?
The author, Kirtana Divakar, is a hair care enthusiast. She knows that dull, damaged, and chemically processed hair needs extra TLC. So, she went through hundreds of online reviews to compile a list of the best products for over-processed hair. These products are specially formulated for dry, brittle, and processed hair. They help detoxify any leftover chemicals and toxins without stripping hydration hair moisture.
How can you fix over-processed hair?
You can follow certain steps and use hydrating products that will help reverse the damage and protect your hair in the long run as well. Here are some points you can follow:
 Use a hair mask before using a shampoo.
 Ensure that clarifying shampoo is specially made for over processed hair
 Don't use any long-hold products as they can dry your hair
 Avoid using any heat tools
What helps fix over-processed bleached hair?
Products rich in natural botanical oils like olive, coconut, argan, sweet almond, and lavender oils help fix bleached hair as they infuse protein into the strands. You can also invest in good-quality leave-in conditioners for long-lasting hydration.
What is suitable for dry, over-processed hair?
As mentioned before, having a good and consistent hair care routine that contains natural moisturizing ingredients can help repair dry, over-processed hair.