9 Best Products For Papulopustular Rosacea (Reviews And Buying Guide) – 2023
Deal with papulopustular rosacea with moisturizing products that soothe the skin.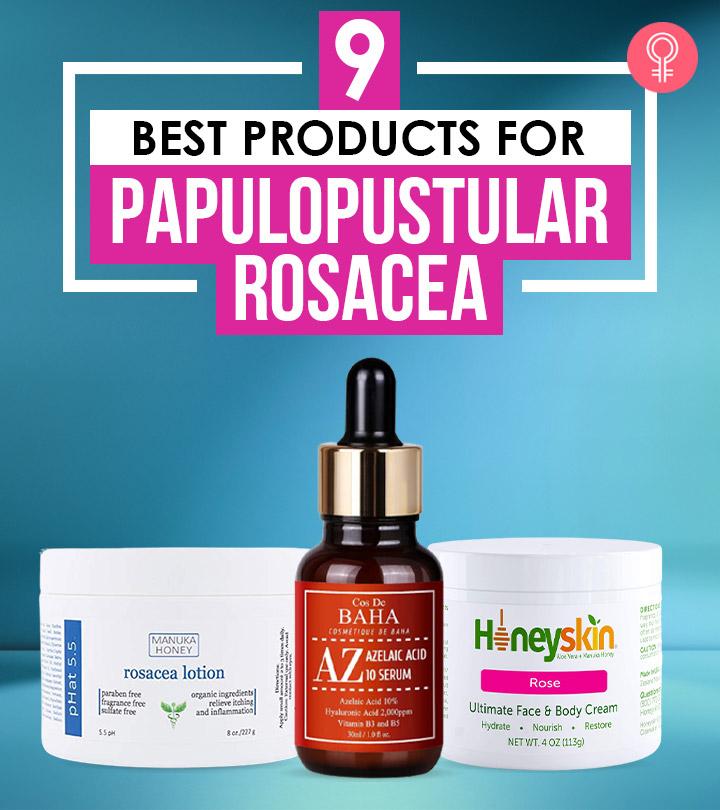 Do you suffer from acne? Or is the tiny, red, swollen, acne-like bumps on your cheeks, nose, and forehead something else? Chances are you might be suffering from papulopustular rosacea. It is one of the four major subtypes of rosacea, where your skin breaks out into tiny, swollen zits that seem to pop out anytime. This condition is also known as acne rosacea because it combines common symptoms like swollen bumps and flushed skin associated with acne and rosacea.
We have listed the 9 best products with positive reviewer's experience to help you tackle papulopustular rosacea. But before you go to the product carousel, read the underneath section to understand papulopustular rosacea better.
What Is Papulopustular Rosacea?
In postulating rosacea (commonly known as acne rosacea), you can develop a combination of red, acne-like breakouts on your cheeks (1). Along with these puss-filled, red, swollen blemishes or pustules, you might experience slight sensitivity in the affected areas. There is no hard evidence as to why you develop these red flares or bumps on your face. But avoiding a few rosacea triggers like hot drinks, spicy food, stress, or sunlight can help contain the flare-ups and prevent worsening.
You should also include these 9 best products for papulopustular rosacea in your skin care routine for better results. These mild products help manage the flares and keep your skin redness-free.
9 Best Products For Papulopustular Rosacea
The medicated rosacea-specific homeopathic gel, Prosacea, helps contain the flares, bumps, and pimples associated with Papulopustular Rosacea. Its moisturizing formula infused with aloe vera extracts soothe and hydrate the skin, while sulfur 1% tones down inflammation and pustules (2). It is proven to deliver visible results when you add this hydrating gel between cleansing and moisturizing your face. Click here to check out this unbiased review and the tester's experience with the product.
Key Ingredients: Aloe vera extract and Sulfur 1%
Pros
Quick drying
Non-greasy formula
Easy to use
Dermatologist-recommended
Non-comedogenic
Hypoallergenic
Skin soothing
Moisturizing
Residue-free
Steroid-free
Alcohol-free
Fragrance-free
Essential oil-free
Cons
Price at the time of publication: $8.88
This K-beauty superstar serum is a results-driven product and gives your rosacea battered skin a sigh of relief with its unique formula created with clinically-proven ingredients. Azelaic acid effectively manages inflammatory lesions and bumps associated with papulopustular rosacea (3), and niacinamide strengthens the skin's moisture barriers (4), tones down redness and hyperpigmentation, and fades down wrinkles. And sodium hyaluronate and panthenol moisturize the skin to keep it soft and plump. In addition, natural antibiotics in bitter gourd and elderflower extracts keep your skin acne-free, while antioxidants in green tea protect your skin from free radical damage. You can layer this mineral-based, oil-free skincare serum under your morning or evening moisturizer or use it standalone product after cleansing your face. It is one of the best calming facial products products with a lot of positive reviews.
Key Ingredients: Aloe vera leaf extract, Azelaic Acid (10%), Panthenol, Niacinamide, Sodium Hyaluronate, Green tea, Bitter gourd, Elderflower extract, and Edelweiss extract
Pros
Lightweight serum
Quick absorbing
Moisturizing
Can be layered under skin care
Sulfate-free
Paraben-free
Dimethicone-free
Mineral oil-free
Alcohol-free
Artificial color-free
Fragrance-free
Vegan
Cruelty-free
Budget-friendly
Cons
Can heighten skin sensitivity
Price at the time of publication: $13.98
Rosacea weakens your skin's moisture barriers, making it dry and flaky. Moisturizing your rosacea-prone skin strengthens and heals these broken skin barriers, preventing allergens from aggravating the situation. The soothing SeboCalm Soothing Face Moisturizer is dermatologically-approved and comes with a soothing, non-irritating formula that keeps your skin hydrated without leaving any greasy, oily residue.
This gentle, clinically-tested moisturizer is infused with ingredients like sorbitol, glycerin, and aloe vera to create a barrier over the skin that prevents water loss. Additionally, black cohosh root extract dulls redness and hyperpigmentation, and the antibacterial properties of honeysuckle flower extract keep off germs. Add this clinically-proven efficacy moisturizer to your routine to see visible results.
Key Ingredients: Sorbitol, Glycerin, Black cohosh root extract, Honeysuckle flower extract, and Aloe vera
Pros
Mattifying effect
Non-greasy
Fades hyperpigmentation
Fights infection
Doubles up as a primer
Can be used as an aftershave lotion
Dermatologically tested
Hypoallergenic
Vegan
Cons
Overpowering fragrance
Skin feels stretchy on application
Price at the time of publication: $20.98
The creamy, luxurious soothing moisturizer from Epic Organicum is a results-driven product. It is infused with ingredients like aloe vera, grape seed oil, oat kernel flour, apricot kernel oil, and hemp seed oil that hydrate your skin while keeping the rosacea flares at bay. The antioxidant-rich grapeseed oil, tea tree oil, mojave yucca, and green tea shield the skin from free radical damage. Plus, the antibacterial properties of tea tree prevent infection and protect the skin from UV damage.
Key Ingredients: Aloe vera extract, Grapeseed Oil, Hemp seed oil, Mojave yucca extract, Green tea extract, Blue-green algae extract, Comfrey extract, Olive fruit oil, Tea tree leaf oil, Ginseng root extract, Oat kernel flour, and Apricot kernel oil
Pros
Tightens skin
Boosts cell turnover rate
Hypoallergenic
Non-greasy
Quick absorbing
Doubles up as an aftershave lotion
Soothing
Gluten-free
Cruelty-free
Paraben-free
Hypoallergenic
Cons
Price at the time of publication: $34.95
Relieve your red, swollen, inflamed skin with this fragrance-free, hypoallergenic PHat 5.5 Rosacea Lotion. Its hydrating formula repairs the damaged skin barriers and helps restore the skin's pH balance for optimal results. Antioxidant-rich raw manuka, coconut oil, and shea butter soothe and heal the inflamed skin and prevent further rosacea flares. A cocktail of vitamins A, B5, C, and E, hemp seed oil, and frangipani brighten your skin and fade premature signs of aging. In addition, this heavy moisturizer is infused with humectants like cocoa seed butter, oat amino protein, and sodium hyaluronic acid that halts moisture loss.
Key Ingredients: Aloe vera gel, Coconut oil, Cocoa seed butter, Manuka honey, Shea butter, Cehami, Glycerin, Blue algae, Hemp seed oil, Olive oil, Vitamins A, B5, C, and E, Oat amino protein, Frangipani Extract, and Sodium Hyaluronic Acid
Pros
Prevents moisture loss
Brightens skin
Fades wrinkles
Boosts cell turnover rate
pH-balanced formula
Paraben-free
Sulfate-free
Gluten-free
Fragrance-free
Cons
This all-purpose moisturizer from Honeyskin is a multitasker that hydrates your skin, fades wrinkles, and soothes inflammation. Vitamins A, B, and E boost cell turnover rate and fight free radical damage, while vitamin C brightens your skin. And the nourishing blend of cocoa seed butter, manuka honey, and shea butter with humectants like sodium hyaluronate and coconut oil keeps the skin moisturized and prevents water loss. Also, the titanium dioxide in the formula shields your skin from the UV rays of the sun.
Key Ingredients: Aloe vera, Coconut oil, Cocoa seed butter, Manuka honey, Shea butter, Old man weed, Blue-green algae extract, Hemp seed oil, Olive oil, Vitamins A, B2, B5, C, and E, Oat amino protein, Frangipani, Tapioca starch, Titanium Dioxide, and Sodium hyaluronate
Pros
Lightweight formula
Non-greasy moisturizer
Brightens skin
Fades wrinkles
Mild UV protection
Works as an undereye cream
Doubles up as night cream
pH balanced formula
Paraben-free
Sulfate-free
Cruelty-free
Refreshing rosy scent
Cons
The gentle, non-greasy, and dermatologist-recommended Kidskin Gentle Skin Moisturizer hydrates your irritated, inflamed skin and prevents further rosacea flares. Its kid-friendly formula is infused with hydrating squalene, antioxidant-rich honeysuckle, and anti-inflammatory witch hazel water. Together the ingredients in this anti-itch cream neutralize the blemishes, soothe inflammation, and hydrate the skin without clogging the pores.
Key Ingredients: Squalene, Honeysuckle flower extract, and Witch hazel water
Pros
Non-greasy formula
Non-comedogenic
Quick absorbing
Dermatologist-recommended
Pediatrician-recommended
Sulfate-free
Paraben-free
Fragrance-free
Gluten-free
Vegan
Cruelty-free
Dermatologist-recommended
Cons
None
Price at the time of publication: $19.99
UV lights can aggravate the rosacea flare and heighten skin sensitivity and inflammation (4). The amazing Rosacea Care Tinted Zinc-O Cream SPF 20 Broad Spectrum sunscreen has great reviews online and shields your skin from harmful UVA and UVB rays of the sun while neutralizing the redness. The microfine dimethicone-coated zinc oxide in this rosacea-friendly sunscreen hydrates the skin and deflects the sun's rays to prevent rosacea flares. In addition, antioxidant-rich olive oil and castor oil in this zinc-based skincare product strengthen and repair skin barriers to prevent moisture loss.
Key Ingredients: Zinc oxide 14.5%, Glycerin, Dimethicone, Olive oil, and Castor oil
Pros
Fights free radical damage
Easy to blend
Moisturizing
Fight free radical damage
Cons
Price at the time of publication: $40.0
The overnight Marvesol Rosacea After Care Perfecting Skin Cream neutralizes rosacea-related redness on your cheeks, hydrates your skin, and enhances radiance. Ingredients like acetic acid and ginger grass oil help tame inflammation, while jojoba oil and shea butter moisturize the skin. In addition, a combination of peppermint oil and lemongrass in this anti-redness product soothes and cools the skin and shrinks pores. The product has also garnered a lot of positive reviews, making it all the more credible.
Key Ingredients: Acetic acid, Jojoba oil, Shea butter, Lavender oil, Ginger grass oil, Vervain oil, Peppermint oil, Lemongrass Oil
Pros
Soothes inflammation
Brightens skin
Maintains pH-balance
Shrinks pores
Paraben-free
Sulfate-free
Artificial color-free
Steroid-free
Cruelty-free
Comes with 30-days money-back guarantee
Cons
None
Price at the time of publication: $49.99
Fortunately, you can manage papulopustular rosacea by avoiding the triggers, consulting a dermatologist to understand your treatment options better, and implementing a rosacea-friendly skin care routine. Staying away from skin care products that irritate your skin will also help. Here is a buying guide that helps you decide whether the product is suitable for your papulopustular rosacea-battered skin.
How To Choose The Best Products For Papulopustular Rosacea?
Hydration: Patients with rosacea often suffer from dry, flaky skin due to compromised moisture barriers. This skin type is also prone to skin infections. Ideally, moisturizing ingredients help heal the cracked skin barriers and prevent allergens and germs from penetrating the skin. Go for skin care products with moisturizing ingredients like hyaluronic acid, olive oil, or glycerin to keep your skin hydrated.
Staying Off Irritants: Fragrances, parabens, or sulfates can irritate your rosacea-battered skin, leading to redness and inflammation. It is recommended to avoid skin care products with these ingredients. Also, gritty exfoliants or chemical peels are often too harsh for rosacea-prone skin.
Non-Comedogenic: Formulas that clog your pores can trigger can eventually trigger papulopustular rosacea. Staying away from them is recommended.
Sun Protection: UV rays can trigger rosacea-related inflammation and pustules. Adding skin care products with zinc oxide or titanium oxide protects your face from flare-ups and keeps it healthy. Also, tinted products can help neutralize redness.
Becky Sturm, Esthetician, mentions the following key points to keep in mind:
Be sure to use a new, clean washcloth for cleansing morning and evening.
Until you find a cleanser that works for you, warm water and your washcloth is a good fall-back plan.
Change your pillowcase daily. Bacteria builds up in the fabric and this trick will help minimize the breakouts as you perfect your skincare regimen.
Use a cleansing wipe and wipe down your phone at least once a day. They harbor so much bacteria and combined with touching your face often, it's a recipe for breakouts.
Papulopustular rosacea is a chronic condition that can worsen with time. But fortunately, you can avoid it with simple proactive measures. Firstly, avoid the usual rosacea-triggers and meet a dermatologist who can recommend a customized treatment plan according to your skin type. Also, add skin care products for rosacea-prone skin.
Why Trust StyleCraze?
The author, Shiboli Chakraborti, is a certified skincare coach, who has good expertise on how your skin behaves in response to different skincare and makeup products. She has gone through in-depth reviews and customer feedbacks to bring you a specially curated list of the best 9 products for Papulopustular rosacea-prone skin. Gels, serums, moisturizers, all these hypoallergenic, dermatologist-tested products are specially formulated with skin-friendly ingredients to help keep your skin well-moisturized while providing the required protection and coverage as well.
Frequently Asked Questions
How long do rosacea papules last?
Usually, rosacea papules last anywhere between two days to one month.
What does papulopustular rosacea look like?
The papulopustular rosacea looks like tiny, red, acne-flares that can pop out any time.
How do I know if I have papulopustular rosacea?
If you have papulopustular rosacea, your cheeks, chin, and forehead may be filled with swollen bumps, redness, and pus-filled spots. These spots often resemble acne but are usually thicker in appearance.
How do you prevent rosacea pustules?
Take good protection against the sun, intake mild food, limit your alcohol consumption, and use skin-friendly products to prevent the appearance of rosacea pustules.
How do you fix papulopustular rosacea?
Tweak your lifestyle and use dermatologist-tested skin care products that are known to fight the condition. Make sure to keep your skin hydrated using non-comedogenic skin care products.
Does drinking water help with rosacea?
Yes, drinking plenty of water helps in dealing with rosacea. It improves your skin's health and reduces redness and inflammation.
Do rosacea papules go away?
Sometimes, rosacea papules do go away with proper care. They may stay on your skin for a long time as irregular bumps but they do fade away over time.
Sources