8 Best Postpartum Hair Care Products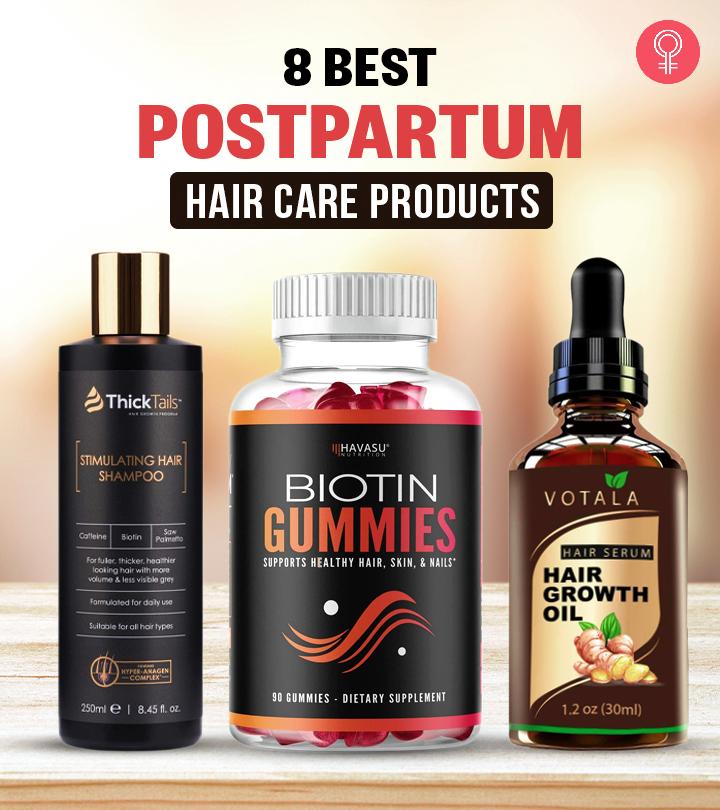 Having a baby is a blessing. However, a woman undergoes numerous physical changes in the process. Hormonal imbalance, mood swings, sleep disorders, depression, and weight gain are a few aftereffects of childbirth. This condition is defined as postpartum. Losing your precious hair is another sign of postpartum. Seeing stark changes in your hair is heartbreaking. Hence, immediate care is suggested.
If you are a new mommy facing postpartum hair loss, use products specially formulated to treat this issue. This article lists the 8 best products for postpartum hair loss. Scroll down to check them out.
What Is Postpartum Hair Loss?
Postpartum hair loss is a temporary but dramatic hair fall that happens after childbirth. New moms will witness excessive hair shedding, maybe in clumps, during the period. It usually begins right after your newborn is delivered and might continue until six months.
The next section explains how postpartum affects your hair health. Scroll down to know more!
How Postpartum Affects The Hair
When you start breastfeeding your baby, you experience hair fall, called postpartum hair loss. During pregnancy, your hair tends to fall less due to high levels of estrogen and increased blood circulation. However, after childbirth, the hormones drop to their normal levels, and your hair tends to fall out in bigger clumps.
Let's now look at the products that will help you get back the lost hair.
8 Best Postpartum Hair Care Products
The BOTANICAL HAIR GROWTH LAB Scalp Stimulating Hair Growth Treatment helps reduce hair fall and promote healthy hair growth after childbirth. The active ingredient, saw palmetto, blocks 5-alpha-reductase, an enzyme that converts testosterone to DHT, which causes hair loss.
This hair oil contains rosemary oil that helps stimulate the hair follicles to promote new hair growth. Rosemary contains ursolic acid that increases blood circulation, strengthens the hair, and prevents scalp irritation. This hair oil prevents alopecia, scaliness,and dandruff. The organic formula also contains essential vitamins that help refresh the scalp. This hair treatment is also rich in lemongrass essential oil that maintains scalp health and reduces dryness. It is free of harsh chemicals and sulfates.
Pros
Pleasant fragrance
Volumizes the hair
Paraben-free
Sulfate-free
Alcohol-free
Mineral oil-free
Cons
The BOTANICAL HAIR GROWTH LAB Scalp Stimulating Conditioner fight hair loss and activates healthy hair growth. The botanical formula contains bio-active compounds derived from saw palmetto, cypress essential oil, and lavender essential oil. It also contains silk proteins, essential oils, and royal jelly extracts that make the hair bouncy and soft.
The caffeic acid in lavender essential oil improves blood circulation in micro blood vessels and promotes hair growth. Lavender oil also soothes itching, prevents dandruff, improves blood circulation to the scalp, promotes hair growth, and relaxes the body and mind. The camphene and a-pinene in cypress essential oil have cytotoxic properties and stimulate hair follicle cell division. Camphene also has antibacterial properties that prevent scalp infections. This conditioner enhances the hair structure, repairs damage, and nourishes the hair.
Pros
Paraben-free
Sulfate-free
Alcohol-free
Mineral oil-free
Treats alopecia
Prevents frizz
Adds shine
Pleasant fragrance
Cons
The ThickTails Stimulating Hair Shampoo is enriched with biotin that help prevent hair thinning. It volumizes the hair and improves its texture. This shampoo contains Hyper-Anagen Complex, a blend of natural ingredients that activates the hair follicles and blocks the DHT hormones responsible for hair loss in women. It thickens and moisturizes the hair.
The active ingredients slow down the hair graying process and increase pigmentation to enhance your natural hair color. This shampoo boosts hair density, improves collagen production, and prevents hair breakage. The gentle formula balances oily scalp and enhances hair elasticity. This vegan product is free of sulfates, silicones, and parabens.
Pros
Vegan
Cruelty-free
Sulfate-free
Silicone-free
Paraben-free
Pleasant fragrance
Suitable for all hair types
Cons
The Baby Blues Hair Vitamins Dietary Supplement helps treat postpartum hair loss. It contains replenishing vitamins and minerals that strengthen the hair and accelerate new hair growth. This supplement is made with flavorful and vitamin-rich passion fruit. It gets dissolved in water easily and stays light on your stomach. This product is free of gluten, soy, and GMO-based additives. Take two daily for 3 to 6 months to get the best results.
Pros
Adds shine
Gluten-free
Soy-free
GMO-free
Cons
None
The Votala Hair Growth Serum promotes healthy hair growth after childbirth. It contains natural bio-actives that stimulate the hair follicles. The organic ingredients –ginger, angelica, vitamin E, danshen, niacinamide, and sleeve-flower root – help maintain hair and scalp health. These ingredients help volumize and nourish the hair. This serum reduces hair thinning and thickens the hair. It also helps balance the scalp's natural oils and prevent hair breakage.
Pros
Pleasant fragrance
Non-greasy
A little goes a long way
Cons
The Havasu Biotin Gummies strengthen the hair and prevent hair fall. Each gummy contains biotin that helps promote hair growth. This vegan dietary supplement is formulated with pectin-based ingredients. It provides only 15 calories per serving and helps maintain cellular health. This product is free of gluten, GMOs, gelatin, corn syrup, and fructose.
Pros
Vegan
Gluten-free
GMO-free
Gelatin-free
No corn syrup
Fructose-free
Cons
Sugary
May cause breakouts
Botanical Green Care Hair Restoration Expert is formulated to prevent hair loss, stimulate new hair growth, renew scalp cells, and revitalize follicles. This hair oil promotes blood circulation to the scalp and strengthens hair follicles. Lemongrass essential oil stimulates hair follicles and suppresses the growth of fungi, bacteria. It also helps to reduce irritation and inflammation. Rosemary essential oil has anti-inflammatory, antimicrobial, and antioxidant properties. It also treats oily hair, keeps the scalp healthy, and effective in reducing hair thinning.
Pros
Easy-to-use
No harsh chemicals
No SLS
No parabens
Cons
The BOTANICAL HAIR GROWTH LAB Capsaicin+ Anti-Hair Loss Shampoo prevents hair thinning, alopecia, DHT, and postpartum hair loss. It helps enhance hair follicle formation, boosts hair cell regeneration, and promotes hair growth.
This shampoo contains caffeine, beta sitosterol, niacinamide, capsaicin, and plant stem cells that heal the scalp and remove sebum buildup from the hair. The arnica and algae extracts soothe irritated scalps, and the colloidal sulfur, salicylic acid, Zink PCA, and 20 ppm silver solution exhibit antifungal properties that prevent scalp infections.
The shampoo contains natural foaming agents extracted from organic coconut that are gentle on the scalp and hair. Capsaicin has anti-inflammatory properties and reduces stress-related damage. It also promotes hair growth factor and improves the formation of hair follicles. Niacinamide improves blood circulation to the scalp and supports the hair follicles. Allantoin moisturizes the scalp and hair, and salicylic acid is a 5-alpha-reductase inhibitor and prevents hair loss.
Pros
Oil-free
Unisex
SLS-free
All-natural
Cons
Postpartum brings about many changes in a woman's body, and hair loss is one of them. Choose the right hair care products to deal with this issue. The products mentioned above are affordable, long-lasting, and help in speedy hair regrowth. Pick one from our list that is best suited for you and treat your postpartum hair loss.
Frequently Asked Questions
How long does it take for postpartum hair loss to grow back?
The regrowth of hair after postpartum hair loss varies from woman to woman. In some cases, the hair grows back in three months, while it takes about a year for others.
Does cutting the hair help with postpartum hair loss?
Yes, trimming the hair helps reduce postpartum hair loss.
Can you go bald from postpartum hair loss?
Yes. In severe cases, postpartum hair loss can lead to postpartum alopecia, resulting in spot baldness.
Which vitamin should I take for hair loss?
Vitamin H, B7, or biotin is best recommended for hair loss.
Recommended Articles
The following two tabs change content below.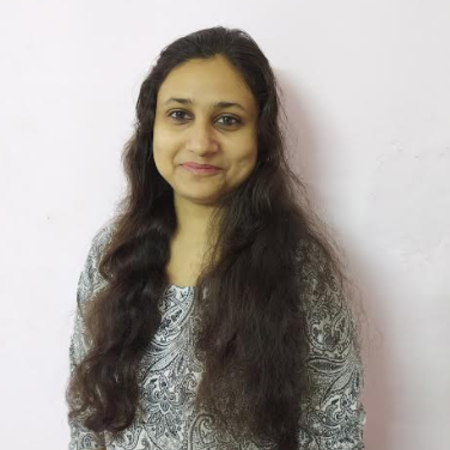 Shiboli has a Master's degree in English Literature and is proficient in French. She believes that words have a healing power and considers poetry her lifeline. Her writing background and editorial dexterity help her guide her team members to create crisp and authentic content. Shiboli is also a trained Bharatnatyam dancer and has a fascination for traveling. She is passionate about cooking and dreams of opening a restaurant of her own.