The 8 Best Products For Postpartum Hair Loss With Reviews – 2023
Put an end to the excessive hair loss and enjoy your motherhood worry-free.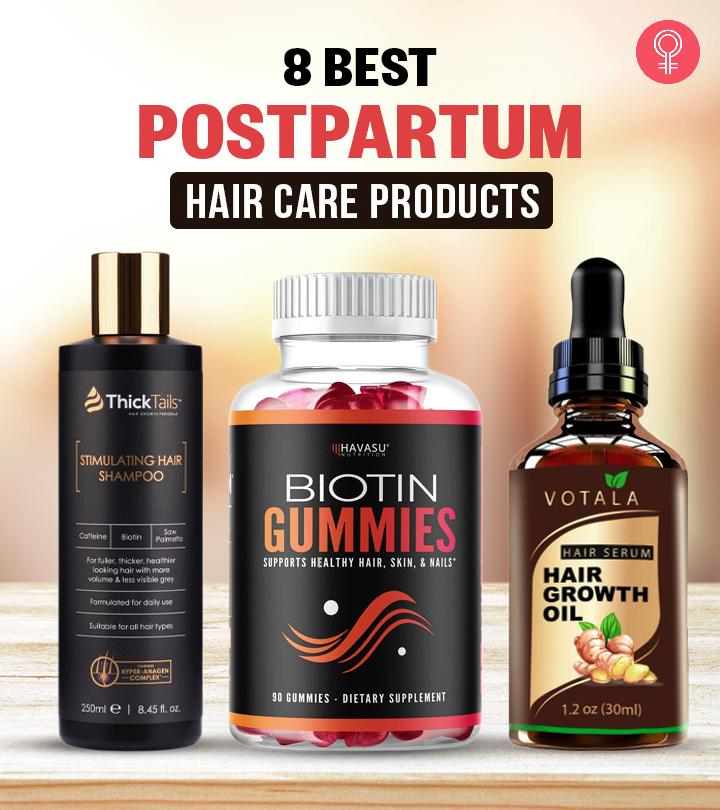 While being a mother is an absolute joy in the entire world, mood swings, hormonal imbalance, headaches, and hair loss after pregnancy are pretty common. Especially seeing those drastic changes in your hair post-pregnancy can be really disheartening, and there is only one way to stop it. Here is a list of the best postpartum hair loss products you can add to your after-pregnancy essentials to say goodbye to postpartum hair loss and give your hair all the love and nourishment it needs.
What Is Postpartum Hair Loss?
Postpartum hair loss is a temporary but dramatic hair fall that happens after childbirth. New moms will witness excessive hair shedding, maybe in clumps, during the period. It usually begins right after your newborn is delivered and might continue until six months.
The next section explains how postpartum affects your hair health. Scroll down to know more!
How Postpartum Affects The Hair
When you start breastfeeding your baby, you experience hair fall, called postpartum hair loss. During pregnancy, your hair tends to fall less due to high levels of estrogen and increased blood circulation. However, after childbirth, the hormones drop to their normal levels, and your hair tends to fall out in bigger clumps.
Tiffany Young, a certified trichology practitioner says, "Your body has gone to extreme depths to create a baby. It stands to reason that mothers need to shore up their reserves after baby. This is why post-partum care and supplementation is a necessity."
Let's now look at the products that will help you get back the lost hair.
8 Best Postpartum Hair Care Products
Pros
Refreshing scent
Volumizes the hair
Paraben-free
Sulfate-free
Alcohol-free
Mineral oil-free
Cons
Price at the time of publication: $45.5
Pros
Paraben-free
Sulfate-free
Alcohol-free
Mineral oil-free
Treats alopecia
Prevents frizz
Adds shine
Pleasant fragrance
Cons
Price at the time of publication: $45.5
Pros
Vegan
Anti-frizz formula
Split end repair
Cruelty-free
Sulfate-free
Silicone-free
Paraben-free
Pleasant fragrance
Suitable for all hair types
Cons
Price at the time of publication: $22.99
Pros
Aids hormonal hair recovery
Rejuvenating formula
Adds shine
Gluten-free
Soy-free
GMO-free
Cons
None
Price at the time of publication: $29.99
The Votala Hair Growth Serum promotes healthy hair growth after childbirth. It contains natural bio-actives that stimulate the hair follicles and aid in boosting elasticity. The organic ingredients –ginger, angelica, vitamin E, danshen, niacinamide, and sleeve-flower root – help maintain hair and scalp health. These ingredients help volumize and nourish the hair. This serum reduces hair thinning and thickens the hair. It also helps balance the scalp's natural oils and prevent hair breakage.
Pros
Moisture-locking
Damage repair
Lightweight formula
Pleasant fragrance
Non-greasy
A little goes a long way
Cons
Price at the time of publication: $19.99
Pros
Vegan
Gluten-free
GMO-free
Gelatin-free
No corn syrup
Fructose-free
Cons
Sugary
May cause breakouts
Price at the time of publication: $18.09
Pros
Regrowth stimulating
Easy-to-use
No harsh chemicals
No SLS
No parabens
Cons
Price at the time of publication: $39.99
Pros
Oil-free
Anti-dandruff
Unisex
SLS-free
All-natural
Cons
Price at the time of publication: $76.5
If you are struggling with postpartum hair loss, you're not alone. Many people experience hair loss after giving birth. While it can be upsetting, it is usually only temporary. If you are wondering what the best products are to help with this issue. We have compiled a helpful guide for you to narrow down your search.
Things To Look For In Products For Postpartum Hair Loss
Ingredients: First, you want to make sure that the product contains biotin. Biotin is a vitamin that helps with cell growth and will help your hair to grow back thicker and fuller.
You also want to look for products that contain antioxidants. Antioxidants help protect your scalp from free radicals, which can damage your hair follicles and cause them to fall out. Finally, you want to look for products that contain ingredients like keratin or collagen. These ingredients will help strengthen the hair follicles and repair damaged tresses.
Gentle Formulas: To start, use a gentle shampoo, conditioner, and a hydrating mask. These can help in soothing the scalp. Avoid products with harsh chemicals or sulfates, which can strip your hair of its natural oils and make it more susceptible to breakage. Choose a chemical-free product that is designed specifically for hair loss or thinning hair. These formulas usually contain more active ingredients than regular shampoos or conditioners.
You might also want to try a volumizing shampoo and conditioner to help give your hair some extra body.
Essential Oils:If you are looking for a natural treatment for postpartum hair loss, there are a few options available. One popular choice is using essential oils, such as lavender oil or rosemary oil. These oils can be massaged into the scalp or added to a shampoo or conditioner. Another natural option is taking supplements that contain biotin.
Reviews:When looking at reviews, pay attention to both positive and negative feedback. Look for common themes in the reviews to get an idea of which products are most effective. Give more preference to heat protectant and UV protectant formulas.
Why Trust StyleCraze?
Shiboli Chakraborti, the author of this article, is a certified skin care coach with a deep interest in hair care. She put in hours of research to go through several user feedback on online forums and brand websites before compiling the list of the best postpartum hair loss products. We understand the temporary but absolutely dramatic hair fall during the postpartum period, hence these life-saving products!
Frequently Asked Questions
How long does it take for postpartum hair loss to grow back?
The regrowth of hair after postpartum hair loss varies from woman to woman. In some cases, the hair grows back in three months, while it takes about a year for others.
Does cutting the hair help with postpartum hair loss?
Yes, trimming the hair helps reduce postpartum hair loss.
Can you go bald from postpartum hair loss?
Yes. In severe cases, postpartum hair loss can lead to postpartum alopecia, resulting in spot baldness.
Which vitamin should I take for hair loss?
Vitamin H, B7, or biotin is best recommended for hair loss.
Does breastfeeding contribute to postpartum hair loss?
No, breastfeeding does not contribute to hair fall during the postpartum period.
Can I prevent postpartum hair loss?
No. You can regulate your hormonal changes by consuming essential vitamin supplements, but you cannot reverse the hair loss.
When can I wash my hair after giving birth?
After giving birth, you are free to wash your hair, take a shower, or bathe. However, avoid heavy work for the first six weeks of your recovery.