15 Best Products For Straight Hair In 2023
Maintain your silky, straight hair with these professional hair care formulations.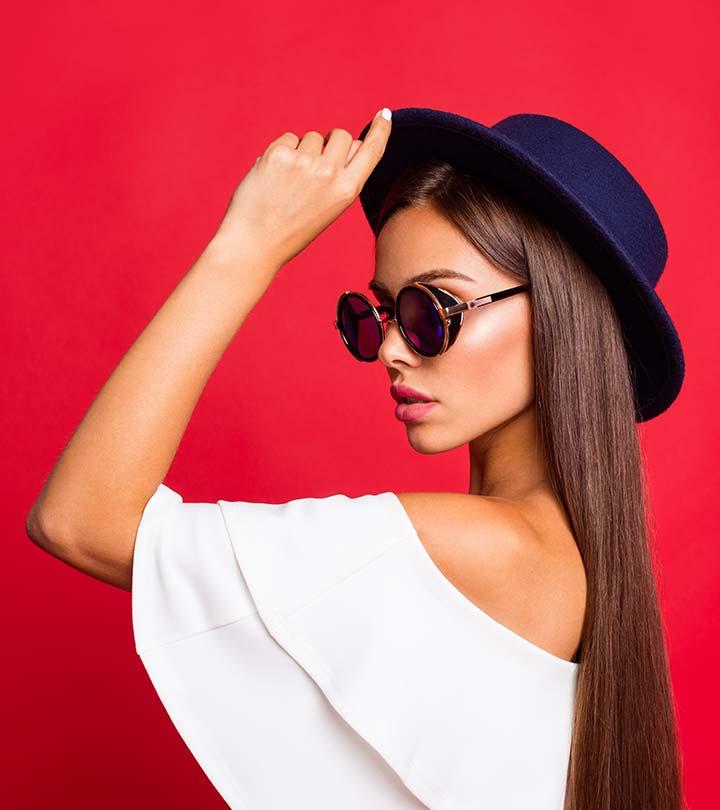 Silky, straight hair has its own appeal. The best products for straight hair can help accentuate and enhance the beauty of straight hair. Such is the attraction of straight hair that there are now ways to permanently straight curly and wavy hair. Many women even use straightening irons regularly to get the hair type. If you are not equipped with the right hair care products, your straight hair may look lifeless and flat or lack the luster needed to look glam. To add shine and boosts its volume, you must invest in hair care products are specifically formulated for straight hair. In this article, we have compiled a list of the best products for straight hair that will ensure your mane gets the right kind of attention it needs. From scalp cleansing shampoos to volumizing conditioners and hairsprays, we have listed them all. Keep scrolling to find out more about each of them.

15 Best Products For Straight Hair That Has Volume
Moroccanoil carries good hair products for straight hair, and this smoothing lotion gives you frizz-free and manageable hair with a medium hold. This hair-smoothing anti-frizz cream allows you to style your strands effortlessly as it is lightweight and will tame wild hair and transform your natural waves. Containing ingredients like argan oil and butter, vitamin E, and essential fatty acids, this formula is your best bet to keeping your mane soft and smooth, giving you healthy hair. The scent of this straight hair treatment isn't something to complain about, as musk and spicy amber combine with sweet florals for a pleasant fragrance.
Pros
Eliminates frizz
Makes hair manageable
Offers a medium hold
Lightweight formula
Contains nourishing ingredients
Pleasant scent
Cons
Might take some time to absorb
Price at the time of publication: $36
One of the most necessary straight hair products, this ultralight mousse works to give you a firm hold. Providing hair care for straight hair, this product offers high thermal protection so you can use your heat styling tools worry-free. This non-drying and alcohol-free formula also extends a helping hand with humidity resistance by providing shine, body, and fullness to your strands. With no flaking, stickiness, or stiffness, this mousse is all you need for the ultimate beachy waves to a straight hair look.
Pros
Thermal protection up to 450°
Conditions hair
Tames frizz
Lightweight formula
Gives a glossy finish
Adds volume
Cons
Some may find it to make hair greasy
Price at the time of publication: $15.99
VITAMINS' best hair products for long straight hair include this serum which repairs and revives damaged hair from the roots. It uses Moroccan argan and coconut oils for deep moisturization that leads to a thicker mane. With the help of collagen and keratin proteins, you can heal split ends and keep even color-treated strands looking their best. For optimum heat protection, castor oil and biotin come into play in this hair serum for straight hair. No matter what your hair type—tight curls or bleached hair, this hair treatment for straight hair renders your mane free of flyaways, frizz, and tangles.
Pros
Cruelty-free
Alcohol-free
Paraben-free
Lightweight
Boosts bounce
Volumizes hair
Cons
Might leave an oily residue
Price at the time of publication: $17.58
SheaMoisture's leave-in conditioner for straight hair detangles and softens strands while also toning down the frizz. If you regularly heat-style or color your hair, this volumizing product for fine straight hair is a great way to prevent damage and weakening. One of the best hair products for straight hair, this conditioner uses Jamaican black castor oil and shea butter to reduce breakage, enhance elasticity, and deeply moisturize, giving you your bounciest hair yet. This natural hair product for straight hair also leaves a protective layer on the hair fiber, which betters the appearance of split ends. For a thorough review of the product, have a look at this YouTuber's video.
Pros
Cruelty-free
Paraben-free
Silicone-free
Sulfate-free
Phthalate-free
Doesn't contain petrolatum or mineral oil
Cons
Some may not like the runny consistency
Price at the time of publication: $17.97
One of the best products for naturally straight hair, this straight hair shampoo uses a herbal complex and Moroccan argan and coconut oils. Lathering up generously, this formula leaves hair extra clean and restores pH balance for solid and healthy strands. All hair types and textures will benefit from this nourishing potion of volumizing shampoo as it restores moisture, adds gloss, and treats an itchy scalp. The damage that color-treated hair faces can also be reduced with VITAMINS' shampoo for straight hair so you can protect all your blonde hair colors.
Pros
Alcohol-free
Paraben-free
Sulfate-free
Cruelty-free
Offers humidity protection
Reduces frizz
Cons
Price at the time of publication: $22.98
One of Living Proof's best products for silky straight hair, this cream works to make fine strands appear fuller with tons of volume.  The lightweight formula contains their patented Thickening Molecule, a star at creating thickening dots between the fibers. With the result of beautiful straight hair that has extra texture and is also full with a touchable body, your strands are also conditioned for a smoother look.
Pros
Cruelty-free
Vegan
Gluten-free
Safe on color-treated and chemically-treated hair
Contains no silicones, parabens, or phthalates
Lightweight
Cons
Might have a sticky consistency
Price at the time of publication: $29.0
OGX's hair cream for straight hair strengthens strands as it eliminates the damage caused due to heat styling. One of the best hair products for straight hair, this formula is infused with turmeric and amla extracts to keep locks strong from the root. Smoothing and moisturizing, coconut milk makes for a creamy consistency that keeps your hair frizz-free volumized. Ginger, whipped vanilla, and cinnamon scents make the cream so heavenly you won't be able to stop sniffing your hair!
Pros
Sulfate-free
Works on all hair types
Reduces heat damage
Smoothes down hair
Moisturizes
Creamy consistency
Cons
Might make strands slightly greasy
Price at the time of publication: $8.99
Living Proof's best hair products for thick straight hair are a pro at creating beautiful air-dried hairstyles. Just apply this product and rinse for strands with an enhanced body, shine, and softness for straight hair styling. This cream leaves behind cationic resins that stick to hair and flex when dried for better texture without weighing hair down. A hydrophobic resin adds shine and controls flyaways, while magnetic texturizers let each hair fiber stand out. You can also check this YouTube video for a complete idea about the product.
Pros
Silicone-free
Paraben-free
Phthalate-free
Color-safe
Safe-for chemically-treated hair
Cruelty-free
Cons
Some may find it to have a harsh smell
Price at the time of publication: $27
If you've been wondering how to make straight hair look good, use L'ANZA's serum for vibrant color. It smoothes down your stresses to rid them entirely of frizz and coats them with gloss. Lightweight with a non-greasy formula, this product gives hair movement for a 'naturally straight' look. You can add L'ANZA's Healing Smooth Smoother Straightening Balm to your straight hair care routine for fabulous results.
Pros
Makes hair color vibrant
Smoothes hair
Eliminates frizz
Gives a glossy finish
Lightweight
Non-greasy
Cons
Might not be humidity-resistant
Price at the time of publication: $25.0
The best hairspray for straight hair, this one by Bumble And Bumble helps rough hairstyles retain moisture. For those that crave a sexy and wind-blown look inspired by the beach, this daily styling spray is your best bet as it gives a clean matte finish with a good amount of hold. One of the best styling products for straight hair, the Surf Spray gets your strands photoshoot ready in no time. Check out this YouTuber's review of the product if you require more details.
Pros
Retains moisture
Offers a windswept look
Provides hold
Clean matte finish
Pleasant and light scent
Not stiff or sticky
Cons
Might have an oily consistency
Price at the time of publication: $27.44
OUAI's Matte Pomade is one of the choicest styling products for straight hair, giving you an effortlessly lived-in texture. For the ultimate relaxed look, this medium-control paste creates a soft separation between your strands. You only need to dab a little for texturizing straight hair and watch the transformation from limp to bouncy. White musk, gardenia, and ylang-ylang combine for a sweet scent in this anti-frizz product for straight hair that renders your locks delicious-smelling.
Pros
Adds texture to hair
Adds volume
Soft consistency
Pleasant scent
Tames flyaways
Smoothes down frizz
Cons
Might have a sticky consistency
Price at the time of publication: $24.0
The best straight hair shampoo, this one by Eva NYC uses hemp seed oil and sea lavender to give your strands optimum nourishment. Working to give really straight hair some body, this formula also adds a bit of texture and tousles your locks for an effortlessly natural look. Providing great frizz control sans heat, the Lazy Jane Air Dry Shampoo is a great naturally straight hair product.
Pros
Vegan
Cruelty-free
Recyclable packaging
Sulfate-free
Paraben-free
Phthalate-free
Cons
Some may find the fragrance too heavy
Price at the time of publication: $12.99
One of the best straight hair products you can use, this Bumble and Bumble hairspray naturally plumps up strands for a mane that is full of life. Giving you an airy texture, the hold is so strong it lasts all day long and is sure to turn heads. The formula is super lightweight with no parabens or sulfates, making this one of the most effective texture products for straight hair to have in your vanity.
Pros
Lightweight
Adds instant volume
Adds an airy texture
Paraben-free
Sulfate-free
Non-greasy
Cons
Might have a sticky consistency
Price at the time of publication: $29.33
Add FEKKAI's spray to your hair routine for straight hair as it has a clean formula that boosts hair health. With the help of fortifying properties, this product works like a charm at delivering an instant boost of life and volume to fine stick straight hair. Citrus combines with watery green elements and the woods for a scent that gives your hair a pleasant smell. Spritz once before leaving the house, and your hairstyle stays locked in place until you're back home.
Pros
Cruelty-free
Vegan
Sulfate-free
Paraben-free
Gluten-free
Silicone-free
Phthalate-free
Cons
The fragrance might be overpowering for some
Price at the time of publication: $24
For those wondering how to style straight hair, amika's spray is a star at offering effortless and instant volume for a blown-out mane. The dry formula is invisible and gives tresses an undone texture to keep your bedhead looking sexy. Natural mineral zeolite is present for a natural tousled look while rice starch absorbs all oil and dirt, finishing with a matte texture. With the help of sea buckthorn berry containing omega 7 fatty acids, hair fibers are strengthened from the root and breakage reduced.
Pros
Safe for hair that is color, Brazilian, and keratin-treated
Sulfate-free
Paraben-free
Sodium chloride-free
Doesn't contain artificial colors
Adds texture
Cons
Some may find it to make hair stiff
Price at the time of publication: $10
Now that we've looked at some of the best products for straight hair types, let's learn how you should pick out the right ones for yourself.
What To Look For In Straight Hair Products
Volumizing
As straight hair usually lacks body, you need to look for products that add and retain thickness. Serums, hairsprays, and shampoos can pack in a punch to make your hair appear fuller. Ingredients like turmeric, fatty acids, and amla extracts.
Consistency
As the follicles of naturally straight hair are smoother, this makes for sebum to be even more visible than normal. Products that have a lightweight consistency must be sought out as they won't weigh hair down and cause it to look limp or lifeless.
Texturizing
Texturizing products are a must-have for straight hair as it is smooth and often lacks the wow factor as it falls down flat. These products go hand-in-hand with volume and do a great job of making your mane look more lively and bouncy.
Why Trust StyleCraze?
Kirtana Divakar, the author of this article, is a hair care enthusiast who painstakingly hunts for suitable products for her readers. She has picked the best products for straight hair after conducting extensive research and visiting online forums to check customer reviews. This list consists of items that will take care of your hair and make it look gorgeous.
Frequently Asked Questions
How to style straight hair?
Straight hair can be styled however you like with half-up half-down or poufy buns being used on finer hair types for some added volume. Before styling, make sure to use heat protectant to keep strands from damage.
Can you use curling products for straight hair?
As curling products are designed to enhance curls, they might not have a transformative effect on straight hair unless curlers or heat styling tools are used. These products might also weigh hair down as they are thick in consistency to be able to provide curly hair with moisture.
Is SheaMoisture good for straight hair?
Yes, SheaMoisture provides hair products for straight and Type1 hair which can moisturize, strengthen, and help reduce heat-related damage.
How can I take care of my straight hair?
To care for straight hair, use a mild shampoo and detangler strands regularly. Don't brush your hair when wet as this leads to breakage, trim split ends every 6 months, and use a heat protectant before using your styling tools.
How do you apply hair straightening products?
Divide your hair into small sections and apply the hair straightening cream evenly to your hair. Next, blow dry each section with a hair dryer and a round brush. The heat from the styling tool will activate the product and help smoothen your hair.
How often should you use hair straightening products?
Do not use heat styling tools more than once weekly to straighten your hair. If you are applying smoothing creams, lotions, oils, or leave-in conditioners, try not to exceed their usage beyond thrice a week.
How long does straightened hair last?
Straightened hair lasts around 2-3 days if you do not wash it. On the other hand, permanently straightened hair from a salon may last between 4 and 6 months. However, it also depends on your hair type and maintenance.
Recommended Articles:
Best Hair Straightening Products For Sleek And Smooth Hair
Best Hair Straightening Shampoos
Best Products For Frizzy Hair Of Any Type
Best Products For Silky Hair
Best Hair Products For Women, According To Reviews