15 Best Products For Type 4 Kinky And Coily Hair
Grow thick and shiny hair this season by nourishing and pampering it with the right products.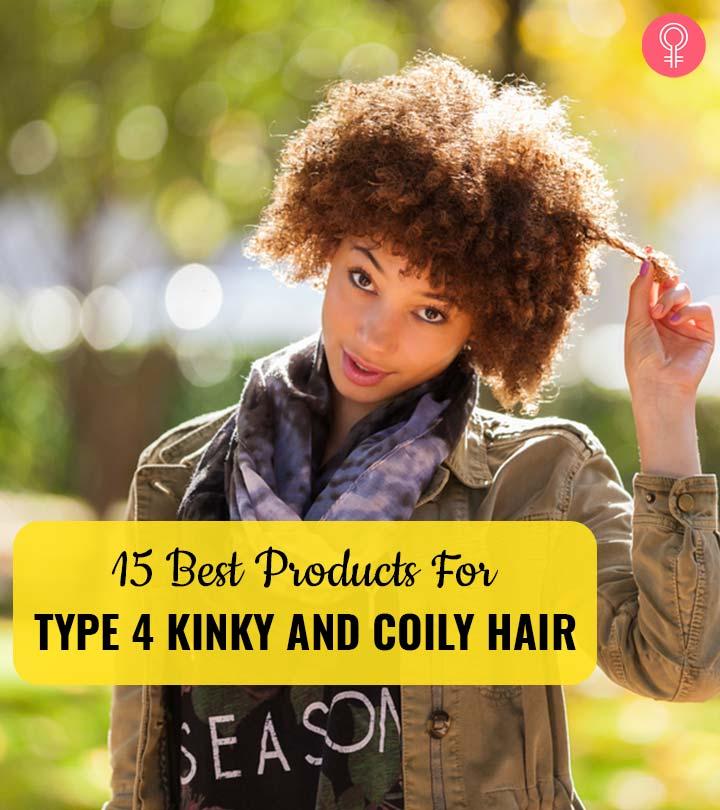 If you want to keep your gorgeous coils tight while making them stronger at the roots, you need to invest in the best products for type 4 natural hair. With fragile kinks and ringlets that tend to have a dry and coarse texture, type 4 hair is further divided into 4A, 4B, and 4C. The latter has the tightest coils and requires a lot of maintenance to retain moisture, avoid tangles, and prevent shrinkage. But don't fret, as the good news is there is a myriad of brands out there working towards enhancing the quality of your densely packed curls.
Below, we have curated a list of the most highly recommended products to help you achieve your hair goals and beautify your "curl friends" even more!
Top 15 Products For Type 4 Hair
The Design Essential Moisturizing Conditioner is suitable for all curl types (Type 1 to Type 4). This leave-in conditioner is extremely lightweight and instantly replenishes moisture to your strands, which your hair might loose due to daily styling routines, harsh weather, or environmental factors. It contains sweet almond oil, avocado oil, coconut milk, and shea butter that soften and condition your kinky and curly hair and keep it nourished and beautiful. Learn more about this product in this video.
Pros
Paraben-free
Petrolatum-free
Paraffin-free
Helps detangle your hair
Sulfate-free
Gluten-free
Alcohol-free
Cruelty-free
Cons
Expensive for the quantity provided.
This is an ultra-nourishing hair mask for dry and damaged hair. It is specially created for naturally curly and kinky hair. It helps to repair your hair, so it looks and feels softer and healthier. It contains almond milk that penetrates deep into your hair and provides strengthening vitamins and proteins. This helps reverse damage from the inside out. It also contains hair nourishing ingredients, such as olive oil, sweet almond protein, and rosemary leaf extracts. This video will provide you with added insights about the product.
Pros
Paraben-free
Silicone-free
Mineral oil-free
No artificial color
Petrolatum-free
Provides deep conditioning
Doesn't weigh your hair down
Helps detangle hair easily
Cons
The curling cream is specially designed for managing curly and coily hair and making it healthy. It deeply moisturizes and strengthens each hair strand with pure shea butter. It helps define your curls without weighing them down. It also helps elongate the curls, conditions them, and keeps them looking healthy and manageable. Take a look at this video to know more about the product.
Pros
Contains natural extracts and oils
Makes hair soft
Detangles hair
Minimizes frizz
Affordable
Non-greasy
Pleasant fragrance
Cons
Contains petrolatum
Contains PEG
Makes the hair crunchy.
This deep conditioner is made with raw honey, olive oil, and jojoba oil. All these moisturizing and nourishing ingredients provide essential nutrients to your hair to keep it soft, healthy, and shiny. This hair mask for curly hair helps reduce flakiness and comforts dry and itchy scalp. It helps restore hair health by reducing the damage caused by over-processing and styling.
Pros
Paraben-free
Sulfate-free
Petrolatum-free
Lanolin-free
No artificial colors
No animal testing
Keeps hair soft and moisturized
Cons
The fragrance can be overpowering for some users.
A detangling cream is a must for type 4 hair, especially 4C hair type. This detangling cream untangles, defines, and moisturizes hair and helps control frizz. This leave-in detangling cream is made with agave and keratin and is very lightweight. It gives your curls the necessary glide to style with ease. It also contains cocoa and shea butter that keep the hair moisturized.
Pros
Contains Pro-Vitamin B5
Sulfate-free
Paraben-free
Mineral oil-free
Artificial colors
Petrolatum-free
Holds your curls without making them stiff
Cons
Might feel a bit heavy on fine hair.
After drying, the product might leave a dusty residue on the hair.
This is a hair butter for curly and kinky hair. This hair butter is rich in agave nectar, honey, avocado oil, and other nourishing oils. It claims to keep your curls defined for up to 24 hours. It is suitable for short-cropped 4C curly hairstyles and 1C waves and helps prevent frizz, defines curls, and keeps your hair hydrated without crunch or any residue.
Pros
Paraben-free
Silicone-free
Petroleum-free
Mineral oil-free
No artificial colors
Deeply conditions hair
Cons
May feel a bit greasy on fine hair.
This is a spray-type leave-in hair conditioner and contains a blend of argan oil, shea butter, jojoba protein, and quinoa extract. This conditioner helps to soften your hair, separate the strands, and define your curls. It is designed for all hair types and should be used on damp or dry hair. It helps tame cowlicks and flyaway hair and detangle every knot to make combing a breeze.
Pros
Paraben-free
Dye-free
No synthetic fragrances
Formaldehyde-free
Silicone-free
Sulfate-free
Contains naturally derived ingredients
Vegan product
Cons
Might make hair a little bit greasy.
This is a mega-moisturizing and conditioning treatment for natural curls, coils, and waves that are dry and damaged. This leave-in conditioner helps eliminate dryness without making the hair feel heavy. It provides lasting moisture and softness to your hair. It is enriched with natural conditioners like marshmallow root, shea butter, and extra virgin olive oil to keep your hair nourished.
Pros
Paraben-free
Sulfate-free
Mineral oil-free
Petrolatum-free
Doesn't feel sticky
No greasy residue
Makes the hair soft and moisturized
Cons
The consistency is runny (may not work on low porosity hair).
This deep and nourishing hair conditioner is a blend of botanical ingredients that helps restore the smoothness and integrity of your hair. Type 4 hair is usually prone to breakage, and this product helps prevent that from happening. It contains ultra-hydrating ingredients, such as jojoba oil, tiare flower extracts, and tea tree oil, that penetrate the hair shaft to provide nourishment to brittle hair strands.
Pros
Paraben-free
Sulfate-free
Silicone-free
Can moisturize low-porosity type 4C hair
Cons
This deep recovery hair mask provides intensive moisture to dry and dull hair and gives you shiny and soft hair in minutes. It works on your hair at three levels – the olive extract penetrates deep into your hair and nourishes it from the center, the meadowfoam extract helps moisturize the middle part of your hair strand, and the sweet almond extract nourishes the hair surface to make it extra soft and smooth.
Pros
Keeps hair hydrated and moisturized
Help reduce frizz
Makes hair soft
Pleasant fragrance
Detangles the hair easily
Cons
This sealing butter provides lasting hydration to dry and damaged hair. It helps prevent split ends and strengthens damaged hair. It contains flaxseed that, along with honey, avocado, and shea butter, prevents hair shedding and thinning. These ingredients also soften the hair and prevent breakage. This hair butter locks in moisture and is good for 3A to 4C hair types and those who style their hair with weaves and in braids.
Pros
Paraben-free
Sulfate-free
Mineral oil-free
Petrolatum-free
Makes kinky hair extremely silky and soft
A little product goes a long way
Prevents frizz
Cons
The fragrance may be overpowering for some users.
This shampoo and conditioner combo pack helps manage curly hair by cleansing product build-up and providing intense moisturization. This reduces split ends and breakage.  The products contain peppermint oil that stimulates the cells and promotes hair growth, apple cider vinegar that balances the pH levels in your hair and keeps them healthy, and raw shea butter that moisturizes your curls and helps define them. They also contain Jamaican black castor oil that is rich in omega-3 fatty acids and heals, repairs, softens, and strengthens your curls.
Pros
Sulfate-free
Color-safe
Paraben-free
Phthalate-free
Propylene glycol-free
Mineral oil-free
Petrolatum-free
No animal testing
Certified organic
Cruelty-free
Prevent hair breakage
Prevent split ends and keep hair moisturized
Cons
The conditioner is thick and hard to get out of the bottle.
If your hair needs intense moisturization and you are looking for a nourishing hair oil for your curls, this is the product you need. This oil is non-greasy and contains a blend of essential oils and Manuka honey that nourish your scalp and roots. It strengthens the hair, especially if you have styled it in locs, and makes it look naturally healthy.
Pros
Paraben-free
Sulfate-free
No build-up on the scalp
Silicone-free
Pleasant fragrance
Nourishes 4C hair and dreadlocks
Cons
The bottle cap may not seal properly.
This is a deep-penetrating hair treatment and contains Jamaican black castor oil along with a potent blend of other natural ingredients. This masque hydrates and nourishes your scalp and makes your hair soft, healthy, and stronger. It nourishes your hair from root to tip and promotes hair growth and overall hair health. It is suitable for all hair types and textures.
Pros
Contains 100% pure Jamaican black castor oil
Contains safflower, coconut, grape seed oils
Prevents hair breakage
Doesn't weigh the hair down
Makes hair soft
Cons
None
If you want a styling gel for your kinky hair that will hold the style and not damage your hair, go for this product. This gel contains 100% pure olive oil that adds moisture to your scalp and hair and prevents split ends. It is a weightless product and gives a healthy shine and superior hold.
Pros
Suitable for all hair types
Alcohol-free
Prevents frizz
No flaking
Anti-itch
Cons
These are the best products available for type 4 hair. Type 4 hair is not difficult to maintain if you use the right products and follow the right ways to take care of it. Here are a few tips to keep it healthy.
A Few Tips To Take Care Of Type 4 Hair 
Moisturize Properly: Kinks and coils prevent the proper distribution of natural oils. Hence, take extra measures to keep your hair moisturized.
Shampoo Carefully: Avoid shampoos that contain sulfates and other harmful ingredients. Wash your hair in sections to prevent tangles.
Take Time To Detangle: Type 4 hair tangles easily. Use a detangling product and detangle your hair carefully with a wide-toothed comb.
Conditioner Is Must: Go for weekly deep conditioning. This will keep your hair healthy and soft.
Do Not Over Style Your Hair: Styling your hair excessively can cause breakage. Go for a hairstyle that needs fewer styling products.
Why Trust StyleCraze?
The author, Oyendrila Kanjilal, has a deep interest in hair care and loves to review various hair care products. She has carefully listed these products for type 4 natural hair, selected based on user reviews and feedback available on multiple online forums and brand websites. The products help restore hair health by reducing the damage caused by over-processing and styling.
Frequently Asked Questions
What products should be used on 4C natural hair?
Here are the four products that should be used on 4C natural hair
• Use a sulfate-free shampoo to prevent frizzy and dry hair.
• A deep conditioners will smoothen the hair strands and help retain moisture.
• A hydrating hair mask will ensure that your tresses stay healthy and moisture-rich for longer.
• Use a leave-in spray to keep the tresses flowing.
What is the best shampoo and conditioner for Type 4 hair?
The SheaMoisture Strengthen & Restore Shampoo And Conditioner set contains pure shea butter that deeply moisturizes and strengthens each hair strand. It defines the curls without weighing them down. Check more good-quality shampoos and conditioners for 4c hair here.
What is the difference between 4C and 4B hair?
4B hair has zig-zagged curl strands and thick coils. 4C hair tends to clump and is even more prone to shrinkage compared to 4B hair. 4C hair can shrink up to 75% of its length, unlike 4B hair. 4 hair is prone to dryness
Recommended Articles