13 Best Products You Must Try For Uneven Skin Tone – 2022
Conceal dark spots, cover discolorations, and offer a glass like finish to your skin.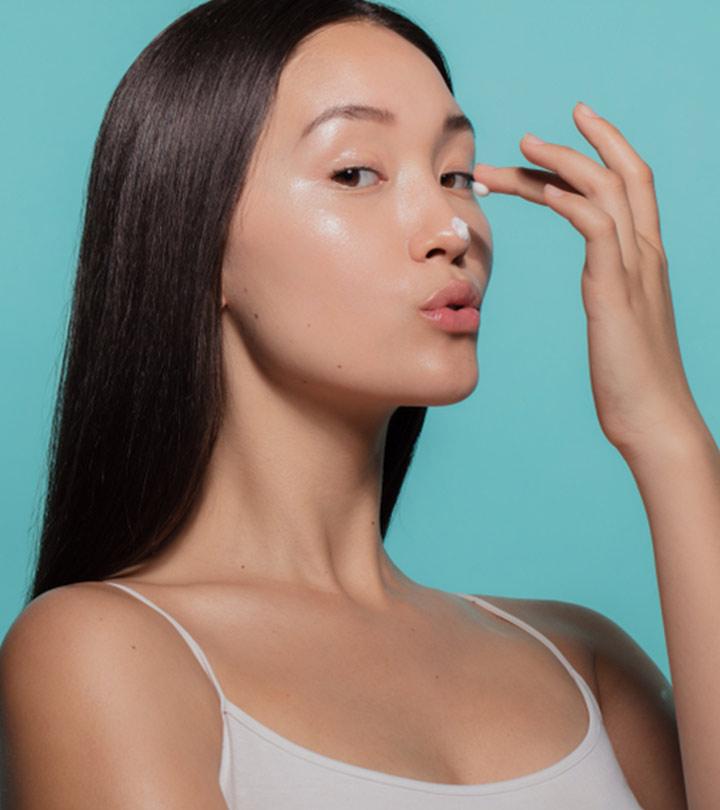 Uneven skin tone is one annoying issue that isn't given much attention. To help you solve that, we have got you the 13 best products for uneven skin tone. Along with that, we have also got you a buying guide to figure out how to make the best choice. Have a look!
2022 Reviews: 13 Best Products For Uneven Skin Tone With Buying Guide
On the top of our list is this Mederma Quick Dry Oil that is considered one of the best treatments for uneven skin tone. It is made using a blend of sweet almond oil and sunflower oil to maintain the skin's natural moisture level, regulate the pH balance, and provide nourishment. The chamomile and ginger extracts help soothe the skin and reduce blotchiness. This product also contains rosehip oil and vitamin C, which brightens and improves overall skin tone. Together, the ingredients give you a lightweight oil that enhances the appearance of dark spots, scars, stretch marks, and other blemishes. Go through this video to understand the Mederma Quick Dry Oil better.
Pros
Absorbs quickly
Gives effective and quick results
Does not cause greasiness and stickiness
Free of parabens, fragrances, minerals, and dyes
Cons
May not be effective on old scars and discoloration
If you are looking for a Korean product to achieve an even skin tone, we suggest trying this one. This concentrated serum for uneven skin tone contains the superblend of niacinamide and hyaluronic acid. The niacinamide improves skin texture and protects the surface layer from environmental stressors, while the hyaluronic acid fights radical cell damage and evens out skin tone. It also contains organic ingredients such as rosemary extracts, witch hazel extracts, and thyme to give you dewy, glowing skin worth flaunting. Check out this video of the Cos De BAHA Niacinamide 10 Serum for a detailed review.
Pros
Long-lasting formula
Highly concentrated
Can be applied in the morning and night
Effective in removing hyperpigmentation, dark spots, scars, and uneven skin tone
Cons
May not be suitable for sensitive skin
Here is a pH balanced body lotion that visibly brightens your skin. It is made from kojic acid to help eliminate skin imperfections such as scars, age spots, uneven skin, redness, and blemishes. Kojic is a powerhouse ingredient enhanced with line-smoothing protein to moisturize, nourish, and soften skin. It also contains other ingredients such as coconut oil, rice bran oil, and olive oil. Together they fight dull and dehydrated skin.
Pros
Cruelty-free
Lightweight formula
Suitable for everyday use
Packed with line-smoothing protein
Free of sulfates, parabens, oils, and gluten
Ideal for combination, oily, and sensitive skin
Cons
The scent may be overpowering for some.
You cannot achieve great skin overnight — it requires patience, persistence, and a healthy skin care routine. Adding this multipurpose product will get you one step closer to your goal of flawless skin. These rejuvenating facial wipes clean and exfoliate skin without being too harsh. Made with the goodness of grapefruit, it hydrates your skin and improves uneven skin tone. It also contains chamomile and orange peel extracts to give you visibly brighter skin with reduced pores.
Pros
Made from 98% natural ingredients
Hydrates and improves uneven skin tone
Free of petroleum, SLS, and parabens
Made with compostable, plant-based FSC-certified fabric
Cons
Contains artificial scents
Your search for an uneven skin tone treatment ends here! This mild peel is loaded with promising ingredients to give you replenished and detoxed skin. With pumpkin puree as a key ingredient, this product brightens skin, reduces dark spots, and blemishes. It also contains a blend of vitamins E and C, glycolic acid, cinnamon, and nutmeg powder. Together, they deeply exfoliate the skin and clear the pores while being gentle on the skin.
Pros
Fragrance-free
Vegan and cruelty-free
Contains vitamins C and E
Suitable for acne-prone and mature skin
Cons
May not be suitable for sensitive skin type
Wake up to even-toned, beautiful skin every day. Formulated using hyaluronic acid and L-enzyme, this product attracts and locks water. It also helps restore dehydrated skin and maintains its natural complexion. Furthermore, this ultra-hydrating cream for uneven skin tone is infused with Photo Protector HD Technology that gives the formula an illuminating tone. It also includes glycerine, citric acid, and sweet almond oil, which helps exfoliate dead skin cells, provides moisture, and improves tone and texture.
Pros
Non-greasy formula
Non-comedogenic
Ideal for all skin types
Can be applied in the morning and at night
Cons
The scent may be overpowering for some.
This body toning sculpting wonder oil is truly a wonder. It is loaded with all the natural oils, including sesame, almond, lemongrass, rose, wheat, and turmeric, which improve the appearance of stretch marks, scars, and most importantly, clear an uneven skin tone. Other oils such as grape, eucalyptus, and citrus act as antioxidants that cleanse the skin, leaving behind a radiant glow.
Pros
Non-staining oil
Absorbs quickly into the skin
Non-greasy, lightweight formula
Can be used on the face and body
Cons
The scent may be overpowering for some
May not be effective on old scars and discoloration
Another product from the popular brand, Cos De BAHA, is this galactomyces serum. It contains the powerful ingredient of galactomyces, which improves the skin's moisture barrier and protects the skin from environmental stressors. Galactomyces contain several vitamins, minerals, amino acids, and organic fatty acids to maintain the skin's moisture stability and reduce excess sebum production. The formula also contains other ingredients such as niacinamide and hyaluronic, which moisturize the skin and reduce the appearance of fine lines and wrinkles.
Pros
Vegan
Cruelty-free
Moisturizing formula
Free of sulfates, parabens colorant, alcohol, and fragrance
Cons
May leave behind a sticky residue
This potent vitamin C serum for uneven skin tone is unanimously declared the future of skin care by experts — and we can see why! Unlike other vitamin C products, this one is loaded with an ultra-stable vitamin C, which is 50 times more powerful and stable than the traditional vitamin C products. With this serum's regular use, you can see your scars, discoloration, and uneven skin tone fade. To add to this, it is also packed with powerful antioxidants such as vitamin E and ferulic acid to help fight the signs of aging and reduce wrinkles. Look at this video for an honest review of the Peter Thomas Roth Potent-C Power Serum.
Pros
Fragrance-free
Ultra-stable vitamin C
Visible results within days
Moisturizing properties
Cons
May cause sensitivity around the eyes in rare cases
Here's a serum for uneven skin tone that contains 5% retinoid and is likely to be the solution for all your skin care problems. With a high retinoid concentration, this serum targets uneven skin tone and dull skin while providing hydration. It also helps in fighting acne and therefore, preventing further discoloration! This formula also contains a blend of safflower seed oil and dimethyl isosorbide to ensure that skin is deeply nourished from within.
Pros
Vegan
Cruelty-free
Gluten-free
Fragrance-free
Ideal for all skin types
Free of parabens, sulfates, and silicones
Cons
May not absorb quickly onto the skin
Ensure your skin is left looking healthy and hydrated with these exfoliating peel pads for uneven skin tone. Each pad is packed with amino acids that are excellent at reducing pore size, fine lines, and wrinkles. It is formulated with a 20% exfoliating complex that includes phytic acid, salicylic acid, and sodium lactate to gently exfoliate the skin and eliminate uneven texture and skin tone. With an added blend of vitamin C and E, this product also adds a layer of antioxidants and nutrients to allow better absorption. It also contains other natural ingredients such as lemon peel extract, orange fruit extract, tangerine peel extract, and peppermint extract to leave behind nourished, glowing skin.
Pros
Alcohol-free
pH-balanced
Fragrance-free
Suitable for all skin types
Cons
Formula may feel greasy on the skin
Another Filorga product that has our heart is this oxygen-glow mask. Its unique formula contains a powerful combination of hyaluronic acid and L-enzyme, which fights uneven tone and texture. Formulated with a hydra-illuminating lather, it contains grapefruit and glycerine to help lock in moisture and brighten skin. Have an important occasion coming up with no time to get ready? No problem! This mask takes only 10 minutes to help you achieve a flawless glow.
Pros
Cruelty-free
Non-comedogenic
Hydrating formula
Suitable for all skin types
Cons
The scent may be overpowering for some.
Years of shaving, waxing, and other tools of hair removal can cause underarm skin darkening. Though it might seem impossible, you can improve your underarm skin tone significantly with Dove's Even Tone Antiperspirant. Formulated with vitamin B3, it restores the natural color of your underarm skin. In this formula, the sunflower and castor oil hydrate the skin while clearing out an uneven skin tone. You will find that this wonder stick makes your underarms softer, smoother, and more even-toned with consistent use.
Pros
Cruelty-free
Softens and adds freshness
Provides long-lasting protection
Made from recycled and recyclable packaging
Cons
The scent may be overpowering for some.
With that, we come to the end of our list of the 13 best products of uneven skin tone available in 2022. Finding good products for uneven skin tone is no longer a task with the help of our buying guide. Read on to find your perfect match!
How To Choose Products For Uneven Skin Tone
To finally get that even-toned flawless skin, keep the following things in mind:
Treatment focused on problem areas
Not all body parts with an uneven skin tone can be treated with one uniform product. Different areas need different ingredients and formulas that are designed specifically for that body part. Identify the problem area and choose products that cater directly to it. For example, if you have underarm discoloration, look for a product that solves this problem, rather than using a product aimed at improving uneven skin tone on the face.
For uneven skin tone on the face, ingredients such as niacinamide (vitamin B3), vitamin C, and retinoid work great as brightening agents. When combined with exfoliating agents like glycolic, salicylic, lactic acids, or hyaluronic acid, they help regenerate dead skin cells while offering a hydrated, flawless finish.
If you wish to overcome discoloration and scarring on the body, it is recommended to use oils such as almond oil and rosehip oil to heal fresh scars and stretch marks.
Non-comedogenic and gentle formula
Treatments that are too potent with concentrated formulas are likely to cause purging and lead to more hyperpigmentation. Furthermore, non-comedogenic products may clog your pores, which might cause acne and scarring. We recommend you buy products that are non-comedogenic and gentle on the skin. You can even try a patch test to check its potency on the skin.
How To Fix Uneven Skin Tones
Applying SPF every day is a must, especially if you are in a constant battle against uneven skin tone. SPF protects you from harmful rays of the sun that lead to blemishes, burns, and in rare circumstances, melasma.
Exfoliating your skin once a week will help in regenerating dead skin cells. Using mild chemical exfoliants like AHAs or BHAs, instead of textured exfoliants is highly recommended for better and faster results, without causing micro-tears to the skin.
Use non-comedogenic products on acne-prone skin
If your uneven skin tone is a direct result of acne scars, we recommend purchasing non-comedogenic products. This will help clear clogged pores and prevent future breakouts.
Easily one of the most significant things you can do is stop picking your skin! Though they may feel painful or itchy, picking on acne and bumps may lead to more harm than good and sometimes even lead to permanent scarring.
If all else fails, there's always makeup. Using makeup products such as concealers, foundations, and color correctors can go a long way in improving skin tone. Opt for a shade closest to your skin tone to achieve airbrushed, even-toned skin.
Well, that brings us to the end of our buying guide and our list of the best products for uneven skin tone. Constantly fighting uneven skin can be a great challenge and a big hit on your confidence. With the beauty market flooded with treatments that make breathtaking promises that fail to deliver, we understand your frustration and desperation. Lucky for you, we have done all the work and saved you from the unnecessary experiments. All you need to do is follow our buying guide and look at our list, to buy the perfect products for an uneven skin tone.
Why Trust StyleCraze?
Kirtana Divakar, the author of this article, is a hair and skin care enthusiast who loves experimenting with products and finding improvised solutions for common skin and hair concerns. She has done an in-depth research and checked customer experiences, reviews, and feedback on trusted online forums to curate this list of the best products for uneven skin. The selection includes a wide range of top-rated products that can help brighten your skin.
Frequently Asked Questions
Are Ordinary products good for uneven skin tone?
Not all Ordinary products may prove useful in overcoming uneven skin tone. However, some products such as their Glycolic Acid Toner may come to your rescue.
Does uneven skin tone go away?
Absolutely! With the right kind of product and focused treatment, you can easily say goodbye to uneven skin tone forever.
Does toner help uneven skin tone?
Yes, a toner can help treat uneven skin tone. A toner with vitamin C, glycolic acid, and niacinamide can help improve your skin tone.
What should you do to prevent uneven skin tone?
•  Use sunscreen daily. Reapply SPF every 2-3 hours.
•  Cleanse your skin twice daily to remove dirt and excess oil.
•  Exfoliate your skin gently with AHAs and BHAs.
•  Incorporate a retinoid serum into your routine to increase collagen production and rejuvenate your skin.
•  Keep your skin hydrated.
•  Use face masks weekly to detox your skin.
•  Eat a balanced diet.
Are facials helpful to fix uneven skin tone?
Yes, chemical peels and facials help treat uneven skin tone effectively.
What is the difference between uneven skin tone and hyperpigmentation?
Uneven skin tone is an umbrella term for dark spots, hyperpigmentation, and blotchy skin. On the other hand, hyperpigmentation is a skin condition caused due to the overproduction of melanin.