15 Must-Have Products For Beautiful Wavy Hair
Wavy hair is absolutely stunning. You can get that perfect beachy hairstyle the help of waves. While everyone talks about how much maintenance curly hair requires, they tend to forget that wavy hair also needs some tender loving care. So, if you have wavy or frizzy hair, read on to see how you can give it a luscious makeover by using a few products.
The best way to have good hair is to maintain it well. Washing your hair every alternate day, oiling it, and allowing it to air dry are a few ways to handle it. But you will also have to use certain products to take care of it. Here's a comprehensive list of the best products to try out if you have wavy hair.
15 Must-Have Products For Beautiful Wavy Hair
1. LuxeOrganix's Rejuvenating Argan Oil Shampoo And Conditioner
For wavy hair, you need a shampoo that will clean your hair thoroughly and give it volume. LuxeOrganix's Rejuvenating Argan Oil Shampoo protects your hair and nourishes it. It contains argan oil that is good for your hair's health. Since argan oil is a natural antioxidant, it will also protect your hair from the sun's harsh rays.
LuxeOrganix's Argan Oil Conditioner works wonders for wavy hair. Its natural ingredients work as a therapeutic hair treatment, wholly nourishing and rejuvenating your hair. The argan oil acts as a UV protector as it is an antioxidant. Since argan oil is also antifungal, it keeps your hair free from dandruff and scalp itchiness.
Pros
Uses natural ingredients that make hair voluminous and shiny.
Reduces frizz and dryness.
Can be used for hair spa treatments as therapeutic rejuvenation.
Free of sulfates (SLS), sodium chloride, parabens, gluten, phthalates, and drying alcohols, which can be harmful to your hair over time, causing hair loss and hair damage.
Can be used on colored and keratin treated hair.
Prevents hair color from fading fast.
Treats itchiness and dandruff.
Cons
Does not lather much. Make sure you wash your hair with a good amount of water to make the shampoo lather fully.
If you have dry hair, overusing the shampoo can aggravate the dryness in your hair.
If you have naturally oily hair, overusing the conditioner can make your hair more oily.
Rating
4.3
2. Silk18 Leave-In Conditioner
Leave-in conditioner is a great way to make your hair look healthy. Natural leave-in conditioners can be left in your hair for a long time and are healthier than chemical-based ones. Silk18 uses argan oil, shea butter, organic pomegranate, hibiscus, sea buckthorn, jojoba oil, and green tea extracts to moisturize your hair and make it frizz-free and healthy.
Pros
Free of parabens, sulfates, and silicones.
Rejuvenates thinning hair, making it healthy and thick.
Reduces dryness and frizz.
Prevents hair loss, heat damage, and hair breakage.
Contains antioxidants that prevent dandruff and itchiness on the scalp.
Cons
If you have colored/bleached hair, using too much of this leave-in conditioner can dry it out.
Rating
4.3
3. Aria Starr Argan Oil
Aria Starr Argan Oil nourishes your hair. Heat this oil up for a few seconds before massaging it into your hair. Don't forget to massage your scalp as well. You can also leave it on as a conditioning mask before washing your hair.
Pros
Protects your hair from fungal diseases, dandruff, and heat damage.
Makes hair healthy and thick.
Can be used on the skin and nails for nourishment.
Cons
No added fragrances, so it smells of pure argan oil, but the smell goes away a few minutes after application.
Rating
4.5
4. Amara Organics Aloe Vera Gel
Amara Organics Aloe Vera Gel can be used for not only styling your hair but also nourishing it. This gel easily permeates through the entire hair. Since it is all-natural, it is very good for your wavy locks.
Pros
Hair is moisturized and made healthy with aloe vera.
Protects hair and gives it shine.
Nourishes the hair all the way to the cuticles.
Can be used on the skin as well.
Cons
If you have very thick hair, this hair gel might not hold for very long.
Rating
4.6
5. Pureology Silk Bodifier Volumizing Mousse
A mousse is a great option for styling thick, wavy hair. This is because it spreads quite easily. Pureology makes your hair shiny and soft. No need to worry if you have colored hair as it works to protect your hair color.
Pros
Uses a 100% vegan formula.
Conditions hair without weighing it down.
Hydrates hair to make it voluminous and shiny.
Prevents hair color from fading.
Cons
Does not impart long-lasting hold.
Rating
4.3
6. Moroccanoil Curl Defining Cream
This product helps define your waves and curls. Apply it before and after you curl your hair. Your hair has to be damp. Morocccanoil's Curl Defining Cream uses intense conditioning to remove frizz and keep your hair well defined, whether you want your hair wavy or curly.
Pros
Controls frizz and keeps hair voluminous and lush.
Keeps your waves and curls intact, irrespective of the weather.
Makes hair soft.
Adds definition to curls and waves.
Cons
If you use too much product, your hair will end up in curls instead of waves.
Rating
4.2
7. Keratin Complex Thermo-Shine Thermal Protectant Mist
Keratin Complex Thermo Shine helps protect your wavy hair from the damage caused by heat styling tools. Spray it on your hair before you use a curler or an iron. It contains keratin, which prevents your hair from becoming frizzy and brittle.
Pros
Quick application.
Protects hair from UV rays and damage caused by heating tools.
Keeps your hair healthy and damage-free.
Makes hair shiny.
No frizz or dryness.
Cons
The lid is loose and can come off quickly.
Rating
4.3
8. On Natural Curl-n-Wavy Curl Defining Conditioner And Detangler
When you have wavy hair, you'll find yourself with a lot of knots. This spray will help in removing them without causing hair loss and damage.
Pros
Helps detangle hair without hair loss.
Grape seed extract contains antioxidants that protect the hair cuticles from getting damaged.
Does not cause dandruff.
Makes hair soft and shiny.
Works as a conditioner to moisturize hair.
Cons
Does not enhance curls or wavy hair.
Rating
4.1
9. Wet-N-Wavy Frizz-Free Detangling Spray
The thing with wavy hair is that it can become frizzy quite easily in humid weather. It also does not get enough moisture. The Wet-N-Wavy Frizz-Free Spray helps you get rid of this frizz.
Pros
Reduces hair breakage.
Removes frizz immediately.
Keeps hair soft and tangle-free.
Can be used on synthetic hair as well.
Cons
None
Rating
4.6
10. Tigi Bed Head Masterpiece Massive Shine Hairspray
Tigi Bed Head Masterpiece Hairspray helps keep your hair intact no matter what the hairstyle is. It acts like a hard liquid gel, which can keep the hairstyle intact in its last style until it fades or is washed off. This hairspray lasts for a few hours.
Pros
Provides gloss and shine to all finished styles and textures.
Adds hold to any style.
Long-lasting firm hold
Cons
If you use this product with heating tools, you will need to spot spray each section with a light misting as you style.
Rating
4.6
11. Batiste Dry Shampoo (Blush)
Batiste Dry Shampoo can add volume to your hair. It is also used to absorb the natural oils that flow from your head to keep it from becoming greasy. It is light and does not weigh your hair down.
Pros
100% vegan
The waterless formula absorbs dirt and grease to rejuvenate dull and lifeless hair.
Gives hair a lift by adding body and texture.
A few quick sprays leaves the hair feeling clean and fresh instantly.
Cons
None
Rating
4.3
12. B Uniq Silver Shampoo
If you've colored your wavy hair and it has yellow, gold, red or orange tones, B Uniq Silver Shampoo can help get rid of them. It acts as a shield and protects your hair from damage. It also adds shine and volume to your hair and seals in the color to make it last longer.
Pros
Takes away the yellow, orange and red tints after coloring hair.
Keeps hair soft and replenished.
Sulfate- and paraben-free.
Boosts cool hair tones.
Cons
You need to pick the toner based on the right hair color for the best results.
Rating
4.3
13. Sebastian Laminates Cellophane Colors
When considering coloring your wavy hair, you need to be careful. Using color products that contain ammonia and PPD cause damage to your hair. Besides, having wavy hair means you need to give it as much moisture as possible. This is why an ammonia-free hair color like Sebastian Laminates Cellophane Color can give you the best coloring experience.
Pros
Infused with non-oxidative FDA-approved cosmetic dyes and UV-light inhibitors that protect your hair.
Formulated with a protein-rich formula and color shine acid complex that give your hair a healthy, lustrous gloss.
Contains no ammonia or peroxide.
Cons
None
Rating
5/5
14. Rene Furterer Okara Radiance Enhancing Shampoo
Rene Furterer Okara Radiance Enhancing Shampoo helps keep your hair color from fading for a long time. You can preserve the intensity of your hair color with this sulfate-free product. It enhances the vibrancy of the color on your wavy hair.
Pros
Makes the color last long and maintains its vibrancy.
Nourishes hair.
Cons
Can reactivate old colors that have faded.
Rating
4.1
15. LuxeOrganix's Deep Conditioner And Hair Mask
LuxeOrganix's Hair Mask helps nourish your wavy hair with nutrients that can keep it healthy and hydrated. It contains coconut oil and shea butter that leave your hair feeling soft and shiny.
Pros
Repairs and strengthens dry, dull or brittle hair.
Works for all hair textures.
Clears dry, itchy, flaky scalps and dandruff.
Keeps hair hydrated and nourished, making it thick and lush.
Does not contain any sulfates, parabens, sodium chloride, gluten, drying alcohols, phthalates, or phosphates.
Cons
Each use requires a lot of product.
Rating
4.4
There you have it – 15 must-have products for beautiful wavy hair. Remember, wavy hair looks amazing only when you give it some tender love and care. Comment below to let us know which of these products you can't wait to try out.
Recommended Articles

The following two tabs change content below.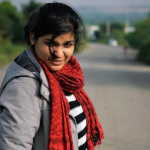 Latest posts by Anjali Sayee (see all)