8 Best Products To Get Rid Of Whiteheads
Give your skin the ultimate cleansing, so those pesky zits stay out of sight forever!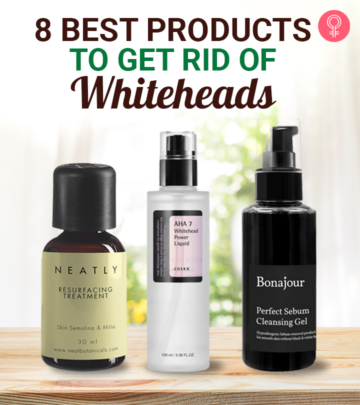 If you are bothered by those pesky whiteheads on your face, arms or backs, try getting yourself some of the best products for whitehead removal mentioned below! Whiteheads can easily get aggravated by breakouts and infection if not handled carefully! While they look harmless, they can cause scarring and inflammation, just like any pimple or acne! Pick any of the 8 products listed below to get rid of those whiteheads faster!
8 Best Products To Get Rid Of Whiteheads
The Bonajour Perfect Sebum Cleansing Gel removes whiteheads while smoothening, soothing, and tightening open pores to improve your skin's elasticity. It contains peat water to absorb and extract sebum and accumulated impurities from your pores and purify your skin. The gel also contains EVERMAT and other skin-friendly surfactants derived from coconut, corn, and palm kernel fatty acids that control sebum accumulation in the pores and cleanse your skin without irritating it. This dermatologically tested, non-toxic gel does not contain artificial colors, synthetic alcohol, or any added artificial fragrances.
Key Ingredients: Peat water, EVERMAT, Chestnut shell extract, and Tannic acid
Skin Type: Normal, Dry, Oily, Combination, and Sensitive
Pros
Dermatologist-tested
Natural ingredients
Non-irritating
Paraben-free
Silicone-free
Sulfate-free
Cruelty-free
Cons
May cause allergic reaction.
Price at the time of publication: $15.82
The COSRX AHA 7 Whitehead Power Liquid is a skin savior for sebum and whitehead control. The potent blend of skin-clarifying and resurfacing ingredients exfoliates your skin, relaxes, and opens your pores to extract whiteheads, sebum, and dead skin cells.
This product contains apple water, which is rich in AHAs, and 7% glycolic acid that gently exfoliate the skin and brighten the skin tone. It also contains niacinamide that brightens the skin and panthenol that moisturizes, heals, and regenerates the skin. The results-driven natural ingredients in this astringent toner make your skin clear and healthy without causing any irritation. Multiple reviewers have given positive feedback on the product, testifying for its efficacy.
Pro Tip: If you are using AHA for the first time, use it on clean skin once every three nights before transitioning to regular night use. It also makes your skin sensitive to the sun. Hence, make sure to apply sunscreen if you are using it during the day.
Key Ingredients: 75% Pyrus Malus (Apple) fruit water, 7% Glycolic acid (AHA), Niacinamide, and Panthenol
Skin Type: Dry, Normal, Combination, and Oily
Pros
Natural ingredients
Soothing
Silicone-free
Cruelty-free
Cons
Not suitable for extremely sensitive skin.
Price at the time of publication: $15.98
The NEATLY Resurfacing Treatment is an anti-acne milia serum that removes whiteheads to leave your skin feeling healthy and radiant. It contains tea tree oil that has deep-cleansing and anti-inflammatory properties to remove impurities from clogged pores and prevent whiteheads and acne. The salicylic acid naturally evens out the skin tone by exfoliating dead skin cells and fading scars and blemishes. This acne treatment is organic, vegan, and cruelty-free.
Key Ingredients: Tea tree oil and Salicylic acid
Skin Type: Oily, Acne-prone, and Combination
Pros
Gluten-free
Organic
Vegan
Laboratory-tested
Artificial color-free
No food additives
Cons
Price at the time of publication: $9.99
Say goodbye to whiteheads, blemishes, and painful acne with the QRxLABS Skin Drying Lotion. This anti-blemish, whitehead remover heals your skin overnight, clearing it faster. Sulfur and salicylic clinically treat acne and whiteheads. Bentonite, called the 'magic Indian healing clay,' has detoxifying and antibacterial properties.
Eucalyptus oil, a natural antiseptic, soothes your skin, leaving a calming and refreshing fragrance. Calamine contains kaolin, which reduces irritation and makes the skin radiant. This clarifying lotion with its soothing ingredients makes it ideal for your bed-time skincare routine. It contains professional-grade ingredients and is free of silicones, parabens, alcohol, and talc.
Key Ingredients: Sulfur, Salicylic acid, Bentonite clay, and Eucalyptus oil
Skin Type: Sensitive, Combination, and Normal
Pros
Cruelty-free
Silicone-free
Paraben-free
Alcohol-free
Talc-free
Titanium dioxide-free
Cons
Price at the time of publication: $13.95
The Dr. Deep Acpa Cleansing Foam is an adjuvant therapy cleanser that removes stress-related acne, whiteheads, and blackheads around and on your nose. This product contains salicylic acid that exfoliates the dead skin cells, minimizes pores, removes excess oil, and prevents whiteheads.
Other natural ingredients, like aloe vera and green tea leaf extract, soothe the skin and make it healthy, smooth, and clear. This exfoliating cleanser deeply cleans the skin of sticky sebum, soothes redness, prevents and removes blackheads and whiteheads around and on your nose caused by stress, and balances pH levels. Glutamate, a naturally derived amino acid surfactant, cleanses and moisturizes the skin.
Key Ingredients: Camellia sinensis leaf extract, Aloe vera gel, Rosemary extract, Calendula officinalis extract, and Anthemis nobilis flower extract
Skin Type: Normal, Oily, Combination, and Sensitive
Pros
Paraben-free
Alcohol-free
Mineral oil-free
SLS-free
pH-balanced
Cons
Strong medicinal fragrance
Price at the time of publication: $24.99
The MAJESTIC PURE COSMECEUTICALS Dead Sea Mud Mask is made from authentic Dead Sea mud with high concentrations of salts and minerals. It restores a healthy rosy glow to the skin and prevents whiteheads, blackheads, acne breakouts, and open pores. This mask detoxifies and revitalizes your skin and makes it smooth. It deeply cleanses and refines the pores, removes impurities, and tones your skin to make it tight, firm, and younger-looking. This mud mask is best suited for sensitive and acne-prone skin. Various testers' experiences state that the product delivers visible results with regular use.
Key Ingredient: Authentic Dead Sea mud
Skin Type: Normal, Dry, Combination, Oily, and Sensitive
Pros
Easy to spread
Unisex
Cruelty free
Cons
Takes a long time to dry.
Price at the time of publication: $11.99
Try the Beauty Facial Extreme Clay Mint Healing Mask to combat severe acne and whiteheads. It removes impurities, kills bacteria, and prevents sebum and excess oil from accumulating in the pores. This mask clears pimples and tightens open pores, eliminates blackheads, and reduces redness and swelling around hormonal acne without over-drying the skin. The natural ingredients like jojoba oil, kaolin, and sulfur have anti-acne and detoxifying properties that improve your skin's texture and tone.
Key Ingredients: Jojoba oil and Kaolin
Skin Type: Dry, Normal, Oily, Sensitive, Combination, Acne-prone, and Mature
Pros
Dermatologist-tested
Clinically-proven
Organic
Cruelty-free
Fragrance-free
Gentle formula
Cons
Price at the time of publication: $17.98
The Skinpal S100 Lancets & Extractors Set is preferred by dermatologists and beauticians around the world. This set of four extractors removes blackheads, whiteheads, zits, milia, and pimples on the nose, forehead, chin, and cheeks. It minimizes impurities, dead skin cells, clogged sebum from skin pores, and body acne and blemishes. The tools are designed with high quality and durable surgical stainless steel with non-slip grip and comfortable extra-long handles for steady use. Their uniform shape allows for easy cleaning to minimize any infection.
Pros
Made of high-quality surgical stainless steel
Versatile
Safe
Easy to use
Ergonomic design
Non-slip grip
Corrosion resistant
Includes storage pouch
Lifetime warranty
Cons
Price at the time of publication: $13.95
Whiteheads are a common skin issue caused by excess sebum clogging the pores or inflammed follicles. Thankfully the skincare industry has crafted some products specially to combat this problem. But, the market is full of such products. To help you make the right choice for your skin type, here's a list of factors to keep in mind. Read on to find out more.
Things To Consider While Choosing The Best Products To Get Rid Of Whiteheads
Look for ingredients like glycolic acid, lactic acid, and salicylic acid to exfoliate dead skin and whiteheads. Ingredients like natural clays like bentonite, kaolin or volcanic clay or even muds like Dead Sea mud help clear out clogged pores. Tea tree oil is also a great natural ingredient that has cleansing and anti-inflammatory properties. Chestnut shell extract, green tea tree extract, coconut oil, and aloe vera soothe the skin. Niacinamide helps to provide glow to the skin tone while panthenol and jojoba oil keeps the skin hydrated without clogging the pores.
Stay away from products that are comedogenic in nature like coconut oil, lanolin, beeswax, cocoa butter, dimethicone, and harmful chemicals like paraben, and synthetic fragrances.
Choose a gentle, lightweight formulation that clears the skin of excess sebum and accumulated impurities in the pores which cause whiteheads. A non-toxic, non-greasy formula crafted with skin-friendly surfactants from natural botanicals will be best for the skin. Pick a blend inclusive of resurfacing ingredients that relaxes and clarifies the skin.
Among products for whiteheads, you must always look for specialized tools that are designed to pull out black and white heads. These extractors should be made of durable copper or stainless steel with a non-slip grip and ergonomic design.
Why Trust StyleCraze?
The author, Shiboli Chakraborti, is a certified skin care coach and loves to review products on skin care. She has compiled the list of the best products for whiteheads by browsing through various online forums and user feedback and reviews. These highly effective products listed above soothe the skin and keep it hydrated, apart from minimizing pores and getting rid of whiteheads.
Frequently Asked Questions
How long do whiteheads last?
Whiteheads last for 7-8 days as they turn into pimples and then eventually go away.
Is it okay to pop the whitehead?
Yes, popping a whitehead is the easiest and quickest way to remove it from your face. However, if you notice redness around it, do not pop it, as it may lead to acne scarring or delay in the healing process.
Can lemon remove whiteheads?
Yes, lemon has a high quantity of ascorbic acid that helps in eliminating whiteheads. Try the spot treatment method or apply lemon juice with cotton to the affected area to dry out the whiteheads.
Do whiteheads eventually go away?
Yes, whiteheads go away on their own.
Can honey remove whiteheads?
Yes. Honey has antibacterial, antioxidant, and antiseptic properties that deeply cleanse your skin and pores and remove whiteheads. You can heat a little honey for 10 to 15 seconds and apply it to your face. Leave it on for 15 minutes and rinse it off.
Recommended Articles