The 10 Best NYX Products Of 2023 You Should Own
Opt for these skin-friendly affordable makeup products suitable for all skin tones.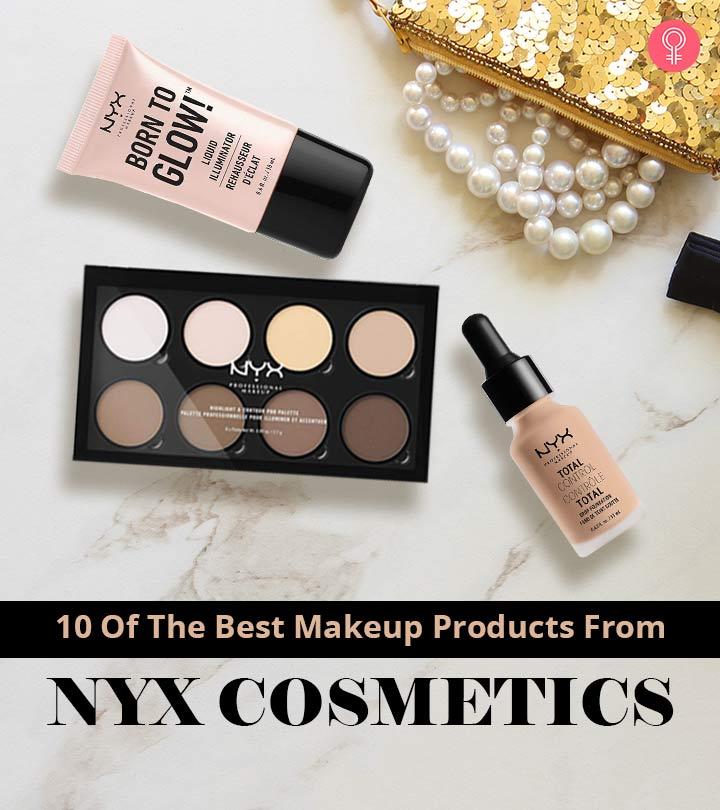 NYX Professional makeup products are a makeup artistry staple! They help you nail statement-making makeup looks and trends. This drugstore makeup brand offers professional quality and extremely good quality makeup suitable for a wide range of skin types and tones and for everyday wear. Their skin-friendly products go through several rounds of testing to make them safe for the most sensitive skin. These makeup items are available on the market at affordable prices. Check out the list of the best makeup products from NYX given below.
10 Best Makeup Products from NYX Cosmetics
NYX is one of the best drugstore makeup brands on the forefront of today's emerging beauty trends, and it is a staple for anyone who likes wearing makeup or is on a budget. Here's a look at its bestsellers!
Review
This cult-favorite lip cream from NYX delivers a burst of creamy color and sets to a stunning matte finish instantly. Its sweet-smelling formula is surprisingly durable, lightweight, and creamy. For a more precise application, line your lips with a lip liner before you go in with the color. You may also top it up with a sheer lip gloss for a statement-making look. This lip cream is available in 38 shades. You can check this video out if you need to learn about a reviewer's experience with the product before making a purchasing decision.
Pros
Long-wearing
Non-drying
Saturated color
Easy to apply
Pleasant fragrance
Cons
None
Review
If you are looking for a drugstore concealer that provides exceptional results, your search ends here! NYX's HD Studio Photogenic Concealer effectively covers flaws, discoloration, and under-eye circles without looking obvious or cakey. It is ideal for daily use as its bouncy formula leaves you with the perfect natural-looking coverage that lasts through the day. This concealer is available in 23 shades. To learn about a tester's experience with the product, check this video review out.
Pros
Lightweight texture
Long-wearing
Natural finish
Blends well
Inexpensive
Cons
None
Review
NYX's Jumbo Eye Pencil is so creamy that it glides on effortlessly without pulling, tugging, or fading. It comes in a rainbow of 16 vivid hues. It is formulated with mineral oil and powder, which makes the formula long wearing yet comfortable so that it is extremely easy to blend. This pencil is a solid multi-tasking tool as you can apply it as a base for a dramatic eye look or line your lid with eyeliner to add a pop of color. Create a bold look with a complementary eyeshadow shade and a bold glide of mascara for a defined look. If you are an absolute beginner, this video review might be useful. It will give you a detailed insight into a reviewer's experience with the product.
Pros
Long-wearing
Versatile
Easy to apply
Transfer-proof
Inexpensive
Blendable formula
Cons
None
Review
If you are a fan of lip gloss, the Butter Gloss from NYX is going to be your new favorite! Its buttery soft and silky smooth formula delivers sheer to medium coverage that literally melts onto your lips, leaving them soft, supple, and kissable. Find your pick from its range of 26 shades. Follow it after a smooth dash of your favorite lipstick to complete the look!
Pros
Non-sticky
Lightweight texture
Hydrating and moisturizing
Ideal for dry lips
Pleasant fragrance
Cons
None
Review
The Total Control Drop Foundation from NYX gives you the freedom to customize your coverage like a pro. Its liquid blendable formula provides sheer to full coverage and leaves you with a soft matte finish. If you have combination or dry skin, you can count on these drops to hydrate the dry areas while controlling the oil production in the oily areas of your face. Find your match from its range of 30 shades.
Pros
Long-wearing
Lightweight
Buildable formula
Easy to blend
Available in a wide variety of shades
Cons
None
Review
Your brows have the power to frame your face and add structure to it. Hence, a brow product deserves a spot in your makeup bag for day-to-day brow grooming. NYX's Micro Brow Pencil helps you build full, beautiful brows easily and instantly. Its waxy formula coats even the finest hairs for the most natural-looking finish ever! Find your match from its range of 8 shades.
Pros
Long-lasting
Natural finish
Sweat-proof
Transfer-resistant
Easy to use
Cons
None
Review
This powder foundation from NYX offers the perfect matte finish and works brilliantly to minimize shine on your skin. Its formula goes on velvety, but once it sets, it leaves you with a smooth matte finish that looks bouncy and natural. Several online reviews have mentioned that you can apply this powder either with a brush or a sponge. It is presently sold in 27 shades that are perfect for everyday wear.
Pros
Blends well
Buildable coverage
Controls oil and shine
Lightweight formula
Easy to use
Cons
None
[ Read – NYX Stay Matte But Not Flat Powder Foundation Shades ]
Review
Sealing the concealer on your skin has never been this easy! This mineral-based finishing powder not only helps you set your makeup in place, but it also works wonders to soften the appearance of fine lines and large pores. It works like a charm, especially on oily skin. Its slick matte finish gets you photoshoot ready every day. It is available in three variants: Banana, Mint Green, and Translucent. Many reviewers have noted that it works quite similarly to a setting powder or a setting spray.
Pros
Lightweight
Versatile
Natural matte finish
Value for money
Cons
None
Review
Do you want a luminous, lit-from-within glow all year long? NYX's Born to Glow Illuminator is a luxuriously lightweight and handy formula that can be used as a base for your foundation or simply to highlight the high points of your face. It comes in four shades and is an excellent dupe for MAC's Strobe Cream.
Pros
Provides a subtle, natural-looking glow
Long-wearing
Easy to use
Budget-friendly
Cons
None
[ Read – NYX Born To Glow Liquid Illuminator Ingredients ]
Review
This NYX palette contains eight highlighting and contouring shades that are perfect for emphasizing your favorite features. Each shade is creamy, pigmented, and blendable, which makes this palette extremely easy to use. It also leaves you with a natural finish without ever looking fake or muddy. Reviewers have mentioned that you can also brush over a slight dab of bronzer for a more edgy look.
Pros
Crease-proof
Compact packaging
Replaceable pans
Long-lasting
Cons
None
*The prices provided in this article are based on the latest available information. However, they may vary due to changes in pricing by the seller and/or promotional offers.
So, these are the reviews of the popular NYX affordable beauty options that you may try. Most of them are long-wearing and versatile. However, before you use any of the products, perform a patch test to be extra safe.
Why Trust StyleCraze?
Esha Saxena, the author of this article, is a makeup enthusiast who loves experimenting with the latest products and brands. She believes makeup is nothing less than art and applies her experience and knowledge about ingredients to pick the right products. Her recommendations are based on well-researched brand data and reliable user feedback on various platforms. The NYX makeup products mentioned in this article are affordable, skin-friendly, and top-rated by customers.
Frequently Asked Questions
Are all NYX products made with natural ingredients?
No, NYX is not an organic brand. The brand uses chemical additives to manufacture certain products.
Is NYX makeup paraben-free?
No, many NYX products contain paraben. Therefore, check the label before buying an NYX product to avoid buying cosmetics with harsh ingredients.
Is NYX a vegan brand?
No. NYX is not 100% vegan. The brand uses animal-derived ingredients, like carmine and beeswax, to manufacture many products.
Is NYX a Korean brand?
No, NYX is an American cosmetics company, a subsidiary of Loreal.
What is NYX Cosmetics known for?
NYX Cosmetics has earned a reputation as a drugstore brand selling high-quality products.
Is NYX waterproof?
No, all NYX products are not waterproof and will wash off or smudge away if they come in contact with water. However, some products like the NYX Epic Ink Liner are waterproof and smudge-proof.
Is NYX cruelty-free?
Yes, NYX is a PETA-certified brand. It does not test the products on animals.
Is NYX chemical-free?
No, NYX manufactures certain products with chemicals like fragrance and dimethicone. So, it cannot be considered a clean and chemical-free brand.
Recommended Articles