6 Best Products With Caviar Extract Available On Amazon – 2023
Enhance your skin's texture with gently formulated products to get a younger-looking skin.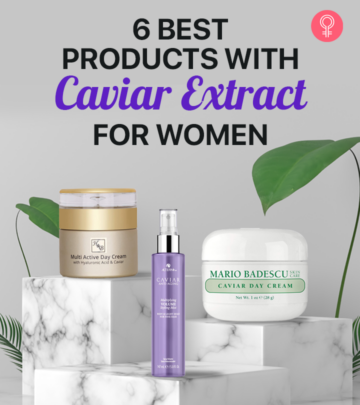 When we hear "caviar", a bougie fine-dining restaurant, a luxurious spread of seafood, and a glass of rose are what we can immediately think about. But, you can also luxe up your daily skin and hair care regimens with the best products with caviar extract. Yes, it does sound untraditional, but caviar is a nutrient-packed delicacy that can be your all-in-one solution for softer, younger-looking, and healthier skin and hair. From suppressing the signs of aging and toning your skin to enhancing its elasticity, caviar is capable of doing a lot for your body. And the best part is, it does not hurt to spend on a product that can help you achieve your dream skin and hair. So, check out our list of bestselling products containing caviar extract.
What Are The Advantages Of Caviar?
Caviar is a highly potent ingredient that has a plethora of benefits for your skin and hair. Read on to find out how including this in your daily beauty routine can give you revolutionary results.
Ultra-Hydrating: Caviar has a higher water content that proves essential for treating dry, dull and dehydrated skin all-year-round.
Improves Skin Texture: With a concentrated amount of amino acids, vitamins, omega-3 fatty acids, and antioxidants, caviar helps enhance the overall skin texture. These ingredients work together to maintain the skin's natural moisture barrier, seal in moisture, and block environmental aggressors.
 Anti-Aging: The antioxidant-rich caviar helps impede the breakdown of elastin, boosts collagen production, and increases ceramide synthesis in the cells. This, in turn, results in reduced signs of aging like wrinkles, fine lines, and saggy skin.
Provides UV Protection: As you may be aware, antioxidants aid in protecting the skin against harmful UV rays. Thus, introducing caviar to your skin care routine, in coherence with your sunscreen, can work as an additional layer of defense.
Anti-Inflammatory: The ceramides present in caviar can help people with sensitive skin by treating irritation, eczema, rosacea, and dermatitis.
Let's now take a look at the products containing caviar extract.
6 Best Products With Caviar Extract
Pros
 Lightweight
 Skin-soothing
 Quick absorbing
 Non-greasy
 Ultra-moisturizing
 Softens the skin
 Mild fragrance
Cons
None
Price at the time of publication: $18.9
Pros
 Pleasant fragrance
 Long-lasting
 Lightweight
 Non-sticky
 Adds volume
Cons
None

Price at the time of publication: $24
The Mario Badescu Caviar Day Cream features a rich and luxurious formula that delivers intense hydration to the skin to keep it looking younger. It is enriched with the moisturizing caviar extract that softens the skin and elastin that boosts skin elasticity. These two ingredients work in tandem to deeply nourish dry and mature skin, making it soft and supple.
Pros
 Non-greasy
 Pleasant fragrance
 Lightweight
 Quick absorbing
Cons
None
Price at the time of publication: $20
The La Prairie Extrait Of Skin Caviar Firming Complex is a lightweight emulsion that is designed to increase your skin's firmness over time. The highly concentrated formula is infused with caviar extract to nourish the skin with its essential proteins and vitamins. It also boosts skin elasticity. This deeply moisturizing emulsion soothes, lifts, and tones the skin while providing it with antioxidant protection. It also doubles as a primer to smoothen your skin for effortless makeup application.
Pros
 Lightweight
 Oil-free
 Doubles as a primer
 Pleasant fragrance
Cons
Price at the time of publication: $349.99
The luxurious formula of It's Skin Power 10 Formula WR Effector Serum targets the common signs of aging like fine lines and wrinkles. This quick-absorbing serum is infused with a blend of caviar and mistletoe extracts that boosts skin resilience, provides nourishment, and brightens your skin for an overall healthy and younger-looking appearance.
Pros
 Lightweight
 Non-sticky
 Quick-absorbing
 Fragrance-free
 Brightens the skin
Cons
None

Price at the time of publication: $17
The Noche Y Dia Caviar Cleansing Serum is a no-rinse, lightweight liquid treatment that melts away dirt, grime, oil, and makeup residue from your skin without drying it out. It is formulated using caviar that maintains collagen and elastin levels in the skin and micellar water that deeply cleanses your pores for a refreshing effect.
Pros
 Gentle
 Non-drying
 Non-irritating
 Suitable for sensitive skin
 Paraben-free
 Cruelty-free
Cons
None
Price at the time of publication: $19.95
Why Trust Stylecraze?
Shiboli Chakraborti, the author of this article, is a certified skin care coach who loves to try out various skin care products. She has researched thoroughly, read many online user reviews, and sought the help of experts to pick up the best products with caviar extract. She suggests these products are a must-have for healthy hair and skin. With regular use, they also slow down the signs of aging and help add volume and luster to your hair.
Frequently Asked Questions
How do you use caviar extract?
Apply caviar extract gently to clean the skin. To do so, tear off the top of the sachet and pour the entire contents into the palm of your hand while covering your hands with a paper tissue. Then, apply it evenly to the face and neck and gently press in.
What is caviar extract?
Caviar extract is an extract of sturgeon eggs from the Acipenseridae family.
What does caviar do for your face?
Yes, caviarcontains antioxidants that nourish and hydrate the skin and omega-3 and 6 fatty acids, which hydrate and improve skin texture. It is a highly efficient moisturizing ingredient that is primarily used to moisturize and soften the skin. In addition, it has antioxidant effects that protect skin from harmful UVA and UVB rays while also minimizing wrinkles, tightening skin, and helping anti-aging.
Is caviar good for hair?
Yes, caviar prevents hair breakage, improves its texture, and provides natural sun protection.
Does caviar have collagen?
Yes, caviar includes necessary amino acids that are used to make proteins like collagen.
Recommended Articles