6 Best Products With Caviar Extract For Women – 2021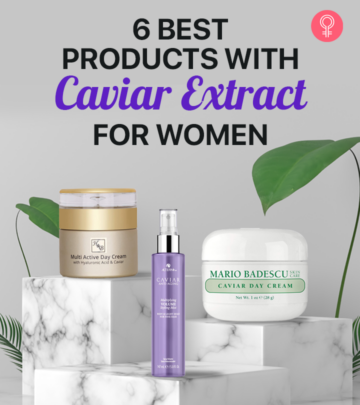 The mention of caviar immediately gives you an image of a bougie fine-dining restaurant, a glass of rosé, and a luxurious spread of seafood. Turns out, you can also use it to luxe up your regular skin care and hair care regimens. Untraditional, right? Well, this nutrient-packed delicacy can be an all-in-one solution for a healthier, softer, and younger-looking skin and hair.
Being a potent and highly nutritious ingredient, caviar acts as a superfood for your skin and hair. It helps suppress the signs of aging, tones your skin, and improves its elasticity. Plus, it doesn't hurt to splurge on a product that will help you achieve the skin and hair of your dreams, isn't it? So, let us check out the collection of the bestselling products containing caviar extract. Scroll down to know more.
What Are The Advantages Of Caviar?
Caviar is a highly potent ingredient that has a plethora of benefits for your skin and hair. Read on to find out how including this in your daily beauty routine can give you revolutionary results.
Ultra-Hydrating: Caviar has a higher water content that proves essential for treating dry, dull and dehydrated skin all-year-round.
Improves Skin Texture: With a concentrated amount of amino acids, vitamins, omega-3 fatty acids, and antioxidants, caviar helps enhance the overall skin texture. These ingredients work together to maintain the skin's natural moisture barrier, seal in moisture, and block environmental aggressors.
 Anti-Aging: The antioxidant-rich caviar helps impede the breakdown of elastin, boosts collagen production, and increases ceramide synthesis in the cells. This, in turn, results in reduced signs of aging like wrinkles, fine lines, and saggy skin.
Provides UV Protection: As you may be aware, antioxidants aid in protecting the skin against harmful UV rays. Thus, introducing caviar to your skin care routine, in coherence with your sunscreen, can work as an additional layer of defense.
Anti-Inflammatory: The ceramides present in caviar can help people with sensitive skin by treating irritation, eczema, rosacea, and dermatitis.
Let's now take a look at the products containing caviar extract.
6 Best Products With Caviar Extract
The H&B Multi Active Day Cream is an ultra-hydrating moisturizer that is designed to improve skin elasticity and reduce dryness. This day cream is the ultimate anti-aging treatment for all skin types. It is formulated with a blend of hyaluronic acid, collagen, and elastin that targets uneven skin texture, fine lines, and wrinkles while also rejuvenating the skin.
The Dead Sea mud in the formula containing 26 minerals that repair and rejuvenate the skin while olive oil, argan oil, shea butter, honey, calendula oil, aloe vera, chamomile and extracts of caviar, pearl, and pomegranate work together to provide skin relief. This cream is also infused with vitamins E and C that lend potent antioxidant protection along with UV filters that defend your skin.
Pros
 Lightweight
 Skin-soothing
 Quick absorbing
 Non-greasy
 Ultra-moisturizing
 Softens the skin
 Mild fragrance
Cons
None
If you are on the lookout for an all-in-one hair nourishing treatment that adds volume, softens your locks, and improves the overall hair health, go for the Alterna Caviar Anti-Aging Multiplying Volume Styling Mist. This multi-tasking product helps hold your hairstyle in place while imparting shine. It is infused with premium caviar extract that contains omega fatty acids, vitamins, and minerals. It protects your hair from physical, chemical, and natural damage and signs of aging to keep your locks feeling fuller, rejuvenated, and luscious.
Pros
 Pleasant fragrance
 Long-lasting
 Lightweight
 Non-sticky
 Adds volume
Cons
None
The Mario Badescu Caviar Day Cream features a rich and luxurious formula that delivers intense hydration to the skin to keep it looking younger. It is enriched with the moisturizing caviar extract that softens the skin and elastin that boosts skin elasticity. These two ingredients work in tandem to deeply nourish dry and mature skin, making it soft and supple.
Pros
 Non-greasy
 Pleasant fragrance
 Lightweight
 Quick absorbing
Cons
None
The La Prairie Extrait Of Skin Caviar Firming Complex is a lightweight emulsion that is designed to increase your skin's firmness over time. The highly concentrated formula is infused with caviar extract to nourish the skin with its essential proteins and vitamins. It also boosts skin elasticity. This deeply moisturizing emulsion soothes, lifts, and tones the skin while providing it with antioxidant protection. It also doubles as a primer to smoothen your skin for effortless makeup application.
Pros
 Lightweight
 Oil-free
 Doubles as a primer
 Pleasant fragrance
Cons
The luxurious formula of It's Skin Power 10 Formula WR Effector Serum targets the common signs of aging like fine lines and wrinkles. This quick-absorbing serum is infused with a blend of caviar and mistletoe extracts that boosts skin resilience, provides nourishment, and brightens your skin for an overall healthy and younger-looking appearance.
Pros
 Lightweight
 Non-sticky
 Quick-absorbing
 Fragrance-free
 Brightens the skin
Cons
None
The Noche Y Dia Caviar Cleansing Serum is a no-rinse, lightweight liquid treatment that melts away dirt, grime, oil, and makeup residue from your skin without drying it out. It is formulated using caviar that maintains collagen and elastin levels in the skin and micellar water that deeply cleanses your pores for a refreshing effect.
Pros
 Gentle
 Non-drying
 Non-irritating
 Suitable for sensitive skin
 Paraben-free
 Cruelty-free
Cons
None
The cosmetics world is harnessing the best of the natural world to provide your hair and skin with the most effective yet least harmful ingredients. Caviar is a nutrient-packed ingredient that transforms your skin and hair for the better. So, why not give these caviar-rich products a try and take your skin care and hair care routines to the next level?
The following two tabs change content below.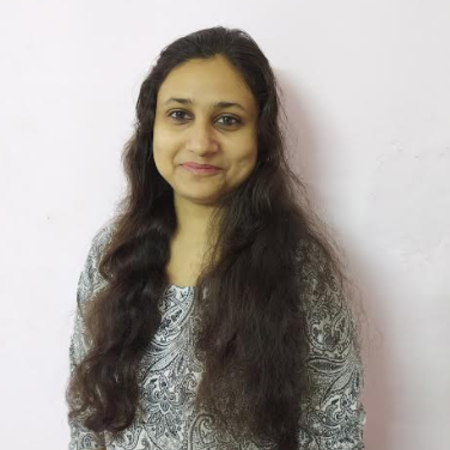 Shiboli has a Master's degree in English Literature and is proficient in French. She believes that words have a healing power and considers poetry her lifeline. Her writing background and editorial dexterity help her guide her team members to create crisp and authentic content. Shiboli is also a trained Bharatnatyam dancer and has a fascination for traveling. She is passionate about cooking and dreams of opening a restaurant of her own.