10 Best Products To Use After Microneedling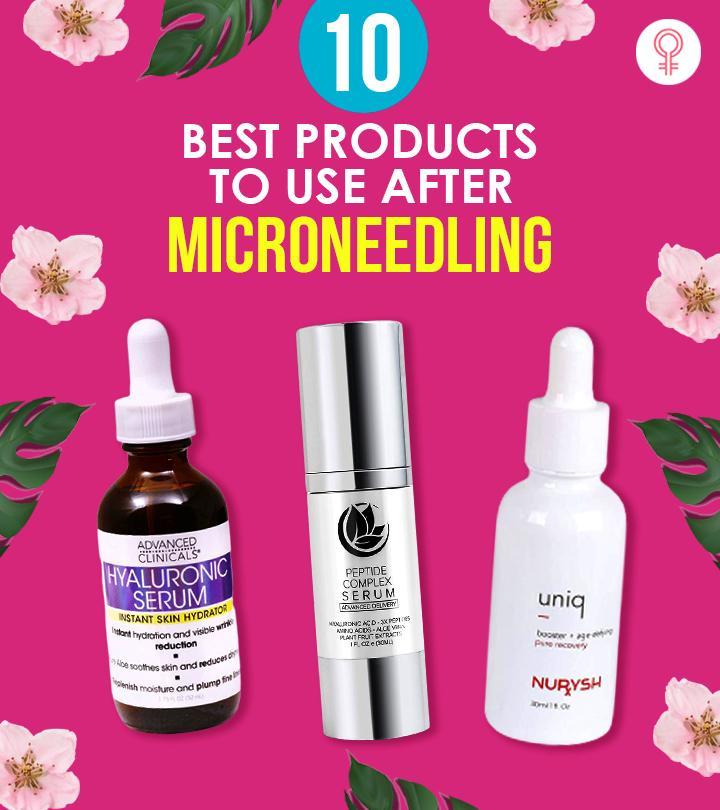 Your skin requires special care after microneedling. Although the procedure is minimally invasive, you need to protect your skin lest infections occur. Hence, it is essential to use the right products to maximize the results of microneedling.
Products that you use after microneedling help heal and soothe the skin. They are gentle and are free of harsh chemicals that might aggravate your sensitive skin. In this article, we have listed the 10 best microneedling post-care products available online. Scroll down to check them out.
What Is Microneedling?
Microneedling is an effortless, safe, effective, and minimally invasive therapeutic technique. It is also known as collagen induction therapy – a procedure that boosts collagen production in your skin's lower layers. The process involves creating micro punctures on your skin using microneedles without damaging the epidermis. It is a simple office-based procedure, lasting 10 to 20 minutes, depending on the area to be treated (1). This procedure helps treat wrinkles, fine lines, and other signs of aging caused by collagen loss.
Let's now take a look at the 10 best products that you can use after microneedling.
10 Best Products To Use After Microneedling
The Microderm GLO Peptide Complex Serum reveals your inner glow and provides a flawless finish. This serum is enriched with hyaluronic acid, aloe vera, 3x active peptides, Japanese green tea, and honeysuckle that boost collagen production and make your skin firm and youthful. It helps the skin heal faster and reduces blemishes, dark spots, visible pores, and sun damage.
Pros
Sulfate-free
Paraben-free
Phthalate-free
Cruelty-free
No artificial fragrances
Cons
The Advanced Clinicals Hyaluronic Serum makes the skin youthful and improves sagging skin. It is infused with coconut oil and aloe vera that instantly moisturize and soothe the skin. This serum contains a blend of green tea extract, willowherb, apple extracts, and vitamin E that restore your natural complexion.
Beta glucan combats radical free damage and makes the skin healthy. Hyaluronic acid helps plump the skin and make it supple. This anti-aging serum works great in combination with coconut oil, retinol cream, collagen cream, and pure argan oil. It diminishes crow's feet, wrinkles, creases, and redness, and laugh lines and increases the water retention capacity of your skin.
Pros
Suitable for all skin types
Paraben-free
Cruelty-free
Cons
None
The Topical Anesthetic Cream from Bravado Labs can be used while getting a tattoo, laser hair removal, Brazillian waxing on the bikini area, microblading, derma rolling, and microneedling. It contains 5% lidocaine, which is the highest amount allowed without a prescription. This cream is non-greasy and lasts for up to two hours.
Pros
Easy to apply
No medicated smell
Non-greasy
User-friendly packaging
Cons
None
The Delfogo Rx HGFYouth Elixir Serum restores skin radiance. It is enriched with hyaluronic acid, red seaweed, and green seaweed extracts that moisturize the skin, boost skin elasticity, and reduce the appearance of fine lines and wrinkles.
Thymulen 4 maintains the skin's immune system and prevents premature aging. This serum also has HGF (Hepatocyte Growth Factor) that supports prompt collagen production and rejuvenates the skin. This serum firms and plumps up the skin, soothes skin inflammation, heals wounds, reduces redness, and prevents irritation.
Note: Do not use this product with vitamin C and AHA skin serums.
Pros
Non-greasy
Absorbed quickly
Suitable for all skin types
Cons
This cream completely numbs the area where you get a tattoo or undergo a painful skin treatment. It contains 5% lidocaine and other ingredients like menthol, aloe vera, glycerin, and chamomile that enable fast recovery of the skin. The hemp seed oil regulates skin cell growth. This cream relieves burning, itching, and anorectal discomfort. It takes about 15-30 minutes to make your skin numb that lasts for up to four hours.
Pros
Contains natural ingredients
Fast-acting
Long-lasting
Cons
None
UNIQ Pure Recovery Nurysh is blended with effective ingredients – retinol, niaminicide, hyaluronic acid, and vitamin C. Hyaluronic acid is effective in reducing the visibility of wrinkles and fine lines. Niaminicide is also known as Vitamin B3. It improves dullness, uneven skin tone, and shrinks large pores. Retinol is known to stimulate the production of blood vessels to improve skin color.
Pros
Easy-to-use
Suitable for all skin types
Dropper dispenser
Cons
None
These anti-wrinkle retinol patches are enriched with retinol, peptides, and vitamin C that smoothen wrinkles and fine lines. Retinol reduces the signs of skin aging, while vitamin C brightens your skin and supports healthy collagen production. These patches treat skin issues like fine lines, wrinkles, skin elasticity loss, dullness, and uneven skin texture.
Pros
SLS-free
SLES-free
Paraben-free
Formaldehyde-free
Phthalate-free
Mineral oil-free
Retinyl palmitate-free
Oxybenzone-free
Coal tar-free
Hydroquinone-free
Triclosan-free
Triclocarban-free
Cons
The CRL Peptide Aqua Gel Mask is designed with TCD (Transdermal Cosmetic Delivery) technology that activates and stimulates the key ingredients to soothe the skin. It contains a high concentration of active anti-aging ingredients that calm stressed skin, and the cooling gel diminishes redness and puffiness. This mask hydrates the skin and reduces the appearance of fine lines and wrinkles.
Pros
Contains clinically-proven ingredients
Cruelty-free
Hypoallergenic
Fragrance-free
Cons
The MYM Silk Peptide Facial Mask moisturizes, brightens, smoothens, and softens your skin. This face mask contains natural silk, peptides, hyaluronic acid, and chlorophyll that penetrate deep into the skin and renew the skin's collagen and amino acids. This mask reduces wrinkles, redness, and swelling and enhances the skin's recovery process.
Pros
Reduces redness
Suitable for all skin types
Cons
Tiny holes for the eyes and mouth.
The Stayve Repair Cream contains lanolin and peptides that help soothe and rejuvenate damaged skin and keep it healthy. This product comes with a pack of blotting paper that easily absorbs oil and sweat from your skin. The alcohol-free formula is suitable for all skin types.
Pros
Alcohol-free
Suitable for all skin types
Fragrance-free
Cons
None
Now that you know about the 10 best products to be used after microneedling, read on to know about the benefits of this procedure.
Benefits Of Microneedling
Treats brown spots and hyperpigmentation caused due to sun damage.
Controls moderate melasma.
Minimizes fine lines, flushing skin, rosacea, enlarged pores, and dullness.
Makes your skin smooth and even-toned.
Adds glow to your skin.
Before investing in any of the products listed in this article, consider these factors to make the ideal choice.
How To Choose The Best Products After Microneedling – Buyer's Guide
1. Ingredients
Check the ingredients of the product. Avoid any product that contains retinol, as using retinol after microneedling can damage your skin. Also, do not purchase a product with vitamin C, scrubs, and other active skin care ingredients as they can damage your sensitive skin after microneedling. Your product should be dermatologically tested and suitable for your skin type.
2. Durability
Go for products that are long-lasting. The effectiveness of a product depends on how long it lasts. Hence, ensuring the longevity of a product is very important.
3. Simple Application
Choose products that are easy to apply. This will be time-saving and make the application effortless.
4. Others Factors
Check the price and expiry date of the product. Go through the user reviews and experts' comments before investing in any product.
Although microneedling is considered to be safe, the following precautions should be taken after the process.
Strictly avoid the following things after microneedling to protect your skin.
Things To Avoid After Microneedling
Avoid Microneedling If You Have The Following Skin Conditions:
Active acne
Local infection, such as herpes and warts
Moderate to severe eczema
Under anticoagulant therapy or chemotherapy
Skin conditions with extreme keloidal tendency
Sun exposure might cause hyperpigmentation. Hence, it is essential to protect your skin from harmful UV rays. Stay indoors after this treatment. If you plan to go outside, apply sunscreen and wear a hat.
Do Not Use Products That Cause Skin Sensitivity
Avoid using retinol-based products that are harsh on your skin and may aggravate skin sensitivity. Also, avoid products containing AHA/BHA, salicylic acid, and benzoyl peroxide after microneedling.
The first 72 hours after getting microneedling done are crucial, and this is when your skin needs maximum care and protection. Check out how to treat your skin after microneedling in the next section.
Microneedling Aftercare
Keep Your Skin Clean: Microneedling creates micro-injuries on your skin. Hence, your skin feels a little raw and tender after this process. Keeping the wounds clean is essential to avoid any skin infection. Make sure to use a gentle cleanser and wash your hands before applying it to your skin.
Hydrate Your Skin: The microneedling procedure makes your skin very dry. Hyaluronic acid is the best skin care ingredient to restore the water content of your skin. It reaches the deeper layers of your skin and keeps it hydrated.
Heal Your Skin: Use an antioxidant serum with all-natural ingredients to soothe your skin, reduce irritation, and promote the skin rejuvenation process.
Do Not Use Harmful Irritants On The Skin: Be extremely careful about your skin care routine after microneedling. Using makeup or skin care products that clog the pores can hamper the healing process. Opt for products that contain natural ingredients and are gentle on your skin.
Protect Your Skin: While your skin is healing, stay indoors to protect it from UV exposure. Avoid swimming, exercising, and using tanning beds.
Use Chemical-Free Products: After the first 72 hours of the treatment, use chemical-free skin care products. They are safe on your skin and will not interfere with the healing process.
Microneedling is a safe and therapeutic technique. However, to avoid any after effects, try out the products mentioned above. Also, take the necessary precautions before and after the process. Choose a microneedling post-care product from our list that is best suited for you.
Frequently Asked Questions
What does microneedling do for your skin?
Microneedling is a procedure that stimulates collagen production of your skin. It treats acne, wrinkles, fine lines, and acne scars.
Should I moisturize my face after microneedling?
Yes. Moisturize your skin after microneedling with vitamins or vitamin serums. This will heal your skin faster.
Can I swim after microneedling?
No, you cannot swim for at least a week after microneedling.
Can I use retinol after microneedling?
No, you cannot use retinol or retinol-based products after microneedling. Using any active skin care ingredients like AHA, BHA, and vitamin C is not recommended after microneedling.
Sources
Articles on StyleCraze are backed by verified information from peer-reviewed and academic research papers, reputed organizations, research institutions, and medical associations to ensure accuracy and relevance. Read our editorial policy to learn more.
Microneedling: Advances and widening horizons
https://www.ncbi.nlm.nih.gov/pmc/articles/PMC4976400/
Recommended Articles
The following two tabs change content below.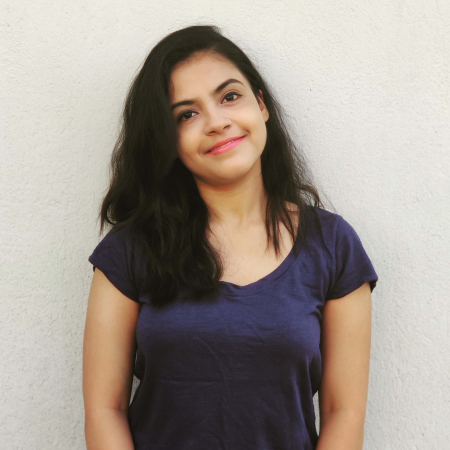 Oyendrila Kanjilal has a Master's Degree in English Literature. As a Beauty and Lifestyle writer, she writes about everything that the modern woman needs to know about grooming and self-care. She also reviews makeup, skin care, and lifestyle products to help readers make the best purchase. She is a trained classical dancer and loves binge-watching web series of different genres.