6 Hair Products With The Best Slip For Your Curls
Add shine, smoothness, and definition to your tresses with gentle products.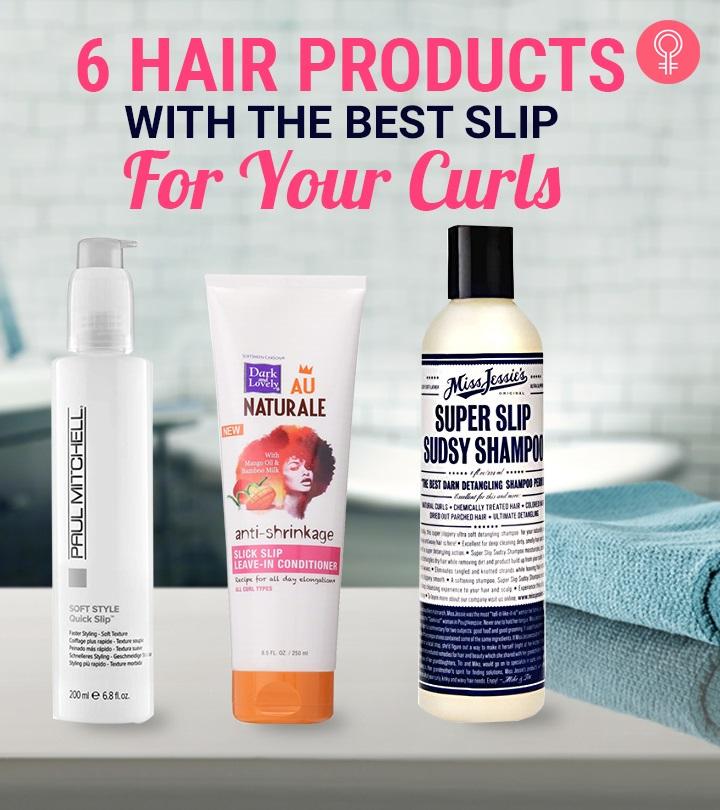 Hair care routines are a nightmare for women with curly 4c or coily hair types if they don't have the best slip products for curly hair. Those deep tangles are difficult to detangle if you don't have just the right slip products to ease the process. Any hair care product such as a conditioner, shampoo, or cream that promises to deliver a sloppy smooth slip by reducing friction can solve all your problems instantly.
If you are wondering what adds slip to the hair, well, it is Behentrimonium Methosulfate (BTMS). Products that contain BTMS reduce the time your detangling process requires. If you are hearing this ingredient name for the first time, you may be puzzled, wondering which products to opt for. Worry no more, since we have listed the 6 best products that provide an amazing slip, ensuring taking care of your hair is no more a task.
6 Best Products With Slip
This leave-in conditioner by SoftSheen-Carson is amazing for curly, natural, wavy, relaxed, and transitioning hair. It prevents shrinkage and smoothens and elongates hair strands. This conditioner is formulated with nourishing ingredients like mango oil and bamboo milk that deeply nourish and moisturize the hair.
With regular use, your curls will become incredibly soft ,super defined and can be secured easily. This slick slip leave-in conditioner has been specially created to help seal in moisture, helping you get that slip you want. This is one of the best conditioners to promote a healthy scalp and moisturized ends.
Key Ingredients:  Behentrimonium methosulfate, Mangifera indica seed oil, Bambusa vulgaris sap extract, Limonene, and Geraniol
Hair Type: Urly, wavy, natural, relaxed, transitioning | Product Dimensions: 2 x 3.03 x 8.31 inches | Weight: 8.5 Ounces
Pros
Non-flaking
Petrolatum-free
Mineral oil-free
Paraben-free
Cons

Pro Tip
To detangle the knots in curly tresses, slather it with conditioner and rub the knot between your thumb and index finger rather than yanking it. It will reduce breakage and separate strands effectively.

Price at the time of publication: $29.99
This ultra-soft detangling shampoo gently cleanses the dirt and product buildup from your hair and scalp while detangling the curls and moisturizing your hair. It is particularly suitable for dry and rough hair as it provides super slip. This shampoo is excellent for chemically treated hair – it is quite mild and leaves your tresses squeaky clean. This product can also be used to remove extension glue from natural hair and helps in prevention of tangles. Here is an informative video with a reviewer's experience that tells you more about the product. For more information about the product, click this video.
Key Ingredients: Citric acid, Disodium cocoamphodipropionate, Cocamidopropyl betaine, Isostearyl ethylimidazolinium ethosulphate, and Propylene glycol
Hair Type: Curly, Dry | Product Dimensions: 7 x 1.1 x 0.8 inches | Weight: 9.92 Ounces
Pros
Pleasant fragrance
Paraben-free
A little goes a long way
Cons
This all-in-one product adds definition and slip to your curls, provides a flexible hold, and conditions your mane to make it soft. It also helps protect hair against external damage. This styling cream is suitable for all hair types and can be used on both damp and dry hair. It speeds up your hair's drying time and shields it from the harmful rays of the sun. Regular use of this product will give you lustrous and healthy-looking hair.
Key Ingredients: Hydroxycitronellal, Limonene, Citronellol, Cyclopentasiloxane, Dimethicone, and Isohexadecane
Hair Type: All | Product Dimensions: 1.75 x 1.75 x 8.15 inches | Weight: 8 Ounces
Pros
Lightweight
Vegan
Offers UV protection
Color-safe formula
Paraben-free
Gluten-free
Not tested on animals
Cons
None
Price at the time of publication: $20.0
This leave-in conditioner by Curly Hair Solutions is a favorite of those with naturally kinky hair. The conditioning ingredients in this product leave your hair smooth, soft, shiny without weighing it down or making it greasy.
If applied after coloring your hair, this detangler will help close the hair cuticles and make the color last longer and look brighter. If used daily as part of your hair maintenance routine, it will keep your hair lustrous and healthy and effectively stop tangling. This slip detangler has been formulated to adjust the pH balance of your scalp and hair. This product performs great in all weather conditions and keeps frizz at bay. It is one of the best conditioners for natural black hair. Check this video to learn more about the tester's experience of using the product.
Key Ingredients: Sunflower extract, Chamomile extract, Calendula flower extract, Aloe leaf extract, Silk amino acids, and Lactic acid
Hair Type: Curly | Product Dimensions: 3 x 3 x 11 inches | Weight: 2.35 Pounds
Pros
Cruelty-free
Paraben-free
Sulfate-free
Safe for children
Lightweight
Silicone-free
Cons
None
Price at the time of publication: $14.69
This smoothing conditioner by Orlando Pita is a boon for kinky, curly hair. It adds moisture to your mane and protects it from environmental stressors, humidity, and heat. It is an effective detangler and has been specially formulated for color-treated, dry, and frizzy hair. Regular use of this product will make your hair super soft and shiny as it contains a super conditioning dual-phase silicone blend. The Orlando Pita conditioner adds super slip to curly hair and repairs damaged hair.
Key Ingredients: Argania spinosa kernel oil, Cocos nucifera oil, Brassica campestris seed oil, Sesamum indicum seed oil, Emblica officinalis fruit extract, Vitis vinifera seed oil, Hydrolyzed keratin, Coco-glucoside, Algin, Chitosan, Gellan gum, and Lactic acid
Hair Type: Frizzy | Product Dimensions: 2.38 x 2.44 x 6.13 inches | Weight: 11.15 Ounces
Pros
Lightweight
Features Multi-Phasic Shielding Complex
Non-comedogenic
SLS/SLES- free
Paraben-free
Cons
None


Quick Tip
Curl training and detangling are easy and smooth on soaking wet hair, providing slip and ensuring no excessive hair manipulation.

Price at the time of publication: $20.0
Those with extremely dry, kinky, and coily hair know what a blessing dry oil sprays can be. This product by AG disperses a fine mist that instantly adds smoothness and shine to the hair. It contains vitamin C that enhances hair elasticity and plant-based squalene that locks in moisture and is a natural antioxidant.
The organic sunflower seed oil acts as a conditioning agent and is high in vitamins A, D, and E.Rosemary leaf oil conditions the hair and adds a soothing fragrance, and Abyssinian oil adds moisture to the hair follicles. This spray does not weigh your hair down and can be used on both dry and damp hair. It also offers thermal protection, so apply it before heat styling. Its keratin content nourishes the hair and makes it healthy-looking.
Key Ingredients: Crambe abyssinica seed oil, Sunflower seed oil, Cranberry fruit extract, Broccoli extract, Cucumber extract, Pumpkin fruit extract, Black raspberry fruit extract, Chia seed extract, Tomato fruit extract, Rosehip seed oil, Tocopherol, and Malic acid
Hair Type: Damaged | Product Dimensions: 1.8 x 1.8 x 5.4 inches | Weight: 4 Ounces.
Pros
Vegan
Lightweight
Paraben-free
Protects hair up to 300°F
Pleasant fragrance
Free from animal testing
Cons
Price at the time of publication: $28.0
Infographic: How To Add Slip To Your Tresses: A Step-By-Step Guide
If you enjoy silky, smooth tresses that effortlessly glide through your fingers, start by incorporating a few hair care products that add slip to them. These products will help untangle the knots and smoothen the cuticles. Check out the infographic below to learn how to use them the right way.


The Bottom Line
If you have kinky or coily hair, you know what a nightmare tangle can be. Detangling those thick and tight curls can be immensely painful and time-consuming. The best products with slip, as confirmed by numerous reviews online, ease the process and allow you to keep your hair tangle-free. The SoftSheen-Carson Slick Slip Leave-In Conditioner stands out for its detangling and moisturizing properties, essential for managing and caring for curly or textured hair. The Orlando Pita Play Silk Slip Smoothing Conditioner provides a smoothing effect, resulting in a sleek and polished hairstyle. Try the AG Hair Care Slip Vitamin C Dry Oil Spray for its lightweight and non-greasy formula. It adds shine and nourishment to the hair without making it look weighed down or greasy. The products mentioned in our list are chemical-free and non-flaking. Some have lightweight formulas, while others are cruelty-free and safe for children. However, steer clear of slip products that contain sulfates. Also remember, if you have a sensitive scalp, finding expert-recommended and clinically tested products with slip is even more crucial for a comfortable and pain-free detangling experience.
Why Trust StyleCraze?
Shiboli Chakraborti, the author of this article, is a hair care buff and loves experimenting with hair care products. She has conducted in-depth research to check the user feedback from various forums to curate the list of the best slip products for curly hair. The products listed above make your hair lustrous, and keep it conditioned and frizz-free.
Frequently Asked Questions
What is a conditioner with slip?
Slip is measured by how lubricious a product makes your hair feel after application. Conditioners with slip are formulated for those with extremely curly hair to make the detangling process easier.
What makes a conditioner slippery?
Conditioners that contain Behentrimonium Methosulfate (BTMS) add slip to your curly hair and make it easier to detangle and manage.
How do you add slip to shampoo?
Add some flaxseed gel to your shampoo! It will not only provide slip but also reduce the stripping of natural oils from your hair.
How do you make your hair slip naturally?
Use creamy products with gentle formulations. Make sure your hair care products have Behentrimonium Methosulfate (BTMS) that can help you detangle your curls and make them smoother. Comb your hair frequently to keep your hair from further tangles.
Is Behentrimonium Methosulfate ingredient natural?
The ingredient Behentrimonium Methosulfate is an emulsifying wax that is derived from rapeseed oil. The wax makes your hair appear gentle without causing unwanted buildup.
Is slip good for hair?
Yes, slip helps your hair stay proper and free of tangles, tugs, pulls, or frizzes. It makes the tresses manageable and reduces your styling time to half.
Recommended Articles
The following two tabs change content below.