9 Best Professional Conditioners Available In India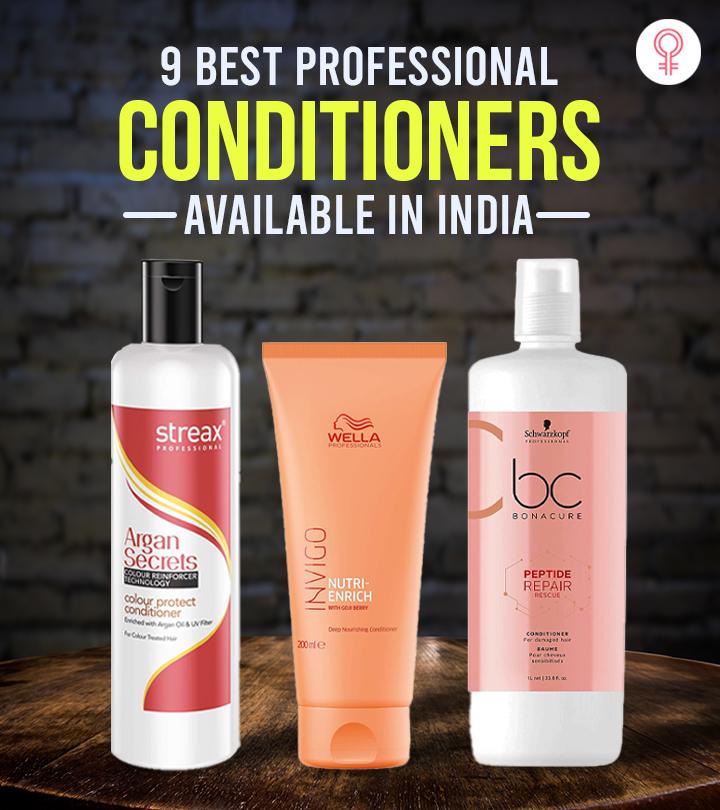 Cleansing your hair merely with shampoo can strip the natural moisture from your hair, leaving it dry and lifeless. This is where conditioners come in. Conditioners hydrate and nourish your hair,  making it more manageable.
However, if your hair is severely damaged and untamable, regular conditioners might not help, and you need to opt for professional hair conditioners. These conditioners help treat frizz, split ends, and hair breakage. They also protect your hair from environmental aggressors and hot styling tools. Check out our list of the 9 best professional conditioners available in India. Scroll down.
9 Best Professional Conditioners Available In India
The bcBonacure Peptide Repair Rescue Conditioner by Schwarzkopf Professional is formulated with Peptide Repair Technology that repairs dry and damaged hair. The peptides and amino acids penetrate the hair and improve its overall health. This conditioner strengthens and detangles your hair and adds shine. It locks in moisture, leaving your hair frizz-free and manageable. This professional conditioner forms an anti-friction shield that protects the hair from styling damage and environmental exposure.
Pros
Adds shine
Smells good
Suitable for chemically treated hair
Cons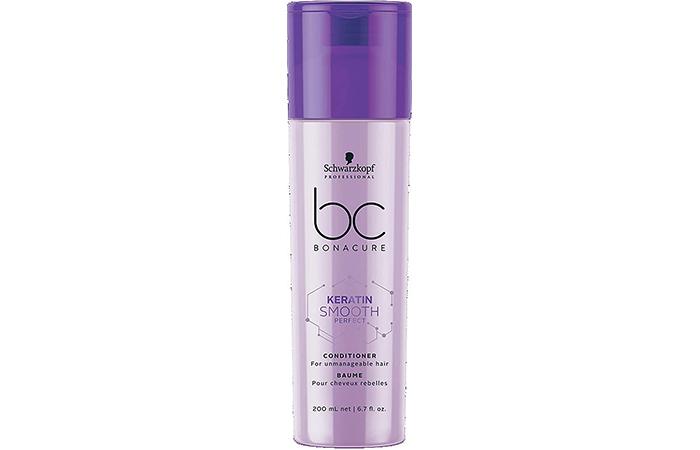 The bcBonacure Keratin Smooth Perfect Conditioner by Schwarzkopf Professional is formulated with hydrolyzed keratin and amino acids. It helps tame frizzy, coarse, and thick hair, leaving it manageable. The cationic polymers help smoothen your hair and induce shine. This conditionerstrengthens and nourishes your hair. It reduces static flyaways, prevents roughness, and smoothensyour hair. The keratin components protect your hair from humidity and environmental damage.
Pros
Adds shine
Does not weigh the hair down
Cons
None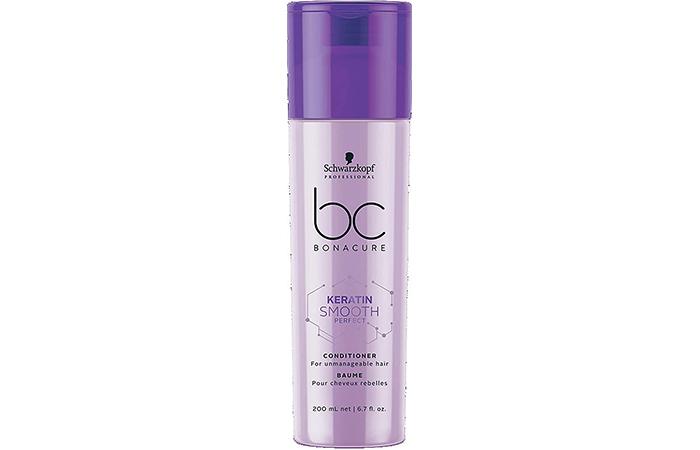 The Elements Lightweight Renewing Conditioner by Wella Professionals is infused with tree extract, panthenol, and Edds. The tree extract soothes scalp irritations and locks in hair moisture. Panthenol penetrates the hair, repairs its cell structure, and binds moisture. Eddslocks in moisture and strengthens your hairby preventing keratin loss.
Pros
Lightweight
Smells good
Paraben-free
Cons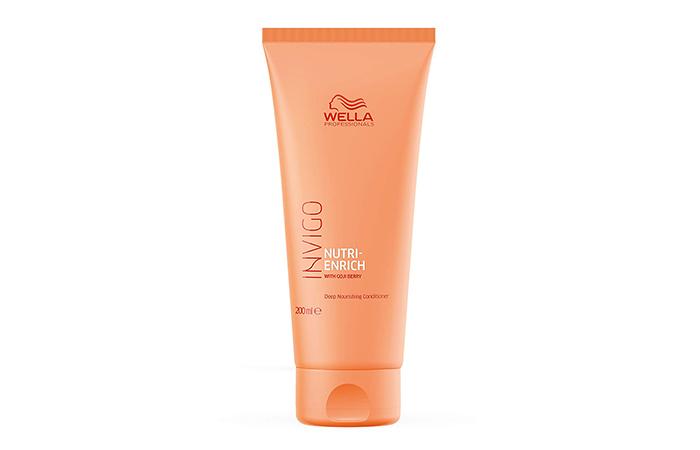 The Invigo Nutri – Enrich Deep Nourishing Conditioner by Wella Professionals is formulated with goji berry, silk extracts, oleic acid, and vitamin E. The silk proteins help tame frizz and prevent moisture loss from your hair. They alsostreng then your hair, improve elasticity, and impart shine.
Goji berry reverses hair damages like split ends and dryness. Oleic acid helps nourish, soften, and moisturize your hair. Vitamin E replenishes dryness in hair and protects it from environmental aggressors and thermal damage. This conditionerstimulateshair growth and keeps your scalp healthy.
Pros
Lightweight
Mild scent
Suitable for rough and tangle-prone hair
Cons
None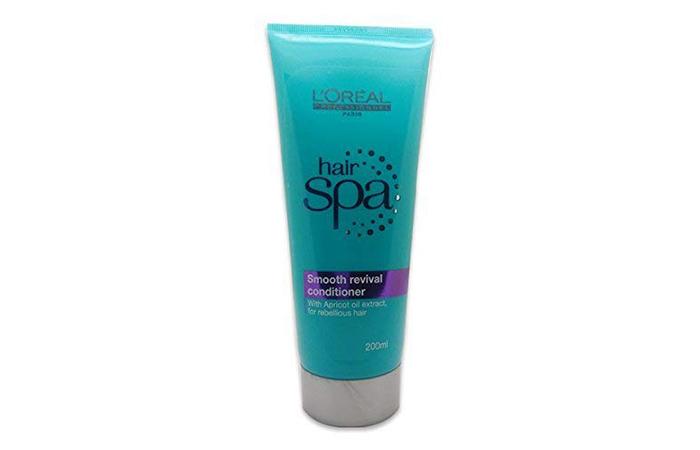 The Hair Spa Smooth Revival Conditioner by L'Oreal Professional is infused with apricot oil extract and water lily. Apricot oil, rich in oleic acid, helps soften your hair. Water lily soothes scalp irritation and itching. This conditioner prevents moisture loss from your hair and stimulates hair growth. It adds volume and shine to your hair, making its mooth and healthy.
Pros
Nice fragrance
Addsshine
Value for money
Cons
None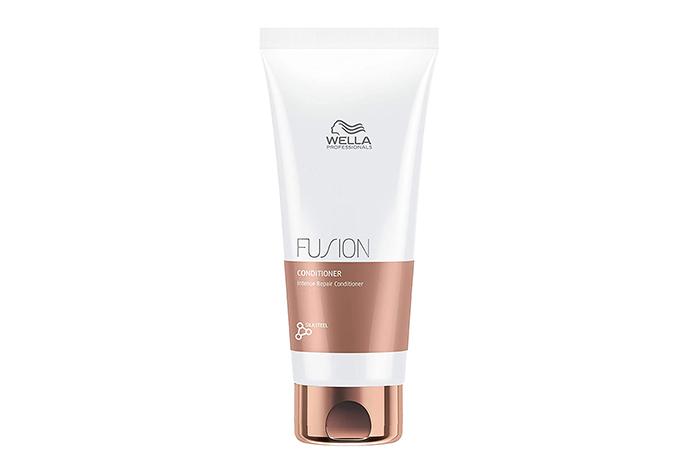 The Fusion Intense Repair Conditioner by Wella Professionals is formulated with amino acids and silk proteins that treat damaged and dry hair. It protects your hair from breakage and is resilient against mechanical damages for up to 95%.  The gentle formulanourishes and moisturizes your hair without weighing it down. This conditioner helps smoothen your hair and restores shine.
Pros
Lightweight
Gentle formula
Pleasant smell
Cons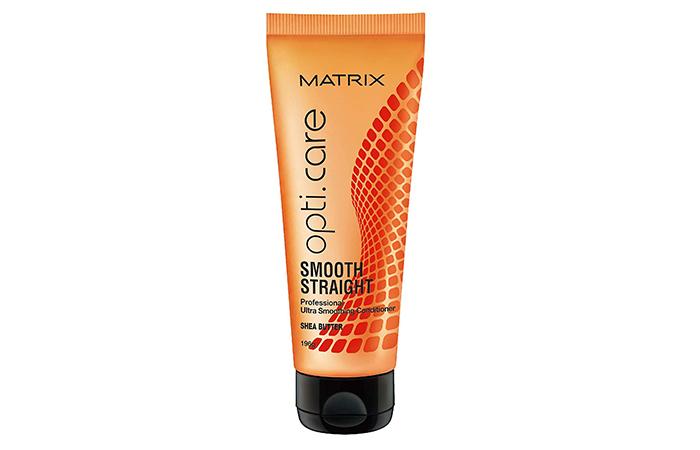 This professional conditioner is infused with shea butter that helps reverse hair damages like split ends and breakage, strengthens your hair, and adds shine. It also tames frizz and smoothens your hair. This professional conditioner is ideal for straightened hair and maintains the effect for up to 72 washes.
Pros
Adds shine
Ideal for chemically straightened hair
Cons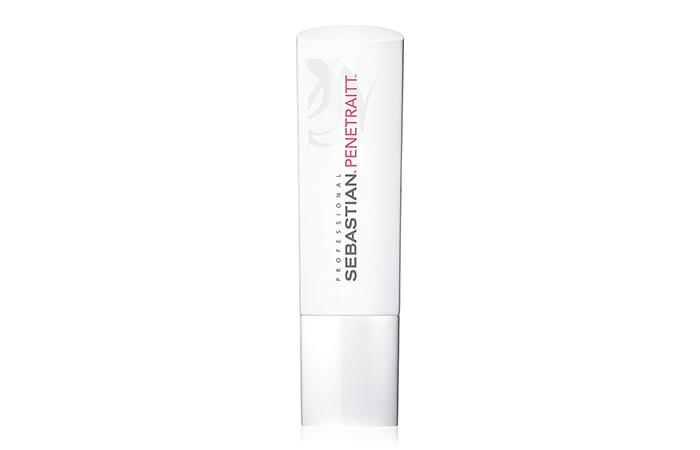 The Professional Sebastian Penetraitthelps strengthen and repair your hair. It contains jojoba oil, hydrolyzed silk, and rice bran oil,which make your hair healthy. Jojoba oil nourishes, moisturizes, and softens your hair, restoring its natural shine. Silk proteins help tame frizz and prevent moisture loss from your hair. This professional conditioner treats damaged hair and reduces breakage and dryness.
Pros
Color-safe
Volumizes the hair
Pleasant smell
Lightweight
Cons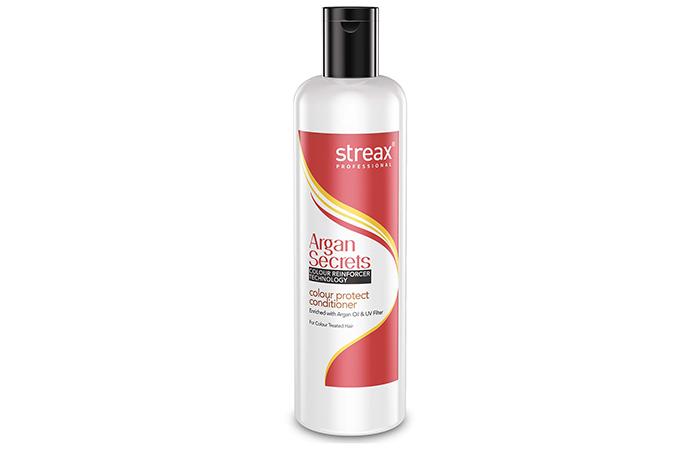 The Argan Secrets Colour Protect Conditioner by Streax Professional is formulated with argan oil. It repairshair damage caused by chemical treatments. Argan oil helps nourish, smoothen, and soften your hair, imparting a healthy shine. This professional conditioner protects your hair from UV damage, improving the vibrancy and longevity of your hair color. It provides color retention up to 90% and keeps your hair smooth for 10 weeks.
Pros
Paraben-free
Color-safe
Long-lasting
Cons
None
Let's now look at a few factors to be considered before buying a hair conditioner.
How To Choose The Best Professional Conditioner
1. Consider Your Hair Type
Most professional hair conditioners are designed for a specific hair type.  Choose the conditioner which is best-suited for your hair type.  Always read the packaging and look for buzzwords that address your hair needs, such as hydrating, curl defining, smoothing, anti-frizz, and anti-dandruff.
2. Choose Natural Ingredients
Opt for a conditioner with natural ingredients that are safe for your hair.  Look for ingredients, such as jojoba oil, olive oil, shea butter, avocado oil, and coconut oil, which keep your hair healthy and hydrated. Natural ingredients will not strip the moisture of your hair and weigh it down.
3. Avoid Harsh Chemicals And Toxins
Toxins and harsh chemicals can cause buildup and damage to your hair. Steer clear of alcohol, sulfates, parabens, silicones, and phthalates in your conditioner. These elements can dry out the hair and cause scalp irritations.
Hair conditioners are an important part of your regular hair care routine. The professional hair conditioners mentioned above are long-lasting and free of harsh elements. So, what are you waiting for? Add your favorite conditioner to your cart from our list, and get a step closer to salon-finish hair.

Recommended Articles
The following two tabs change content below.