13 Best Professional Hair Colors To Get Salon-Worthy Results
Try the best professional hair color for a shiny, hydrating, and long-lasting finish.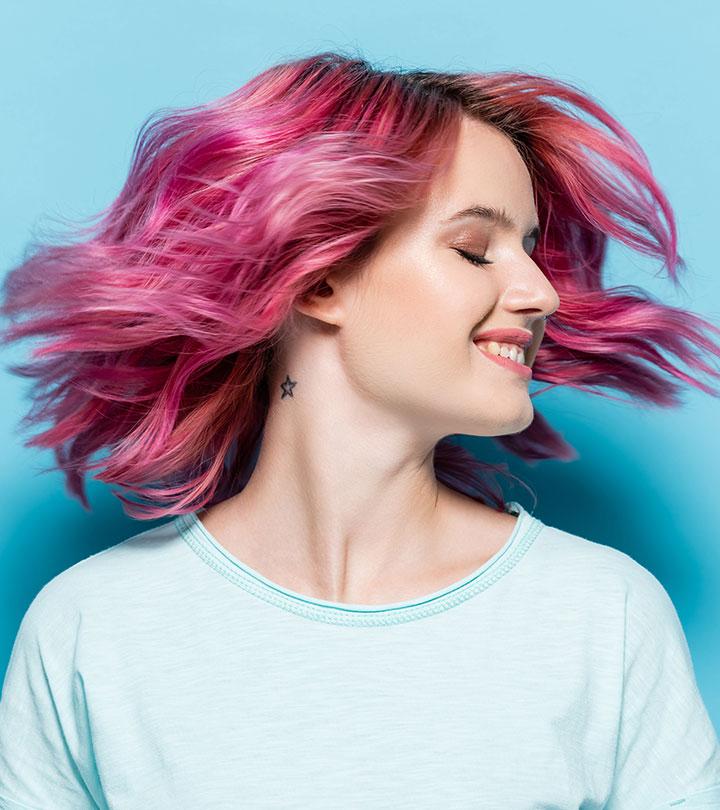 Are you looking for the best professional hair color? Well, the wait ends here, for we have the complete guide on how to choose a hair color, how to select the one for your hair, and a bonus list for you to pick one from a good brand. The hype for professional hair color never ends; thanks to the prime quality and stunning finish, it does make a difference from the regular hair colors available at drug stores.
Licensed cosmetologist and expert hair stylist, Laura Dale adds, "A professional hair color is absolutely a better choice than a drugstore hair coloring product. Professional colors are made of different ingredients that are more gentle on the hair and scalp and can be customized unlike the one-size-fits-all colors you get at drugstores."
If you have been longing for the shine and luster of colored hair you see on-screen, professional-grade hair color is what you need. The depth of the color makes a significant impact on your hair, and you can get it done at your home with minimal expertise. Go through the list of 13 professional hair colors crafted to make your hair glossier with a peppy color.
13 Best Professional Hair Colors To Cover Your grays In 2023
Pros
Vegan
Cruelty-free
Hydrating
No ammonia
Cons
Price at the time of publication: $18.49
Pros
Lasts long
Easy to use
Suitable for all hair types
No developer required
Cons
Slightly greater quantity is required for long hair
Price at the time of publication: $9.95
Pros
Hydrates the hair
Safe for chemically-treated hair
Adds shine
Vegan
Cruelty-free
Gluten-free
Suitable for all hair types
Cons
None
Price at the time of publication: $28
Pros
Ammonia-free
PPD-free
Resorcinol-free
Paraben-free
Phthalate-free
SLS-free
Gluten-free
Titanium-dioxide-free
Cruelty-free
Vegan
Long-lasting
Cons
Price at the time of publication: $30
Pros
Colors fast
Adds shine
Simple use
No peroxide
Cons
Price at the time of publication: $7.85
Wella Professionals Koleston Perfect is developed with pure balance technology that helps balance color results. The ME+ gentle formula makes this color very gentle on the hair. It also helps reduce the risk of allergies caused due to hair color. The color is easy to develop with its 1:1 mixing ratio. Delivering total gray coverage, this hair color helps you stay attractive and makes your hair look flawless. It does not contain any animal-derived ingredients.
Pros
Thick formula
Ammonia-free
Long-lasting color
Makes hair vibrant
Cons
Slightly chunky consistency
Price at the time of publication: $11
Pros
Rich color
Does not stain
Keeps hair soft
Smooth application
Cons
Price at the time of publication: $7.75
With less than 1 percent ammonia, Satin hair color is gentle on hair and much better than traditional dyes. It is enriched with the nourishing qualities of aloe vera, which makes your hair soft, healthy and minimizes the damage. The dye and developer from Satin are available separately. You get to choose the shade as per your wish and select the developer as per your needs. Their hair color range is quite wide with 72 varieties of shades. By simply leaving the formula on for 15-20 minutes, you can cover your grays or experiment with your favorite shade easily. The product works as both a professional salon product and a color that can be applied at home.
Pros
Adds luster
Looks natural
Covers grays
Makes hair soft
Cons
Price at the time of publication: $8
Pros
No ammonia
No odor
No mineral oils
No paraffin
Cons
Color may appear darker than mentioned
Price at the time of publication: $13.55
Loreal Professional Majirel Hair Color has a gel-creme formula which is rare to find. The innovative gel-creme consistency makes the mixing and application process mess-free. Professional Majirel hair color with L'oreal patented core to surface technology, along with Ionene G and Incell complex ingredients, help you strengthen your hair and keep your hair color protected. The core to surface technology helps in hair conditioning, whereas Incell complex helps redefine the hair structure and nurtures it continuously. The color is long-lasting and resists fading to a great extent. It is great professional hair color for gray hair
and lets you enjoy beautiful luscious healthier hair. 
Pros
Rich color
Adds depth
Nice quality
Precise application
Cons
Price at the time of publication: $12.8
Tec Italy Designer Color is a cream hair color that makes application super simple. Considered as one of the most advanced professional hair cream formulas, it helps you attain direct gray hair coverage. The color lasts long and is very intense. It makes your hair look beautiful and promotes maximum color reflection, thus making your hair color more radiant. When dealing with the problem of yellow tones, this professional hair dye can be highly useful.
Pros
Rich color
Advanced formula
Good quality
Maintains hair structure
Cons
Some may find it expensive
Price at the time of publication: $14.5
If you are someone who believes in the goodness of nature and wishes to use hair color with organic ingredients, then the AVEDA full spectrum hair color will surely make you happy. Made with organic castor, sunflower, and jojoba oils, this hair color conditions hair really well. It also adds a beautiful luster to hair and reduces damage. There are no harsh chemical ingredients like ammonia in it, and its smell reflects the same. The color is permanent, which means your hair looks wonderfully colored for a long time. Also, the hair feels soft and beautifully conditioned after getting the hair color done.
Pros
Vegan
Gentle
Long stay
Natural formula
Cons
Looking for a permanent professional hair color with no harsh ingredients that ruin your hair and does not have a horrible smell? Then, this is the ideal hair color for you. Enriched with moisturizing oils like meadowfoam seed oil and  linseed oil, this hair color is nourishing enough to let your hair look soft and shiny. IL Salone Milano light iced blonde hair color kit is made in Italy and gives you access to professional salon-quality hair color. The color stays long and gives you long-lasting coverage as it is permanent in nature. There is no stinky smell involved with this color that makes the coloring experience even more pleasing. It comes with protective gloves which you must put on before applying the hair color.
Pros
No paraben
No paraffin
No ethyl alcohol
Professional salon quality
Cons
Might not cover grays effectively
Price at the time of publication: $8.49
These are the top professional hair color brands which are perfectly suitable for all types of hair. However, before making the purchase, make sure you go through the buying guide points mentioned below to invest in the most suitable product.
How To Choose a Professional Hair Color?
Consider the health of your hair before heading on to choosing a professional hair color-
If you have damaged hair, avoid opting for lighter shades to prevent further damage as choosing a light hair color generally involves hair bleaching.
For covering grays, it is good to use a permanent hair color that lasts long and requires fewer touch ups.
If you wish to keep up with your natural hair color, choose a color two shades lighter which eventually fades, thus complementing your natural hair color.
In case you wish to get soft, silky hair, include hair colors with natural ingredients like aloe vera, vitamin E, etc.
When foul smell is a problem for you, avoid products with ammonia or other harmful chemicals and opt for fragrance free professional hair colors.
On the basis of skin tones-
For cool skin tones-
Professional hair color lines for blondes focus on shades like gold, honey, caramel are ideal for cool skin tones.
Brown shades like butterscotch brown, mahogany and chestnut are perfect for cool skin tones.
Red velvet, auburn and mulled wine are some great shades of red for people with cool skin tones.
For warm skin tones-
Espresso, chocolate brown and ash brown are fine hair colors for warm skin tones.
When it comes to choosing shades of red, dark red, mulberry, deep plum and lavender stand out from the rest.
On the basis of time period-
If you wish to try and change your hair color for a few weeks, a semi-permanent formula is good for you.
If you want to cover your grays, a permanent blue-black professional hair color is probably good.
How To Use Professional Hair Color At Home?
Step 1: Always opt for a strand test before applying the complete color on your hair. This confirms the color and helps you know better about the timing.
Step 2: Read the instructions written on the box carefully. Note the time and do not exceed the application time more than that.
Step 3: Put on gloves to avoid messing up your hands.
Step 4: Develop the color as suggested on the box.
Step 5: Keep the color away from your roots at least an inch away towards the roots with the help of a color brush. 
Skipping patch test
Washing hair right before coloring hair
Conditioning your hair
Ignoring to read the instructions on the box
Diluting the hair color with any hair care product
Why Trust Stylecraze
The author of this article, Kirtana Divakar, is a hair care enthusiast and loves to review hair care products. She curated the list of the best professional hair colors after thorough research and reading multiple user feedback. The products listed here are the top-rated ones and have better color payoff and longevity.
Frequently Asked Questions
Is professional hair color safe?
Professional hair color is safe to use if the color is carefully used and does not come in contact with the scalp to reduce internal chemical exposure.
Can professional hair color cause hair loss?
Yes, professional hair color might cause hair loss due to thinning.
Is salon hair color better than at-home?
Yes, salon hair color is better than at-home as it adds more depth and the formula is more standardized.
Does salon hair color last longer than a box?
No, salon hair color does not last longer than that of a box. Long lasting quality depends on the hair color quality and hair care conditions.
What key ingredients should one avoid in a professional hair color?
The key ingredients that one should avoid in a professional hair color are ammonia, paraben, peroxide, metallic salts.
How do you know whether a permanent, demi-permanent, or semi-permanent color is right for you?
• A permanent color is suitable for you if you wish to fix your gray hair.
• Demi-permanent will cover your grays but not completely.
• Semi-permanent colors are useful for adding shine and color to faded ends and to counter hair dullness.
How long does professional hair color last?
Long professional hair color lasts for about 4-6 weeks depending on the growth of your roots.
Recommended Articles:
Best Blue-Black Hair Dyes
Best Hair Dyes If You're Going Blonde
Best Blue Shampoos For Brunettes To Reduce Brassiness
Best Hair Shine Products