The 10 Best Professional Shampoos And Conditioners Of 2022 A good hair day is hard to achieve, but it boosts your confidence instantly when you do. Although frequent salon visits are the quickest and easiest way to get gorgeous hair, it is expensive and impractical. But if you set your mind to the best professional shampoo and conditioner, your days of worries are over. With them in place, you can get salon-styled hair in the comfort of your home. These products are infused with top-quality ingredients to cater to your hair needs. The ingredients are not watered down, and their higher concentrations can moisturize and nourish your hair. But since the market is already brimming with endless options, we are here to help. We have curated the top 10 professional shampoos and conditioners of 2022 that you must have ASAP. Using these products that come with professionally curated formulations, you can flaunt your gorgeous locks like never before.
Top 10 Best Professional Shampoos And Conditioners In 2022
Embrace better hair days with the PURA D'OR professional shampoo and conditioner set. It contains more than 18 active ingredients like biotin, niacin, and pumpkin seed oil that are clinically proven to reduce thinning and provide volume. Made from a premium blend of nutrients and plant-based extracts such as tea tree oil, hibiscus, and cedarwood, it strengthens hair from root to tip. The organic aloe vera-based formula moisturizes and hydrates damaged and dry hair, making it suitable for all hair types. This super-duo also contains argan oil, which adds shine and a glossy finish worth flaunting.
Pros:
Hypoallergenic
Cruelty-free
SLS-free
Paraben-free
Safe for colored hair
Vegan
Suitable for all hair types
Cons: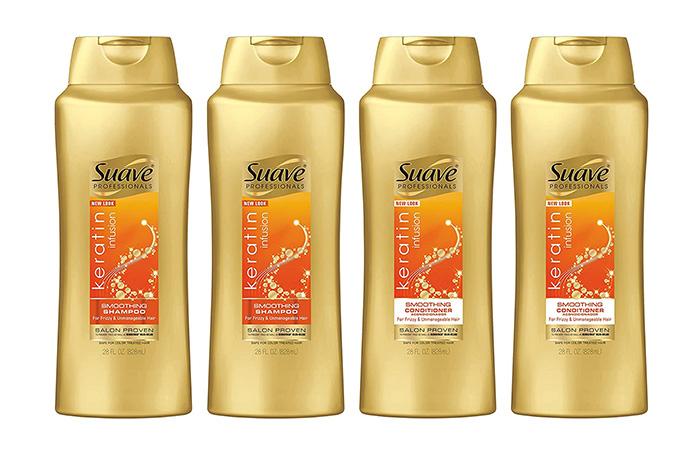 Here's a simple yet effective solution to manage rough, wild, and unruly hair. Infused with keratin, this professional shampoo and conditioner for dry hair will leave your hair looking smooth and silky. It contains glycerine, which helps provide moisture, and the citric acid in the formula maintains the hair's natural pH level. Considered as one of the top professional shampoos and conditioners, it is safe for colored hair, provides heat protection while styling, and manages frizz for up to 48 hours. For clear visuals on how to use this product, check out this video
Pros:
Suitable for dry hair
Suitable for colored hair
Infused with keratin
Manages frizz for up to 48 hours
Pleasant scent
Cons:
Some may find the scent overpowering
Contains SLS
Strut the streets with thick and luscious locks every day. Get salon-quality hair at home using this fantastic pair that nourishes the hair from within with biotin, collagen, and keratin. It contains clinically-tested ingredients like pea sprouts and grape seeds that reduce hair thinning. Suitable for all hair types, it helps you achieve healthy-looking hair with a voluminous bounce. It is free of harmful chemicals like SLS, artificial colors, and parabens, and can be used daily. Make your hair look healthy and stimulate the growth with this shampoo and conditioner. (Have a look at the video to learn more).
Pros:
Suitable for everyday use
Suitable for all hair types
Selective clinically-tested ingredients
SLS-free
Paraben-free
No artificial colors
Cons:
Some may find it slightly expensive for the quantity provided.
If you haven't already heard about the super-ingredient called argan oil and its numerous benefits, you must be living under a rock. Argan oil is rich in fatty acids, antioxidants, and vitamin E, all of which help moisturize and lubricate the hair shaft. This dynamic pair contains an abundance of argan oil, which rejuvenates dull and lifeless hair to silky, smooth hair. Touted to be one of the best salon shampoo and conditioners of all time, it protects the hair from everyday heat and pollution and reduces frizz.
Pros:
Contains argan oil
Reduces frizz
Suitable for all hair types
Vegan
UV protection
Cons:
It may take a long time to achieve desired results.
Transform your dull and lifeless locks into beautiful, lustrous hair with this professional shampoo and conditioner. This 16 oz bottle is enriched with macadamia oil, which nurtures the hair shaft using omega 7 and other fatty acids. Specially formulated for brittle and damaged hair, this professional shampoo and conditioner for dry hair revitalize it by adding moisture and a voluminous bounce. It also provides UV protection and is safe for color-treated hair.
Pros:
Suitable for dry hair
Moisturizes and hydrates hair
UV protection
Safe for color-treated hair
Reduces frizz
Cons:
May not be suitable for oily hair.
Tired of leaving hair strands everywhere you go? Well, not anymore with this shampoo and conditioner duo. Enhance the vibrancy and thickness of your hair with over 12 essential vitamins, minerals, and natural foaming agents. It is formulated to reduce hair fall using natural ingredients like rosemary, lavender, and raspberry extracts that aid hair growth, strengthen the hair from root to tip, and prevent breakage and hair loss.
Pros:
Contains over 12 vitamins and minerals
Helps reduce hair fall
Contains flower extracts
Strengthens hair
Cons:
Clean your hair and remove buildup with the BIOSILK Silk Therapy Shampoo and Conditioner. The botanical extracts and herbs infused in the shampoo and conditioner penetrate your hair, adding shine to it and keeping it hydrated. In addition, the conditioner comes with UV filters that protect your hair from damage caused by UV rays. This set of shampoo and conditioner is suitable for all hair types.
Pros:
Ideal for all hair types
Sulfate-free
Gluten-free
Paraben-free
Easy to use
Pleasant fragrance
Cons:
May contain a few allergens
Fortify your hair against everyday pollution and damage while protecting the vibrancy of color-treated hair. It contains keratin, which strengthens and smoothens the hair, and other natural ingredients like coconut oil and vitamin C help nourish it with hydration and moisture. Best suited for damaged, dull, chemically-treated hair, it contains gentle ingredients that will not irritate a sensitive scalp.
Pros:
Suitable for sensitive skin
Contains keratin and other vitamins
Sulfate-free
Suitable for all skin types
Cons:
It may not help reduce frizz.
Have you tried everything to stop your hair loss but still are unsuccessful? Then try this duo from Dermacharge that has 100% organic ingredients to replenish nutrients into your scalp. The cassava root, aloe vera, coconut oil, along with fatty acids, amino acids, and vitamins work together to fortify your scalp with essential nutrients to prevent hair loss and encourage new growth. It also strengthens the hair fiber, retains moisture, and targets split ends for healthier and shinier hair. Moreover, its gentle nature maintains your hair's pH level at 5.5 to combat dryness and brittleness.
Pros:
Organic ingredients
Non-comedogenic
Paraben-free
Fragrance-free
Sulfate-free
Dye-free
Cruelty-free
Cons:
May not be effective on every hair type
Reduce hair breakage with the Kenra Strengthening Shampoo And Conditioner. The strengthening shampoo is fortified with powerful ingredients to protect your hair from daily aggressors. A unique pH balancing system ensures the elasticity of hair from roots. The shampoo thoroughly cleanses the hair and scalp, while the conditioner moisturizes and transforms dull-looking hair to give you a shiny, healthy, and lustrous mane.
Pros:
pH-balanced
Hydrates hair
Adds strength
Cons:
So there you have it – our list of the top 10 professional shampoos and conditioners of 2022. Having voluminous hair can make you go from drab to fab instantly, which is why your hair deserves all the attention and love it can get. Professional shampoos and conditioners nurture it with higher concentrated, essential ingredients and vitamins, ensuring you get salon-quality hair with every wash. So, what are you waiting for? Try a professional shampoo and conditioner and see the difference for yourself.
Why Trust StyleCraze?
Kirtana Divakar is a hair care and skin care enthusiast who enjoys experimenting with products that help improve hair quality. She has an eye for detail and checked thousands of online reviews and feedback before picking the best professional shampoos and conditioners for the list. The products included in the list will give you professional, salon-quality hair.
Frequently Asked Questions
Why are professional shampoos and conditioners better for your hair?
Professional shampoos and conditioners are superior to drugstore products as they contain higher concentrations of key active ingredients and are made of premium quality ingredients. Most drugstore products also have harmful chemicals and ingredients that damage and reduce the quality of your hair.
Why are professional shampoos and conditioners costlier than drugstore ones?
Professional shampoos and conditioners are made with only the best of ingredients, and that is why they are costlier.
Is it worth shelling out a few extra bucks on professional shampoos and conditioners?
Yes, absolutely! Though they are expensive at first, they will save your hair from lifelessness, wilting, and frequent visits to your hair salon in the long run.
Recommended Articles