11 Best Professional Shampoos Available In India
Achieving lustrous mane sans damage and breakage is now easily done at home.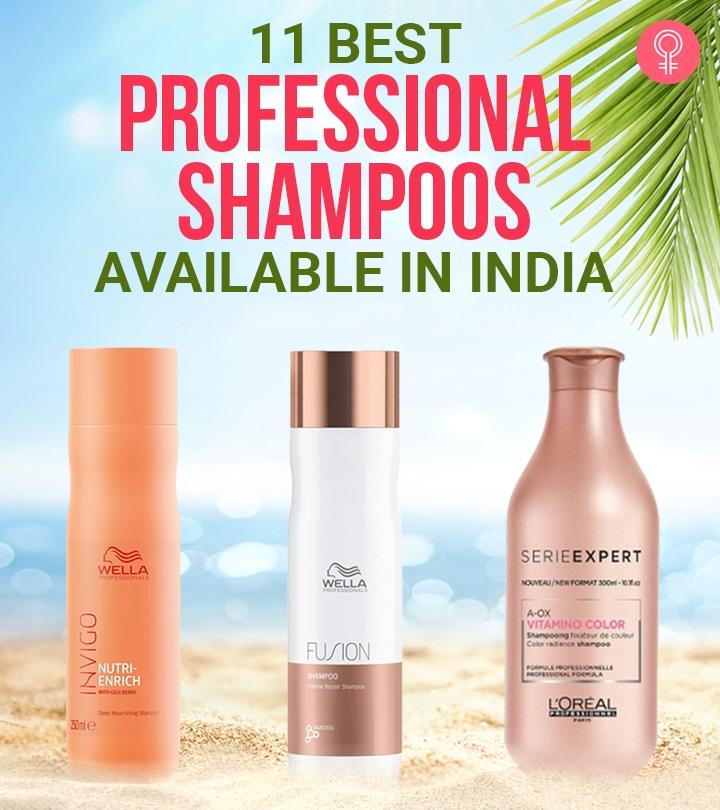 Ever wondered why shampoo and conditioning at a salon yield better results than at home? The answer lies in the quality of hair care products. Drugstore or regular shampoos contain harsh chemicals and active ingredients that harm the hair more than help. The best choice for you is to invest in a professional shampoo. Professional products contain natural ingredients and are gentle and safe on the hair and scalp. They are free of toxins and do not damage the hair. This article lists the 11 best professional shampoos available in India. Scroll down to give your hair the care it deserves.
11 Best Professional Shampoos Available In India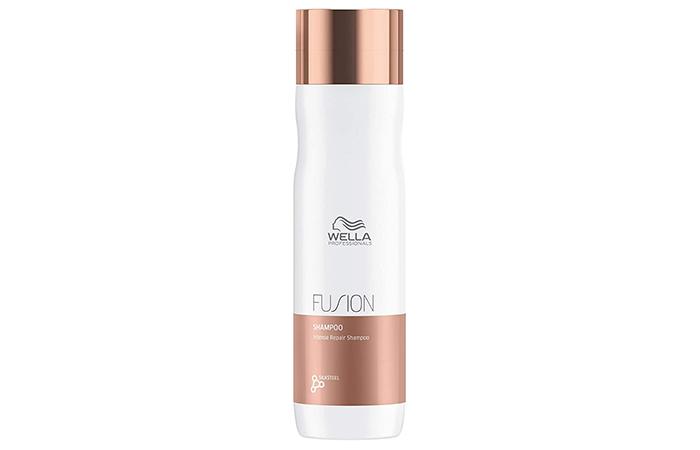 The Wella Professionals Fusion Intense Repair Shampoo cleanses the hair gently and minimizes breakage. The formula is inspired by spider silk, which is one of nature's toughest fibers. This shampoo is powered with EDDS technology that uses antioxidants to remove metallic impurities and free radicals that weaken the hair. The silk amino acids penetrate the hair and repair damage. This shampoo contains micronized lipids that condition the hair, moisturize it, and bind the inner cell structure, making the hair healthy and soft.
Pros
Repairs damaged hair
Improves hair texture
Suitable for all hair types
Imparts shine
Cons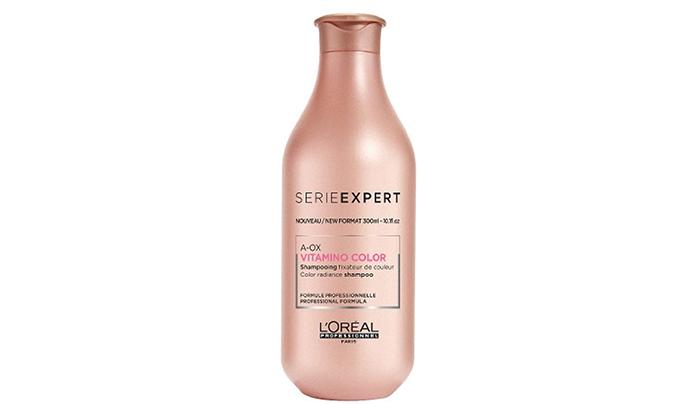 The L'Oreal Professionnel Serie Expert Vitamino Color Shampoo is suitable for color-treated hair. It is enriched with UV filters and antioxidants that prevent the hair color from fading and help it stay vibrant for up to eight weeks. This color-safe shampoo contains resveratrol that creates a shiny layer to lock in the hair color.
Pros
Color-safe
Long-lasting
Provides UV protection
Adds shine
Cons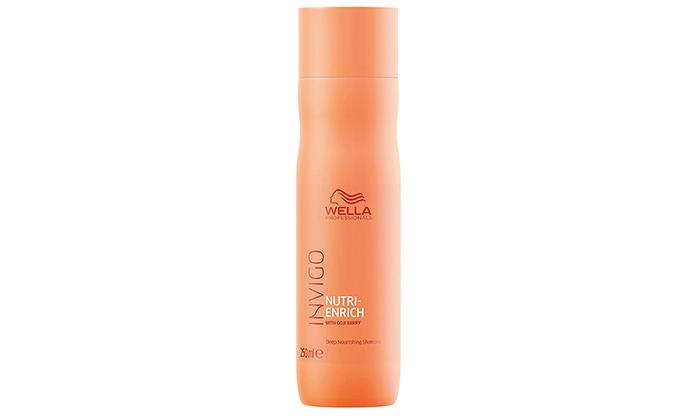 The Wella Professionals InvigoNutri Enrich Deep Nourishing Shampoo contains goji berry, oleic acid, and panthenol, which moisturize the hair. Goji berry is rich in vitamins, peptides, and minerals that help revitalize stressed hair. Vitamin E protects the hair from further damage.
Pros
Pleasant scent
Makes the hair smooth
Color-safe
Cons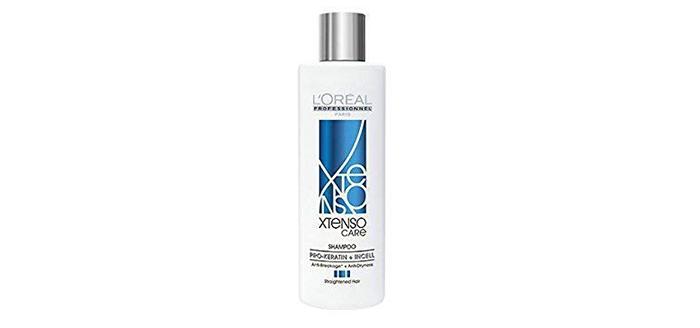 The L'Oreal ProfessionnelXTenso Care Shampoo is specially formulated for straightened hair. The Pro-Keratin technology provides vegetarian keratin to the hair and helps reconstruct its natural shield. The in cell molecules penetrate the hair, repairing damage. This shampoo strengthens and revitalizes the hair. The gentle formula helps maintain the oil-moisture balance of the scalp. The botanical extracts smoothen the hair and add shine, controlling unnecessary volume. 
Pros
Suitable for straight hair
Prevents hair breakage
Controls frizz
Adds shine
Gentle formula
Cons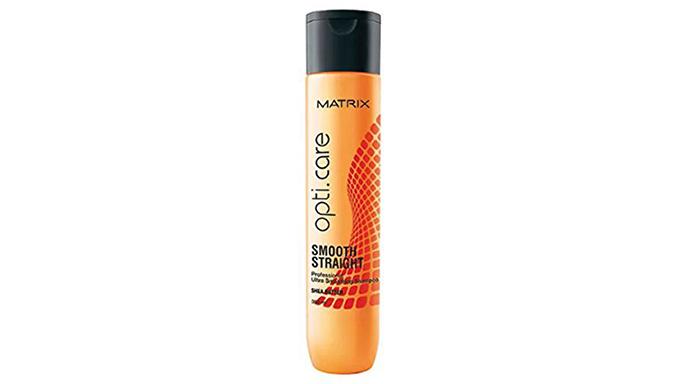 The Matrix Opti Care Smooth Straight shampoo is suitable for straight hair. It helps moisturize and smoothen the hair and adds sheen. The gentle formula is rich in shea butter and silk amino acids, which fight frizz and make the hair healthy. This shampoo helps soften chemically-treated and dry hair.
Pros
Fights frizz
Gentle formula
Softens the hair
Cons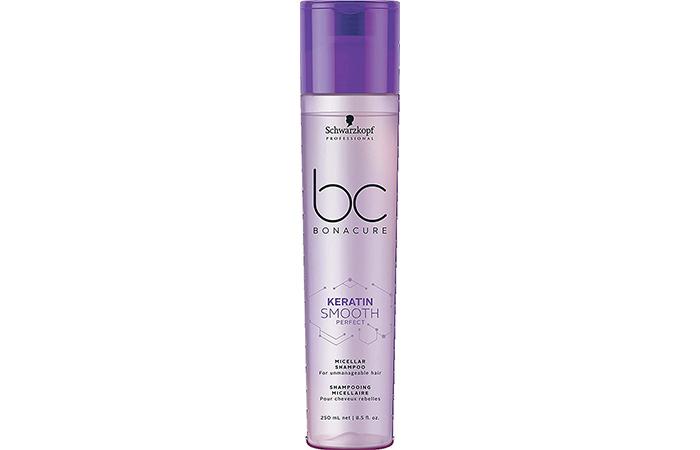 This shampoo helps control rebellious frizz and detangles the hair 70% faster. It minimizes the styling time by making the hair smooth and more manageable. This shampoo is infused with keratin, which has cell-building properties and coats the hair with a protective layer. It nourishes the hair and scalp and protects the hair from humidity. The shampoo also contains apricot kernel oil, which tames unruly hair and adds shine.
Pros
Gentle formula
Smoothens the hair
Adds shine
Prevents static
Long-lasting
Cons
Price at the time of publication: ₹17.8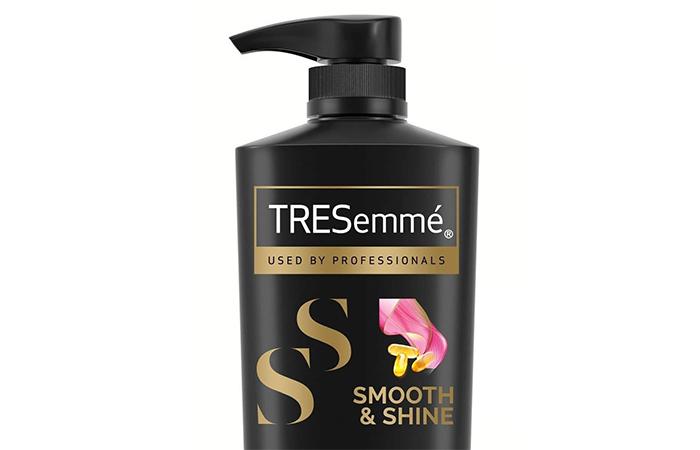 The TreSemmé Smooth & Shine Shampoo is formulated with silk proteins and vitamin H, which hydrate the hair and scalp. The micro-moisture technology helps detangle rough, dry, and damaged hair easily without any breakage. Vitamin H or biotin makes the hair healthy, and silk protein moisturizes the hair. These ingredients also enhance hair elasticity and make the hair manageable. This shampoo also contains Moroccan argan oil, which protects the hair against damage and adds shine. 
Pros
Lightweight
Adds shine
Gentle formula
Detangles the hair
Prevents hair breakage
Cons
None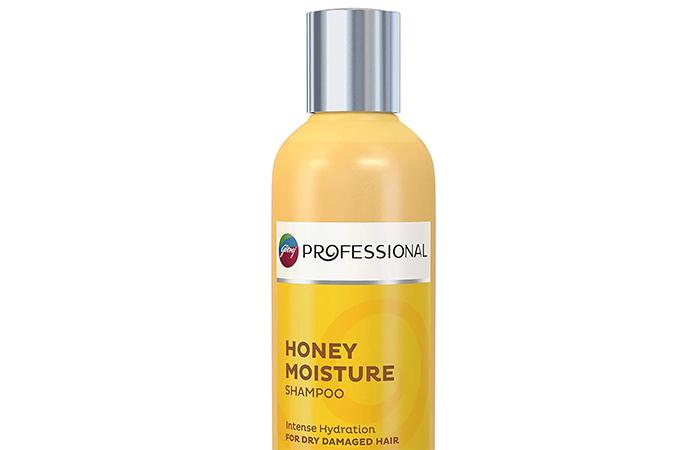 The Godrej Professional Honey Moisture Shampoo helps relieve hair and scalp dryness. It contains essential oils and honey that nourish the hair. This shampoo repairs damaged hair and imparts a healthy gloss. It gives new life to the hair by supplying sufficient hydrates and softens the hair, making it bouncy.
The essential oils are rich in vitamins and antioxidants that keep the hair and scalp healthy, while honey is a natural emollient that smoothens the hair and adds shine. These ingredients offer an antimicrobial cleansing of the hair and help retain its natural moisture. This color-safe shampoo is cruelty-free and does not contain parabens and SLS.
Pros
Paraben-free
Cruelty-free
SLS-free
Safe for color-treated hair
Cons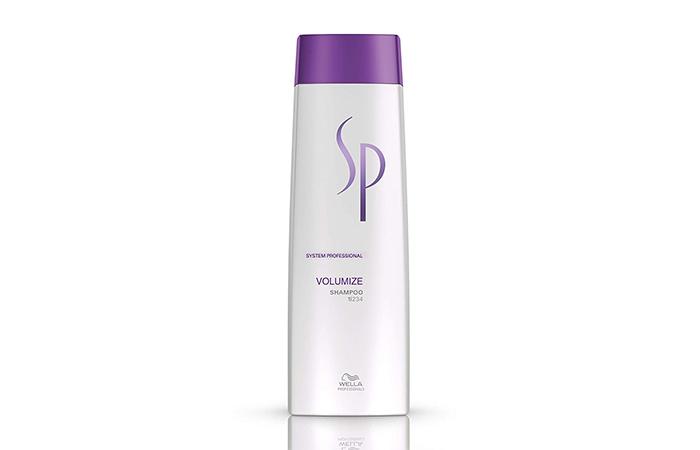 The Wella Professionals SP Volumize Shampoo is suitable for fine hair. The creatonic complex made of active substances consolidates the hair's natural ingredients and processes. The elastic polymers enhance hair elasticity and volumize the hair. This shampoo cleanses the hair without making it heavy. It strengthens the hair and makes it fuller and healthy.
Pros
Prevents buildup
Gentle formula
Volumizes the hair
Suitable for fine hair
Cons
None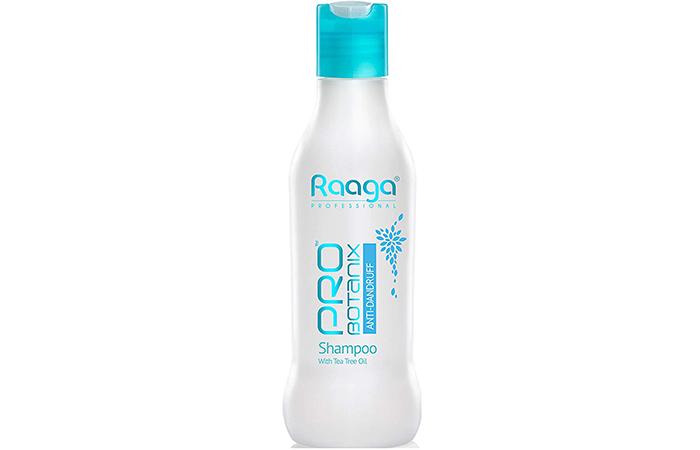 The Raaga Professional Pro Botanix Anti-Dandruff Shampoo contains triclosan, which is antibacterial and prevents bad odor. Tea tree oil and climbazole help remove dry skin and dandruff, while salicylic acid reduces scalp itchiness and dryness. Menthol soothes the scalp, and esters add shine to the hair. This shampoo protects the hair from further damage. It is unisex, non-sticky, and smoothens the hair.
Pros
Non-sticky
Eliminates dandruff
Makes the hair smooth
Cons
Not suitable for sensitive scalp.
KT Professional Kehairtherapy 3X Moisture Shampoo is formulated to cleanse and hydrate hair. The 3X moisture formula makes the hair healthy, soft, smooth, and silky. This shampoo is rich in antioxidants, Keratin, and Aloe vera, which helps to maintain the hair's overall health by strengthening it. It is suitable for all hair types. It has a floral scent and is color-safe as well.
Pros
Paraben-free
Sulfate-free
No sodium chloride
Cruelty-free
Color-safe
User-friendly bottle
Cons
Here are some tips for choosing a professional shampoo that is best suited for your hair.
How To Choose The Best Professional Shampoo
Hair Type: Professional shampoos are formulated according to various hair types. No single shampoo is versatile. Thus, know your hair type and pick a shampoo that is suitable for you. If you have fine, thin hair, pick a shampoo meant for this hair type. This will help nourish, volumize, and strengthen your hair. Likewise, a clarifying shampoo would be effective on oily and dandruff-prone scalp.
Ingredients: A professional shampoo usually contains natural ingredients that are safe and gentle on the hair. Look for one with honey, vitamins, and essential oils like argan, olive, tea tree, coconut oils. These natural elements do not harm the scalp or hair and help maintain their health.
Things To Avoid: Harsh chemicals can damage the hair, making it weak and lifeless. They strip the natural oils of your hair and make it brittle. Avoid shampoos that contain sulfates, parabens, and phthalates. Sulfates help create lather in shampoos, but they might cause scalp dryness and itching. Parabens and phthalates are used as preservatives to prevent bacteria and molds. But these ingredients can interfere with the hormones, causing various health issues.
Hair Issue: Most professional shampoos are tailored to address specific hair conditions. Hence, find a shampoo that will solve your hair issue. This makes your hair treatment better and more effective.
Professional shampoos are a good investment. They are tested and recommended by hair experts, are more effective than regular ones, and fetch better results. So, what are you waiting for? Grab your favorite product from our list of the 11 best professional shampoos and make the switch to day.

Recommended Articles
The following two tabs change content below.