15 Best Pull-Up Assist Bands To Buy Online For Your Workout (2023)
Level up your fitness routine with these essential bands and burn those extra fats.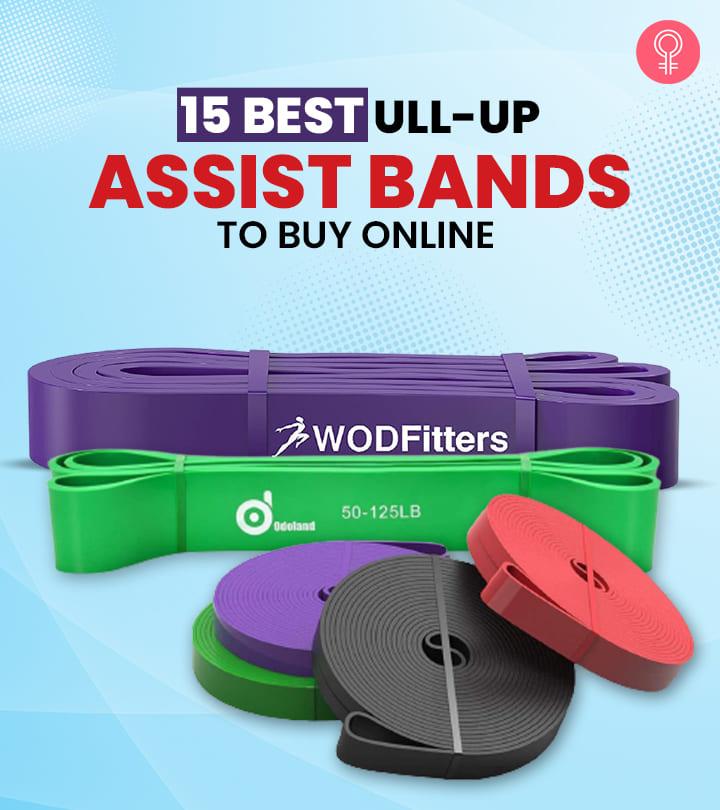 If you are a gym owner or a fitness enthusiast, you already know the benefits of the best pull-up assisted bands. It can be used to do many core exercises including regular pull-ups. Pull-ups are one of the best exercises that tone your back muscles and build your upper body strength. If you think it is too costly, then you are wrong. They are pocket-friendly, easy to use and provide great resistance that can level up your fitness game. if you are having trouble looking for the right one. Fret not. Take a look at our list of top 15 pull-ups that can help you burn those extra calories at home. Scroll down to know more!
Best Pull Up Assist Bands Available Right Now
Pick up the unisex WODFitters Pull Up Assistance Bandthat is exclusively designed for light stretches and movements for a perfect warmup routine. It provides 2-5 lbs resistance, making it ideal for beginners. This latex band forces your body to perform better and achieve long-lasting results. The orange band is 41″ long and made with layers of rubber ensuring maximum resilience and sturdiness. So, whether you're going for pull-ups, chins ups, bar muscle-ups, or ring dips, the WODFitters Pull-up Assistance Band will be the right choice for you.
Pros
Multifunctional
Made with high-quality latex
Sturdy body
Good for beginners
Eco-friendly
Offers long-lasting results
Cons
For a more heavy-duty full-body workout, go for the Odoland Pull up Assist Bands. These color-coded pull-up bands come in a pack of five with clear weight indications to help you achieve the most out of your exercise routine. You can even combine one or two different bands at a time to get more resistance while doing pull-ups. These bands are suitable for pull-ups, powerlifting, push-ups, barbell assist, and dumbbell assist. All bands are made of heavy-duty plastic to avoid easy breakage or tearing.
Apart from the resistance bands, you get two handles, one door anchor, and one bag to neatly carry these items.
Pros
Tough and versatile bands
Color-coded for different power levels
Storage bag included
Free e-guide booklet included
Cons
Carabiners don't fit all the bands
Smaller bands may break easily
Price at the time of publication: $29.99
Give more impact to your stretches with the Leakey Pull Up Assist Bands. These natural latex bands are strong, wear-resistant, and can withstand the extreme tensile force that helps you deepen your stretches. You can use them for multiple exercises, including strength training, basketball tension training, or even adding some resistance to squats.
The bands are color-coded and come in four resistance levels, with each color indicating a different resistance and width: Red (15-35 lbs), Black (25-65 lbs), and Purple (35-85 lbs). You get a detailed workout guide and a carry bag along with this package.
Pros
Durable
Stretchable
Color-coded
Do not irritate the skin
Cons
Price at the time of publication: $25.58
The Allvodes Pull Up Bands are the perfect bands for a full-body workout. They come with double-layered tubing to prevent them from snapping during exercise. These multifunctional, durable, versatile pull-up bands are suitable for a wide variety of exercises to strengthen your whole body.
In this set, you get five colorful pull-up bands, each corresponding to different resistance levels- Yellow (5-10 lbs), Red (15-30 lbs), Black (30-60 lbs), Purple (60-100 lbs), and Green (70-120 lbs). The bands are 89″ in length, and they can be used alone or combined to perform different workout challenges. Along with 5 pull-up bands of varying resistance, you get 1 door anchor, 1 band protective sleeve, 2 cushioned handles, 2 hook carabiners, 2 ankle straps, 1 waterproof carrying bag, and a user manual.
Pros
Double-layered
Multifunctional
Lightweight
Portable
Tear-resistant
Includes a waterproof carrying bag
Good for extreme workouts
Cons
Price at the time of publication: $27.99
The Canway Pull Up Bands are an easy-to-use and affordable set of four pull-up bands with different resistance levels. The bands are made with stretchable natural latex that can endure intense tension  without losing its elasticity, making them perfect for rehabilitation exercises. The four-color coded bands correspond to different resistance levels.
Among them, the red resistance band has a resistance of 15-35 lbs. It is perfect for speed barbell training, warm-up, stretching, and shoulder mobility exercise. Similarly, the black band (25-65lbs) is perfect for moderate resistance training, while purple (35-85lbs) goes well with pull-up assistance, heavyweight training, strong support in pull-ups, and other exercises. The green band can bear 50-125lbs of tension, making it suitable for pull-up assistance and advanced barbell training.
Pros
Easy to use
Economical
Suitable for both beginners and professionals
Vomes with a storage bag
Cons
Price at the time of publication: $31.92
The versatile JDDZ Sports Pull Up Bands are a perfect addition to your home gym. These bands are made from natural latex, which is highly breathable and super stretchable. This set consists of six color-coded resistance loop bands with different resistance levels ranging from 5-15lbs to 80-150lbs. They are suitable for beginners and professionals and can be incorporated in multiple exercise routines, including pre-workout stretching or mild strength training to intense pull-ups and bench presses. Each kit comes with a black carry bag and a user manual.
Pros
Beginner-friendly
Easy to wash
Breathable fabric
Stretchable
Includes a carry bag
Cons
None
Price at the time of publication: $33.11
The 4evershape Pull Up Assist Bands are perfect for professional athletes or people training to achieve a certain figure. These bands are extremely durable, maintain their form even after rigorous stretching, and can be layered or used individually as per your preference. In this set, you get 3 bands offering resistance from 15 lbs to 80lbs. With the 4evershape Pull Up Assist Bands, the user gets various resistance training options. The package comes with a storage bag so that you can carry these bands and work out anywhere – at home, in the gym, or at the office.
Pros
Lightweight
Portable
Flexible
Easy to use
Travel-friendly
Cons
The Power Guidance Pull-Up Assist Band is a durable premium exercise equipment ideal for light to medium mobility exercises. This black exercise band offers around 25-65lbs of resistance. With this band, you get a better range of motion, strength, and stimulation while exercising.
Pros
Easy to carry
Easy to store
Versatile
Builds strength
Improves mobility
Cons
Price at the time of publication: $33.99
Shaping and toning your arm is easy with this is black band from WOD Nation. Its offers 30 to 60lbs of resistance and is suitable for a beginner. You can use it for resistance exercises like bicep curls, squats, and overhead shoulder press. Or, add it to your bench press, deadlift, or squats to improve your timing. This assistance band is made with 100% natural rubber, which makes it durable and eco-friendly.
Pros
Made of 100% natural rubber
Good for beginners
Enhances muscle strength
Portable
Cons
Price at the time of publication: $16.98
These professional pull-ups assist bands by SUNPOW are perfect for both beginners and expert trainers. The sturdy bands are made with 100% natural latex, a thick and durable material that provides maximum elasticity and resistance.
It offers 5 different resistance levels and comes in 5 different colors – Green (5-30lbs) for barbell training and warm-up exercises, Blue (15-60lbs) for beginners level resistance training, Orange (35-110lbs) for moderate level resistance training, Red (50-135lbs) for heavy resistance weight training, and Purple (60-170lbs) suitable for pull-up assistance.
Pros
Made with 100% natural latex
Beginner-friendly
Economical
Lightweight
Portable
Cons
None
Price at the time of publication: $39.99
The highly stretchable and multipurpose Wsakoue Pull-Up Bands are suitable for multifunctional workouts. Their stretchable, durable latex body can withstand extreme pressure from intense Pilates or mobility exercises.
Each set comes with five bands with progressing resistance starting from 15lbs to 125lbs. These colorful bands are suitable for both beginners and experienced fitness enthusiasts. Crafted with double-layer latex, these bands are safe for sensitive skin.
Pros
Made with 100% natural latex
Multifunctional
Double-banded
Travel-friendly
Lifetime warranty
Cons
Price at the time of publication: $28.99
The four-level OlarHike Resistance Bands are designed to offer maximum comfort while exercising. You can use these natural latex bands to improve mobility and range of motion during your physical therapy sessions. The extra-wide foam handles offer a comfortable grip, while the durable band guard prevents pull-up loops from tearing. You can use these bands at the gym or at home.
This set comes with four color-coded bands – Green (50-125 lbs), Purple (35-85 lbs), Black (25-65 lbs), and Red (15-35 lbs) – that can be layered for more engagement.
Pros
Double-layered bands
Easy to use
Supports range of motion
Helps in muscle engagement
Cons
Price at the time of publication: $26.99
The durable, super-sturdy Bionic Flex Resistance Band is meant to get you in a mean shape without tearing or snapping mid-exercise. This durable polymer band, designed with Dual Layer Technology, supports both resistance and assistance exercises, making it perfect for a CrossFit routine. Its patented design makes this band lightweight and portable. You can use it for functional training, bodybuilding, mobility training, and body strengthening. This band in the shade Kryptonite Green offers 30 to 60lbs of resistance, which is ideal for medium intensity exercises.
Pros
Dual-layer body
Lightweight
Made with durable polymer
Comes with a carry case
Cons
Price at the time of publication: $14.86
TheFitLife Resistance Pull Up Bands come in a set of 4 and is an ideal option for fitness enthusiasts. This set of resistance bands can serve all your fitness needs, be it warm-up exercises, powerlifting, yoga, pilates, strength training, or rehabilitation exercises.
It is available in 4 different colors – Green (120-175lbs) to provide strong support; Purple (75-120lbs) for moderate fitness exercises like CrossFit, deadlift, agility training etc. and is suitable for those under 60kgs body weight; Black (50-75lbs) for medium stretching; and Red (15-35lbs) for low-resistance training. The package also includes one travel bag and one user guide.
Pros
Offers 4 different resistance levels
Includes a user manual
Comes with a travel bag
Good for heavy and low-resistance training
Cons
Price at the time of publication: $32.68
The Viking Strong Pull Up Bands offer extra resistance and long-lasting results for all the fitness enthusiasts. You get 5 different resistance levels to choose from – Red (10-35lbs), Black (30-60lbs), Purple (40-80 lbs), Green (50-125lbs), and Blue (65-175lbs). The bands are made with layers of good-quality rubber to provide maximum resilience and sturdiness.
Pros
Provides long-lasting results
Made with sturdy and durable material
Good for beginners and professionals
5 different resistance levels
Cons
None
Price at the time of publication: $14.95
This was our round-up of the 15 best pull-up assist bands. Check out the following section to learn about the benefits of pull-up assist bands.
What Are The Benefits Of Pull-Up Assist Bands?
Pull-up assistance bands are great workout equipment for a full-body workout. These bands can be helpful for strength training, stretching, and various other forms of exercise. Some other benefits of using pull-up assist bands are as follows:
Help To Perfect Your Form
Having the correct posture during an exercise is crucial for two reasons. Firstly, with incorrect posture, you will not reap the complete benefits of exercising, and secondly, there is a risk of injury. A pull-up assist band corrects your posture and teaches your body to grip, pull, and push the right way – thus bringing down the chances of injury.
Most of the time, you tend to stay hunched over a computer or phone. As a result, your back muscles become weak, and your posture worsens. Back exercises that strengthen your chest and core can counteract your incorrect posture and get you back into the right shape.  Adding pull-up assist bands strengthens both your lats and rhomboids, the two big muscle groups in your back, and increases the effectiveness of your back exercises.
Improve Your Daily Strength
Building muscle is key to living a long, healthy, independent life. With strong muscles, you can perform any activity. Using pull-up bands can help you accomplish both low and high resistance training, and it will improve your daily strength. It can also give you the extra boost you need when reaching for something on a high shelf.
Exercising with pull-up assist bands helps stabilize your muscles and improves your balance. When you do a band-assisted workout, you must balance your body on the band in addition to engaging your core to execute the move properly. Body stability is crucial because it keeps you from getting injured and provides support for the muscles that are actively working. Therefore, you can lift heavier weights and execute athletic moves with more power.
Resistance bands are highly versatile, and this means you can train at anytime, anywhere. Have you just woken up and in need of mobilization to start the day? Do you want to fight your food coma right at your workplace? Or do you want to do a full-body workout in the evening? Go for it! You can perform a variety of workouts at any time of the day, based on your specific requirements.
Before you purchase a pull-up band, you need to consider the following factors.
Things To Consider While Buying Pull-Up Assist Bands
The bands need to have a good resistance range. This way, you can pair different bands to give you a better workout and improve your strength.
Ensure the bands have solid elastic as they need to be stretched and improve resistance.
If you buy a single band, check the thickness and length of the band. Make sure it falls within the range of your daily workout.
Most bands are made with natural rubber latex, which makes them eco-friendly. It also doesn't hurt your skin.
Why Trust StyleCraze?
Aditi Naskar, the author of this article, is our resident fitness expert with a diploma in health and wellness. Pull-up exercises are one of the best workouts to tone your back muscles and build upper body strength. But the wrong resistance bands can ruin a good workout. Aditi recommends these resistance bands after hours of research and browsing through thousands of reviews.
Frequently Asked Questions
Should you buy a single band or a band set?
You should always buy a set of bands rather than going for one. A collection of resistance bands offers different resistance levels suitable for both beginners and professionals.
Can you use two resistance bands at the same time?
Yes, two resistance bands can be used simultaneously depending on the kind of exercises you're doing. However, it is not recommended for beginners.
Should you secure the band under your feet or your knee?
The band should always be secured tightly under your feet.
Besides pull-ups, what exercises can you use these bands for?
Resistance bands can be used for multifunctional training. They can be used for various exercises, like warm-up stretching, regular workout exercises, or advanced strength training.
How long should my assisted pull-up bands last?
Resistance bands can last from 6 months to almost 2 years, depending on their usage and quality.
How do you clean and maintain pull-up bands?
The easiest way to clean resistance bands is to run a wet washcloth over them.
Recommended Articles