Top 10 Pull-Up Assist Bands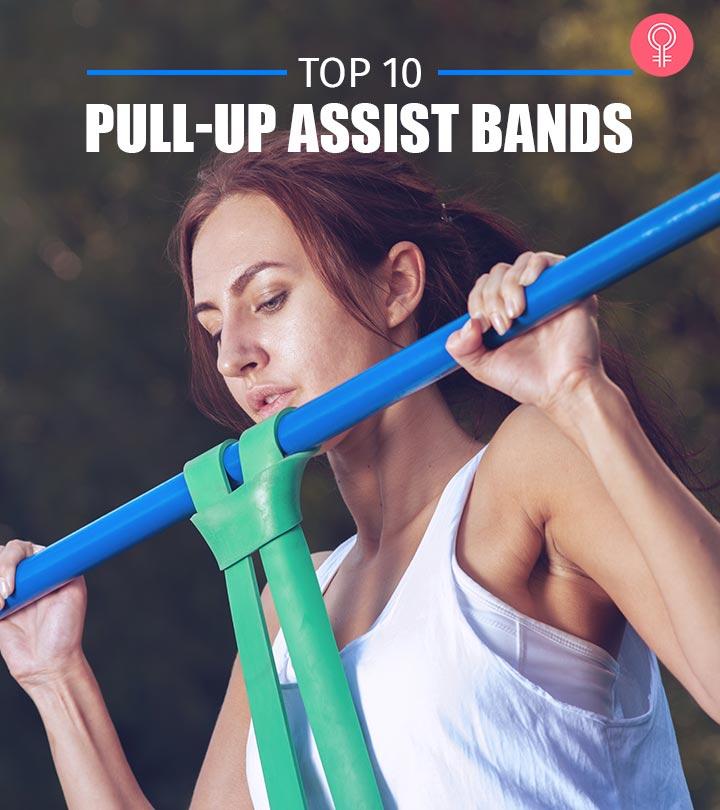 Pull-ups are one of the most effective exercises to help build muscles and strength in the upper body. If you have trouble with pull-ups, resistance bands can help. Pull-up bands help in the starting phase of the exercise. They help build strength and endurance and can also be used in other exercises. In this article, we have listed the 10 best pull-up assist bands. Read on to know more!
Top 10 Pull-Up Assist Bands
The Letsfit Resistance Bands come in five different strength levels: X-light, light, medium, heavy, and X-heavy. They can be used by beginners or seasoned sportspersons. Using loop resistance bands helps improve the effectiveness of your exercises. You can use these bands in a variety of workouts, from glutes to hip activation exercises and strength training to yoga. This resistance band can be used to exercise all the muscles, such as arms, chest, glutes, legs, and abdomen. It is also good for physical therapy, as it improves mobility. These bands can be easily carried around as they don't require much space. This set comes with instructions and a carry bag.
Pros
Made from 100% natural latex
Multifunctional
5 bands with color-coded resistance levels
Strengthens the muscles
Easy to carry around
Good for physical therapy
Good for strength training
Cons
May roll up easily.
Not suitable for those with latex allergies.
Flimsy
The Intey Pull-Up Assist Bands are extremely economical. They are made with 100% natural latex and come in a pack of four different sizes and weights: Red(2.6m, 35 lbs/15kg), Black(2.6m, 65lbs/29.48kg), Purple(3.1m, 85lbs/38.55kg), and Green(3.1m, 125lbs/56.69kg). These work on your arms, back, legs, and butt. They improve mobility and body resistance. They also help in physical therapy to strengthen torn ligaments and muscles. You can combine the bands to increase your workout challenge, test your limits, and increase your endurance and strength. This set comes along with a carry bag.
Pros
Multifunctional
Good for body resistance training
Good for physical therapy
Made of special natural latex
Tear-resistant
Cons
Packaging issues.
If kept together, the bands may fuse with each other.
This is a single red band that measures 1/2 inch wide, 4.5 mm thick, and 41 inches in length. It offers resistance from 10-35 lbs. If you want to workout your back and arms but are finding it difficult to do a pull-up, this assistance band can help. This band is a great beginner band for resistance exercises that range from bicep curls, squats, and even overhead shoulder press. You can also use this band to improve speed work using the bench press, deadlift, or squats. This assistance band is made with 100% natural rubber, which makes it durable and eco-friendly.
Pros
Made of 100% natural rubber
Good for beginners
Good for extreme workouts
Enhances muscles
Good for mobility training
Portable
Cons
The band may fray and snap.
The Draper's Pull Up Assistance Band can be used for pull-ups, physical therapy, rehabilitation, stretching, strength training, powerlifting, and other workouts. It is available in a range of resistances, from 2-200 lbs. The band is 41 inches long, which makes it easy to extend from the ground to far overhead without damaging it. It is made from high-quality latex material. This band can help in physical therapy for recovery from torn MCL, torn ACL, knee replacement, patella, and meniscus injuries.
Pros
Good for resistance training
Good for strength conditioning
Good for physical therapy
Easy to use at home and gym
Lightweight
Compact
Perfect length
Cons
May snap after limited uses.
The Odoland Pull up Assist Bands come in a pack of five bands. The five different colors and clear weight indications are for five different power levels – yellow: 5-15 lb, red:15-35 lb, black: 30-60 lb, purple:40-80 lb, and green: 50-125 lb. Use only one or two different bands at a time to get the power level you want while doing pull-ups. These bands are good for gym assistance, like pull-ups, powerlifting, push-ups, barbell assist, and dumbbell assist. They are also a good choice for daily workouts at home. The set comes with a lightweight bag. All bands are made of heavy-duty plastic material to avoid easy breakage or tearing.
Pros
Tough and versatile bands
5 bands with different power levels
Comes with a storage bag
Good for workouts
Good for strength training
Provides good resistance
Cons
The carabiners don't fit all the bands.
The smaller bands may break easily.
The Leekey Pull Up Resistance Bands are made from natural latex material, which is strong, wear-resistant, and can withstand extreme tensile force. You can train without any worries of wear and tear. These resistance bands work for anyone needing to stretch out those sore, achy muscles before and after a workout. You can use them to stretch out before deadlifts and squats. In addition to assisted pull-ups, these resistance bands can be used for multiple exercises, such as strength training, basketball tension training, warm-ups, and other workouts. You can use these bands at home for pull-up and dip assist, stretching, and even adding some resistance to squats. The bands come in four resistance levels, and each color has a different resistance and width for different purposes: Red (15-35 lbs), Black (25-65 lbs), and Purple (35-85 lbs).
Pros
Strong
Provide good resistance
Good for workouts
Easy to use at home or gym
Cons
This resistance band is engineered with an extra layer of polymer coating for reliable, long-lasting performance and protection against snaps and breaks. It is durable and gives maximum strength. It provides 30 to 60 pounds of resistance. This lightweight band can be used at the gym or home for light or extensive workouts. You can pair these bands to improve resistance performance.
Pros
Tough and versatile band
Good for workouts
Good for strength training
Provides good resistance
Cons
The Power Guidance Pull Up Assist Band is a premium-quality resistance band that is durable and built to last. It can be stretched repeatedly and is made from natural latex material. It is eco-friendly. Each exercise band offers a different level of resistance, for pull-up training, and to add resistance to bench press, squats, and Olympic lifts. Using this band results in a better range of motion, strength, and stimulation. This band also improves and promotes muscle growth and strength.
Pros
Easy to carry
Easy to store
Versatile
Good for at-home workouts
Build strength
Improve mobility
Cons
May snap easily.
The elastic may wear out after 2-3 months.
The OlarHike Resistance Bands come in a pack of four levels – Green (50-125 lbs), Purple (35-85 lbs), Black (25-65 lbs), and Red (15-35 lbs). They come with two foam handles that offer a comfortable grip. They also come with an extra band guard that prevents tearing. It also provides a soft, secure door anchor. The bands are made with 100% natural latex. Whether you are just starting out or are a seasoned professional, these bands can help improve and train the arms, back, shoulders, legs, and butt. You can use these bands at the gym or in the convenience of your house.
Pros
Well balanced
Good for resistance training
Good for strength training
Good for physical therapy
Easy to use at home and gym
Cons
Bands may break.
Handles may break.
May be moldy due to packaging issues.
The Viking String Pull Up Band comes in five levels and strengths: Red (10 to 35 pounds), Black (30 to 60 pounds), Purple (40 to 80 pounds), Green (50 to 125 pounds), and Blue (65 to 175 pounds). These bands can be employed in stretching, jumping, and other light exercises, including light weightlifting. They are also perfect for those who only need a slight push for their pull-ups. You can combine the bands and use them as well. It improves resistance, endurance, and strength. Start by pairing a thinner band with a larger band rather than two larger bands together.
Pros
Provides resistance
Improves workouts
Good for physical therapy
Cons
Before you purchase a pull-up band, you need to consider the following factors.
What To Look For When You Choose The Best Pull-Up Assist Bands
Resistance Range: The bands need to have a good resistance range. This way, you can pair different bands to give you a better workout and improve your strength.
Elasticity: Make sure the bands have strong elastic properties as they need to be stretched and improve resistance.
Thickness And Length: If you are buying a single band, check the thickness and length of the band. Make sure it falls within the range of your daily workout.
Material: Most bands are made with natural rubber latex, which makes them eco-friendly. It also doesn't hurt your skin.
These are the top 10 pull-up assistance bands. If you love a good workout, give these a try. The best part is they can amp up your daily exercise routine. They can also help improve strength, endurance, and resistance. Go ahead and pick one from the list and master those pull-ups.
Recommended Articles