10 Best Puma Running Shoes For Women (2022) + Buying Guide
Provide good cushioning to your feet during high-intensity activities with these shoes.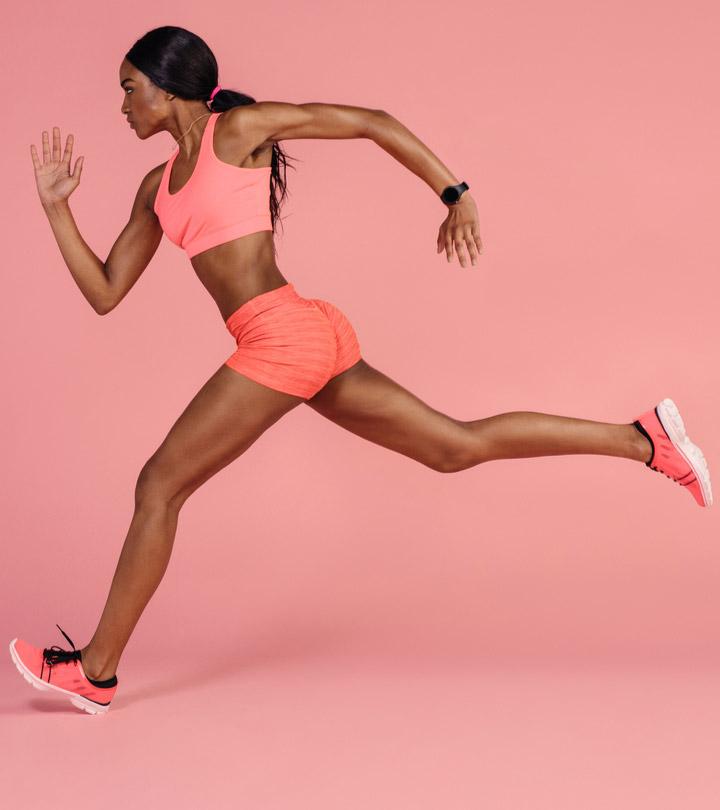 Every fitness enthusiast knows the importance of a good pair of footwear. And when it comes to sports and workout, there is no better option than the best PUMA running shoes. The brand offers high-quality footwear that are sturdy yet fits like socks on your feet. They are specifically designed to provide good traction and cushioning during high intensity activities like hiking, running, or training. These running shoes last long and ensure maximum comfort.
This German brand is dedicated to developing footwear that addresses specific concerns and allow everyone to stay active. Their frequent innovations make these shoes not just practical but also trendy enough to help you make a fashion statement. The best part about the running shoes manufactured by PUMA is that they are affordable and can be used by everyone. Their best feature included soft cushioning that makes the shoe lightweight and ensure the right amount of support to keep the user's feet in the right shape. Be it a marathon, or a more relaxed run around a few blocks in your locality – PUMA shoes are ideal for every physical activity. The breathable material of these advanced-engineered shoes keeps your feet dry for long hours. The following list consists of the PUMA running shoes that have the best reviews. Swipe up to read the details!
10 Best Puma Running Shoes For All Kinds Of Runners Under The Sun
These women's PUMA running shoes feature a carbon rubber durable outsole with flexible grooves that offer a good grip. Made of 100% synthetic fabric, the exterior of the shoes is banded with the logo placed on the lateral side. A hook-and-loop strap allows you to customize the fit according to your feet. The cushioned midsole gives you comfort that allows freedom of movement for avid runners in this sleek and geometric design.
Pros
 Available in 3 colors
 Easy to wear and remove
 Offers good traction
 Cushioned midsole
 Comfortable
 Velcro strap closure
Cons
These pink PUMA running shoes enhance your physical performance with the EVA midsole. Additionally, the unique Cell Technology is utilized for comfort, cushioning, and style. Not only does the CELL heel unit give you stable cushioning, the rubber outsole works to better your traction for long-lasting movement. With the lace closure, the correct fit can be ensured and there's an extended lockdown present at the hybrid midsole.
Pros
 Available in 3 colors
 Offers stable cushioning
 Provides good traction
 Lace closure
 Lightweight design
Cons
 Might not provide arch support
Streamlined and sleek in design, these black PUMA running shoes feature a midfoot saddle, TPU shank, and inner cushion for balance. The outer layer is made of synthetic leather perforated to allow your feet to breathe. A stable base is obtained by the heel cap while the rubber sole allows you a solid grip on any terrain. To absorb impact, you can rely on the EVA-molded heel along with a sock liner that adds to softness inside.
Pros
 Inner comfortable cushioning and sock liner for comfort
 Breathable synthetic leather upper
 Solid grip
 Absorbs impact
 Offers stability
Cons
 Some may find the shoes to be inflexible
With these PUMA women's athletic shoes, an integrated 10CELL piece is incorporated in the heel with a cell-like structure to help with stability. The exterior of this shoe is constructed with a bold collar silhouette and large logo branding on the side. Alternative collar heights add a chic look to these lightweight PUMA running shoes while the gore piece helps with ease of wearing and removal. To maintain your traction, rubber in the outsole comes into play whereas the full-length and sculpted EVA offers comfort.
Pros
 Available in 8 colors
 Aids stability
 Easy to wear and remove
 Offers good traction
 Lightweight
Cons
 Might not be ideal for people looking for arch support
To increase your range of motion, these PUMA soft foam running shoes feature a lightweight mesh exterior and synthetic overlays. This allows for breathability, so your feet don't feel stuffy while you run. The Ignite midsole keeps your foot cushioned while the molded EVA sockliner adds extra softness. For increased flexibility, Forefoot flex grooves are constructed into the shoe and the ForEverFoam heel design gives height and support.
Pros
 Breathable mesh upper
 Cushioned midsole
 Molded sockliner
 Increases flexibility
 Supports heel and adds height
 Available in 2 colors
Cons
 Might not have enough toe room for wider feet
Available in 9 colors, these PUMA marathon shoes combine a toe rubber with a zoned heel for outsole traction to support you through physical training. The softest of PUMA's foams is embedded in the insole and your feet will feel optimal comfort even during high-intensity movement. With the bootie construction, these shoes are easy to slip into and out of aided by the tab at the back. The lace caging system adds to the appeal of this footwear, which sets you apart along with the bold side logo.
Pros
 Available in 9 colors
 Toe rubber
 Zoned rubber heel outpods
 Softfoam-infused insole
 Easy wearing and removal
Cons
 Can't be adjusted to fit better
A breathable mesh exterior made of suede combines with leather overlays to give you a chunky sneaker. These PUMA mesh running shoes feature an eyelet design and some unique lacing structure, setting you apart from the crowd. With PUMA Cell Technology, you can avail soft cushioning both at the midsole and the heel which also increases stability. The translucent rear pod at the sole gives a futuristic look to these cute PUMA running shoes and will definitely attract attention.
Pros
 Available in 2 colors
 Breathable footwear
 Midsole and heel cushioning
 Increased stability
 Bright colors
 Unique lace design
Cons
PUMA's foam heel meets a progressive design detail in the Axelion and allows you to run for long durations. These PUMA stability running shoes offer a supportive fit owing to the shoelaces that run down the sides of your feet. Optimum motion control through the midfoot and heel is provided by the TPU shank while the durable rubber outsole gives great anti-slip ability. In all the 8 colors of these classic PUMA running shoes, the solids are accentuated with brighter hues for a style statement.
Pros
 Foam heel
 Supportive fit
 Available in 8 colors
 Anti-slip rubber sole
 Lightweight
 Provides motion control
Cons
 Some may find the arch to be uncomfortable
Featuring knitted technology, these PUMA jogging shoes contain foam in the heel to keep it cushioned for all-day comfort. To secure both the toe caps and the heels, a molded rubber heel clip is fixed, which also gives you controlled motion. The rubber sole keeps you stable while you're running wild and free and keeps you from slipping and injuring yourself. With 3 color options, these PUMA lightweight shoes make for a great addition to your shoe collection.
Pros
 Available in 3 colors
 Anti-slip rubber sole
 Cushioned heel
 Rubber heel clip at toes
 Lightweight
 Offer good arch support
Cons
 Some might find it a bit stuffy
These PUMA classic running shoes have a thick rubber coverage on the outsole for excellent traction. With nylon fabric on the exterior, the clamshell construction of the shoe gives a modern look. A closed and round toe coupled with the looped heel tab provides ease of wearing and removal. Webbing loops keep the laces locked down during movement, so you can run however long you like. The footbed of these PUMA long distance running shoes has a cushioning of memory foam and the midsole features a TPU jewel structure for a unique look.
Pros
 Thick rubber outsole
 Easy to wear and remove
 Secure shoelaces
 Memory foam cushion
 Offered in 2 accents
 Lightweight
Cons
 Some may find the sole slightly heavy
Now that we've seen some of the best PUMA running shoes, it's time to dive into how you can choose the right one for your next run.
How To Choose The Right PUMA Shoes For Running
Comfort can be described as just the right levels of cushioning and support. Runners that are training for marathons or run long distances on the regular need to have comfortable shoes. Memory foam cushions with sock liners can help add softness, making movement easy.
Additionally, the breathability of your shoes can also maximize the comfort factor. Synthetic mesh uppers are the best for this while perforated exteriors allow air flow and hence superior ventilation. This is an important feature regardless of the weather as your feet won't like overheating during your runs. Some PUMA shoes can be quite narrow in design. If you have wider feet, you would need to do a trial in advance to check if you feel comfortable or not.
No one likes to use their shoes once or twice and discard them. The reason we invest into world-renowned brands is so the items last us a long, long time. Even with PUMA's shoes, consider what fabric you're getting and how easy it is to keep clean. If you find maintenance a chore, you can select some of their hardy designs that might not offer much in terms of breathability or might not be lightweight. Keep in mind that PUMA shoes can not be thrown in your washing machine to be washed or dried.
Runners need shoes that not only support their feet optimally but also reduce the impact of the shock that comes with every single step. The right heel drop rate and design can contribute to good support as well. Lower drop rate is ideal because it means the impact is also less along with reduced fatigue and increased post-workout recovery.
Why Trust StyleCraze?
The author of this article, Priyam Gupta, is a fashion enthusiast who has curated this list featuring the best PUMA running shoes for women. She has carefully browsed through several user reviews to include these sturdy and high-quality shoes which have been designed to provide good traction. These shoes have soft cushioning that makes them lightweight and gives the right amount of support to the runners.
Frequently Asked Questions
Are PUMA running shoes good for overpronation?
Some PUMA running shoes have a soft midsole cushion that can help with overpronation.
Do PUMA shoes have good arch support?
Not all PUMA shoes have arch support but use their ArchTec mechanism to help with the same.
Recommended Articles: