11 Best Pumping Bras For Spectra With Hands-Free Option – 2023 Reviews
Must-have lingerie for easy nursing during hectic postpartum days.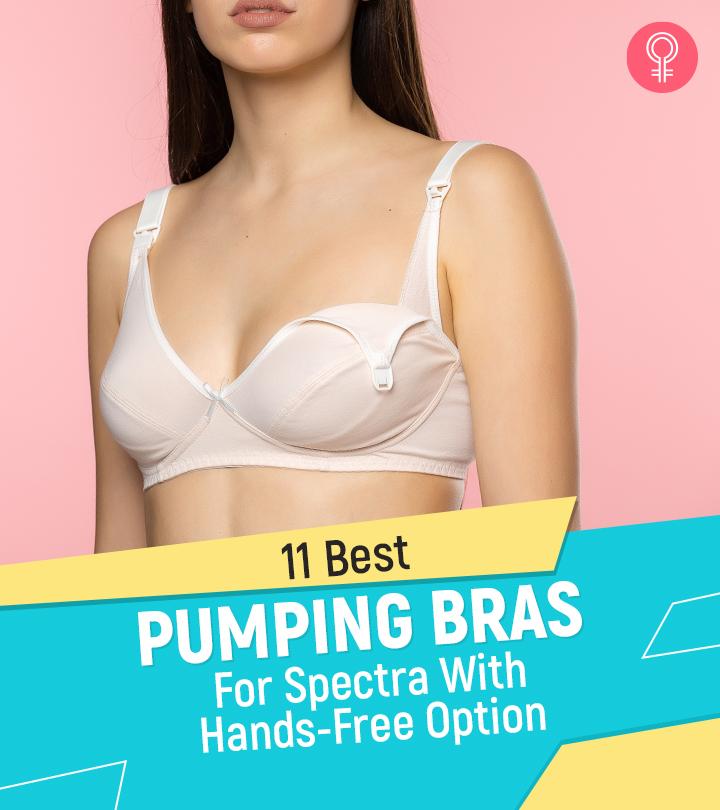 Being a mother is not easy, especially if you have a full-time job! New moms need to tackle their nursing schedules and ensure their babies are well-fed. For mothers who have no choice but to multitask, the best pumping bras for spectra can help them pump milk for their babies while taking care of their professional endeavors.
These bras can be used with an electric or traditional pumping machine, simultaneously pumping milk from both breasts. To make it easier for mommies worldwide, we have curated a list of the best hands-free pumping bras for spectra. But before we begin, let's know more about a breast pump bra and how it is different from a regular nursing bra. Scroll down to take a look!
What Is A Breast Pump Bra?
A breast pump bra or a hands-free pumping bra can securely hold your breasts during breastfeeding, nursing, or pumping out milk for your baby. These bras allow you to multitask, leaving your hands free to carry on with your daily chores or take care of your child's urgent needs. A breast pump bra has small slits around the sides or nipples for a smooth breast pumping session, making it suitable for busier mothers.
Read on to understand more about the subtle differences between breast pump bras and nursing bras.
How Does It Work Differently Than A Nursing Bra?
A nursing bra is only used for breastfeeding – it does not allow attaching pumps or pump bottles for hands-free pumping. Most nursing bras have similar designs that comprise nursing-friendly clips on the breast cups to help you unclip the bra and nurse your child. On the other hand, a breast pump or a pumping bra enables you to attach your breast pumps and pump milk for your little one while carrying out your daily chores. This bra saves time, and you can also use it as a nursing bra to feed your baby.
For spectra pumps, you should only use pumping bras with specific characteristics. Take a look at some reasons you should consider purchasing spectra-specific pumping bras.
Why Should You Use Spectra-Specific Pumping Bras?
Spectra-specific pumping bras make pumping quicker, easier, and more effective. A spectra pump bra can make your breasts feel secure while pumping and does not allow any leakage. Moreover, it facilitates hassle-free pumping. You can easily unclip the bras, attach your pumping bottle, or detach them whenever needed. The best hands-free pumping bras for spectra are made of buttery soft material that does not dig into your shoulders or cause pain while you feed your child.
Without further ado, let's look at our top picks of the pumping bras for spectra.
11 Comfortable And Supportive Hands-Free Pumping Bras For Spectra
Pros
Breathable fabric
Moisture-wicking material
Skin-friendly material
Adjustable shoulder straps
Prevents milk leakage
Comfortable wear
Cons
Can be difficult to take off
The Simple Wishes Hands Free Pumping Bra is made of buttery soft material that keeps you comfortable all day long. The chemical-free Oeko-Tex certified fabric is skin-friendly and does not irritate your child. This is one of the best pumping bras for spectra because you can feed your baby discreetly with the help of its adjustable straps and athletic-inspired band. With its freedom of movement and customizable fit, it ensures maximum comfort and support throughout the day. Many reviews on online forums indicate that it can also hold heavy bottles without making you feel uncomfortable. Truly hands-free, this bra can be used for traditional and electric breast pumps available on the market. Keicia Shanta, a fashion expert, says, "Feed your baby discreetly with the amazing Simple Wishes hands free pumping bra. I love the hands-free feature and non-irritating feature. It also has adjustable straps that can hold different bottle sizes."
Pros
Chemical-free material
Adjustable straps
Athletic-inspired band
Holds heavy bottles
Cons
None

The Pump Strap Hands-Free Pumping Bra features a hook and loop velcro closure that makes it easier to pump milk. This spectra pumping bra can be used for breastfeeding and nursing your little one in peace. It changes according to the needs of your body during the postpartum period. The no-spill design and leak-proof seal guarantee a mess-free pumping experience. Along with spectra, this bra is compatible with single and double pumps from other brands, including Medela, Ameda, and Lanisoh. This bra also increases the milk supply output with the help of gentle pressure on the milk gland. Its strong fit prevents leakage and keeps your favorite dresses from getting soiled.
Pros
Fully adjustable shoulder straps
Provides gentle compression
Anti-leakage fabric
Easy to use
True to sizes
Cons
None
The PumpEase Hands-Free Pumping Bra is durable, comfortable, and cozy. If you are a new mother, this bra can help feed your baby without hassle. It maintains its fit even when your breast size changes. This bra features an easy front hook closure that does not damage your clothes. It is easy to assemble and allows for enhanced milk flow. It can accommodate every traditional or electric pumping bottle. This bra helps maximize milk output without constricting the breast tissues. The fabric is machine washable and has moisture-wicking properties that prevent leakage. It also offers the ultimate loungewear comfort.  Keicia Shanta, a fashion expert, adds, "This hands free pumping bra has an easy front hook closure. It is compatible with traditional pumping bottles, has a sleek strapless design, and is moisture wicking."
Pros
Moisture-wicking fabric
Easy front hook closure
True to size
Strapless design
Durable material
Machine washable
Cons
None
The Rumina Racerback Hands-Free Pump & Nursing Bra is a blend of cotton and spandex that keeps new mommies cozy and comfortable throughout the day. It is specially designed for working mothers who relentlessly juggle home and work. It makes pumping quick, easy, and secured with the help of its stretchable fit. The racerback design supports your breasts more than regular brassieres. The wireless cups expand and support your changing breast size during postpartum and make bra fitting comfortable. The pullover-back design adds to your comfort and style! This bra is one of the best hands-free pumping bras for spectra S1 and S2.
Pros
Lightweight fabric
True to size
Easy pumping
Stretchable fabric
Racerback design
Wireless cups
Pullover-back design
Supports small to medium breast sizes
Cons
Might be suffocating for bigger breasts
If you are searching for suitable bras with F cups and above, the Kindred Bravely Sublime Hands-Free Pumping Bra is the right fit for you! This bra is made for nursing and pumping mothers that allow hands-free pumping with unobstructed milk flow. The innovative easy-clip system features two clips for pumping and nursing. This bra comes with true-to-size bands that snugly fit your breasts and enables you to feed your baby in peace. It comes with slightly wider shoulder straps for suitable weight distribution and a tighter knit to offer better support for larger breasts. It's versatile for everyday use and the anti-slip straps ensure it stays in place all day long. However, if you want a looser fit, it is better to size up.
Pros
Lightweight material
Suitable for large breasts
Easy-clip system
Wide shoulder straps
Snug fit
True to size
Cons
The Bravado Designs Hands-Free Pumping Bra acts as a supportive lingerie and offers adequate comfort to mothers who multitask throughout the day. It enables quick and easy bottle insertion and supports optimal suction while keeping your bottles perfectly upright. Therefore, you do not need to worry about spilling milk on your clothes! This bra comes with standard pump flanges compatible with every breast pump. The eco-soft fabric is a blend of natural fibers, organic cotton, and TENCELTM modal known for better breathability, pill resistance, and stretch recovery. This spectra nursing bra sits softly on your skin and does not irritate your baby while you feed them. Reviewers have noted that the bra is easy to wear but users need to purchase a larger size than usual.
Pros
Breathable fabric
Pill-resistant material
Allows optimal suction
Hook and eye closure
Machine washable
Suitable for every breast size
Cons
Might not be true to size
The iloveSIA Nursing & Pumping Bra is easier for accessing hands-free pumping! You can unclip and drop down the outer layer of the bra while pumping milk or breastfeeding. This spectra breast pump bra comes with a seamless, wire-free design that offers a comfortable fit. The molded cups can be removed at your convenience. The breathable mesh design offers excellent ventilation to your breasts. You can use this bra to hold your pumps securely. The stretchable under-band provides good support to your breasts. Many online reviewers have noticed that the under-band can also prevent unwanted breast sagging during your postpartum journey.
Pros
Breathable mesh design
Wire-free design
Removable molded cups
Easy to use
Seamless under-band
Prevents sagging
Cons
The Momcozy Seamless Pumping Bra provides immense support to the breasts while new moms concentrate on pumping milk. Its anti-slippery, protected design makes it easier for mothers to carry out their daily chores and pump milk effectively. The fully adjustable shoulder strap helps hold the bottles securely and keep them in place. The material is a blend of nylon and spandex that does not dig on your shoulders. You can open and close the breastfeeding clip without any hassle. Also, this bra features two soft nursing pads attached to the fabric to prevent milk leakage. This bra design supports Spectra, Medela, Lansinoh, Bellebaby, Philips Avent, and Willow.
Pros
Prevents leakage
Adjustable shoulder straps
Anti-slippery design
Breathable material
Soft nursing pads
Easy to put on and off
Cons
Not for small breast sizes
The Truly Hands-Free Pumping Bra should be your go-to as a working mom! The bottle-holding sling design helps you continue your professional endeavors without losing suction. The adjustable shoulder straps can hold the increasing milk load without leakage. Made from hypoallergenic materials, this pumping bra offers all-day comfort and is odor-resistant, ensuring a pleasant and hygienic experience. This pumping bra for spectra also comes with a semi-transparent pump carrier bag that allows you to carry the portable pump while moving around. This maternity lingerie can fully adjust to changes in your breast during your postpartum journey. It provides extra hold on the breast shields and avoids loss of suction.
Pros
Elegant design
Comfortable cups
No leakage
Provides extra hold
Adjustable shoulder straps
Bottle-holding sling design
Cons
None
The Pumpkin Pump Hands-Free Pumping Bra comes with a two-way nursing design that saves your precious time. This pumping bra for spectra is made with cotton and spandex that keeps your breasts comfortable throughout the day. The adjustable back closure provides a secure and reliable fit. The low-cut V-neck design offers great support and good shape to your breasts. This pumping bra comes with a wide band for extra back support and fits snugly throughout the day.
Pros
Adjustable straps
Anti-slipping material
Machine washable
Great back support
Snug fit
Low-cut V-neck design
Cons
Not suitable for large chests
Now that you have browsed through the list of the best pumping bras for spectra, take a look at the factors that you should consider while purchasing one.
How To Pick A Hands-Free Pumping Bra For Spectra: What Should I Look For?
Size: You should keep your size in mind while purchasing the best pumping bra. It is essential to be comfortable and keep your breasts away from suffocation. Many hands-free pumping bras for spectra come with adjustable shoulder straps that help you regulate the size. Your breast size can change during your postpartum period. Before purchasing bras, conduct a fit assessment to choose the ideal ones. Pick pumping bras that can easily stretch and are not too tight on your breasts is the right way to go.
Leakage Protection: Many spectra pumping bras come with leakage protection that helps you avoid milk spillage. A leak-protected bra can save your dresses from getting damaged or help you keep your pumping, nursing, and breastfeeding session mess-free.
Fabric: You should not worry about tight bras or your milk ducts getting blocked due to excessive suffocation. The material you choose for your spectra nursing bra should keep your breast shields in the proper order while being stretchable. Also, conduct a fabric testing before choosing the best spectra pump bra. Remember that the material should feel soft on your skin and resist milk stains.
Pump Compatibility: Every pumping bra cannot accommodate spectra, so it is important to look for a bra that can easily fit the spectra pumps. You can also opt for pumping bras that have a universal design and are ideal for every pumping bottle.
Choosing the best pumping bras for spectra can be tricky. Check out simple tips on using spectra S1 and S2 pumps in the next section.
How To Utilize Spectra S1 & S2 Pumps – Tips
If you are a new mommy, spectra S1 and S2 pumps can be a little difficult to operate. If you are unaware of the two divisions of spectra – the spectra S1 pumps are rechargeable while S2 is not. Spectra S1 costs more than spectra S2. Also, S2 pumps are smaller than the S1 pumps. However, mothers worldwide choose between these two types of pumps according to their needs, usage, and budget.
Assemble the backflow protector.
Attach the tubing to the pump.
Attach the open end of the tubing to the backflow protector that has been assembled.
Prepare the breast shield, bottle, and duckbill valve.
Attach the breast shield to the backflow protector.
Once the milk starts flowing, switch to 'expression mode' in the pump.
Pump for at least 15 to 20 minutes.
While pumping milk, you can increase the vacuum level if you feel that the suction is not strong enough. However, remember that the vacuum level must not be painful or suffocating for your breasts. So, decrease the vacuum level if you feel uncomfortable or experience pain during pumping.
Why Trust StyleCraze?
Srijani Roy Chowdhury is a certified style and image consultant who loves keeping a check on new products. She has browsed through several pumping bras online to curate this list of the best hands-free pumping bras for spectra. Her list comprises bras made with comfortable material, which will not compromise your child's privacy, security, and safety. With the help of these bras, you can carry on with your daily chores and attend to your baby's needs.
Frequently Asked Questions
How many pumping bras do I need?
You can keep two or three pumping bras for spectra as per your requirements. Keeping two to three bras is essential because you might need one while another is being washed after use.
Can I use a regular bra with my spectra pump?
No, you cannot use a regular bra with a spectra pump. Regular bras cannot accommodate the design of spectra pumps. Moreover, while pumping, you might need support from your bra, which regular bras do not provide.
Why do medela pumping bras not work with spectra pumps?
Medela pumps are smaller, while spectra's shields are larger. Therefore,  medela pumping bras will not work with spectra pumps.
Is spectra or medela better?
It depends on your style of pumping. While medela gets the job done, spectra is more efficient and comes with better features.
How long should you pump with spectra?
It is recommended to pump for 15 to 20 minutes. However, you should avoid pumping for more than 20 minutes, as it can result in breast pains.