The 13 Best Purple Conditioners For Blonde Hair – 2023
Preserve the color and quality of your bleached tresses with these neutralizing conditioners.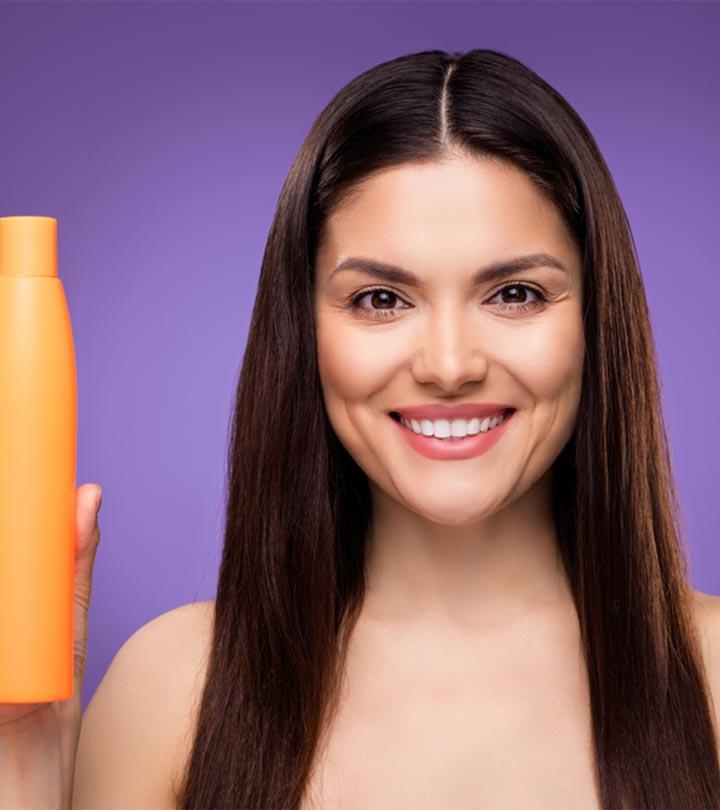 Blonde hair is not the easiest type of hair to care for. Since it is such a light shade, using the wrong shampoo and conditioner can make it look brassy. The best purple conditioner will help your blonde, platinum, and highlighted shades look their best. You won't have to fret about your hair looking like it's orange or changing its color. Purple shampoos and conditioners work well on naturally blonder hair as well as on dyed hair and can help preserve the health and color of your tresses. So to make things easier for you, we have decided to narrow down the list of purple conditioners and bring you the best.
What Does A Purple Conditioner Do?
Purple conditioners work on color theory wherein a shade opposite to that of the discoloration is used in combating it. As blonde hair shades can quickly darken due to product build-up or damage due to heat and sun exposure, they can turn a shade of orange, yellow, or both. This gives the hair a dull and lifeless look while making the strands dry. As purple and violet are on the opposite spectrum of yellow and orange on the color wheel, blonde hair with these warm tones can be brought back to life with ultra-violet pigments. Additionally, they work as regular conditioners that soften, repair, and brighten hair to make it more manageable.
13 Best Purple Conditioners To Maintain Blonde Hair
Neutralizing brassy and yellow tones along with protecting your color is exactly what this L'Oreal Paris purple hair conditioner does. As color-treated hair needs to be cared for with extra attention, this hibiscus and purple dye-infused formula keeps your strands moisturized. Blonde, bleached, highlighted, silver, or platinum hair will get brighter and nourished with the L'Oreal EverPure purple conditioner. Watch this video to learn about a tester's experience with using the product.
Pros
Vegan
Sulfate-free
Paraben-free
Neutralizes brass and yellowness
Ideal for color-treated hair
Free of harsh salts and surfactants
Cons
Some may find the scent to be too strong
Price at the time of publication: $7.97
No matter what shade of blonde you sport, John Freida's deep purple conditioner has got you covered. With the help of crushed violet pigments, this formula works to restore and moisturize blonde locks by knocking out stubborn brassy tones. A single wash is going to give you that fresh 'just-out-of-the-salon' look! Now, both natural and color-treated blond hair can shine bright. Have a look at this video detailing a reviewer's experience with using the product.
Pros
Ideal for all shades of blonde hair
Neutralizes brassy tones
Moisturizing formula
Brightens hair
Ammonia-free
Peroxide-free
Cons
The dye in the conditioner might leave stains
Price at the time of publication: $9.11
The Redken purple conditioner conditions and tones blonde and highlighted hair by getting rid of brassiness. Enriched with citric acid and a Triple Acid Protein Complex, your hair is strengthened and repaired from the root. Violet or purple pigments are present that leave color-treated hair cooler and brighter with all orange tones neutralized. Redken's purple conditioner-toner is all you need to nourish, detangle, and protect your blonde or brown highlighted hair!
Pros
Protects color
Moisturizes hair
Helps detangle hair
Strengthens hair from the root
Neutralizes brassiness
pH-balanced formula
Cons
Some may find it slightly greasy
Price at the time of publication: $24
To preserve the vibrant nature of blonde hair, Joico's surface purple conditioner removes unwanted brassiness. Its color-correcting formula is suitable for keeping icy and cool hues alive while also moisturizing and detangling strands. A blend of UV absorbers, green tea extracts, and antioxidants in the formula repair and protect hair for optimum health. Additionally, the SmartRelease Technology delivers liposomes that release rosehip oil, arginine, and keratin to keep your hair protected from the negative effects of heat styling. Increasing the shine and manageability of your hair, Joico's generic purple conditioner also makes hair easy to style.
Pros
Protects and strengthens hair
Adds shine and moisture
Detangles and repairs hair
Makes hair easy to style
Paraben-free
Removes brassiness
Cons
Some may find the pigment to be mild
Price at the time of publication: $47.5
To tone down pesky orange or yellow tones, Bold Uniq's vegan purple conditioner formula uses violet pigments. Your dry and damaged hair is also revived with a moisture boost that transforms strands to become soft and silky. Using this allergen-free conditioner on dry hair can help reduce frizz, repair split ends, and detangle. The oil-rich formula deeply nourishes hair for salon-like shine and vibrancy that you won't be able to get enough of!
Pros
Vegan
Cruelty-free
Paraben-free
Phthalate-free
Free of formaldehyde, sulfates, and mineral oils
Made with ethically-sourced ingredients
Cons
Some might find the scent overwhelming
Price at the time of publication: $21.99
A good purple conditioner like this one by Pureology is ideal for icy platinum or bleached hair. The creamy formula gets rid of brassy hues from lightened hair while also strengthening it from further damage. For this, the plant-based protein keravis comes into play and antioxidant astaxanthin helps to repair and heal. For a natural violet tone, bright purple orchid provides color and also softens while the antifade complex protects color. Finally, a fruity pear and floral rose combine for a fragrance that ends with sandalwood. We're certain the Pureology purple conditioner will fetch your blonde color-treated hair lots of compliments! To make an informed decision before buying, you can check out this video featuring a tester's experience of using it.
Pros
Vegan
Smooths hair and adds shine
Strengthens strands and repairs damage
Protects color
Nourishes hair
Sulfate-free
Cons
Price at the time of publication: $35
Get Back Gorgeous' purple toner-conditioner is packed with antioxidant-rich burdock root extract, clarifying lemon peel, calming mallow flower, and strengthening horsetail extract to offer restorative care and improve your hair's health. These moisturizing organic extracts are aided by plant-derived glycerin that hydrates and locks in moisture to reduce split ends and breakage. With the help of natural cationic polymers and conditioners, a protective barrier is created that relaxes your overstressed mane. After just a few uses of this purple conditioner for blonde hair, you will definitely notice your tresses becoming shinier, silkier, and stronger with no brassiness.
Pros
Reduces frizz and split ends
Provides anti-breakage benefits
Protects against thermal damage
Contains organic and plant-derived ingredients
Works for all shades of blonde, silver, or grey hair
Cruelty-free
Provides UV protection
Cons
Might need to use a generous amount to see results
Price at the time of publication: $19.95
Ethique's natural purple conditioner will have you bidding farewell to brassiness in no time! Made without any petroleum-derived dyes, this product gently tones your hair. Enriched with jasmine oil, your strands receive deep nourishment that will make them soft-to-the-touch and super silky. The addition of coconut oil, cocoa butter, vitamin B5, and beetroot extract provides immense strength and protection as well. Ethique's organic purple conditioner also turns the brightness up on your locks, making you look like you just got a professional treatment. This conditioner has garnered multiple positive user reviews who praise its efficacy in managing the tresses well!
Pros
Free of silicone and petroleum-derived dyes
Contains moisturizing and strengthening ingredients
Environmental-friendly packaging
Compostable packaging
Cruelty-free
Vegan
Certified palm oil-free
Cons
Might leave purple stains in the shower
Price at the time of publication: $16.46
With the help of violet pigments, Luseta's purple conditioner for blondes helps reveal your mane's true tone. Brassy and yellow tones are effectively eliminated while moisture is successfully locked in. Even if your strands are color-treated, they'll be left soft and brighter than before! To repair brittle hair and split ends, coconut extract does a great job and vitamin E repairs hair follicles to aid in hair growth. Quinoa seed extract protects and strengthens your hair shaft while biotin and keratin supply nutrients for truly healthy hair. Toning hair with purple conditioner can render it glossy and photo-ready.
Pros
Free of sulfates, parabens, and phosphate
Non-irritating formula
Neutralizes brassy hues in blonde and grey hair
Hydrates dry hair
Aids hair growth
Gives a glossy finish
Locks in moisture
Cons
Some may find that it weighs down on hair
Price at the time of publication: $18.99
ArtNaturals brings to you what is perhaps the best purple conditioner for blondes with a powerful combination of vitamin E and coconut oil. These elements coat each strand with moisture and strengthen it to protect it from damage from heat or dust. Fading hair is revived with this formula that utilizes purple pigments to make silver or blonde hair shine bright with the brassiness banished. With split ends repaired and your hair's bounce restored, what else could you ask for?
Pros
Nourishes hair
Protects hair from heat and pollution
Adds moisture
Gives hair a smooth texture and shine
Sulfate-free
Paraben-free
Cruelty-free
Vegan
Cons
Might leave behind purple streaks
Price at the time of publication: $11.95
The Kristin Ess Hair makes at-home toning and intensive conditioning super easy for blondes that struggle with unwanted brassy hues. As color-treated hair can be prone to breakage and dullness, this moisture-locking formula adds a deep level of hydration. With ingredients like glycerin, keratin, and pea protein, the strength and vitality of your locks is guaranteed with this color-enhancing conditioner for brassy hair. As the final step in your hair care regimen, The One Purple Conditioner will give you a shiny-looking mane that won't fail to impress.
Pros
Cruelty-free
Sulfate-free
Paraben-free
Phthalate-free
Moisturizes hair
Neutralizes brassy tones
Cons
Some may find the fragrance to be overbearing
Price at the time of publication: $12
Framesi's purple leave-in conditioner has a creamy consistency that boosts blonde hair's manageability. It helps keep grey and blonde hair cool-toned, healthy, soft, and offers long-lasting color. The formula delivers moisture, repairs, and restores your locks, so they can take on the world. With anti-aging properties, and UV and heat protectants, this weightless vegan conditioner will be your blonde hair's new best friend. This one works wonders and exudes proven efficacy in offering 95% longer-lasting color!
Pros
Gluten-free
DEA-free
Sulfate-free
Paraben-free
Provides long-lasting results
Formulated without sodium chloride
No build-up
Cons
Some might not like the chemical odor
Price at the time of publication: $27.9
Your hair will no longer see dull, brassy tones with this plant-based purple deep conditioner that also adds a generous dose of hydration. Silver, grey, and blonde hair is also brightened as the yellow from damage and product build-up is neutralized. A blend of olive, coconut, grape, and sweet almond are blended to smooth, soften, and repair damaged, dry, and brittle hair. An all-natural way to have better hair at the comfort of your own home? It's a yes from us!
Pros
Contains all-natural ingredients
Cruelty-free
Sulfate-free
Paraben-free
Phthalate-free
Silicone-free
Non-greasy formula
Formulated without synthetic fillers
Cons
Some may find the scent to be overpowering
Price at the time of publication: $22.99
Now that we've looked at some of the best purple conditioners on the market, let's learn how you can choose the right one for your hair.
How To Choose The Right Purple Conditioner
Hair color, type, and texture
It is important to determine your exact shade of hair before purchasing a purple conditioner as each is formulated for different colors. You can use a purple conditioner if your hair is platinum, dark blonde, ash, silver, grey or white. Choose wisely because a product that targets light blondes might not work if you have a dark blonde shade. Additionally, keep an eye out for the consistency of the product because those formulated for thicker hair might weigh fine hair down. If you have curly hair texture, a purple conditioner targeting fine hair might not be the best pick. If your scalp is sensitive or oily, keep this in mind too.
You also need to take into consideration what shade you want your hair to have after conditioning. You can lighten or darken hair, as purple conditioners work to neutralize brassy hues, brighten, or tone.
Purple conditioners that are violet help neutralize yellow shades whereas orange shades can be brightened by a blue-violet color. Depending on your shade of brassiness, pick the color that will neutralize it.
As hair is delicate and needs utmost care, pick a conditioner that contains plant-based extracts and nourishing ingredients as they are gentle in nature. Oils such as coconut, sweet almond, jojoba, argan, and grape are excellent moisturizers that will hydrate dry, dull, and brittle hair. Ensure that your product is also free of chemicals and irritants such as parabens, sulfates, phthalates, silicones, or mineral oils. As color-treated hair is at risk of damage due to sun exposure or heat exposure due to constant styling, pick a conditioner that has UV filters.
Some conditioners work gradually over 2 to 3 (or more) washes to neutralize brassiness and show results. However, if you're looking for something instant, you can opt for a product that works after a single wash.
After you've bagged your favorite formula, let's learn how you can use it for a salon-like finish wherever you may be!
How To Use Purple Conditioner
Step 1: Wash your hair with a high-quality purple shampoo for best results before moving on to the next step. You could also just use your regular shampoo, if so desired.
Step 2: Shake the bottle or tube of your purple conditioner well before you use it.
Step 3: Work the conditioner through your strands and scrunch up the ends as they need the most care.
Step 4: Leave the conditioner on for as long as the instructions on the bottle call for. However, avoid keeping it in for longer than 20 minutes.
Step 5: Rinse off with cold water to preserve the shine.
Step 6: If you find some purplish streaks, you can rinse your hair again. You can follow it up with a serum or hair mask for extra moisturization.
Step 7: To avoid a bluish or purplish tinge, ensure to not use a purple conditioner more than 1-2 times a week.
Let's take a look at how you can better manage blonde hair with some extra tips and advice.
Tips And Advice On The Usage Of Purple Conditioners
While you can use your regular shampoo, a purple shampoo will provide better and faster results at eliminating brassiness in blonde hair. When paired with a purple conditioner, you will be able to avail the desired brightness and tone quicker.
Limit the use of purple conditioners to 1-2 times a week as doing otherwise might give you blue or purple streaks.
If a purple conditioner dries your hair out, follow it up with a hydrating purple hair mask or a deep conditioning treatment. You could also message in a serum or an essence after conditioning to keep your hair soft.
Some purple conditioners are deeply pigmented and might stain your clothes, bathtub, floors, and walls. Just to be safe, use gloves and clean your surroundings immediately after conditioning.
Why Trust StyleCraze?
Krati Darak is a hair care enthusiast who is passionate about reviewing various hair products. She conducted thorough research and investigated multiple customer reviews on trusted online platforms in her endeavor to shortlist the best purple conditioners on the market. The products on this list can deeply replenish and hydrate your hair and eliminate orange or yellow notes from blonde or platinum hair.
Frequently Asked Questions
Do purple conditioners work?
Purple conditioners help remove orange or yellow tones in blonde hair that can be natural or dyed. They work on the principle of color theory wherein colors opposite to that of the discoloration neutralize it.
Is a purple conditioner the same as a toner?
Toners can help deliver immediate results that might not last very long. On the other hand, conditioners work gradually to reduce brassiness in blonde hair.
How long should you leave a purple conditioner in?
You can leave the purple conditioner on for about 20 minutes. However, you must follow the instructions provided on the packaging as each brand is different.
How often should you use a purple conditioner?
A purple conditioner can be followed by a purple shampoo and it's best to use them 1 to 2 times a week.
Can we use a purple conditioner on dry hair?
It's ideal to use conditioner on wet hair as it is more porous and better able to absorb the formula to moisturize and tone hair.
Does a purple conditioner damage hair?
No, purple conditioners can help soften, brighten, and strengthen hair. However, steer clear of products that use harsh chemicals.
Recommended Articles: