10 Best Purple Hair Colors Available In India
Jazz up your locks by painting them in purple hues to get just the vibrancy you seek!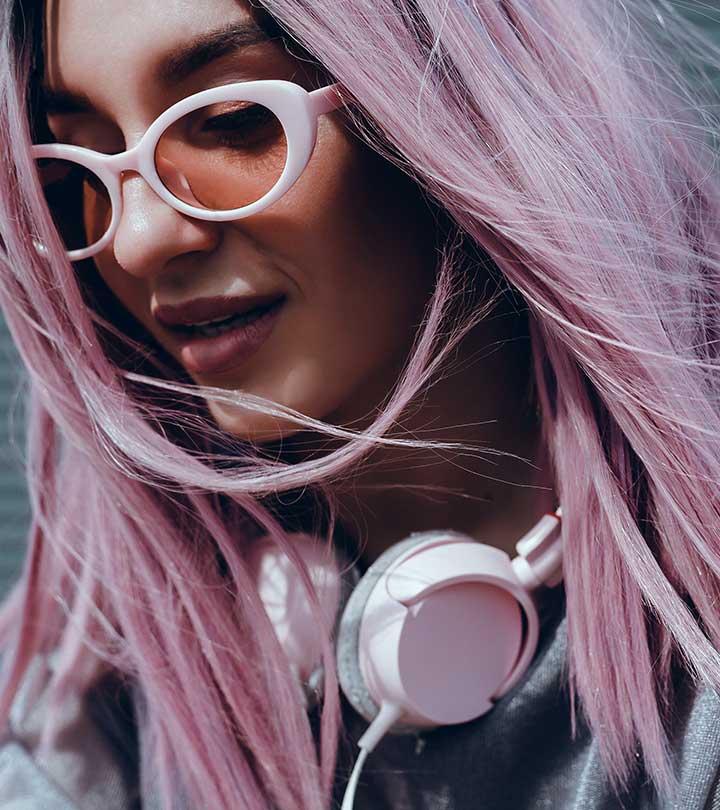 Do you know which color Queen Elizabeth II wears the most? Purple. Purple has always been associated with royalty, elegance, and grandeur. It earned the royal status and was called the color of the elite because the dye that was used to create it was expensive. Dyeing your hair in this majestic color will make you look like a total diva. Let's take a look at the top 10 purple hair color products available on the market right now.
Top 10 Purple Hair Color Products In India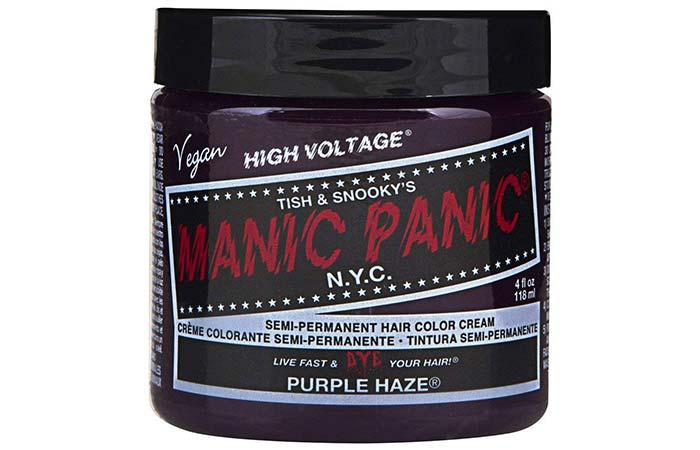 Want to exude some vibrance and vivacity with purple hair? Then, this product deserves a place on your go-to list of hair color brands. Named after Jimi Hendrix's popular song Purple Haze, this semi-permanent purple hair color by Manic Panic is best suited for lightened or light blonde hair. Since this product is free of ammonia, gluten, and parabens, it does not harm your hair. In fact, it hydrates your hair from within. It is also a cruelty-free and vegan product.
Pros
Highly pigmented
Long-lasting results
Great consistency that is easy to spread
A little product goes a long way
Suitable for frequent use
Cons
Can cause permanent stains on your clothes
Price at the time of publication: ₹14.24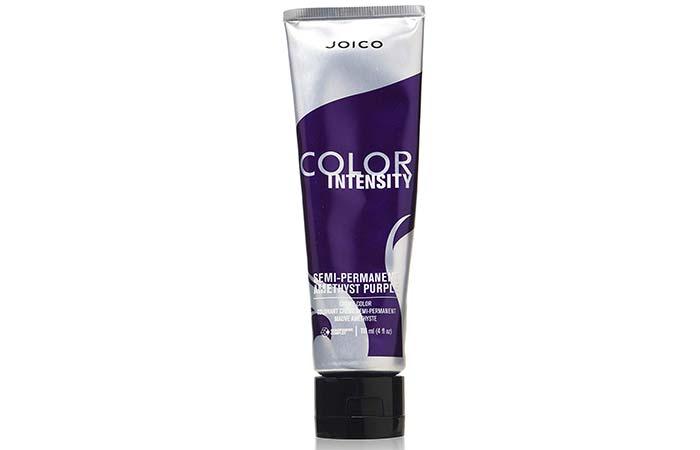 The Amethyst Purple shade by Joico Intensity Semi-Permanent Hair Color is undoubtedly a head-turner. It gives an intense and incredible purple hue to your hair. You can mix multiple hair colors from this range to create a custom shade. Its conditioning properties add a lustrous shine to your hair.
Pros
Easy to use
Long-lasting results
Wide range of shades
Contains Kukui Nut oil that strengthens your hair
Pleasant fragrance
Cons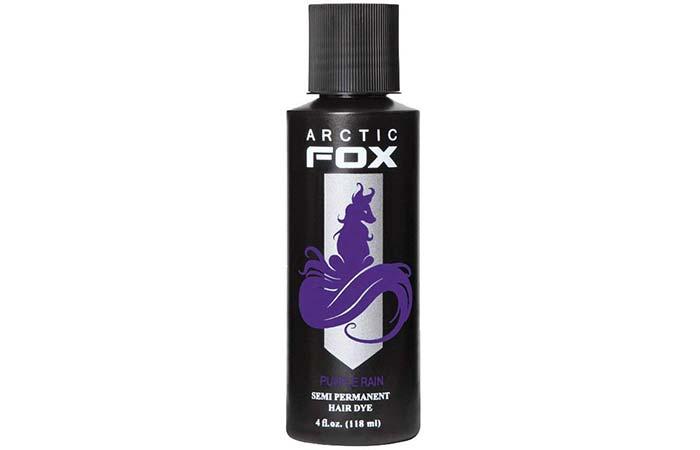 Arctic Fox's Semi-Permanent Hair Color in the shade Purple Rain needs to be added to every hair dye lover's shopping checklist. This product is well-suited for bleached and light blonde hair. It is 100% vegan and free of harmful chemicals. Its conditioning and pigmenting properties are highly acclaimed. Arctic Fox also donates 15% of its profits to animal welfare organizations.
Pros
Gentle on hair
Great consistency
Does not drip
Long-lasting color
Colors can be mixed and diluted to create custom shades
Cons
None
Price at the time of publication: ₹4829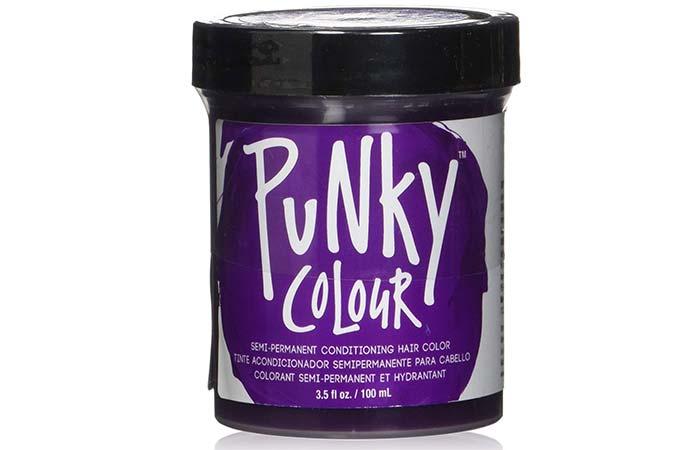 Jerome Russell is an internationally renowned hair color brand that has been around for over three decades. This hair color is acid-free and contains high-quality ingredients. It is formulated with unique vegetable-based components that make your hair soft and silky. Jerome Russell's Purple shade of Punky Hair Color Creme conditions your hair as it colors it. It works well on bleached hair.
Pros
Does not stain your scalp
Color does not bleed
Highly pigmented formula
Long-lasting color
Adds shine to your hair
Cons
Color takes time to get deposited on hair.
Price at the time of publication: ₹8.2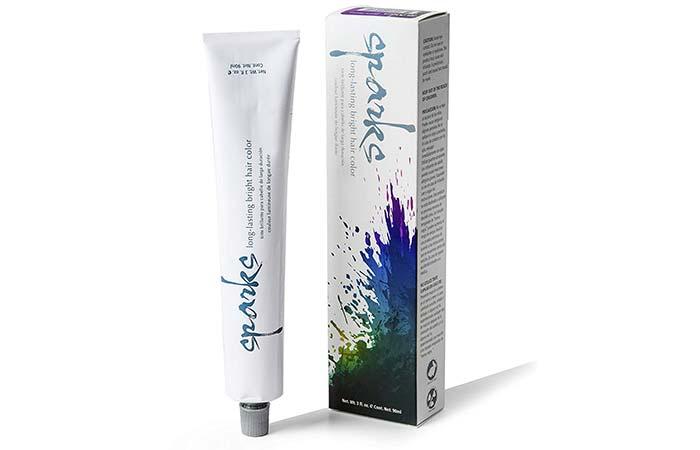 Sparks Long-Lasting Bright Hair Colour is widely known for giving long-lasting elegance and sheen to your locks. It offers a wide range of shades. The shade Purple Passion is extremely pigmented and long-lasting. It conditions your hair, making it healthy and vibrant. This purple shade is best suited for level 8 blonde to bleached hair.
Pros
Highly pigmented
Easy to use
Color fades gracefully
Smoothens dried ends
Can be mixed with different colors to create custom shades
Great consistency
Cons
Takes time to show results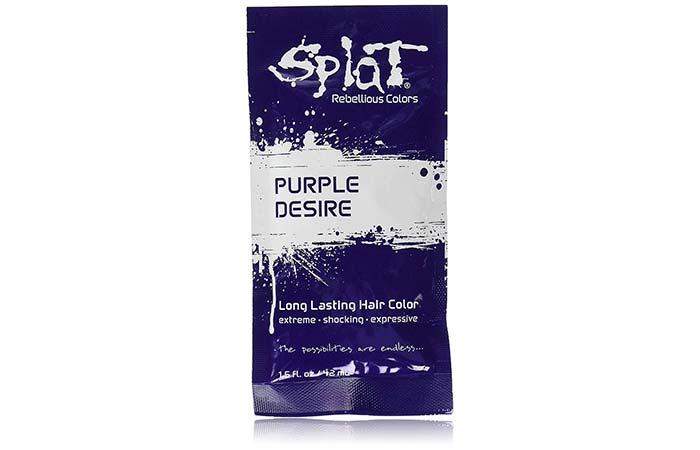 Splat Hair Color is affordable and easy to apply. It is known for giving instant and long-lasting results. It is available in individual packs, making it perfect for home use too. Apart from offering a wide range of hair color shades, it also claims to enhance your hair texture every time you use the product. The shade Purple Desire gives your hair a vibrant violet hue.
Pros
Smoothens hair
Adds luster to your hair
Easy to apply
Vegan and cruelty-free
Reasonably priced
Cons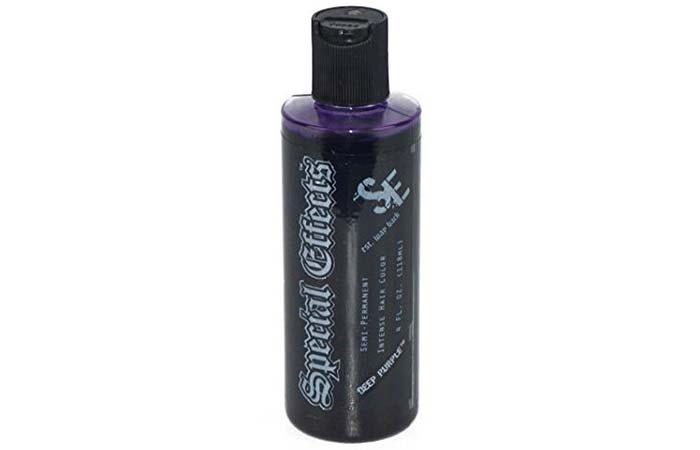 This hair color brand offers a variety of quirky shades that are perfect for anyone who wants to experiment with their hair. The Deep Purple hue is considered as one of the most intense and ravishing hair colors. This product has conditioning and long-lasting properties. It is also vegan and cruelty-free.
Pros
Easy to apply
Intense
Lasts for around 3-6 weeks
A limitless palette of colors
Works best on bleached hair
Acts as a conditioner too
Cons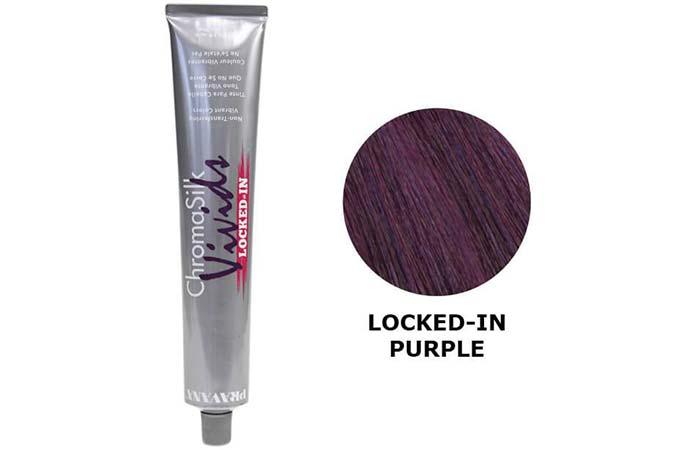 Pravana Chromasilk Vivids Locked-In is an award-winning range of hair colors that is known for its innovative and creative colors. Its Purple shade delivers long-lasting, vibrant, and captivating color to your hair, leaving it looking healthy and bright. It is also noted for its intermixable color palette. It conditions your hair as it colors.
Pros
Contains special pigments
Long-lasting results
Makes your hair lustrous
Does not drip
Easy to use
Cons
Cannot be mixed with other shades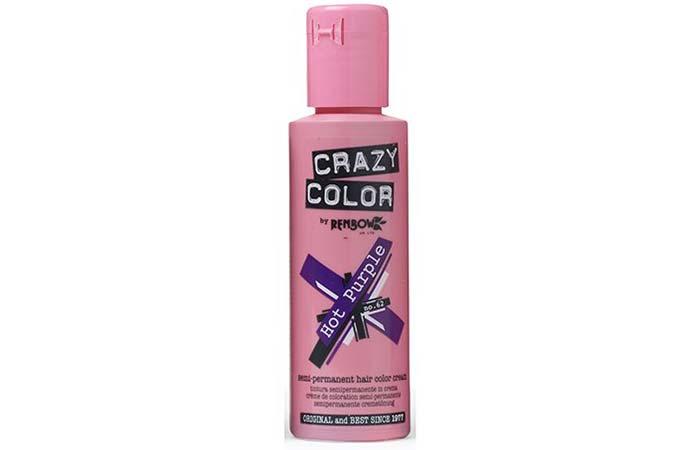 Claimed to be one of the original and best hair color brands since 1977, Crazy Color Semi-Permanent Hair Color is regarded as the standard and economical hair color product. It is suitable for almost all hair types and is effective from the very first application. It makes your tresses look smooth and shiny. The shade Hot Purple is perfect for anyone who's just starting out on their hair coloring journey.
Pros
Conditions your hair
Easy to use
Affordable
Suitable for all hair types
Cons
Ready to give yourself a makeover? Then, try out L'Oreal Paris Colorista Semi-Permanent Hair Colour in the shade Purple. It is best suited for light blonde and lightened locks. This product makes your hair look gorgeous and glossy with its conditioning properties. It is made out of pure dyes and is free of ammonia.
Pros
Easy to use
Fades gradually
Adds luster to your hair
Vegan
Ammonia-free
Conditions your hair
Cons
Lasts for only 4-8 shampoos
Price at the time of publication: ₹10.99
This is the complete list of the purple hair colors for you to choose from. Go through our buyer's guide before you pick the perfect one for you.
What To Consider Before Buying The Best Purple Hair Colors In India
Make sure the hair colors do not contain chemicals like ammonia or parabens known to harm your hair. Go for those with natural oils or conditioning ingredients that can make your hair shiny and lustrous.
Always do an allergy patch test before applying the hair color.
Staying Power Of The Color
Hair color comes in different staying powers – from temporary to semi-permanent to permanent. Semi-permanent or permanent hair colors last for 30 or more washes.
Your natural hair color plays a major role in capturing the new color, especially if you are coloring your hair for the first time. If your hair is naturally dark or auburn, light colors may not show on their own without the help of a bleaching agent. Hence, keep that in mind while choosing your next purple hair color.
Coloring your hair demands extensive pre- and post-application care. Experts recommend moisturizing your hair for a period before you color your hair. After the treatment, you are advised to use a special shampoo and a conditioner for chemically treated hair. Take that life-style change into consideration.
Hair colors come from various brands and price ranges. Do not just go for the most affordable option blindly. Look for a brand that covers the above criteria and pick the one that suits your budget.
Those were our top picks for purple hair colors available in India. Let out your inner purple goddess and let her run free by trying out these products! Don't forget to share your experience in the comments section below.
Recommended Articles
The following two tabs change content below.