The 15 Best Purple Shampoos For Blonde Hair To Protect Its Color
Maintain your hair color without stripping off the natural oil from your hair strands.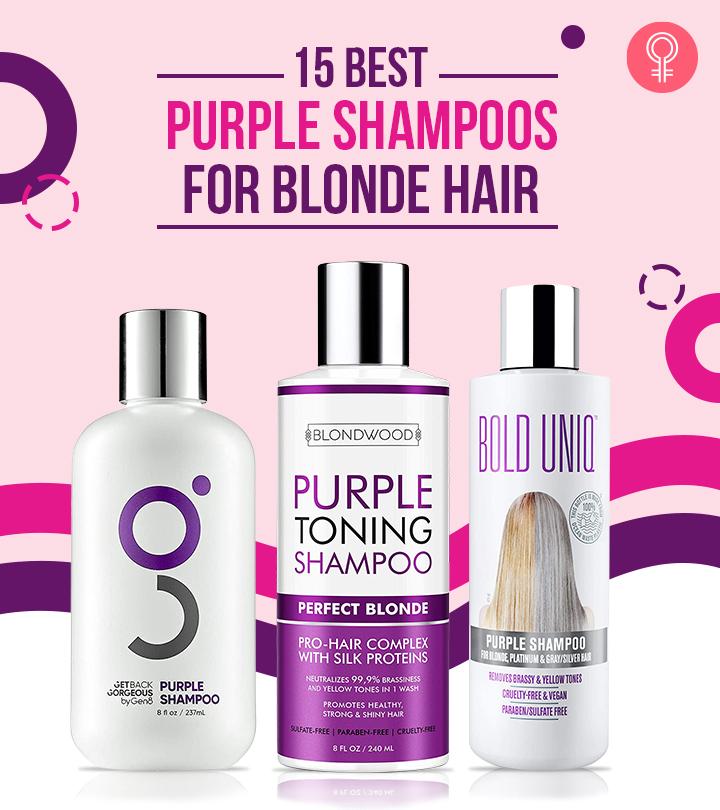 Finding the best purple shampoo for your blonde hair is important because it helps maintain that natural blonde color. Unlike other shampoos, purple shampoos are formulated to protect maintaining the blonde shade. Choosing the best purple shampoo can be confusing with a wide variety of purple shampoos available in the market. To help you gain some clarity and make an informed decision, we've shortlisted 15 of the best purple shampoos for you!
Why Is A Purple Shampoo Necessary For Blonde Hair?
A purple shampoo helps maintain the ideal golden blonde color of your locks. Blonde, silver, platinum, or color-treated hair often becomes dull and brassy within a few days. Until your next parlor visit, a purple shampoo is what will help you nourish, moisturize, repair, and remove all the dull brassiness. The shampoo gives your hair a refreshed glow.
Studying the color concept helps one better understand the necessity of a purple shampoo. Purple and yellow are on opposite sides of the color wheel and counter each other. As blonde hair turns a brassy yellow, the purple or violet pigments in the purple shampoo neutralize the yellow hues caused by UV rays or other pollutants. The shampoo rejuvenates the color vibrancy. It uplifts hair color and protects it against aggressors and dulling effects.
Let us now explore the best purple shampoos for blonde hair available on the market.
15 Best Purple Shampoos For Blonde Hair
The Bold Uniq Purple Shampoo is recommended by hairstylists worldwide. It is meant for natural or colored blonde, platinum, and gray/silver hair. It maintains hair color and fights dullness. It has vivid violet pigments that intensify the cool blonde and silver, ashy tones. The shampoo mutes brassy tones from honey blonde to white platinum. It is a zero-yellow purple shampoo and has UV filters to protect hair from sun damage.
This shampoo is free of harmful chemicals like sulfates and parabens. It is formulated with vitamin B5 that softens each hair strand and adds shine to blonde hair. It also is vegan and cruelty-free. Its bottle is made of recyclable plastic. It also comes with a pair of disposable gloves that keep the color from transferring to your hands. If you need further convincing, check this YouTuber's review out.
Pros
Paraben-free
Sulfate-free
Cruelty-free
Vegan
Recyclable plastic bottle
Two disposable gloves included
Protects hair from sun damage
Cons
The Matrix Total Results So Silver Color Obsessed shampoo is suitable for blonde, platinum, and gray hair. It maintains your cool blonde hair by neutralizing brassy and yellow undertones. It eliminates dullness and adds sheen to hair without stripping its moisture. This shampoo comes with a perfect blend of neutralizing pigments. It has a floral, mossy, leafy green fragrance. Check out the review of this product on YouTube to know why it is one of the best out there.
Pros
Works without stripping moisture
Pleasant fragrance
Cons
None
The Jhirmack Silver Brightening Ageless Shampoo is specially formulated for grey, silver, blonde, and color-treated hair. It removes unwanted yellow and brassy tones and enhances the warm or cool color tones of your hair. The shampoo is gentle and keeps the hair soft and manageable. It has macadamia nut oil and collagen that strengthens limp hair, moisturizes it, conditions it, and protects it from damage. Green tea in the formula also makes your hair resistant to breakage. For best results, use it with Jhirmack Silver Brightening Ageless Conditioner. In this YouTube video, you will find a detailed review of this product.
Pros
Cruelty-free
For all shades of silver, gray, and blonde hair
Pleasant smell
Cleanses well
Enhances shine
Cons
The TIGI Bed Head Dumb Blonde Purple Shampoo is formulated for blonde hair. It banishes brassy, yellow tones and enhances a vibrant, bright blonde color with its purple toning pigments. It makes the hair soft and smooth and adds shine to it. It cleanses the hair and conditions it. It also makes chemically-treated hair manageable.
The shampoo is blended with polyquaternium 10 that helps detangle hair, and fights hair frizz, static, and flyaways. This tone-correcting shampoo shows results within a week of usage.
Pros
Reduces frizz
Fights static
Reduces flyaways
Detangles hair
Cons
Consistency could be too thick
Contains sulfates
The Get Back Gorgeous Purple Shampoo is an ideal hair product for blonde hair. It tones hair brassiness and makes your blonde hair look healthy and shiny. It has photo stabilizers that protect your hair from harmful UV rays. It also contains collagen that rectifies heat damaged hair and prevents split ends and hair breakage.
The shampoo is enriched with coconut oil with organic compounds that cleanse the hair and repair it from the root to the tip. The purple shampoo lathers well and makes your blonde hair silky, soft, and manageable. It is cruelty-free.
Pros
Cruelty-free
Repairs hair follicles
Provides UV protection
Pleasant fragrance
Prevents split ends
Cons
The Redken Color Extend Blondage Color-Depositing Purple Shampoo is best suited for color-treated blonde and highlighted hair. It is enriched with violet pigments and Triple Acid Protein complex acid that removes brassiness and maintains cool blonde tones. The shampoo neutralizes yellow hair and keeps away undertones. It gives your hair a bright sheen when used two to three times a week.
Pros
Suits chemically-treated hair
Cons
None
The Paul Mitchell Platinum Blonde Shampoo reduces brassiness from natural or color-treated blonde, silver, and white hair. It enhances your hair color while making it softer and more lustrous. The shampoo is violet-tinted and has an ultra-nourishing formula with extra conditioners. It fights dullness and gives blonde, white, and silver hair a refreshed color and shine.
Pros
Hydrates hair
Boosts hair shine
Cons
The amika: Bust Your Brass Cool Blonde Shampoo is an ultra-violet product that maintains the brightness of your blonde hair. The formula is infused with sea buckthorn berry rich in vitamins A and C, omega fatty acids, and antioxidants. It also has hydrolyzed keratin that restores hair elasticity, moisture, and texture.
The wild cherry bark extract enhances the softness, color, and shine of color-treated and natural-colored hair. The avocado oil nourishes the hair with proteins, amino acids, folic acid, vitamins A, D, E, and B6, and minerals. This uniquely blended purple shampoo provides nourishment and improves the quality of all shades of blond or color-treated hair as well as Brazilian-treated or keratin-treated hair. The shampoo is free of parabens, sulfates, gluten, phthalates, formaldehyde, mineral oil, petrochemicals, triclosan, talc, and aluminum. It also is vegan and cruelty-free.
Pros
Sulfate-free
Paraben-free
Phthalate-free
Gluten-free
Mineral oil-free
Sodium chloride-free
Petrochemical-free
Formaldehyde-free
Talc-free
Triclosan-free
Aluminum-free
Artificial color-free
Cruelty-free
Vegan
Cons
The John Frieda Violet Crush For Blondes Purple Shampoo enhances your natural gray, blonde, and silver hair by removing brassiness and yellow undertones. It contains crushed violet pigments that absorb UV rays and protect hair from sun/heat damage. The shampoo gives your hair a brighter and refreshed look in just a few washes. This shampoo is free of ammonia and peroxide.
Pros
Peroxide-free
Ammonia-free
Protects hair from UV damage
Cons
The Moroccanoil Blonde Perfecting Purple Shampoo is a sulfate-free product. It minimizes brassiness in gray, blonde, and lightened brunette hair. It is formulated with violet pigments that remove yellow and orange undertones and correct your hair tone and dimension. Its gentle formula cleanses the hair without stripping its moisture content.
This shampoo contains ArganID Technology that releases positively charged micro-capsules that attract the negatively charged hair fibers. This process takes the antioxidant properties of argan oil into the hair core, sealing the hair cuticle and repairing the hair. The shampoo refreshes dulled highlights and nourishes the scalp and hair with its essential fatty acids and vitamins. It gives your hair a protective cover and a silky sheen. It also is free of parabens and phosphates.
Pros
Sulfate-free
Paraben-free
Phosphate-free
Preserves hair moisture
Cons
None
The SexyHair Bright Blonde Shampoo is formulated for shades of blonde or silver, or highlighted hair. The shampoo is infused with violet pigments that remove brassiness from cool or bleached blonde hair. It is also enriched with honey, quinoa, and chamomile that enhance the color-vibrancy and give your hair a bright shine.
This shampoo is free of sulfates that adversely affect hair longevity and health. This volumizing shampoo is made with lemongrass, vitamin B3, and botanical extracts safe for the hair. It is a gentle cleanser that provides sheen and body to natural or colored blonde and silver hair. The weightless shampoo optimizes hair conditioning.
Pros
Cons
None
The Nexxus Blonde Assure Purple Shampoo tones and enriches your natural blonde, platinum, bleached, or silver hair. It is developed by hair specialists. It blends violet pigments with keratin proteins that neutralize brassy tones and give your blonde hair an intense natural look. It provides color care and vibrancy that is long-lasting.
The shampoo gives your hair a smoother texture and a brighter appearance. It also repairs hair damage and replenishes moisture content. Its exclusive protein mixes suit best for colored hair.
Pros
Prolongs color vibrancy
Repairs hair damage
Cons
Contains sulfates
Supports animal testing
The Naissant Professional Hair Purple Shampoo is a necessity for dyed or highlighted hair. It removes undesired yellow and orange brassy tones from natural or colored blonde/silver hair. It gently cleanses the scalp and preserves color. It eliminates dullness and makes hair vibrant, healthy, and shiny. This shampoo contains pro-vitamin B5, honey, olive oil, vitamin E, and wheat protein. It is a perfect blend of ingredients that repair hair damage and offer nourishment. It rejuvenates your hair by restoring volume, sheen, and flexibility. The Naissant shampoo is versatile and works in any season. It is free of parabens, ammonia, and salts.
Pros
Salt-free
Paraben-free
Ammonia-free
Cons
Expensive
Contains sulfates
The L'Oreal Paris Ever Pure Sulfate-Free Purple Shampoo is made with a sulfate-free color care system formulated for blonde, bleached, highlighted brown, and silver hair. The purple dye in the shampoo neutralizes brassy tones like yellow and orange to enhance your natural hair tone. Moreover, hibiscus moisturizes your hair, deeply conditions it, and leaves it brighter. It is mild, cleanses well, and leaves your hair with a sweet aromatic fragrance.
Pros
Sulfate-free
Paraben-free
Gluten-free
Vegan
Free from harsh salts
Cons
The Beauty With A Twist Highlight Shampoo tones down brassy hues in tinted or bleached hair. It neutralizes yellow stains in gray, silver, or white hair. It creates a rich lather that effectively cleanses the hair while adjusting the color tone. It leaves hair manageable and soft.
This purple shampoo contains certified, premium quality natural proteins that provide volume and gloss to your locks. It is perfect for natural blonde and color-treated hair. It is infused with grape seed extracts that are a powerful antioxidant.
The shampoo promotes hair growth and prevents split ends. It is free of parabens, alcohol, and sulfates. It helps counter the damaging effects of bleaching. It is cruelty-free as well.
Pros
Sulfate-free
Paraben-free
Alcohol-free
Cruelty-free
Cons
Less quantity for the price
Why Trust StyleCraze?
Shiboli Chakraborti, the author of this article, loves to try different hair care products and review them for her readers. She understands that blonde hair needs specially formulated products to protect the color. So, she researched numerous products online and went through their user reviews to compile this list of the best purple shampoo for blonde hair. These shampoos nourish your hair, keep it hydrated, and remove dullness while ensuring your color lasts long.
Frequently Asked Questions
How long can you leave purple shampoo in your hair?
The duration depends on your hair color, the brand, and the quantity you use. But logically, the longer you keep it, the stronger the color hue. Reading the instructions on the back of the shampoo bottle can give you better clarity.
How often should blondes use purple shampoo?
Purple shampoo should only be used if your hair is looking brassy and dull. It is not an everyday shampoo. You can use it once before your hair gets the brassy look. You may use it once to thrice a week in place of regular shampoo.
Recommended Articles