15 Best Rain Boots For Women That Are Comfy & Stylish – 2022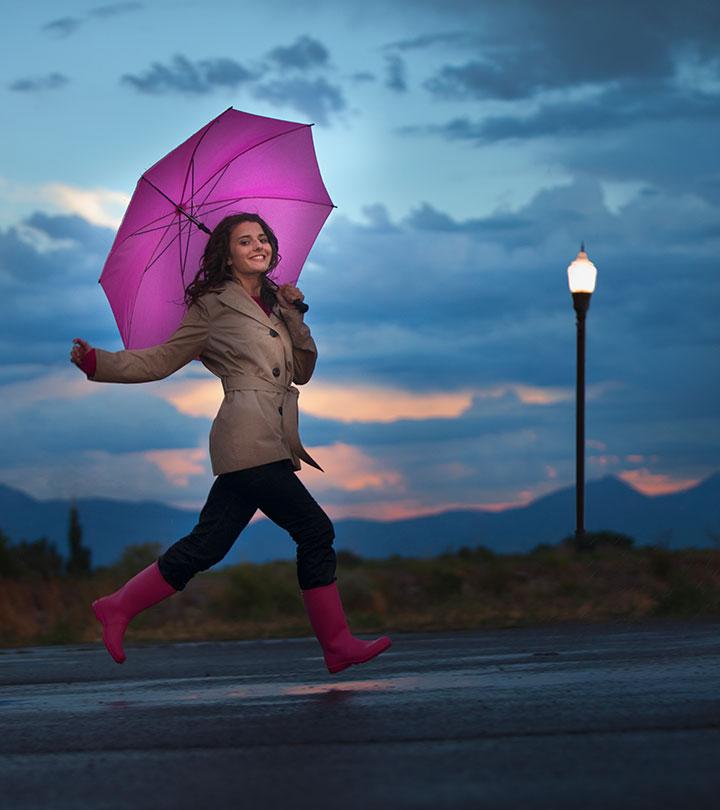 Whether you have taken your dog out for a walk on a rainy day or you are trying to get home amidst a downpour, having wet feet can be quite annoying. Just like umbrellas and raincoats, rain boots are an absolute necessity to keep you dry during the rainy season. While searching for the best rain boots for women, one must ensure that they are durable, stylish, and functional. Rain boots can help you trudge through them through miles of mud, puddles, leaves, slippery rocks, and melting snow.
Whether you are walking city sidewalks, wading through runoff, or just trying to balance yourself on slippery subway tiles, we have some standout designs for you to choose from. Have a look at them!
Let's dive right in and find out more.
The 15 Best Rain Boots For Women
These boots take an elegant spin on the classic Chelsea boots and have a matt finish to them. They are lightweight and trendy to wear on rainy days.
Features:
With a one-inch heel, these boots are comfortable to walk in and have a rubber sole, so you won't have to worry about them getting wet.
They have an elastic goring on the side and a pull-loop tag at the heel, which means they'll be easy to slip on and off.
With a roomy toe area and inner elastic fabric, these boots are the perfect blend of trendy and comfortable.
These high gloss rain boots feature a rubber upper and ATRIUM outsole for maximum protection from the rain. They put a fashionable spin on all-weather fashion.
Features:
These waterproof boots are available in many different colors.
They are made from high-quality vinyl-covered canvas and put a fashionable spin on rainwear.
They are dependable, strong, and deliver superior comfort to its wearer. So you can go ahead and jump in all the many rain puddles you want to without having to worry about ruining your shoes or getting your feet wet.
These boots give off classic horse girl energy and are great at keeping out muddy puddles and rainwater. Crafted from natural vulcanized rubber, here's a pair of boots you must check out.
Features:
These boots are designed for mild weather.
They run as high as 16 inches from the ground and are highly durable.
They have a narrow ankle, which gives a snug fit and excellent support.
They are easy to wear and take off.
The sizes run a bit large, so our advice is to purchase a size smaller than you'd usually buy.
Made from recyclable material, these boots are non-latex and vegan-friendly. These boots will, without a doubt, keep the rain and water out. From a monochromatic polka dot to a psychedelic blue, they are available in several patterns and designs.
Features:
These cute boots have printed designs on them and come in many colors.
They are made from soft medical grade materials and are completely waterproof.
Heavy-duty lug tread ensures excellent traction.
These are easy-to-clean boots. Simply hose off the outside with some water if they get dirty. If the insole gets wet and soggy, air it out to dry.
With a side zipper closure and rawhide lacing with rust proof eyelets for a secure fit, these boots are the perfect pair for when it is rainy and gloomy outside. Specially curated to handle bad weather, these boots have a cushioned rubber sole and microfleece lining on the inside, thereby making sure your feet stay warm at all times.
Features:
This high quality, super sturdy boot is made out of fleece, leather, and rubber.
They have a waterproof sole and leather upper with a waterproof rubber front that offers the best protection from the rain.
With a one-inch heel, these boots are perfect for your next adventure and are the ideal travel buddy as you never have to worry about what the weather is like when you're wearing Sperry's Saltwater Rain Boot.
If you're looking for variety when it comes to choosing the perfect rain boot, then you can't miss Sloggers Women's Waterproof Rain Boot as they come in several patterns and designs.
Features:
These boots are made for extreme weather conditions and come with a heavy-duty lug tread, so you never have to worry about slipping.
They are made of high-quality rubber and have a removable insole.
These boots run calf-high and have a rounded toe and will look cute and trendy when paired with a raincoat.
Are you worried that the constant downpour might ruin your look for a night-out with your besties? Well, now you can put those worries to rest with these sleek and stylish rain boots.
Features:
These Chelsea rain boots epitomize chic comfort.
These affordable rain boots have deep elastic goring on the sides and are a perfect blend of sophistication and comfort.
They are easy to slip on and off.
Has a slip-on closure.
Want to go out and enjoy the rainy weather without any worries? Now you can jump in and play all day with Crocs Women's Jaunt Shorty Boot with a Crosslite shaft.
Features:
With an outer rubber sole, these boots will keep your legs and feet dry
It is made with Croslite that is lightweight and comfortable to wear.
Comfortable fit and inexpensive.
Great value for money, extreme comfort, and cute design –
These boots will have you praying for rainy days just so you can wear them. Stylish, feminine, and versatile, these boots will ensure you look great while you work in the garden, do outdoor chores, and even when running around town.
Features:
With a 14.25-inch shaft, these boots provide your feet and calves maximum protection from the rain.
The glossy finish makes them easy to wash and keep clean, so you never have to worry about mud, slush, or dirt.
The rubber lug sole tread will resist any slipping even in the wettest terrains.
Overall, this boot is a great investment and is ideal if you live in rainy, snowy areas.
Available in 14 different colors.
These mid-height rain boots have a soft and cozy lining, making them comfortable for all-day wear. The rubber outsole with added traction and a self-cleaning tread pattern makes it an ideal boot for the rainy season. It is available in plain black and a grey one with cute polka dots.
Features
 These are 100% waterproof rain boots.
 They run calf high from the arch and are perfect for trudging through muddy rainwater.
 The boots have a matte finish and an added antique nickel buckle, that makes them fashionable while being sturdy
 The memory foam inside makes the boot a comfortable wear even during heavy rains
Known for their superior fit and comfort, UGG has come out with another boot we can't help but love. They may look like standard wellie style rain boots, but the support and protection it provides is unlike any other.
Features:
Comes with a genuine shearling sole insert
These trendy synthetic boots have a polyurethane insole with sheepskin lining.
These classic boots are easy to get on, and once on, they will keep your trotters warm, dry, and comfortable.
With a 9.5-inch shaft height and cute logo on the side, these boots are something your winter wardrobe needs.
These boots look more like booties and cut off at the ankle. They can be easily styled with anything from ripped jeans to skirts.
Features:
They have premium waterproof leather uppers and seam-sealed waterproof construction.
They come with anti-fatigue footbeds and can be worn all day long.
With seam-sealed waterproof construction and rubber lug outsoles, these are the perfect boots to wear on a rainy day.
Uppers made from full-grain leather
This boot is both fashionable and appropriate for heavy-duty weather. They run quite high up the leg and can withstand even the most torrential showers.
Features:
They are made from genuine leather. These boots measure 16 inches up from the ground and can keep your calves dry.
They have a glossy finish and are completely waterproof.
These tall rain boots are textile-lined to ensure maximum comfort to the wearer.
The original calendared outsoles provide a high grip to its wearer in the slush.
These rain boots are built to last and are designed to be exceptionally comfortable. The stylish print on the boot sets it apart and the tall design will protect the calf from getting wet.
Features:
They run true to size and have a soft, supportive footbed.
Western Chief's boots have plenty of foot room and are perfect to wear if you plan to spend the day gardening or running around town doing errands.
They are waterproof, have a moisture-absorbent lining
They have a removable insole, thereby providing maximum comfort.
This waterproof hiking boot has a lace-up closure that is adjustable for a perfect fit. With its Omni-grip and sleek design, these boots will help you take on the world regardless of the terrain or weather.
Features:
With a high traction ridge and a lightweight, durable midsole, these boots provide long-lasting support and superior cushioning
It is made from full-grain leather and has a mesh bootie construction that keeps the boot breathable.
Has a lace-closure in the front
Durable mesh tongue for breathability and comfort.
Until the rain goes away, these best selling boots are sure to keep you warm and dry. Regardless of whether rain boots are a daily necessity or seasonal accessory, these rain boots, once worn, are something you will come to find that you can't live without. So go ahead and stock up on them, they are a must-have during the cold, rainy months. Do you have any other great rain boots that you'd like to share with us? Do let us know in the comments below.
Why Trust StyleCraze?
The author of this article, Chaitra Krishnan, has a keen interest in fashion and keeps herself updated on everything new in the world of fashion. Her in-depth research about several stylish and comfortable rain boots provides users with an unbiased opinion about the best ones available in the market. These rain boots are durable, stylish, functional, and provide superior comfort.
Recommended Articles