11 Best Rainbow Eyeshadow Palettes Of 2023
Proudly wear the rainbow on your eyes and always be party ready with these eyeshadow palettes.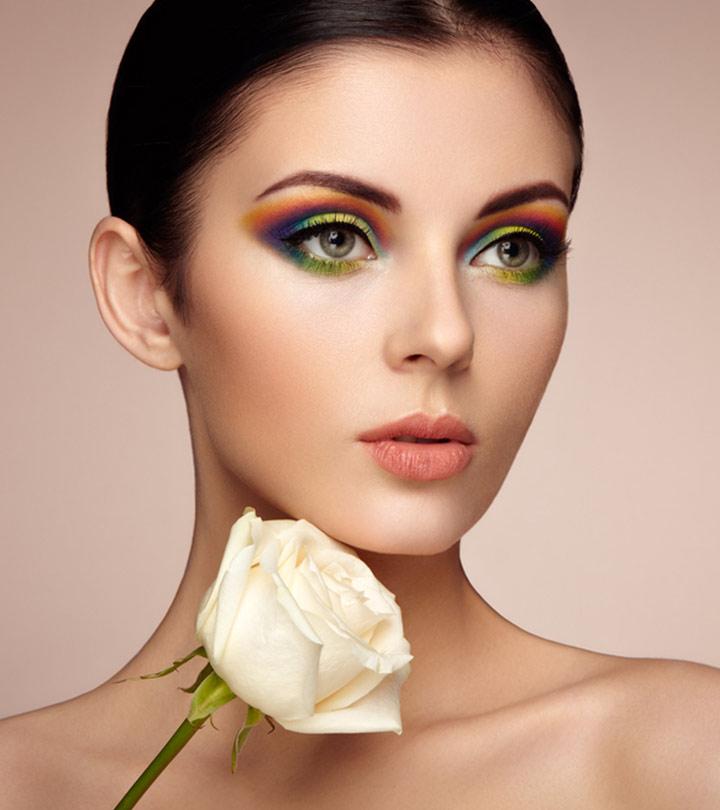 If you are bored of your nude and neutral eyeshadow palettes for this season, give it a break. Instead, switch to the best rainbow eyeshadow palettes. Rainbow eyeshadows are a great way to brighten up your dull, boring, everyday makeup routines instantly. With the rainbow hues, your makeup looks will never undergo a dull moment. Moreover, this gorgeous dash of colors can grab you multiple compliments. Whether it's a tinge of orange or a flash of hot pink, rainbow shades can make any ordinary look the talk of the town.
If you are a color lover, rainbow eyeshadow palettes will be your favorite thing. For you to explore this experience the best way, we have listed the 11 best rainbow eyeshadow palettes for you.
Keep reading to know more.
11 Best Rainbow Eyeshadow Palettes Of 2023
For your ultimate dose of brightness! On days when neutrals seem blah and boring, this palette with pigmented shades will perk up your mood, look, and outfit in a swipe. Blend them over the base and watch the pop of colors instantly. Adding a refreshing vibe, whether you are at a beach getaway or night party, your eyes will smile and shine all-day. And if you are wondering if it will suit your skin, then be rest assured for the brand claims to be ideal for all skin tones. With mesmerizing satins, shimmers, and mattes all packed in one, still want to give this brilliant, colorful eyeshadow palette a miss? Also, ethically conscious consumers are obsessed with this product, as it is not tested on animals. If you need more convincing, feel free to take a look at this YouTuber's video review of the product including the merits and demerits of the product.
Pros
16 high-performance bright colors
Rich and velvety texture
Highly-pigmented and lightweight
Blends and builds easily
Long-lasting and crease-proof
Cons
Small palette
Some colors may feel slightly chalky
With this rainbow-inspired eyeshadow palette in your makeup kitty, your eyes will never have a dull moment! Delivering a radiant spectrum color payoff when applied with a base color, use it with a dry or wet brush on the eyelids for stunning results. And as for the vivid pigments—they are the star of the palette, making you want to try every shade, mix-match, and create a trend with every outfit you wear! Also, given how sleek and portable it is, FiveBull Eyeshadow Palette will always be there for all on-the-go makeup sessions with you. Give it a try and rest easy knowing it's not tested on animals.
Pros
12 shimmer and 23 matte eyeshadows
High-quality and super-pigmented
Long-lasting and waterproof
Lightweight palette and ideal for gifting
Suitable for daily, day, and nightwear
Cons
Some colors may take longer to blend
There may be fallouts.
What's wonderful about this palette by Beauty Glazed? The colors are stunning enough to create a multi-dimensional effect on the eyes! Though you need to be a pro at blending to get the desired result, these shimmer, matte, and metallic eyeshadow shades will make you want to strengthen your eye makeup skills ASAP. With 35 unique colors assembled in a palette to thrill up every shimmer and matte lover out there, the texture is ultra-soft and creamy too. And, the best part — you get this luxurious experience at a price that won't break your bank account! Let your makeup artistry find free reign with this product. Tempted now?
Pros
Intense pigment
Dye-free and crease-proof
Easy to blend and layer on the eyelids
Suitable to apply with a dry or wet brush
Ideal for beginners and professionals
The colors glide on smoothly.
Cons
Fallouts
It may fade after a few hours.
This colorful eyeshadow palette will transport you to the exotic beaches of Hawaii in a swipe! Doll-up your eyes like never before and watch them dance in the summer-like and fun vibe of the colors. Bright, vibrant, and stunning enough to deliver an instant flush of pigment, it's like sending your eyes on a colorful vacation. Plus, the texture is ultra-soft, creamy, and glides on effortlessly, making the whole experience all the more fun for you. Also, this tropical palette includes 1 highlighter, 1 blush, 2 bronze shades, and 30 playful eyeshadows to explore and create endless rainbow eye makeup looks. Don't skip it, experience it! This is not tested on animals, so you can go all out on your looks with a clear conscience.

Pros
High-quality and rich shades
Intense pigment and blendable
Longwear and versatile
Waterproof and fade-proof
One eyeshadow brush included
Suitable to create all types of looks.
Cons
Lighter shades may take longer to blend.
Your eyes deserve so much more than nudes and neutrals. Try this palette by UCANBE and get ready to watch them transform like never before! With 18-matte shades to create a flawless day look and 22 shimmers to dazzle-up at parties, this palette will have your eyes ready and stunning instantly. And on days when you miss your natural look, it has nudes and pastels for you too. All in all, this palette will be your one-stop for all the makeup needs (day or night!). Want more? The brand is formulated with a crease-resistant and longwear technology that delivers exceptional results. Still, want to stick to nudes and neutrals only?
Pros
Super-pigmented, smooth, and soft texture
Lightweight and comfortable to wear
Promises one-swipe color payoff
Intensifies on building and blends easily
Crease-resistant and cruelty-free product
Ideal for creating daily, dramatic, and smoky eyes
Cons
Fallouts
Some colors may need touch ups
Who said only shimmer hues can give your eyes a stunning glow? Breaking the myth with 18 neon and bright colors, here's a palette for all the matte lovers out there! From feisty orange, hot pink to blazing blue, watch your eyes go from boring to fab in one sweet swipe. Cute and compact, the colors contain mineral oil that gives it a silky-smooth texture and makes it easy to blend and wear on the eyelids. And if you haven't noticed already, it comes with a mirror inside, which means all on-the-go experiences can now turn into makeup sessions for you! Don't wait, add this colorful explosion eyeshadow palette to your must-try list now.
Pros
Durable and ultra-pigmented matte rainbow eyeshadow palette
Easy to wash off or remove with cleansing oil
Spreads evenly with brush or fingers
Suitable for gifting, vegan, and cruelty-free
Ideal for creating daily, costume, and festival makeup
Cons
Fallouts
It may fade or require touch ups.
How eyeshadow-obsessed are you? Enough to splurge on this magnificent palette by Slam Beauty?! With 120 stunning colors including pastel shades packed in one, if this is not a holy grail for eyeshadow lovers, then we wonder what will be. More like a pamper than a palette, no wonder it makes an incredible gift to giveaway on birthdays, anniversaries, or Christmas. And to eliminate the most vital skin concern — it is suitable for sensitive and all other skin types, thanks to the infused mineral oils. So, if you are browsing for a gift on this list, this rainbow makeup palette would be a great option to giveaway.
Pros
Soft and pigmented powder texture
Easy to blend and build
Glides on eyelids effortlessly
Sleek, portable, and travel-friendly palette
Complimentary makeup bag included
Suitable for creating daily, dramatic, and party makeup
Cons
The eyeshadow pans are small.
Why look for a rainbow in the sky when you can create one with this palette! Color Fusion Eyeshadow Palette by Beauty Glazed will have your heart beating for its 39 bright and bold hues. With 7 metallic shades ensuring your eyes look every bit surreal, this rainbow color palette can be used for daily wear, costume parties, festivals, and Halloween makeup too. Besides this, it makes a great gift to give away as well. Packed with shades for all your mood, seasons, and occasions – sweep it on to experience its flawless payoff.
Pros
Intense pigment
Spectral shades
Super-creamy and smooth texture
Long-lasting and blends easily
Strong stay power and mildly-scented
Cruelty-free and vegan product
Easy to remove with any makeup remover
Cons
Fallouts
Flimsy packaging
Are you obsessed with the matte effect? For Eyeseek Matte Eyeshadow Palette has 45 neon matte colors for you! Give your eyes a break from neutrals or shimmers and pretty up with this matte galore, instead. Gliding on like butter and popping like a burst of colors, you can use the pigmented shades alone or create your trendy looks for selfies! A must-try for festival revelers, gym rats, and frequent travelers, because no sweat or rain will fade this eyeshadow away. And since this colorful eyeshadow palette is long-lasting, you can flutter and be flirty without worrying about touch ups! This statement-making palette has been tested by numerous reviewers and is hyped for all the correct reasons.
Pros
Cruelty-free product
Lively hues
Smooth and ultra-soft texture
No flying powder and versatile
Blends evenly and easy-to-apply
Dual-sided eyeshadow brush included
Made of safe and high-quality ingredients
Suitable for sensitive skin and all skin types
Cons
Just what you need to intensify your gorgeous eyes and go bold and beautiful this 2023! MsJia Rainbow Eyeshadow Palette has ultra-pigmented and striking colors that'll empower and boost your confidence instantly. Never have you ever stepped out with bold colors before? This could be your first multi-color eyeshadow palette! Use this affordable rainbow eyeshadow palette for daily wear to add an oomph factor or mix-match and paint your eyes, face, and body for festivals with the shades, this rainbow palette will cater to all your occasion and makeup needs. With 25 colors waiting for you to create endless rainbow fantasy trendy looks, go flaunt your flair for eye makeup with this palette!
Pros
Rich, creamy and smooth texture
Ultra pigmented palette
Rainbow spectrum
Transfers on eyelids easily and blends evenly
Compatible with a wet and dry brush
Long-lasting, durable, and waterproof
Travel-friendly with a mirror included
Paraben-free, vegan, and cruelty-free product
Cons
Not recommended for sensitive skin
It may not wash off easily.
Lastly, this dash of Moroccan Spice for your eyes! Savor the intense payoff of mattes, natural shades, and dazzling splendor of shimmers with this premium-grade palette by Fenty Beauty. Adding to your makeup kit the exotic Moroccan flavors, watch your eyes sizzle in the bold and steamy shades it offers. From intense Quicksand, Casablanca to Shisha smoke being some of the sultry hues to create that perfect dramatic or smoky eyes, don't blame us if you are obsessed with this popular palette in the first swipe itself.
Pros
Cruelty-free product
Eye-catching colors
Small rainbow eyeshadow palette
Rich and velvety smooth texture
16 long-lasting and lightweight shades
High stay power and ultra-pigmented
Crease-resistant and builds easily
Deliver a flawless finish on the eyelids
Cons
*The prices provided in this article are based on the latest available information. However, they may vary due to changes in pricing by the seller and/or promotional offers.
If you're in the mood to add some spice to your style quotient, the best way to do it is by adding some color to your makeup with a rainbow eyeshadow palette. Lorrie Pearson, a professional makeup artist, with 20 years of experience, states, "Rainbow eyeshadow palettes offer you endless color combinations. They are the perfect way to inspire your creativity to create makeup looks that are beautiful and uniquely you." They give you the opportunity to mix and match a wide range of colors for a dramatic effect. Read on to find out about some important factors to help choose the best rainbow eyeshadow palette.
How To Choose The Best Rainbow Eyeshadow Palette
The shade range on your rainbow eyeshadow palette is the first point to consider. Look for products that include bright colors that are easy to pair and also work with your skin tone. The mix of colors on the dazzling palette should complement each other and be easy to blend. Also, consider the rest of the colors that are part of your makeup arsenal. Look for vibrant shades and hues that pair well together. Neon and bright colors, bright orange, hot pink, and blazing blue, will make your eyes pop instantly.
Different textures and finishes in eyeshadows allows you to add a dramatic effect to the eyes. Look for a rainbow eyeshadow palette that offers a mix of shimmer, satin, and matte finishes to give you a mesmerizing effect. The presence of glitter and sequin in some palettes also adds glamor and dimension to your eyes. Look for eyeshadow palettes that are easy to blend and versatile, so that you can use them for special occasions and daily wear.
Choose a palette with highly saturated colors that have rich pigments. These deliver an intense color pay-off with just one swipe and last longer. Look for sweat-resistant, waterproof, and smudge-resistant formulas. Look for expertly crafted products that glide on smoothly and be crease and fade-resistant.
Choose hypoallergenic eyeshadows that are free of talc, parabens, lead, cadmium, nickel, phthalates, and artificial fragrances as these cause dryness, irritation, and other health concerns.
Why Trust StyleCraze?
Srijani Roy Chowdhury is a seasoned writer who has a deep interest in reviewing makeup products. She has looked at multiple products and user reviews before compiling this list of the best rainbow eyeshadow palettes. These products are highly pigmented, and the options on this list will make you swap your nude palette for this colorful one.
Frequently Asked Questions
Which Eyeshadow Brand Is The Best?
Though it depends on the color you are looking for, Nyx Professional Makeup Ultimate Shadow Palette, Beauty Glazed Eyeshadow Palettes, and Fenty Beauty Moroccan Spice Eyeshadow Palette are some of the best brands for all.
Which Is The Most Pigmented Eyeshadow Palette?
It may vary from matte to shimmer shades; however, Beauty Glazed Pressed Powder Eyeshadow Palette is one of the most pigmented eyeshadow palettes that you can try.
Which Eyeshadows Are Long Lasting?
Most of the eyeshadows, no matter how much they claim to be long-lasting, tend to fade due to various conditions like weather, sweat, etc. however, Eyeseek Matte Eyeshadow Palette will last long and is waterproof too.
How long can I keep rainbow eyeshadow palettes?
The expiry date of each cosmetic product varies. However, since eyeshadows are susceptible to air exposure, they only last six to twelve months.
Recommended Articles