11 Best Range Hoods – Reviews And Buying Guide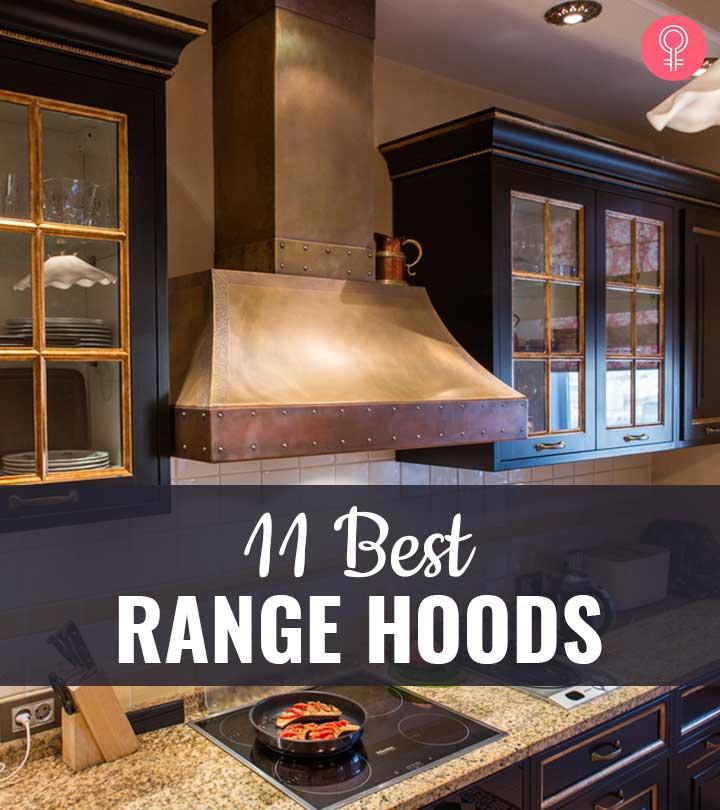 Air filtration is important for every home, and more so for the kitchen. This is where an advanced hood (be it a kitchen, exhaust, or range hood) comes into play. There is no denying that range hoods help remove kitchen fumes, dirt, and unwanted airborne grease. They also improve air quality.
But with so many varieties, designs, and brands of range hoods on the market, picking the right one could be challenging. Well, we have narrowed down the list of the 11 best range hoods online. Take a look.
10 Best Range Hoods
The Broan-NuTone Hood has a ductless ventilation system. It offers hassle-free installment and effective filtration and circulation of air. Reducing smoke, fumes, and odors, and improving the lighting above your cooktop is so easy with this hood. This high-quality under-cabinet range hood comes with an easy-to-replace charcoal filter – ensuring your kitchen is grease-free and non-stinky. The 75-watt incandescent lighting bulb fitting makes your life simple by giving your stove the brightness it needs.
Specifications
Dimensions: 17.5 x 6 x 30 inches
Duct Shape: Ductless
Weight: 10 pounds
Style: Modern
Motor Speed: 2
Watts Needed: 240
Airflow: NA (not measurable in non-ducted hoods)
Warranty: 1 year
Pros
Rocker control switch
Hood mounting brackets
Low noise
Vibrant color
Perfect size
Protective bulb lens
Cons
Outdated incandescent lighting
The Cosmo Hood looks premium and suitable for kitchens with high, low, or medium cooking activities. Its sleek design and multiple color options make it a comfortable fit in homes with modern decor. The hood also comes with built-in LED lighting with maximum brightness to assist in cooking any time of the day.
Specifications
Dimensions: 19.75 x 29.75 x 5.5 inches
Duct Shape: Ductless
Weight: 14 pounds
Style: Modern
Motor Speed: 3 (56 dB)
Watts Needed: 146
Airflow: NA
Warranty: NA
Pros
Easily convertible duct
Carbon filter kit
Push control buttons
Odor removal
Reduces airborne pollutants
Space-saving design
Cons
No warranty on the product
The CIARRA hood has a slim design that suits best for an old kitchen. It fits just right without consuming a lot of space. Hence, you do not have to think twice before modernizing or refurbishing your kitchen. Install this kitchen vent and let it do the job. It also comes with smooth mechanical buttons for easy operation.
Specifications
Dimensions: 30 x 19.7 x 3.9 inches
Duct Shape: Round
Weight: 11.24 pounds
Style: Modern
Motor Speed: 3 (65 dB)
Watts Needed: NA
Airflow: 200 CFM
Warranty: NA 
Pros
Convertible vent
Quiet operation
Bright LED illumination
Space-saving design
 Cons
The Winflow Hood has a powerful suction capacity that allows you fresh and clean air free of odors and pathogens. It has a comparatively quieter operation. This adjustable and telescoping chimney can fit ceilings or chimney extensions. It offers flexible and easy installation due to its mounting hardware design. It is among the best range hoods with a modern slim look for enhancing air quality and decor.
Specifications
Dimensions: 19.21 x 29.5 x 36.22 inches
Duct Shape: Wall-mounted
Weight: 21 pounds
Style: Modern
Motor Speed: 3
Watts Needed: 79
Airflow: 400 CFM
Warranty: 3 years
Pros
Convertible design
Suits every kitchen
Centrifugal motor
Additional charcoal filters
Removable mesh filters
Easy installation
Quiet operation
Cons
The Cosmo Wall Mount Range Hood has an elegant design and powerful functions. It comes with a touch control panel, and an energy-efficient LED lighting. Its high power airflow range removes all impurities. The ductless version of the hood has an optional carbon filter kit.
Specifications
Dimensions: 18.5 x 30 x 39.2 inches
Duct Shape: Wall-mounted
Weight: 42 pounds
Style: Modern European
Motor Speed: 3
Watts Needed: 180
Airflow: 380 CFM
Warranty: 5 year
Pros
Touch control panels
Energy-saving lights
Odor neutralizer
Convertible model
Optional carbon kit (for ductless range)
Cons
If you love to upgrade your kitchen with a sturdy and simple-to-operate range hood, the Cavaliere Hood is the right product. Its rust-proof and non-magnetic stainless steel design is compatible with heavy-duty cooking. The hood's maximum airflow capacity ensures you do not miss out on the major range hood benefits – its air filtration! The range hood helps remove toxic pollutants and airborne kitchen grease and odor.
Specifications
Dimensions: 29.5 x 19.1 x 43.4 inches
Duct Shape: Round
Weight: 43.9 pounds
Style: Modern
Motor Speed: 6
Watts Needed: NA
Airflow: 900 CFM
Warranty: 1 year
Pros
Heavy-duty design
Lower noise setting
Touch-sensitive panel
Easy-to-clean filters
Timer
Dishwasher-safe filters
Cons
Additional chimney extensions needed over 9 ft
The Golden Vantage hood is best suited for all kitchen types. Its practical and modern design with a high-quality mesh filter keeps your home smoke-free. You get a brighter and blue LED lighting along with it, which illuminates your dark kitchen. This range hood is easy to install.
Specifications
Dimensions: 23.6 x 29.5 x 55.7 inches
Weight: 62.3 pounds
Style: Modern
Motor Speed: 3
Watts Needed: 190
Airflow: 350 CFM
Warranty: 3 years
Pros
Professional vent design
Washable mesh filters
Quiet exhaust motor
Digital touch control
Cons
The Zephyr Undercabinet Range Hood has a low-noise and low-profile body design. This offers perfect lighting and an absolutely hassle-free installation process. It has halogen lighting and aluminum mesh filters. 
Specifications
Dimensions: 18.75 x 29.94 x 11.06 inches
Duct Shape: Round
Weight: 40 pounds
Style: Modern
Motor Speed: 3
Airflow: 290 CFM
Warranty: 3 years
Pros
Sleek design
Bright halogen lighting
Vertical/horizontal ducting
Mechanical side controls
Cleanable mesh filters
Cons
The AKDY Range Hood combines all the needed features for complete kitchen filtration. It continuously vents out kitchen odors or grease. It is made of stainless steel that ensures a longer life. Its mesh filters are dishwasher-safe.
Specifications
Dimensions: 18.9 x 29.3 x 36.3 inches
Duct Shape: Pyramid
Weight: 17.6 pounds
Style: Professional and modern
Motor Speed: 3
Watts Needed: 194
Airflow: 217 CFM
Warranty: 3 years
Pros
Built-in LED lamp
Easy-to-clean mesh filters
Dishwasher-safe filters
Touchscreen control panel
Convertible range hood
Extra carbon filters
Cons
The Broan-NuTone Ducted Range Hood improves ventilation and lighting over your stove. It has dishwasher-safe aluminum mesh filters. It comes with separate rocker switches that control the light intensity. The range hood has a four-way convertible design. Its additional mitered sides and hemmed borders add to the kitchen appearance.
Specifications
Dimensions: 17.5" Depth x 6" Height x 30" Width
Duct Shape: Round or Rectangular
Weight: 12 pounds
Style: Contemporary
Motor Speed: 2
Watts Needed: 300
Airflow: 160 CFM &190 CFM
Warranty: 1 year
Pros
Four-way convertible design
Aluminum grease filter
Protective lamp lens
Convertible ducts
Dishwasher-safe filters
Cons
These are the top 10 range hoods for your kitchen. This help removes all the kitchen odors and also help purify the air. In the following section, we will look at who should buy a range hood.
Who Should Buy A Range Hood?
Nobody wants a stinky house or a smelly kitchen. Since most household odor (of spices or rotten food items) comes from the kitchen, a range hood becomes a necessity for most. If you want a cleaner kitchen to work in and also have a lively feel every time you cook, range hoods are for you. Most of them are affordable and would only need a little space in your kitchen.
The following guide will tell you what to look for before buying a range hood for your kitchen.
What Should I Look For Before Buying A Range Hood?
Dimensions: It is always preferable that your range hood comes with a length of 30-36 inches and nearly 3 inches of height. Ensure it is placed at least 20-24 inches from a gas cooktop and 24-30 inches from an electric one.
Duct Shape: Ducts come in round, rectangular, or pyramid shapes. Certain range hoods have no ducts. You can check whatever suits your need.
Airflow: Airflow for ducts is measured in CFM or cubic feet per meter. Range hoods with a 30-inch wide duct should have an average airflow of 250 CFM. However, the airflow value also depends on the kitchen type and usage. If the kitchen has more usage, you need a vent duct with a higher airflow range.
Fan Speed: Fan speed is related to the amount of noise your range hood creates. The more the speed, the higher the noise. Fan speed is measured in amps. If the fan spins faster, the motor generates more resistance and heat. Putting a lot of pressure on the motor to increase the speed may burn it out sooner. Upgrading the motor for higher speed is usually better for your range hood.
Noise Level: The usual noise any range hood produces is at 70 dB. The lower the noise level, the quieter the experience.
Filters: Stainless steel kitchen hoods come with four types of filters – baffle filters, aluminum mesh filters, charcoal filters, and carbon filters. Filters keep your kitchen free from smoke, grease, and other air pollutants. Filters are essential for proper ventilation too. It is also advisable to clean these filters regularly.
Thermostat Control: There are temperature sensor range hoods that have thermostatically controlled fans. Whenever the temperature rises as a result of smoke, the thermostat control detects it and automatically increases the airflow.
Exhaust Timer: Mechanical switches or a touchscreen control panel can be found in almost all range hoods. But with an exhaust timer, you just need to set the clock for turning the fans off automatically. This saves both times and money.
Weight: Weight is the main criterion that decides the installation process of a range hood. The lighter the range hood, the easier its installation.
Motor Speed: The speed of the motor depends on the fan speed. The faster it is, the higher the noise. You can go for a range hood with reasonable fan and motor speeds that produces less noise.
Watts Needed: The wattage of a range hood varies according to its power consumption. Owning a lower wattage range hood saves energy and money.
Installation: The installation process differs depending on the type of range hood. Some fit the wall while others fit under the cabinet. Certain range hoods are ductless. The lesser the hassle of weight, duct, or wiring, the easier the range hood is to be installed.
Bulb: Range hood bulbs are available in different varieties, including incandescent, LED, or halogenic bulbs. It is better to go with one that offers the best illumination and consumes less power. LED lighting is comparably better than others.
CFM: The more the CFM of your range hood, the more powerful and effective will be its function. Consider using higher CFM range hoods for better functionality and filtration.
Warranty: Generally, range hoods have a 1-year warranty. You can also get a 3-year or a 5-year warranty period on limited parts in case of any damage.
Range hoods are available in different types. We have discussed them in brief.
Types Of Range Hoods
Under Cabinet Hoods: These range hoods are installed under the kitchen cabinets and used as fixtures to get rid of heat, fumes, air pollutants, etc. The ductwork goes all the way out through a passage of adjoining walls, ceiling, etc. This is the best option if you do not want to compromise with your headspace in the kitchen.
Wall-Chimney Hoods: These range hoods can be ducted/ductless and need no cabinets. These are ideal if your kitchen is spacious. Comparatively, wall-chimney hoods are expensive.
Island Hoods: They can be ducted/ductless (depending on the requirement). These have a circulation kit attached that filters the air from the range hood and pushes the purified air into your kitchen/home.
Downdraft Hood: These are placed directly below your cooktop or gas stove. They suck the smoke/fumes downward into the pipe and vent them out.
Ductless Hoods: Ductless range hoods have charcoal filters that purify the air coming from the room/kitchen and send the filtered air back into the room. However, these may not be as efficient as a ducted range hoods.
Conclusion
Choose a range hood that suits your kitchen space and is just the right type. It ensures the air inside your kitchen and your home is cleaner. It also adds to the appearance and décor. A range hood is worth the investment. Pick your favorite hood from this list today.
Expert's Answers for Readers Questions
What is a range hood and how does it work?
A range hood is a kitchen appliance used to vent out kitchen smoke and airborne grease and push back fresh, breathable air. Range hoods have fans and filters that simultaneously suck and vent out unwanted odor and pollutants.
Ducted Vs. ductless range hood – which is better?
A ducted range hood is better as it works as a cooler and air purifier too. However, ductless range hoods tend to vent out only the impurities and leave behind heat and moisture.
What is the best CFM for a range hood?
As a thumb rule, 1 CFM per square foot of the kitchen area is ideal.
Can flexible ducts be used for a range hood?
Flexible ducts made of plastic are unsuitable for range hoods. The ducts must be more secure, leakproof, and airtight. Flexible ducts may not meet these requirements.
Recommended Articles
The following two tabs change content below.

Latest posts by Harini Natarajan (see all)

Harini Natarajan
As Chief Editor, Harini sets the tone and editorial direction for StyleCraze to deliver engaging, interesting, and authentic content revolving around women's health, wellness, and beauty. She has over 14 years of experience in content writing and editing for online media. She specializes in the areas of Beauty, Lifestyle, and Health & Wellness and is proficient in Medical Sciences (Biology, Human Anatomy and Physiology, and Biochemistry). Her background in Biomedical Engineering helps her decode and interpret the finer nuances of scientific research for her team. Harini is a certified bibliophile and a closet poet. She also loves dancing and traveling to offbeat destinations.