6 Best Recliners For Back Pain (2023) – Reviews & Buying Guide
Sit back and relax peacefully, knowing that these recliners have your back.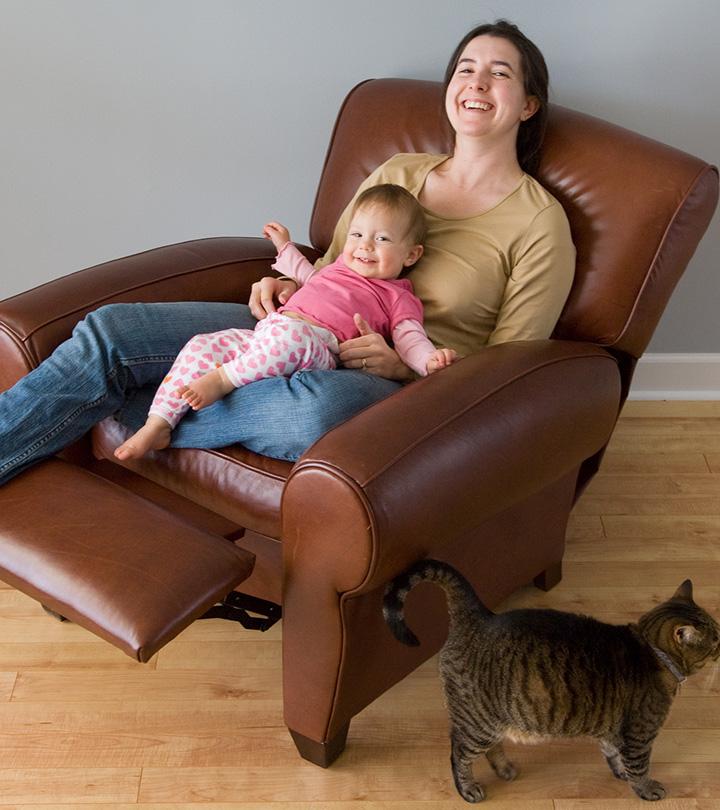 This article will take you through the best recliners for back pain. After a tiring day of work, sinking into a large and ultra-comfortable chair sounds like heaven to us. Recliners have seen a considerable amount of popularity over time, given that they provide comfort while you sit on them and prevent you from experiencing backaches. They provide the necessary support to the body and ease strain and pain on the muscles. Some recliners provide so much comfort that you can even sleep in them. You can have a recliner at your office or in your house too. They come in a multitude of colors, and they also come in a variety of fabrics and patterns. This allows you to pick the one that suits your interests and home decor. Below, we shall discuss the 6 best options and provide additional information about them so that you can make the right decision while purchasing one. So, scroll down.
What Is A Recliner?
A recliner, also known as a lounger or the armchair, is a chair or sofa that allows you to lean back at different angles. The backrest of the recliner can be tilted back, and footrest can be extended with the help of a lever placed on the side of the chair.
Recliners today feature an adjustable headrest, lumbar support, and footstool that gets adjusted according to the weight and angle of the user's leg to provide you ultimate comfort. These chairs are equipped with a motor and provide heat massage. They help to relieve body tension and ensure that your muscles are well supported. 
It is essential to know how a recliner works to understand the functionality, features, mechanisms, and how the pricing is done for different types of recliners.  
How Do Recliners Work?
Frame: The frame of the recliner will determine its durability. Recliner frames are made from hardwood or plywood. When you sit on the recliner and pull the lever, the bodyweight moves back. The frame should be strong enough to be able to support the weight and the motion with which it is carried. When making a purchase decision for recliners, prefer hardwood options as they work much better than plywood frames.
Arms: The arms of the chair are made of multiple panels that help the user while they are reclining. The arms of a recliner are a separate component, and they are constructed to operate independently from the rest of the recliner. The multiple panels of the arms are bolted together to ensure their stability and complete immovability. It is very important to have secure and sturdy arms as they are frequently used to push off when reclining.
Springs And Levers: When the user applies pressure, the springs of the recliner tend to absorb the pressure and compress while easing the recliner backward. This is how recliners work without levers. When you lean forward or rise from the chair, the spring expands and thus allows the recliner to get back to its original position.
Manual And Automatic Recliners: The reclining mechanism can be either manual or automatic. You can find both types of recliners on the market. In manual recliners, a lever and handle help to move the chair backward. In the case of automatic recliners, this function is accomplished with the help of remote control or operating touch system on the recliner to activate the recline function.
 6 Best Recliners For Back Pain
Pros
Durable
Easy to operate
Retractable footrest
Exquisite stitching design
Cons
None

Price at the time of publication: $115.99
Pros
Power lift assistance
USB charging ports
Easy to assemble and operate
Comes with a remote control
Easy to clean
Cons
Not suitable for tall people
Price at the time of publication: $609.9
 Flash Furniture Recliner Chair is made of leather and faux leather materials with a solid mahogany wood base. This beige recliner comes with a matching ottoman. The durable material of the recliner chair is easily cleanable with a damp cloth to prevent stains and soak up any spills. Its plush upholstered arms provide ultimate comfort while you relax. It is the best recliner for lower back pain.
The reclining lever is conveniently located under the right arm and helps you adjust the chair to a full reclining position. The ottoman, as well as the chair, has a wood base with a ball bearing construction. This feature gives both the ottoman and the chair an effortless swivel movement. The floor glides to protect your flooring by sliding smoothly when you move the chair and so it is the best chair for back pain sufferers.
 Features
Swivel movement allows you to turn around easily
Integrated headrest
Floor guides help to protect your floor from damage.
The compact design makes the chair ideal for smaller rooms.
Pros
Easy to clean
Strong, durable construction
Ball-bearing swiveling motion allows for easy movement
Easy to adjust the recliner
Cons
Sits lower to the ground.
Price at the time of publication: $284.27
Pros
Softcover
Durable
Easy to assemble
Ball-bearing swiveling motion allows for easy movement.
Cons
Price at the time of publication: $358.83
Pros
Durable construction
Extra thick padding for utmost comfort
360-degree swivel movement
Comes with a remote control
Cons
Not ideal for tall individuals.
Price at the time of publication: $359.99
Pros
Easy to clean
Easy to assemble
Comfortable
Ideal for small rooms
Cons
Price at the time of publication: $99.99
Incorporating a recliner into your room is a simple and portable way to address your comfort needs, along with enhancing the aesthetics of your house. We have prepared the above list of top 6 recliners after thorough research and analysis of all the products available on the market.
Keep scrolling down to know more about recliners. Also, don't forget to check our buying guide that will help you understand the main factors to consider while buying a recliner.
 Benefits Of Recliners
 Recliners may look like a luxury tool, but they have many tangible benefits. Here are a few benefits of using recliners:
Sitting or standing for long hours negatively affects the blood flow. This can lead to medical complications. A recliner allows the user to recline their seat and rest their back and feet. It is a perfect way to keep you healthy while at work.
Recliners provide the utmost comfort and relax your body. They give you relief from back pain. Recliners help to remove the pressure on your spine and relax your core muscles. This provides the overworked muscles a chance to relax. Keeping the feet in an elevated position lets gravity send the blood to the tendons and muscles of your lower back. This aids the recovery and strengthening of your back.
Sleeping on a recliner opens up your diaphragm and helps you breathe easier. Sleeping in a recliner can help people with conditions like sleep apnea, snoring, heartburn, acid reflux, etc.
Deep and slow breathing while you recline aids digestion. This is significantly beneficial before going to bed.
Side-effects Of Recliners
Recliners offer tons of benefits, but they are not a good choice for those who tend to sit too much. People with a sedentary lifestyle spend hours sitting in recliners and watching television or relaxing. That's not the recliner's fault, though! Recliners, as such, do not have any side effects; the only thing is they are not the correct choice for people with little or no physical activity.
Let's now look at the types of recliners. 
Types Of  Recliners
The Classic Recliners: The classic recliners are perfect for those who are looking for comfort but don't want to compromise on aesthetics. These recliners that are also known as wingback chairs are available in a variety of fabrics and colors. You can find them in both classical and contemporary styles.
The Rocker Recliners: This recliner is ideal for those with insomnia as the rocking motion induces nodding off. Several reclining angles and the rocking motion makes this recliner an excellent buy for people who struggle to fall asleep and mothers with babies. This recliner occupies less space and hence is ideal for small rooms. Rocker recliners are almost like a two-position recliner, the only difference being the rocking motion when upright.
The Wall Hugger Recliners: The wall hugger or saver recliner is perfect if you have space constraints as it requires very little space to fit in. Unlike other recliners, where you sink into the chair, in a wall hugger recliner, you tend to sit up straight. It is a good option for people with weak knees and limited mobility, enabling them to get up more easily. Wall hugger recliners are a little expensive but are a perfect choice for smaller rooms.
The Push-Back Recliner: The push-back recliner has a mobile back. You can push the back, like in an airplane, but with added comfort and support to your back. Push-back recliners are also a good option for smaller spaces. These recliners have a mobile backrest but do not feature a footrest. If you feel the need for a footrest, you can pair them up with an ottoman to give you almost the same comfort without a huge expense.
Powered Recliners: Powered recliners offer ease of operation and more rest positions that the traditional recliner options. Some of these electrically operated recliners also come with USB outlets for portable devices, such as mobile phones and tablets. Some models are available with massage options for the headrest, lumbar support, and other areas.
Knowing about the different types of recliners is not enough to make the right purchase decision. There are several other factors that you need to pay attention to, like the design, fabric, color, cost-effectiveness, electricity usage, and how useful it will be in your house. We have listed the most important factors that you should look for when shopping for a recliner. Scroll down to read our detailed buying guide that will help you make an informed purchase decision. 
Buying Guide
Fabric: The fabric of the recliner should be your foremost concern. The choice of the recliner fabric will depend on whether you are buying the recliner for your living area or bedroom, frequency of cleaning it, kids or pets in the house, etc. If you have kids or pets at home, it is better to go for expensive yet durable and easy to clean material like microfiber.
Frame: Recliners are available in wood, hardwood, and metal. If you are looking for durable ones, consider going for the metal frame instead of plastic frames. Hardwood frames are better options.
Style: The style of the recliner you purchase should be determined by a few key factors like where you plan to keep the recliner and the size of the room where you plan to keep the recliner. Most importantly, the target users of the recliner and their health profile will be the key determinants of the style you settle for.
Safety: Ensure that you go for a recliner that is safe and will not lead to any injury. For example, check the gap between the footrest and recliner seat. It should never be more than 5 inches.
Motorized Variants: These recliners offer the user additional comfort and convenient usage as they are less stressful on the arms and hands. Though motorized recliners are more expensive than the other recliners, because of the comfort and convenience they provide, their popularity is increasing among the masses.
Evaluate How It Fits Your Body: Once you have found a recliner of your choice, make sure to sit in it and evaluate how it fits your body in the seated and reclined position. While you test the recliner on your comfort parameter, make sure to check the following boxes:
The footrest provides adequate support to your feet.
Is the lumbar support to a firm or too soft?
There should be no gap between your lower back and seat when you recline. If the gap exists, it can lead to back pain in the future.
Your head is well supported, and the neck is in a natural position while you rest your head.
Why Trust StyleCraze?
Experts recommend using orthopedically designed recliners to reduce and prevent back pain. We have thoroughly researched multiple recliners and looked closely at their design, features, and level of adjustability to shortlist the best products available on the market. We further investigated user reviews of the products to consider user experience and noted down the pros and cons of each of the shortlisted recliners. The products on this list are designed to support the body and ease muscle strain and pain.
Frequently Asked Questions
Is recliner good for back pain?
Recliners that comes with good lumbar support and don't leave a gap between your back and the seat when you recline can be good for your back. Radiological research determined that sitting in a reclined position is better than sitting in an upright position.
How to clean an upholstered recliner?
You need to check what type of upholstery is used in your recliner. Whether it is water safe upholstery or solvent safe upholstery, you need to plan your cleaning method according to the type.
How long does a recliner last?
With regular use, the average life of a recliner can be somewhere around 10 years. The life of the chair will also depend on the quality and the chaos to which it is exposed.
Is a recliner bad for sciatica patients?
Recliners with excellent lumbar support are known to provide relief from the pain and symptoms of sciatica.
How to maintain your recliner?
If you are having issues with your recliner, check whether it is still in warranty or not. Make sure to read the owner's manual carefully for any troubleshooting issues. You can also go online to check for solutions to your chair model. If your chair is having lubrication issues, you can use penetrating oils to deal with any squeaky noises or rusting that happens over time.
Why does my recliner hurt my back?
Sitting on a recliner without sufficient lumbar support creates pain in your lower back.
Is it good to sit on a recliner all day?
No, sitting on a recliner all day can create knee and hip contractures, affecting flexibility and posture.