12 Best Recumbent Exercise Bikes For Fitness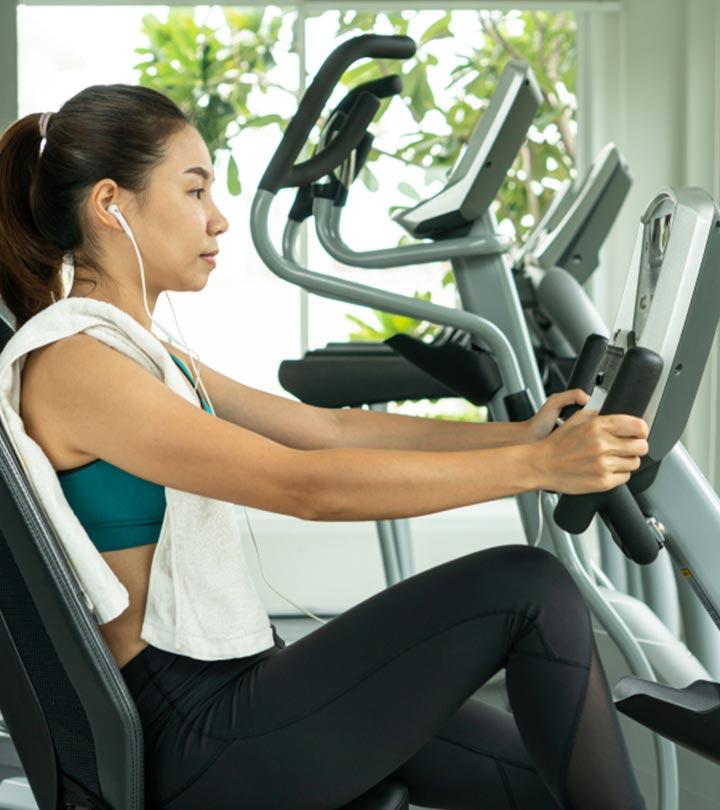 Recumbent bikes are great cardio machines. Unlike traditional stationary bikes, recumbent bikes are easy on the knees and are perfect for people with back pain. These have a chair-like seat with adjustable backrest, an ultra-modern monitor, and pedals with various resistance levels.
Recumbent bikes are meant not only for fitness centers but also for homes. In fact, you may even watch a movie while exercising. This post lists 12 best recumbent bikes of 2020o along with a buying guide. Swipe up!
12 Best Recumbent Exercise Bikes – Reviews
If you want to burn calories, become fit, and build muscles, get home the Marcy Recumbent Exercise Bike. It is made of premium 14-gauge steel tubing, rubber, and PVC. This stationary indoor workout bike features a high-quality structure and design with a powder-coated finish that enables high-performance. Its dimensions are 55.5 x 25 x 37.5 inches. This bike is sturdy, scratch-resistant, chip-resistant, durable, and also resistant to environmental damage. The specially designed seat with contoured handles facilitates proper body posture and allows the body to conform to the backrest. Its design also prevents back pain. The bike is easier on the knees and back. The magnetic resistance system features 8 preset levels of resistance. The resistance can be easily adjusted with a tension knob.
A sharp panel LCD display acts as an odometer and tracks speed, distance, time, and calories burned in extra-large numbers for easy reading. The ergonomically designed saddle is furnished with comfortable high-density foam and features contoured foam-covered handles for extra support. The weighted pedals with adjustable straps provide maximum foot support and control. This recumbent exercise bike is equipped with wheels that allow easy transportation. Its maximum weight capacity is 300 lbs.
Pros
High-quality structure
Sturdy
Scratch-resistant
Chip-resistant
Resistant to environmental damage
Durable
Noiseless operation
Easy-to-read LCD display
Facilitates proper body posture
Easier on the knees and back
Comfortable saddle
Allows maximum foot support and control
Transport wheels
Cons
None
The Exerpeutic Folding Recumbent Bike is a space-saving and easy-to-store foldable exercise machine. It supports up to 300 pounds and features 8 levels of Magnetic Tension control system. It also comes with a 3-piece torque crank system, heart pulse, and transmission system at an affordable price. The bike is powerful and equipped with a precision-balanced flywheel and a quiet V-belt double-drive transmission system.
The easy-to-read LCD display tracks time, distance, calories burned, and heart rate. It also has a large seat cushion and backrest, extendable leg stabilizers, a hand pulse sensor, large pedals with adjustable safety straps, and transport wheels for mobility.
Pros
Foldable design
Saves space
Allows easy pedaling
Noiseless operation
Easy-to-read LCD display
Large seat cushion and backrest
Transport wheels
Cons
None
The Schwinn Recumbent Bike features 25 levels of resistance for a wide range of intensity options. The Bluetooth connectivity syncs with the Schwinn Trainer App or other fitness apps to help you virtually exercise with your friends. It is equipped with 28 programs: 12 profile, 9 heart rate control, 2 fitness tests, 4 custom, 1 quick start. This efficient and well-designed recumbent exercise bike plugs into any standard electrical wall outlet. It comes with a 90-240V, 50-60 Hertz adapter. The high-speed and high-inertia drive system with a perimeter-weighted flywheel enables an easy start and smooth, consistent pedaling. It also features a Dual Track LCD display, a media shelf, in-console speakers with an MP3 input port, a USB charging port, and an adjustable fan. The maximum user weight is up to 300 lbs.
Pros
Efficient and well-designed
Plugs into any standard electrical wall outlet
Easy to start
Smooth pedaling
A media shelf
In-console speakers with MP3 input port
USB charging port
Adjustable fan
Transportation wheels
Cons
None
The MaxKare Recumbent Exercise Bike has a maximum weight capacity of 300 lbs and features 8-level magnetic resistance that provides a customized intensity and noiseless workout experience. Its ergonomically designed seat and backrest are made with comfortable high-density sponge for comfort while exercising. The adjustable lever makes changing the seat position easier and more convenient. The handles are padded with vinyl foam to provide a solid grip for a comfortable workout. The LCD monitor displays and tracks your exercise data. This includes calories burned, heart rate, time, speed, and distance. The iPad holder enables the user to enjoy exercising while watching the news or a movie. The transportation wheels allow easy movement around the house.
Pros
Customized intensity
Noiseless operation
Ergonomically designed seat and backrest
iPad holder
Transportation wheels
Cons
Unclear assembly instructions
The Nautilus Recumbent Bike features 25 levels of resistance for a wide range of workout intensity options. The maximum user weight capacity is 300 lbs. Its dimensions are 65.3 x 28.3 x 49.6 inches, and it weighs 91.9 lbs. The enhanced Bluetooth connectivity enables the users to set, track, and monitor their progress. The DualTrack blue backlit LCD console displays 29 customizable workout programs. It also shows time, distance, speed, heart rate, and calories burned. The padded seat with a ventilated back on a sliding seat rail aids adjustable comfort to the user. The side handles are perfect for support. The adjustable foot straps and the large footrest allow unhinged pedaling.
Pros
Adjustable seat
Ventilated backrest
Side handles for support
Adjustable foot straps
Cons
The 3G Cardio Elite Recumbent Exercise Bike is a compact 49-inch by a 27-inch exercise machine. It features high-quality construction with a lifetime warranty for the frame and a 7-year warranty for the parts. The adjustable seat frame and backrest makes it easy to be used by many users of different heights. A wireless heart rate strap is included with a handheld heart rate contact sensor. The Narrow Q factor distance between the pedals helps in an ergonomically correct ride. It is comfortable, quiet, and sturdy.
Pros
High-quality construction
Adjustable seat frame and backrest
Enables ergonomically correct ride
Quiet operation
Sturdy
Cons
Uncomfortable seat position
The HARISON Magnetic Recumbent Exercise Bike has a weight capacity of 350 lbs. It features 14 levels of noiseless magnetic resistance programs for a customized workout experience. The design is ideal for seniors. The heavy-duty stainless steel frame makes the bike sturdy and efficient. The step-through design facilitates quick entry and exit from the bike. It is corrosion-resistant and oxidation-resistant. The sliding seat makes it easy to adjust to the user's height. The smooth torque cranking system enables a smooth and consistent pedaling. A multi-function LCD display provides a real-time record of speed, distance, calories burned, RPM, odometer, and heart rate. A 2-in-1 iPad holder and water bottle holder are also provided for greater convenience. The seat and backrest are padded with high-density foam. The footrests with straps and side handlebars provide stability.
Pros
Specifically designed for seniors
Heavy-duty stainless steel frame
Quick entry and quick exit
Corrosion-resistant
Oxidation-resistant
Smooth, consistent pedaling
A 2-in-1 iPad holder and water bottle holder
Offers stability while exercising
Transport wheels
Cons
May make a 'grinding' noise
The Stamina Elite Total Body Recumbent Bike has a maximum weight capacity of 250 lbs and features 8-level magnetic resistance for a customized workout. The resistance can be adjusted with an easy-to-reach tension dial. It has a sturdy steel frame, ergonomic design, and built-in transport wheels. The multi-function electronic display tracks time, speed, calories, heart rate, and distance. The padded seat and adjustable backrest make this recumbent exercise bike effective and comfortable for users of varied body sizes. The bike also includes upper hand pedals and lower foot pedals for a full-body workout.
Pros
Sturdy steel frame
Ergonomic design
Built-in transport wheels
Padded seat and adjustable backrest
Designed for a full-body workout
Cons
The SOLE Recumbent Bike supports up to 300 lbs and is compact. It features 20 resistance levels and allows a smooth transition from one level to another. A 9" LCD screen with Bluetooth connectivity helps track and monitor progress in real-time. It also allows the user to transfer data from the bike to their phones. The adjustable, foam-padded seat and backrest ensure a comfortable workout. This bike is perfect for apartments or other small spaces.
Pros
Compact
Adjustable, foam-padded seat and backrest
Perfect for apartments/small spaces
Cons
May not be ideal for people with back issues
The Xspec Recumbent Bike can either be used as an upright or a recumbent exercise bike. It features a 16-level magnetic resistance that allows the user to adjust the resistance levels to make the workout progressively challenging. The heavy-duty steel frame is adjustable to work comfortably for a maximum weight of 220 lbs. The vertically adjustable seat helps accommodate a wide range of body heights as well. An LCD display monitor tracks calories burned, distance, time, and speed. It is also equipped with a phone/iPad or book holder. A large counter-weighted pedal design with a secure and adjustable cage foot strap ensures safety. The high-performance cranking system provides a smooth, quiet, and consistent pedaling motion. The bike can be folded for easy storage. It is also equipped with transportation wheels.
Pros
Can be ed as an upright or a recumbent exercise bike
Heavy-duty steel frame
Accommodates a wide range of body heights
Has a phone/iPad or book holder
Supports smooth, consistent pedaling motion
Foldable design
Transportation wheels
Cons
None
THe SNODE Magnetic Recumbent Exercise Bike has a maximum weight capacity of 300lbs and features 8-level magnetic resistance for a customized workout. The magnetic control system offers smooth and quiet exercise. The LCD digital monitor tracks calories burnt, time, distance, speed, pulse, etc., for easy track accessibility during workouts. The 3 piece cranks add strength and durability to this machine. In addition, the adjustable seat makes the bike more user-friendly and it comes with a 1-year warranty.
Pros
 Ergonomic design
 Adjustable base and strap
 Designed for a full-body workout
 Durable
 Sturdy
 Comes with a pulse sensor
Cons
The Pooboo Recumbent Exercise Bike features 8 adjustable magnetic levels of tension for a customized workout. The ergonomic design features a large seat and backrest with a soft padding that provides utmost comfort during workouts. The bike also comes with transport wheels to easily move the bike according to your needs. The LCD monitor tracks your daily workout milestones for easy accessibility. It has a weight capacity of 300 lbs and is convenient for people with 5′-6.5′ height. It offers a 1-year warranty on the parts.
Pros
 Transportation wheels
 Ergonomic design
 3-year warranty on the frame
 Padded cushion seat
 Has an iPad holder
Cons
None
These are the 12 best recumbent exercise bikes of 2020. Following is a checklist of what to look for in a recumbent bike before you purchase one.
How To Choose The Best Recumbent Bike – A Buying Guide
Design: Recumbent bikes, unlike upright bikes, have a seat with backrest. These can be compact or full-sized. Choose the one that fits the room you will use it in.
Material: Look for bikes that are made of heavy-duty, rust-free, and corrosion-free steel.
Resistance: Recumbent bikes with multiple resistance levels are ideal for long-term use. Choose the one that has at least 5 resistance levels. It will keep you motivated, and you can also challenge yourself.
Seat Adjustability: Depending on your height, you must adjust the seat to reach the pedal at the correct distance for effective pedaling.
Backrest Adjustability: A lever helps to adjust the backrest either upright or decline it. This helps maintain good posture and reduces the risk of a back injury.
Padding: The backrest and seat should be adequately padded to provide comfort to the back and hips.
LCD Display: A large LCD display with the large, readable font is great for tracking time, speed, distance, calories burned, and heart rate.
Pulse Sensor: A few recumbent exercise bikes have built-in pulse sensors on the side handles. These keep you from over-exerting yourself.
Pedals: Choose a bike with broad footrests with adjustable straps for safety and stability.
Noise: Check if the equipment makes a loud noise. Most recumbent bikes on the market today have a quiet operation.
Conclusion
Recumbent bikes are suitable for all ages. They are fun, comfortable, burn some serious calories, and improve cardiovascular fitness and body shape. You sure can get healthy from the comfort of your home. Choose your favorite recumbent bike and start exercising today!
Frequently Asked Questions
Are recumbent bikes good for losing weight?
Yes, recumbent bikes are good for losing weight – especially from the lower body. They help burn calories and work your thighs, calves, and the glute muscles.
How long should I exercise on a recumbent bike?
If you are a beginner, start with 5-10 minutes at an intermediate resistance level. As you become more comfortable, you may exercise for 20 minutes. Your exercise time will also depend on the resistance and fitness levels. Do not over-exert yourself. Keep a bottle of electrolyte handy and keep sipping it.
Do recumbent bikes hurt your back?
An uncomfortable backrest position can hurt your back. Explore the multiple settings of the backrest to understand which position works best for you. You may also use an orthopedic cushion to support your back.
Can a recumbent bike burn as many calories as an upright bike?
Yes, recumbent and upright bikes burn the same amount of calories. However, recumbent bikes are more comfortable, and hence, more preferable. This means one is more likely to consistently use a recumbent like and burn more calories in the long run.
What kind of power does a recumbent bike need?
The power can vary depending on the speed. For example, a recumbent bike needs 135 Watts to go at 40 Km/Hr or 11.111 m/s, and 250 Watts to go at 19.167 m/s.
Are recumbent bikes quiet?
Recumbent bikes are not completely quite. You will hear the sound of the wheel at the front. However, it's not too loud or distracting.
Recommended Articles
The following two tabs change content below.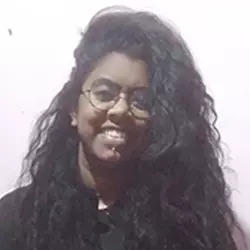 Aditi holds a postgraduate degree in English Literature from Presidency University, Kolkata, and a bachelor's degree in Education from the University of West Bengal. She has previously worked as a scriptwriter for an educational technology company and as an editor and proofreader for a digital marketing agency. She specializes in reviewing fitness products and equipment and aims to provide the readers with all the information required to make an informed decision. She is passionate about teaching and her other interests lie in parkour, short stories, journaling, and Indo-Pakistani sign language.