10 Best Red Light Therapy Devices To Heal Your Skin Tissues – 2023
End your skin woes and get healthy, glowing skin with these fantastic therapy devices.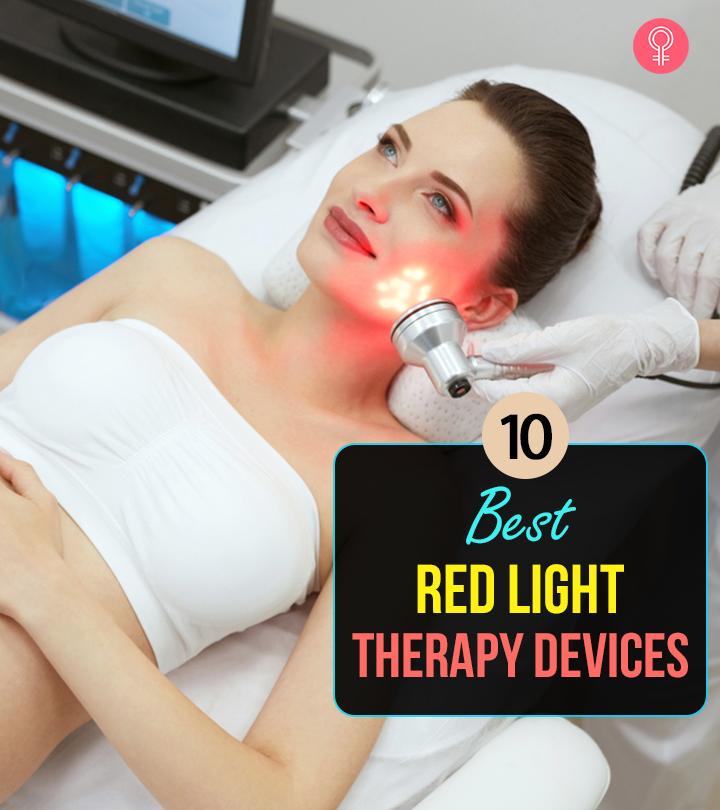 Red light therapy devices help to heal your skin and treat muscle tissues. The best red light therapy devices soothe your skin cells and impart a healthy glow. In addition, these devices help you avoid using products that show no effective results. We have curated a list of the 10 best red light therapy devices that can soothe your skin issues. Check them out below!
What Is Red Light Therapy?
Red light therapy is also known as photobiomodulation or low-level light therapy. This non-invasive and painless skin treatment involves exposing the surface of the skin to red LED lights. It can help with several types of skin damage, such as acne, rosacea, wrinkles, age spots, and psoriasis.
How Does Red Light Therapy Work?
The red light therapy is effective at boosting the reproduction and healing of skin cells. It offers deeper penetration of the light rays into the skin, which stimulates cell function and growth. The red light therapy results in the efficient production of elastin and collagen, which make the skin soft, firm, and healthy. With faster regeneration, this therapy can treat many skin issues safely and effectively.
Now that you know what red light therapy is all about, let's take a peek at the 10 best red light therapy devices to help you achieve the flawless skin of your dreams.
Top 10 Red Light Therapy Devices
The Pulsaderm LED Red Light Therapy Device helps restore a natural and youthful appearance to your skin. The low-level light energy from the device impacts cellular metabolism positively and stimulates the repair and regeneration of damaged cells. The light penetrates deep into the skin and helps reduce the appearance of wrinkles, fine lines, and crow's feet. With regular use, it imparts a healthy glow to the skin, leaving it smoother and tighter.
Pros
Large treatment area
Auto shut-off feature
3-minute treatment cycle
Cordless
Easy to use
Safety goggles included
FDA-approved
Cons
None
Price at the time of publication: $74.0
The NuFace Red Light Facial Toning Kit includes a hydrating gel primer, a Trinity facial toning device, and a red light wrinkle reducer attachment. It helps smooth, tone, and lift mature skin to make it youthful and wrinkle-free. The wrinkle reducer attachment delivers targeted red light therapy to minimize the appearance of wrinkles on your face. The device helps contour and firm the skin with prolonged use.
Pros
Uses microcurrent technology
Minimizes lines and wrinkles
Helps fade dark spots
Easy to use
Clinically-tested
Cons
Price at the time of publication: $449.0
The Trophy Skin RejuvaliteMD Red Light Therapy Device has been clinically approved to reduce facial wrinkles. The LED panel emits UV-free light in red, yellow, amber, and invisible infrared. These four kinds of red light penetrate the skin at varying levels to provide several benefits. Its regular use helps reduce inflammation and stimulate collagen production. It improves the skin tone and texture and allows natural healing.
Pros
Safe for all skin types
Protective goggles included
Easy to use
5-minute treatment cycle
Dermatologist-tested
FDA-approved
60-day guarantee
Cons
Price at the time of publication: $194.88
The Project E Beauty Red Led + Anti-Aging Therapy device emits 630 nm red light through 40 red LED bulbs. The UV-free treatment is safe and requires zero recovery time. For additional safety, the device activates the light only after contact with the skin. The red light stimulates fiber cells of the skin, boosts blood circulation, and helps improve collagen albumen hyperplasia. This leads to reduced wrinkles and more elasticity. Go through this video review for a detailed understanding of the product.
Pros
15-minute treatment cycle
Safe for all skin types
Dual treatment mode
100% UV-free
Easy to use
Rechargeable
Cons
Price at the time of publication: $134.9
The Helios X Facial Rejuvenation Device provides three kinds of treatments: red light therapy, infrared light therapy, and a heating massage. Red light therapy works on age spots and treats scars and rosacea. Infrared penetrates deep into the skin and boosts the production of collagen. The thermal heating massage improves elasticity and helps repair damaged skin.
Pros
3-in-1 device
Lightweight
Compact design
Rechargeable battery
Visible results in 4 weeks
Affordable
Cons
Price at the time of publication: $59
The Eco Face Near-Infrared LED Photon Mask is equipped with red and near-infrared diodes. The 630 nm red wavelength and the 830 nm near-infrared wavelength help improve skin elasticity and keep it hydrated. It also prevents low-temperature burns and is safe for use. This mask improves existing skin issues and allows better absorption of serums and creams into the skin. Check out this video for a detailed review of the product.
Pros
Clinically-tested
Lightweight
Rechargeable
BPA-free
1-year warranty for mask
6-month warranty for parts
Cons
Expensive
Quality control issues
Price at the time of publication: $249.99
The Norlanya Red Light Photon Therapy Machine rejuvenates, firms, and tones your skin and lifts your face. It emits 660 nm wavelengths that treat skin issues and boost the production of collagen and elastin. The device has two operation modes – continuous and pulse. An inbuilt timer turns off the device after 10 minutes. The package also includes safety goggles to protect your eyes against accidental exposure.
Pros
Automatic shut-off
Travel-friendly device
2 light therapy modes
Rechargeable battery
Protective goggles included
Affordable
Cons
Price at the time of publication: $59.99
The Silk'n FaceFX includes a squalane serum in the package that helps deliver a ton of anti-aging benefits for your skin. It transforms your skin into a youthful and radiant version of itself. The device employs Home Fractional (HF) Red Light therapy that works to brighten your skin tone while helping reduce wrinkles. It stimulates the production of collagen, which lifts and plumps sagging skin.
Pros
Includes squalane serum
Safe and easy to use
Value for money
Stimulates collagen
Reduces wrinkles
Cons
Might not last long.
Not value for money.
The reVive Light Therapy Look Book Light Therapy Panel offers red light therapy in three wavelengths – red, infrared, and amber. The red light encourages cell repair and stimulates blood circulation. The infrared boosts collagen and elastin production and also speeds up healing of wounds and scars. Amber light is helpful in soothing redness and inflammation and treating sunburn and rosacea.
Pros
192 LED lights
3 wavelengths of light
Easy to use
FDA-approved
Clinically-tested
Cons
Expensive
May feel too hot for comfort.
Price at the time of publication: $149.0
Lift Care's Light Therapy is an easy, non-invasive, and rejuvenating treatment method that helps treat breakouts, fine lines, wrinkles, redness, inflammation, and other skin-related issues. The device is wireless, lightweight, and compact, which means you can take it anywhere and calm your skin at any time. The automatic contact sensor is smart enough to activate only when the device is near your skin, which prevents eye strain as the LED lights start to flash. The coolest part is that the device comes with hyaluronic acid serum, which has been formulated to increase moisture and give your skin that smooth, silky feeling.
Pros
Wireless and long-lasting
Reduces breakouts and blemishes
Compact and elegant design
Easy to use anywhere, anytime
Has an automatic contact sensor
Cons
Might not be suitable for those with hypersensitive skin
Now that you have discovered the best red light therapy devices, here are a few ways red light therapy can be beneficial for you. 
Benefits Of Red Light Therapy
Red light therapy shows impressive results on mature skin. It firms and tones sagging skin and minimizes fine lines and wrinkles by boosting the production of collagen and elastin.
For skin damaged by acne and rosacea, red light therapy helps soothe inflammation and stimulate blood circulation to speed up the healing process.
Red light therapy increases your skin's ability to absorb serums and creams intensely, making them more effective.
Apart from being beneficial for your skin, red light therapy also impacts your health positively. It can relieve arthritic pain, encourage hair growth, promote wound healing, and repair sun damage.
Red light therapy devices designed for home use are more budget-friendly than appointments with a dermatologist. Investing in a one-time purchase saves you time and dollars in the long run.
Most red light therapy devices are portable, and you can rejuvenate your skin easily, even on the go.
It is essential to stick to the manufacturer's instructions while using a red light therapy device at home. Doing so will keep you safe and avoid any mishaps. These tips can help you make the most of your red light therapy device. 
How To Use A Red Light Therapy Device At Home
Check that your current medication does not include anything that increases your sensitivity to light. Otherwise, taking red light therapy might cause hyperpigmentation. Also, avoid taking retinol during red light treatments. Always consult your medical professional to know what is safe for you.
Use a moisturizing cleanser to wash your face before starting every session and follow it up with a rich moisturizer post-treatment. This will prevent your skin from drying out.
Safety goggles help protect your eyes and prevent any discomfort.
To make your device last longer, always keep it clean. Oily residue or rust on the screen can block the light and reduce the efficiency of the treatment.
With the number of red light therapy devices available on the market, it might be overwhelming to choose the best one as per your needs. Consider these factors to make the right choice.
Things To Consider Before Buying A Red Light Therapy Device
Wavelength– Go for devices that emit at least 630 nm to 830 nm. This is the most effective range that shows promising results in improving circulation and soothing inflammation.
Design– Most red light therapy devices for facial skin are either handheld or hands-free. Handheld devices have a smaller light surface and are suitable for targeted treatments on specific areas. Hands-free devices target your entire face and may be easier to use – close your eyes and allow the light to work its magic. Pick one based on your preference.
Automatic Shut-off – If you are choosing a hands-free device, such as an LED face mask, always opt for one with an automatic shut-off feature that turns off the device after the recommended treatment time is over. This prevents prolonged exposure and keeps your skin safe.
Budget– The price of a red light therapy device varies depending on the brand. Check all the features and pick one that offers the most value for money.
Warranty– Make sure the product is covered under a manufacturer's warranty. Red light therapy devices do not come cheap, and in case of a defect, it helps to have your investment protected.
FDA-clearance – If the product has FDA approval, you can relax and use it comfortably as it has been clinically tested and safe for use.
Is Red Light Therapy Safe?
Red light therapy is a safe and painless skin treatment. But there may be risks if you misuse it. Wear safety goggles throughout the treatment to prevent damaging your vision accidentally.
Do not exceed the recommended time for use as prolonged exposure may burn your skin or cause unwanted damage, especially if you have sensitive skin.
If you are unsure, check with your doctor for the best advice on whether or not this treatment suits you.
Why Trust StyleCraze?
Sakshi Bahal, the author, is passionate about skin care and finds joy in trying out the effects and functionality of various gadgets and products that keep the skin healthy. She has a fair idea of what ingredients and beauty devices work best for your skin. She has thoroughly researched and carefully reviewed many customer testimonials before curating this list of the top 10 red light therapy devices for you. This is a painless and non-invasive way to help reduce signs of aging and skin damage.
Recommended Articles