7 Best Reflective Running Jackets – 2023
These breathable, comfy garments will improve your style game while you rock your workouts.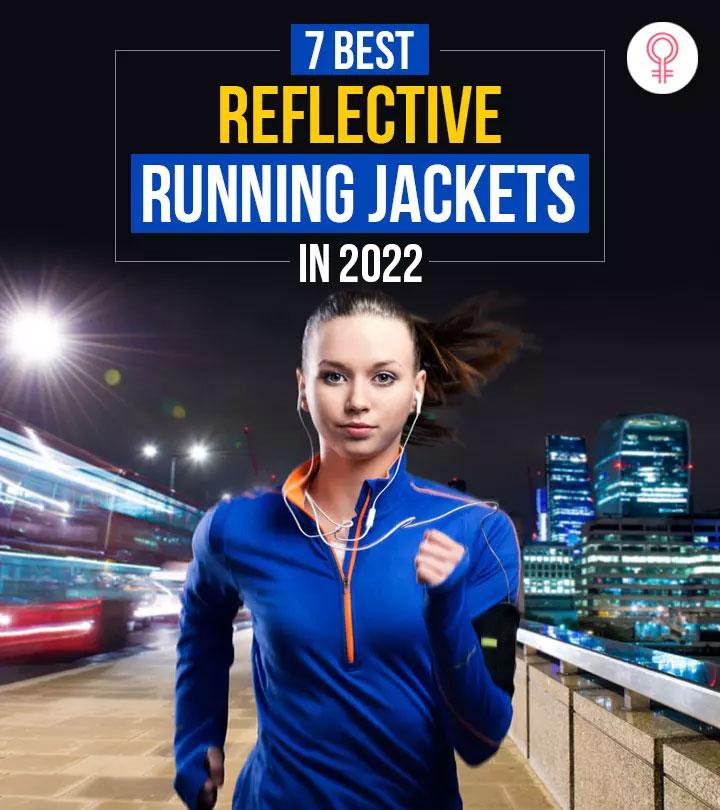 Walking or jogging during times of limited visibility can be dangerous because moving vehicles find it harder to notice you. That is why, if you enjoy early morning jogs or late night walks, investing in the best reflective running jackets, which are of high quality, is essential. These reflect every time light flashes on it, making you more visible. They are also made from durable materials and even make a fashion statement. Since there are numerous reflective running jackets available in the market right now, we thought of curating a list of some of the best ones for you. Read on to find out the best reflective running jackets for yourself so that you don't have to cancel your plans anymore.
7 Best Reflective Running Jackets In 2023
This stylish outfit is made entirely with quality reflective material. The TR Women's 3M Reflective Jacket is simply hard to miss at any time. It holds heat very well and is equipped with elasticated sleeves and zippered hood to keep your hands, ears, neck, and head safe from icy winds. The drawcord at the hem of this jacket gives your waistline a customized fit to block out any cold wind as well. Its zippered pocket in the front allows you to safely store your essentials like phones, iPods, cash, keys, or card.
Specifications
Material: Reflective material
Color: Grey and white
Pros
Breathable
Water-resistant
Super-reflective
Durable
Well -fitted
Versatile
Cons
None

Price at the time of publication: $27.79
The Hosgsonii Reflective Jacket is made with 100% polyester material lined with TPU. It is 5000 MM waterproof and provides 24-hour breathability. Just like the lotus effect, the rainwater transforms into a bead-like structure and slides down, while the fully taped seams prevent the water droplets from soaking into the garment's surface. This jacket has very high visibility as it has reflective strips on either side that can be noticeable even in lowlight conditions! Its cord adjusters and non-slip elastic band prevent the jacket from riding up, while the waterproof hoodie with a cord protects you from wind and rain. Its lightweight design also comes with one back pocket, two inner pockets, and two hand pockets with zippers to keep your belongings safe and your hand warm. It can be packed conveniently into its own back pocket, making it a perfect travel companion.
Specifications
Material: Chemical fibre
Color: Black and Fluorescent green
Pros
Lightweight
Waterproof
Breathable
Ergonomic design
Roomy fit
Multiple pockets
Comfortable to wear
Windproof
Super-reflective
Durable
Cons
None
Price at the time of publication: $39.99
Unlike regular baggy and large running jackets, which can leave you looking drab, the Bpbtti Reflective Jacket features a more fashionable and smaller fit. It is made with 100% reflective fabric, ensuring optimal visibility. Its collar is 5 cm high, and the sleeves are extra along with elasticated ends to ensure added warmth and coziness. Its fabric is water-resistant, so you don't have to worry about drizzles or rains anymore. It is equipped with two zipper closure pockets to keep your mobile phones, cards and keys safe or keep your hands warm. It also features laser-cut holes on two sides and black mesh underarms, providing ample breathability and keeping sweat or stuffiness at bay.
Specifications
Material: 100% Reflective fabric
Color: Silver/magenta and Silver/yellow
Pros
Lightweight
Breathable
Ergonomic design
Easy to take on and off
Multiple pockets
Comfortable
Moisture-wicking
Windproof
Good visibility
Cons
None
Price at the time of publication: $24.99
Indulge in a comfortable and active fit with this four-way stretchable Little Donkey Andy Reflective Jacket! This lightweight jacket features a breathable printed membrane with mesh and laser-cut ventilation to enhance breathability in areas where your body tends to sweat easily. It is equipped with two seamless zipper pockets and deep inner pockets to store your belongings safely during vigorous activities. The reflective elements on both sides of this jacket keep you safe even in lowlight conditions! The jacket also comes along with a folded hoodie to keep your ears, neck, and head safe from the icy wind, along with a packable pouch for easy transportability. It is perfect for training, running, hiking, camping, traveling, or casual wear.
Specifications
Material: 100% Polyester
Color: Black, Blue, Fluorescent yellow, Orange, Light grey, Lake blue, Watermelon red, and Grey
Pros
Breathable
Lightweight
Durable
Stretchable
Water-resistant
Windproof
Portable
Multiple zippers
Durable
Cons
None

Price at the time of publication: $34.98
Regular full-sleeved reflective jackets can be uncomfortable during humid conditions and summers. The Proviz Reflective Jacket has a unique sleeveless design and a perforated back for leaving you dry, comfy, and breathable. Its shoulders and waist are fitted to ensure proper closure with no loose flat flaps so heat can be retained, and cold air does not get in during chilly weather. It has two side zip pockets to safely store your essentials and belongings. This running jacket also uses an innovative material with multiple reflective glass beads that give you 360° reflection for maximum protection.
Specifications
Material: 100% Polyester
Color: Grey
Pros
Durable
Windproof
Multiple pockets
Breathable
Waterproof
Well-fitted
Super-reflective
Ideal for all climates
Comfortable
Cons
None
Price at the time of publication: $85
This chic Kutook Running Jacket is made of 100% polyester and warm polar fleece liner, making it extra soft, skin-friendly, and water-resistant. It is processed with anti-static treatment and a water-repellent coating to prevent annoying static during winter and leave you dry on light rainy days. This shell jacket is equipped with a hood along with an adjustable drawstring to keep your ears, neck, and head safe from the cold weather. Its sleeve cuffs have a unique hook and loop closure so that you can adjust the tightness according to your convenience. It also features a reflective logo on the front and stripes on the arm for added visibility and safety in lowlight conditions. You can wear this jacket for any outdoor or casual wear, like running, cycling, hiking, walking, or fishing.
Specifications:
Material: 100% Polyester
Color: Orange
Pros
Waterproof
Windproof
Skin-friendly
Anti-static
Versatile
Durable
Prevents chafing
Good visibility
Comfortable
Well-fitted
Cons
None
Price at the time of publication: $69.99
The well-fitted Santic Reflective Jacket provides maximum comfort and safety. It has a longer back that provides extra coverage and contains three rear pockets with an elastic band to ensure ample space for storing your money, keys, and phone. Its inner lining is made of quality polar fleece that provides you with optimal warmth, while the wind-resistant lined collar protects you from icy wind or cold! Its reflective strips are highly visible at night or even in low light environments.
Specification
Material: Polar fleece
Color: Red, White, and 3 Black prints.
Pros
Multiple pockets
Extra coverage
Good fit
Optimal visibility
Comfortable
Stretchable
Durable
Windproof
Cons
None
Price at the time of publication: $49.9
Now that you are aware of the various reflective running jackets available, let's look into some features to consider before buying them:
How To Choose The Best Reflective Running Jackets?
The best reflective running jackets are made with quality materials like nylon or polyester. These materials allow heat to move away from the body while keeping you dry, sweat-free, and breathable.
It is very important to consider the weather resistance of your running jacket, as the wind can be one of your biggest enemies. This is because, at times, your body loses heat, and the icy winds get into your jacket and leave you freezing. Thus, if you live in cold areas, look for jackets with adjustable straps or loops to prevent heat loss!
You need a running jacket that will allow you to be seen at night and in the mornings, even when the visibility might be low. It does not mean that you have to glow up like a Christmas tree, but choose a jacket with well-placed reflective strips that allows you to be seen clearly from any angle.
When buying a running jacket, you might also want to consider if you're going to use it in one single season or all four seasons. Make sure your jacket is made of durable material that holds up to any weather conditions and stays good for a few years. The materials, stitching, and seams ensure the longevity of your running jacket.
You can also look for additional features like vents, with either mesh ventilation or zips under the arms, for added breathability during strenuous activity. You can choose a jacket with a detachable hood that you can use during wet days!
Why Trust StyleCraze?
The author of this article, Baishali Bhattacharya, is a certified image consultant who likes to explore, research, and review products from reliable sources. She has filtered the best reflective running jackets based on the unbiased customer reviews posted on several trusted online platforms. The jackets listed above are made of durable materials and help you level up your fashion game.
Frequently Asked Questions
Does a reflective running jacket protect you from the sun?
Yes, a reflective running jacket covers your upper body, protecting your skin from sunlight.
Does a reflective running jacket keep you cool?
Most reflective running jackets have excellent breathability that keeps your body cool.
Can you wear a reflective running jacket in the rain?
Yes, many reflective running jackets have a waterproof design which will help you in rainy weather.
What is the benefit of wearing a fluorescent or reflective jacket?
Reflective jackets help you stand out in the crowd. If anyone is looking for you, it would become easy for them to spot you. These jackets are mostly worn while running and hiking so that in case you lose your way or get incapacitated, the search party can spot you easily.
How do I wash reflective jackets?
Your reflective gear can be washed in running water with like colors. You can also manually clean them or use the "delicates" cycle on the washing machine. Avoid using bleaching or cloth softener.
Recommended Articles