14 Best selling Relationship Books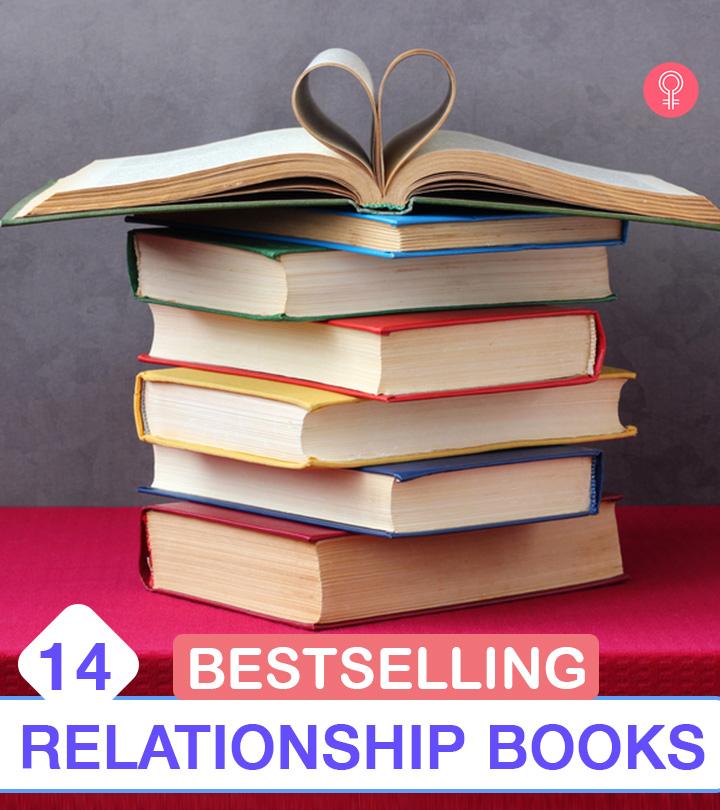 Cultivating and maintaining a healthy relationship requires work. This holds for not only romantic relationships but also those with your children, parents, relatives, and friends. It is important to nurture each relationship constantly, communicate properly, and effectively resolve conflict, all while being true to yourself.
If you are looking for some good books on relationships that will help you do some soul searching, you have come to the right place. Here are 12 best relationship books you can read that will help you be a better partner and a better person. Scroll down to check them out!
14 Best Relationship Books
Author: Harville Hendrix
What You Will Learn: This book will reveal why all your relationships seem to end up in the same manner. It dives deep into why people keep dating those who act like their mother or father. It also explains why most couples fight about the same stupid things again and again.
Why It's Good: Taking a look at the Freudian idea that we end up dating people who represent our mothers or fathers, this book explains why we are doomed to repeat our childhood traumas in our adulthood. When you grow up, you get into a serious relationship, and then you start noticing that your husband or wife behaves just the way your father or mother did. It drives you crazy because it reminds you of all the unpredictability and chaos of your childhood.
Hendrix provides an actual, logical, reasonable explanation for why our relationships push us against the wall so much. He explains how our interactions with our parents create "emotional maps" that become our standard for what love means, what acceptance truly is, and what being a good person should be like. These maps determine who we are attracted to when we are grown-ups.
Publishing Date: March 1, 2008
Language: English
Price at the time of publication: $29.21
Author: Gary Chapman
What You Will Learn: This book is a simple tool for understanding why people express and receive love the way they do.
Why It's Good: The 5 Love Languages is a cult favorite. It is a short book with a powerful idea –and that idea has helped millions because it is incredibly useful. The idea of the book is that people express and receive love in five different love languages. There is physical touch, gift-giving, verbal affirmation, quality time, and acts of service.
Many issues in relationships occur because one is giving love in one language – maybe giving lots of gifts – and the other is seeking love in another language – asking for quality time or physical touch. Due to this difference, the person providing the love feels unappreciated, and the one looking for love feels unfulfilled.
Publishing Date: January 1, 2015
Language: English
Price at the time of publication: $8.99
Author: John Gottman and Nan Silver
What You Will Learn: The fighting is natural. All issues don't to be resolved. Going for the silent treatment is often worse than screaming at your partner. This book explains what makes a relationship happy.
Why It's Good: Gottman, the author, is famous for studying relationship conflicts and predicting whether a couple would last five more years – with an accuracy of 90%. He has uncovered secret findings along the way about what makes a relationship successful in the long-term.
Publishing Date: May 5, 2015
Language: English
Price at the time of publication: $10.79
Author: Dr. Sue Johnson
What You Will Learn: This book will teach you how not to make your relationship issues worse, when to back off and listen to your SO, and how to not be selfish in a relationship.
Why It's Good: This book explains that romantic relationships are mainly driven by unconscious desires and emotions. The memories, arguments, and identities are secondary; the main issue is the underlying emotional pain.
Johnson writes that emotional solutions can help relationships succeed when nothing else can. Hold Me Tight takes a look at the emotional patterns that emerge when people are hurt and going through relationship problems, and the conversations couples should have to help heal these patterns.
Publishing Date: April 8, 2008
Language: English
Price at the time of publication: $13.29
Author: Mark Manson
What You Will Learn: This book is about developing emotional maturity and being a better person.
Why It's Good: The author addresses the emotional experience of dating someone – how people tend to idealize other people, how their desperation sabotages their relationships, and how people are often motivated by insecurity. It teaches people how to level up their emotional game. It also teaches you to live a life of integrity and honesty for achieving success in relationships.
Publishing Date: July 28, 2011
Language: English
Price at the time of publication: $12.75
Author: Dr. Sue Johnson
What You Will Learn: Love Sense covers the three stages that a relationship goes through and how to best deal with them. It takes a look at the logic of love and the intelligence of emotions. The author explains the psychological and physical benefits of secure love. Johnson asks us to let go of the entire "stand on your own feet" idea. She wants us to accept the fact that loving and caring about someone and needing them go together. Intimate relationships are all about interdependence.
Why It's Good: This book presents a revolutionary new idea of how and why we love, based on scientific research. We hear of relationships falling apart every day. Some of us even question whether we are even meant to be monogamous.
This book presents new evidence that states that humans mate for life. Romantic love is a bond, like the bond between a mother and her child. Our love sense develops our ability to have successful, long-lasting relationships. This book will change the way we view love.
Publishing Date: December 31, 2013
Language: English
Price at the time of publication: $19.4
Author: John Gray
What You Will Learn: This book is a classic. It is a guide to understanding the opposite gender better. It provides a proven and practical way for men and women to improve their communication skills and relationships by understanding their differences. This book is based on years of couples counseling. The book has helped millions of people transform their relationships.
Why It's Good: This book is viewed as a modern classic. It has helped couples realize how different they are in their communication styles, their modes of behavior, and their emotional needs, and teaches the secrets of communicating without conflicts. The thesis is based on the theory that Martians or men and Venusians or women are very happy in relationships when they accept their differences and conflicts as positive traits.
Publishing Date: December 13, 2003
Language: English
Price at the time of publication: $10.29
Author: Greg Behrendt and Liz Tuccillo
What You Will Learn: You are doing nothing wrong – he might just not be into you. Especially for singles who are constantly fretting about why their relationships are not working out, this book breaks down why they are wasting their time on those guys. The book is hilarious and refreshing. It teaches you not to over-analyze relationships.
Why It's Good: This book provides tough love advice for women on how to understand when a guy doesn't like them enough to commit. This will help them to stop wasting their time or making excuses for a dead relationship. It is the best relationship advice you will ever get. It explains the puzzling behavior of men – is he afraid of getting hurt? Maybe he just wants to be friends? Or is he intimidated by her? The truth could be that he is just not that into you.
Publishing Date: January 6, 2009
Language: English
Price at the time of publication: $9.99
Author: Gary Thomas
What You Will Learn: This book is for those who put a high value both on God and their partner. It explains how the love in your sacred marriage can better your relationship with God and everything else in your life. If you aren't religious, it doesn't mean you will get nothing out of this masterpiece. It will push you to realize the meaning of your life and your relationship beyond the surface-level physical attraction.
Why It's Good: This book explains how your marriage can make you closer to God and each other. It states that the goal of marriage is more than achieving personal happiness. It contains insights from the holy scriptures, church history, and Christian classics. It will provide you with practical tools and techniques that will make your marriage happier.
Publishing Date: August 4, 2015
Language: English
Price at the time of publication: $12.79
Author: Douglas Stone, Bruce Patton, Sheila Heen, and Roger Fisher
What You Will Learn: It's about all those hard conversations you just don't want to have with your partner. It especially focuses on the ones you have been putting off for some time now. These difficult-to-have conversations can be ruining your relationship with your partner. This book teaches you how to navigate through every hard conversation or conflict with not just only partner but also your friends, parents, children, and the like.
Why It's Good: We try to have or avoid difficult conversations every day. Whether disagreeing with a spouse, dealing with an employee, or negotiating with a client, we are put in situations that we would rather not deal with. This book will give you tips on how to do that and decipher the underlying cause of every difficult conversation. It will teach you to have a conversation without getting defensive and stay cool and balanced in the face of accusations and attacks.
Publishing Date: November 2, 2010
Language: English
Price at the time of publication: $14.39
Author: S.J. Scott and Barrie Davenport
What You Will Learn: A relationship is not always romantic. You can have fights and conflicts over finances, kids, and even the dishes. This book pulls you away from all that noise and helps you build habits that create a mindful relationship. These habits will help you communicate better, avoid unnecessary arguments, and understand each other's points in a kinder, nicer way.
Why It's Good: If you feel disconnected from your partner and are struggling to keep your relationship fresh, this book is going to be your best friend. As we all know, falling in love is the easiest part. The hard part is keeping the spark alive in your relationship while you and your spouse deal with the real issues of life.
Your relationship can seem less important than the everyday emergencies you have to deal with, such as your job, children, finances, etc. They all seem to demand your immediate and undivided attention. But that can cause the relationship to just fizzle and die. With this book, you will learn how to nurture and recreate intimacy and love.
Publishing Date: January 2, 2018
Language: English
Price at the time of publication: $12.59
Author: Emily Nagoski
What You Will Learn: This book explores why and how women's sexuality works. It is based on brain science and research. This book encourages girls to celebrate their version of their sexuality.
Why It's Good: It is a different kind of book that explores why and how women's sexuality. The first lesson is that every woman has a unique sexuality, almost like a fingerprint, and that women have more varied sexual response mechanisms than men. It teaches us to never judge ourselves based on other women's experiences.
Also, sex happens in a context, and all everyday life can influence the context of a woman's desire.This book teaches women that creating and sustaining a happy sex life is not what they do in bed or how they do it – but how they feel about it. Stress, trust, mood, and body image issues are not peripheral factors in the sexual well-being of a woman – they are central to it.
Publishing Date: March 3, 2015
Language: English
Price at the time of publication: $14.75
Author: Esther Perel
What You Will Learn: This book analyzes the paradoxical relationship that exists between domesticity and sexual desire. It provides advice on how to have more exciting sex when in long-term relationships. It aims to make us understand the factors and circumstances that lead to sexual boredom and teaches us how to overcome them.
Why It's Good: Esther Perel takes on a bold, provocative, new view on intimacy and sex. Mating in Captivity examines the complexities that come with trying to sustain desire. It teaches that exciting, playful, loving, and even poetic sex can be possible when you are in a long, committed relationship. This is a witty, wise, and revelatory book that aims to transform the way you love and live.
Publishing Date: October 10, 2017
Language: English
Price at the time of publication: $16.19
Author: Eli J. Finkel
What You Will Learn: This insightful book states that the best marriages in today's era are way better than the best marriages of earlier ages. In fact, they are the best marriages ever, period. This book presents a lucid, inspiring guide to a happy marriage.
Finkel believes that any marriage can be made better. The primary role of marriage from 1620 to 1850 was for shelter, food, and protection from violence. From 1850 to 1965, the purpose changed to be about love and companionship. However, today's marriages are oriented towards self-esteem, self-discovery, and personal growth.
Why It's Good: This book presents practical hacks to improve responsiveness and communication in a marriage. It focuses on improving romantic relationships. The book details how marriage has evolved over centuries and what people should do to increase the odds that their marriage will be a success. The new challenge in marriages is to be able to support our spouse's dreams.
Publishing Date: September 19, 2017
Language: English
Price at the time of publication: $13.99
Relationships can get difficult and complicated. One minute they could be going just great, and the next minute, you both may be fuming at each other. The relationship books listed above are among the best-rated, best-reviewed, and most popular books available on this topic. Get the ones that suits your need and taste and work towards a wonderful, happy relationship with your better half.