14 Best selling Relationship Books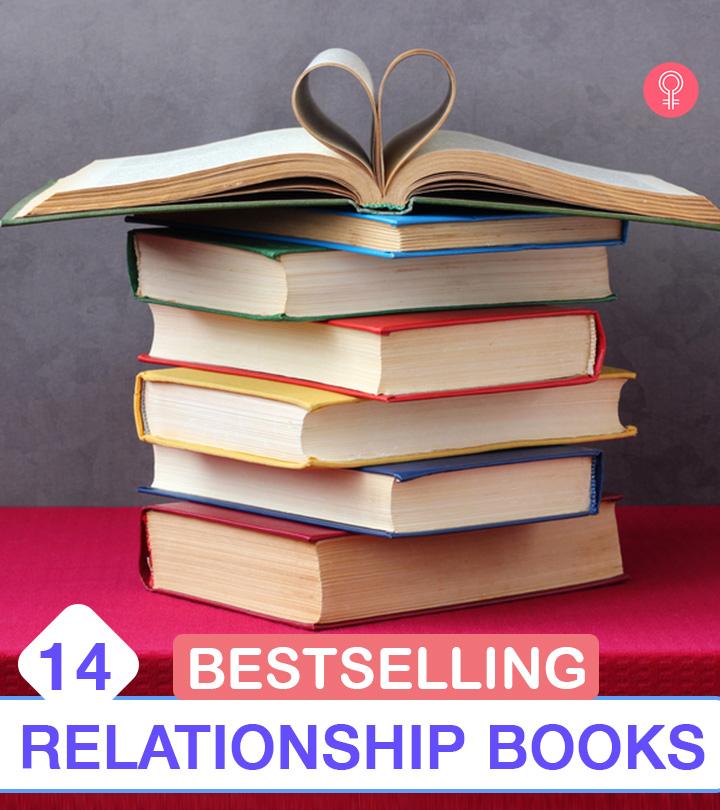 Cultivating and maintaining a healthy relationship requires work. This holds for not only romantic relationships but also those with your children, parents, relatives, and friends. It is important to nurture each relationship constantly, communicate properly, and effectively resolve conflict, all while being true to yourself.
If you are looking for some good books on relationships that will help you do some soul searching, you have come to the right place. Here are 12 best relationship books you can read that will help you be a better partner and a better person. Scroll down to check them out!
14 Best Relationship Books
Author: Harville Hendrix
What You Will Learn: This book will reveal why all your relationships seem to end up in the same manner. It dives deep into why people keep dating those who act like their mother or father. It also explains why most couples fight about the same stupid things again and again.
Why It's Good: Taking a look at the Freudian idea that we end up dating people who represent our mothers or fathers, this book explains why we are doomed to repeat our childhood traumas in our adulthood. When you grow up, you get into a serious relationship, and then you start noticing that your husband or wife behaves just the way your father or mother did. It drives you crazy because it reminds you of all the unpredictability and chaos of your childhood.
Hendrix provides an actual, logical, reasonable explanation for why our relationships push us against the wall so much. He explains how our interactions with our parents create "emotional maps" that become our standard for what love means, what acceptance truly is, and what being a good person should be like. These maps determine who we are attracted to when we are grown-ups.
Publishing Date: March 1, 2008
Language: English
Price at the time of publication: $29.21
Author: Gary Chapman
What You Will Learn: This book is a simple tool for understanding why people express and receive love the way they do.
Why It's Good: The 5 Love Languages is a cult favorite. It is a short book with a powerful idea –and that idea has helped millions because it is incredibly useful. The idea of the book is that people express and receive love in five different love languages. There is physical touch, gift-giving, verbal affirmation, quality time, and acts of service.
Many issues in relationships occur because one is giving love in one language – maybe giving lots of gifts – and the other is seeking love in another language – asking for quality time or physical touch. Due to this difference, the person providing the love feels unappreciated, and the one looking for love feels unfulfilled.
Publishing Date: January 1, 2015
Language: English
Price at the time of publication: $8.39
Author: Terrence Real
What You Will Learn: The book aims to repair relations by maximizing intimacy. It is a guide to make bonds closer and stronger. This book teaches you how to build a better relationship.
Why It's Good: This transformational hardcover book has received many positive reviews from leading newspapers, journals, and celebrities. The book is written with humorous insights and real-life guides to change individualistic viewpoints. It is based on collaboration and compassion. The author provides science-based skill sets and wiser reactions to achieve a more peaceful and loving relationship. He is a family therapist with international recognition and an authority on relationship therapy.
Publishing Date: 7th June 2022
Language: English
Author: Dr. Sue Johnson
What You Will Learn: This book will teach you how not to make your relationship issues worse, when to back off and listen to your SO, and how to not be selfish in a relationship.
Why It's Good: This book explains that romantic relationships are mainly driven by unconscious desires and emotions. The memories, arguments, and identities are secondary; the main issue is the underlying emotional pain.
Johnson writes that emotional solutions can help relationships succeed when nothing else can. Hold Me Tight takes a look at the emotional patterns that emerge when people are hurt and going through relationship problems, and the conversations couples should have to help heal these patterns.
Publishing Date: April 8, 2008
Language: English
Price at the time of publication: $13.29
Author: Kathleen Mates
What You Will Learn: The book helps you learn to communicate better with your partner. It is a compilation of guided questions to improve communication and conversation in a couple.
Why It's Good: It includes conversations about critical struggles in relationships. There are 30 topics, each with an introduction, strategies to set goals, and questions for each other. These are set in a weekly goals format for 30 days but can also be customized to individual timeframes. It is written as an easy questionnaire. Therapists, as well as couples, can use this paperback book.
Publishing Date: October 2014
Language: English
Price at the time of publication: $17.39
Author: Alicia Munoz
What You Will Learn: This book aims at strengthening bonds between partners. You learn exercises to tackle basic issues and help one identify and control triggers. You learn to communicate better with your partner through simple short exercises. It teaches you how to handle daily issues differently, minimizing or eradicating unnecessary conflict.
Why It's Good: Follow the instructions for 20 minutes a week from the book "No More Fighting" and make your relationship a blissful journey. The book features real-life stories, challenges, and anecdotes to handle 52 fundamental problems and make the relationship healthy and happy. This paperback book comes with illustrations and is easy to read, making it convenient for those who have a busy schedule.
Publishing Date: 4th December 2018
Language: English
Price at the time of publication: $11.99
Author: Sherry Argov
What You Will Learn: This book teaches you to be a strong, independent woman with a no-nonsense attitude. It guides you to demand respect through your behavior and demeanor. You learn self-help and mindfulness.
Why It's Good: Why Men Love Bitches is a relationship guide for women to keep their dignity. The book gives an insight into why men prefer independent, strong women. It is a dating guide with juicy details of how to be a no-nonsense woman and not be gullible. The book answers many interesting questions a dating woman would be curious about having answers to. Sherry Argov has been an entrant to many bestseller lists, with writings featured in important newspapers and magazines. Her books are published in 30 languages and have also been adapted for the theater.
Publishing Date: 1 October 2002
Language: English
Price at the time of publication: $14.35
Author: Greg Behrendt and Liz Tuccillo
What You Will Learn: You are doing nothing wrong – he might just not be into you. Especially for singles who are constantly fretting about why their relationships are not working out, this book breaks down why they are wasting their time on those guys. The book is hilarious and refreshing. It teaches you not to over-analyze relationships.
Why It's Good: This book provides tough love advice for women on how to understand when a guy doesn't like them enough to commit. This will help them to stop wasting their time or making excuses for a dead relationship. It is the best relationship advice you will ever get. It explains the puzzling behavior of men – is he afraid of getting hurt? Maybe he just wants to be friends? Or is he intimidated by her? The truth could be that he is just not that into you.
Publishing Date: January 6, 2009
Language: English
Price at the time of publication: $9.99
Author: Mark Wolynn
What You Will Learn: The book provides a new approach to changing traumatic experiences from childhood and dysfunctional families. It brings forth a different perspective that our experiences or feelings may be a manifestation of our past. It teaches you to end the cycle of pain and depression caused by past events.
Why It's Good: The author brings you an illustrated paperback book called 'It Didn't Start With You.' It discusses anxiety, depression, phobias, obsessions, and chronic pain associated with past mental issues. The author is a pioneer in inherited family trauma management and has provided therapy for over 20 years. The book is a prescriptive guide to heal anxieties while creating new pathways for oneself. It is a powerful tool that provides specific techniques to deal with anxiety and stress-related repercussions that a person goes through.
Publishing Date: 26 April 2016
Language: English
Price at the time of publication: $12.59
Author: Michael S. Sorensen
What You Will Learn: This audiobook talks about the simple changes one can make to daily words and conversations that can change a relationship. Communication is the key, which is what the author brings out in this book. It aims to improve communication skills.
Why It's Good: I Hear You is a 2-hour 45-minute audiobook about the Simple Skill Behind Extraordinary Relationships. This book is conversational and flows easily. Communication can make everything easier and clearer, whether at work or with your spouse. The book aims to prevent arguments, resolve issues, and increase feelings of appreciation and love while helping others see your perspective. It aims to change your life and bring about positivity in your relationships.
Publishing Date: 19th June 2017
Language: English
Author: Leah Guy
What You Will Learn: It is a self-help book that guides you to take control of your toxic feelings and convert them to positive vibes. It helps to replace negativity with compassion, forgiveness, and love. The author takes you on a path of spiritual healing.
Why It's Good: Leah Guy is a spiritual healer who aims to create better relationships with this book. Undesirable feelings of fear, guilt, anger, or resentment drain your energy and deflate the spirit. The author provides a step-by-step methodology to overcome inner demons and set yourself free to enjoy the world. This is a hardcover book with life-transforming words and ideas. It helps you overcome mental toxicity.
Publishing Date: 16th February 2021
Language: English
Price at the time of publication: $19.99
Author: Gregg Michaelsen; Narrator: RJ Walker
What You Will Learn: The audiobook provides tips on how to win over men and be a niche above others in the vast online world. This book also gives insights into recognizing someone who may be unworthy or dangerous.
Why It's Good: The dating and relationship advice book is a part of the "Love Is In The Mouse" series. This audiobook is written and published by Gregg Michaelsen and narrated by RJ Walker. It is a three-hour 13 minutes long audio piece that is a guide for women who are interested in online dating. Gregg is a male dating coach who teaches techniques to attract the most desirable men. He aims to help you find long-term relationships instead of being in the hookup or friendship zone. The unabridged version of the book has clear audio and excellent hands-on tips that will strengthen your BS detector!
Publishing Date: 26 October 2017
Language: English
Author: Krystle Lughter
What You Will Learn: 'Love Yourself First' is a guide to healing from toxic relationships. It preaches self-love and self-healing, especially if you have been in self-destructive relationships.
Why It's Good: This paperback book is part of the 'Love Yourself First' series that helps you become a confident woman. The author teaches you to let others know how to treat you. It is an empowering read which is informative and eye-opening. It's well-written and easily relatable. The author has experienced violence, divorce, and homelessness, which she speaks about in her books from experience. She shares her stories in this book, along with other's stories, and tries to help women overcome their hurdles.
Publishing Date: 1 April 2020
Language: English
Price at the time of publication: $18.38
Author: Eli J. Finkel
What You Will Learn: This insightful book states that the best marriages in today's era are way better than the best marriages of earlier ages. In fact, they are the best marriages ever, period. This book presents a lucid, inspiring guide to a happy marriage.
Finkel believes that any marriage can be made better. The primary role of marriage from 1620 to 1850 was for shelter, food, and protection from violence. From 1850 to 1965, the purpose changed to be about love and companionship. However, today's marriages are oriented towards self-esteem, self-discovery, and personal growth.
Why It's Good: This book presents practical hacks to improve responsiveness and communication in a marriage. It focuses on improving romantic relationships. The book details how marriage has evolved over centuries and what people should do to increase the odds that their marriage will be a success. The new challenge in marriages is to be able to support our spouse's dreams.
Publishing Date: September 19, 2017
Language: English
Price at the time of publication: $13.99
Relationships can get difficult and complicated. One minute they could be going just great, and the next minute, you both may be fuming at each other. The relationship books listed above are among the best-rated, best-reviewed, and most popular books available on this topic. Get the ones that suits your need and taste and work towards a wonderful, happy relationship with your better half.