11 Best Remington Hair Dryers Of 2022 For Gorgeous Hair
Give your hair that salon-like stylish finish with these Remington hair dryers.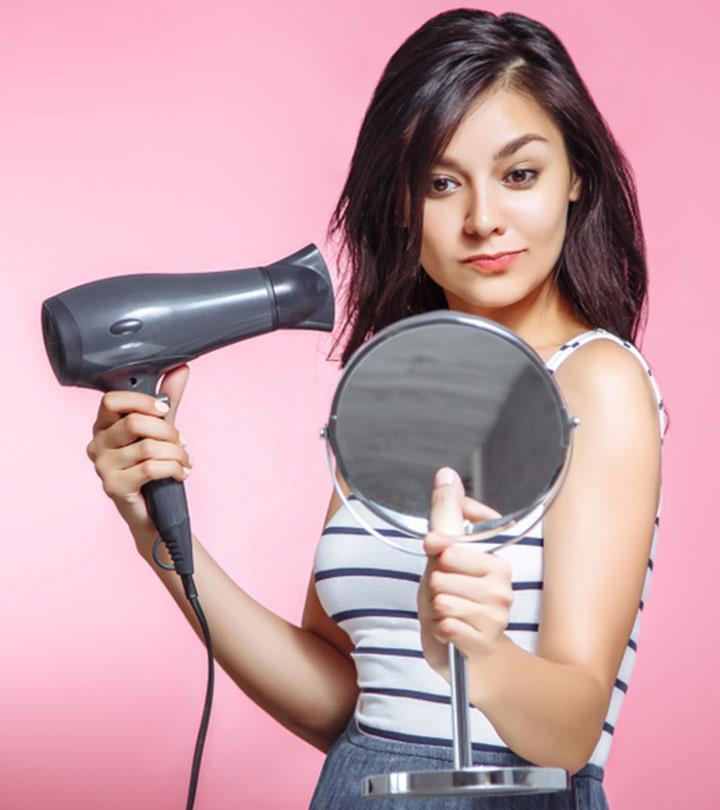 A hairdryer is a perfect tool to speed up the drying of your hair without damaging it or breaking your hair strands. But not all hair dryers are worthwhile. You can obtain a perfect salon-like hairstyle at your home only with the best Remington hair dryer. It drys your hair quickly without making it frizzy and dull. This hair dryer features speed and heat settings that help to keep your hair in good condition and make it easy to style.
Apart from removing extra water from your hair, this hairdryer can also lock the moisture and add shine to your hair. These hair dryers look stylish and are comfortable to use. In this article, we have mentioned the 11 best hair dryers by Remington so that your hair drying game becomes easy for you and healthy for your hair. Keep reading!
Top 11 Best Remington Hair Dryers Of 2022
Our first pick is the Remington Damage Protection Hair Dryer that allows you to achieve that shiny blowout you always wanted while protecting your delicately priceless hair. The unique Advanced Coating Technology in this hair dryer offers 3X more protection than regular blow dryers. It uses ceramic, ionic, and tourmaline technologies for a fast-drying experience minus the unwanted frizz. With 2 speed and 3 heat settings, you can customize the airflow as per your preference and hair type. It comes with a concentrator and a diffuser to meet all your styling and volume needs with precision. Take a look at this video to get more information on the product.
Pros
3 times more hair protection
Removable air filter
Available in 2 colors
Multiple settings
Cons
The diffuser attachment may overheat if used for long periods.
This Remington hair dryer blow dryer provides a smooth salon-like finish. It delivers 40% faster airflow while transferring micro hair conditioners to your hair through its heat-activated Pearl Ceramic Technology. With 3 heat and 2 speed settings, you can decide the airflow as per your preference and styling method. It has a strong motor for fast-working and long-lasting results. Best suited for our readers who are almost always on the run, this hair dryer is also suitable for those with fine hair and keeps frizziness at bay. This video offers a more detailed explanation of the product.
Pros
40% faster airflow
Pearl Ceramic Technology
Cool Shot
Suitable for fine hair
Comes with a diffuser and concentrator
Cons
Some may find it slightly heavy.
With Thermaluxe Advanced Thermal Technology, this Remington hair dryer optimizes heat so you can try out a different hairstyle every new day. This blow dryer offers 50% faster drying power and releases 90% more ions to fight frizz. With a lightweight professional AC motor and a tangle-free cord, this product gives you an easy styling experience and blowouts that last 3 times longer. It features 2 speed and 3 heat settings, and a cool shot to meet all your styling and hair drying needs. It is also equipped with removable air filters, making it a breeze to clean.
Pros
Tangle-free cord
Removable air filters
Available in 2colors
Includes 2 connectors, a diffuser, and 3 sectioning clips.
Cons
It may not be noise-free.
Achieve super smooth and super fast results using this Remington hair dryer. With a built-in ionic generator, it releases 90% more ions giving you a silky smooth finish. With attachments that include a narrow concentrator for precision styling and a diffuser to enhance your natural curls, this product has something for everyone. Ideal to fight all wars against frizz and dried out hair, this hair dryer is engineered to produce a hushed tone to allow a peaceful drying experience.
Pros
3 heat setting
Extra-long cord
Comes with a diffuser and concentrator
Cool shot
Built-in ionic generator
Cons
Want something small, handy, and gets the job done? Well, look no further. This Remington hair dryer is easy to handle, compact, and incredibly lightweight. It leaves you hair frizz-free and with an anti-static shine. With a high-performance motor and fan, this blow dryer offers 3 heat and 2 speed settings to save energy while styling your hair. It features an eco-setting, ensuring that it is energy-efficient and is equipped with removable air filters.
Pros
Affordable
Energy-efficient
Lightweight
Compact
Ionic conditioning
Hang loop
Cons
Doesn't include any attachments.
This Remington blow dryer has a durable, sturdy design with a shock-absorbing soft-touch rubber band that adds to its sleek industrial look. The combination of tourmaline, titanium, and ceramic helps reduce damage to your hair while giving you a stylish look. The impact-resistant rubber increases the durability of this product, making it a long-term investment for your hair. As it comes with a diffuser and concentrator, it is suitable for both straight and curly-haired beauties.
Pros
Comes with a diffuser and concentrator
Cool shot option
3 heat and 2 speed settings
Impact-resistant
Shock-absorbing soft-touch rubber wrap
Cons
For all our frizzy-haired folks who've been looking for the perfect solution to fight frizz, look no further as we have the perfect product for you! This Remington hair dryer leaves you with 7X less frizz and an increased level of shine! The blow dryer combines titanium and ionic ceramic technologies to dry your hair quickly and with less damage. With its turbo drying power and the diffuser and concentrator included, you can achieve fabulous-looking hair all day, every day. You may check this video for a better understanding of this product.
Pros
7x frizz control
Removable air filter
Built-in ion generator
Multiples heat a speed settings
Cool shot
Cons
Some may feel that the function buttons are not ergonomically placed.
Some users may find the cord too short.
This product is ideal for those who love to color their hair and experiment with new dyes and hair colors. As you would already know, color-treated hair needs extra care and attention, which is what this Remington blow dryer promises to do. This hair dryer protects color-treated hair from damage and fading with color care technology while styling the hair. With ceramic and titanium coating, this dryer delivers fast and even heat to give you a hassle-free blowing drying experience. With a professional-quality AC motor, this hair dryer will last you a lifetime.
Pros
Lightweight
Long cord
Intelligent heat control sensor
Protects hair from damage and fading
Comes with a diffuser and concentrator
3 heat and 2 speed settings
Cons
Some may find it slightly heavy.
If you are on the lookout for the most comfortable and enjoyable blow drying experience, this hair dryer is tailor-made for you. This Remington hair dryer is designed to provide a smooth performance every time you dry your hair. It is ergonomically engineered and features a textured grip handle. Packed with tourmaline, ionic, and ceramic technologies, this lightweight hair dryer protects hair from damage and significantly reduces drying time.
Pros
Textured grip handle
Ergonomic design
Comes with a diffuser and concentrator
Reduces drying time
Cons
The most common demand one can have from a hairdryer is more shine and less frizz; and this Remington blow dryer offers precisely that. This professional hair dryer generates and releases 90% negative ions to reduce frizziness and leaves your hair with a silky smooth finish. It allows you to find the perfect setting for you with 3 heat and 2 speed settings. With an added ceramic coated grill, this dryer helps in protecting your hair from heat damage.
Pros
Reduces frizz
Protects hair from damage
Cool shot option
Comes with a diffuser and 2 concentrator attachments
Removable filter
Cons
Some users found the hair dryer slightly noisy.
Here's another Remington ionic ceramic blow dryer that offers unparalleled frizz-free results. It combines an ionic ceramic technology with a titanium infusion to quickly blow out your hair and eliminate frizz. This ultimate smooth hair dryer reduces drying time, protects your hair from damage by producing infrared heat, and helps retain moisture in your hair. You can also use the cool shot button to fix your hairdo in place.
Pros
Infrared heat
Includes a diffuser and concentrator
3 heat and 2 speed settings
Cool shot
Titanium and ceramic technology
Cons
Now that you have the list of the best Remington hair dryers of 2022, here's a buying guide to help you select the right hair dryer for you. You should keep the following things in mind before buying a Remington hair dryer.
What To Look For In A Hair Dryer
1. Technologies
Different technologies contribute towards different features of Remington professional blow dryers, which is why this is the most important aspect in deciding the right product. If you have colored hair, we recommend looking for a product that protects color-treated hair. Similarly, if you have curly hair, we recommend buying a product that has added Remington hair dryer attachments to increase the volume of curly hair.
2. Heat settings
This includes speed, heat, and a cold shot. Most Remington hair dryers feature similar heat settings. However, as we've mentioned throughout our list, some products generate less heat, while others generate more. If you need your hair dryer for heat styling purposes, we recommend purchasing one that gets hot, not just extremely warm.
3. Price
Remember that a hair dryer is not a purchase; instead, it is an investment. Although it doesn't dig the deepest hole in your pocket, it does occupy space and becomes the central part of your hair care regime. It is bound to be used each time you wash your hair and wish to style it; that means a long companionship. Therefore, selecting a product strictly because it is the cheapest isn't the best idea. Look at other factors, like the ones we mentioned, consider your budget and make your final call.
Tips And Tricks To Get The Best Blow Dry
Getting the best blow dry isn't an easy task at first. You need a good blow dryer, and this list has enough of those, but you also need the patience to practice until you eventually get it right. Other than that, whenever you are blow drying your hair, keep the following in mind:
Never use a blow dryer on wet hair. Instead, always soak off the water and use the blow dryer on damp hair.
Never forget to use an adequate heat protectant to prevent hair damage and maintain a healthy mane.
If you are keen on getting a salon-like blow dry, invest in a round brush that assists you with it.
A setting spray or mousse is also a helpful product.
Once done, give you hair a cold shot to lock in the hairdo.
Why Trust StyleCraze?
Chaitra Krishnan, the author, is our in-house writer and a makeup enthusiast who leaves no stone unturned while reviewing beauty products. She has listed the best Remington hair dryer after considering speed and heat settings. Each product is handpicked based on user reviews and feedback and has pros and cons listed to help you make an informed choice.
Frequently Asked Questions
Are Remington hair dryers any good?
They absolutely are! Remington is among the most popular hair dryer brands.
Is ceramic or ionic hair dryer better?
Ionic hair dryers are gentler since they break down water molecules, and are therefore ideal for dry and damaged hair. On the other hand, ceramic hair dryers are the go-to product for our frizzy hair readers.
Which Remington hair dryer is the best for curly hair?
The Remington Hydraluxe Pro hair dryer has temperature control to prevent extra heat from damaging your strands. Therefore, it is considered to be the best hair dryer for curly hair.
Which Remington hair dryer is the least damaging?
The Remington D3190 Damage Protection hair dryer uses ionic, ceramic, and tourmaline technologies for a fast-drying experience and eliminates unwanted frizz.
Is the Remington hair dryer a noisy device?
Remington hair dryers are quieter than other regular hair dryers. However, they are not so loud that using them might cause discomfort.
Are Remington hair dryers ionic?
Yes. Remington hair dryers are a combination of ionic and ceramic technologies, which are suitable for all hair types.
Who is a typical user of a Remington hair dryer?
Remington hair dryers are opted for by people who regularly style their hair.
How much does a Remington hair dryer cost?
A Remington hair dryer costs between $20 to $45.
Recommended Articles