The 15 Best Retinol Body Lotions To Smooth Your Skin – 2022
Retinol is not just for the face— experience youthfulness again with these magical lotions.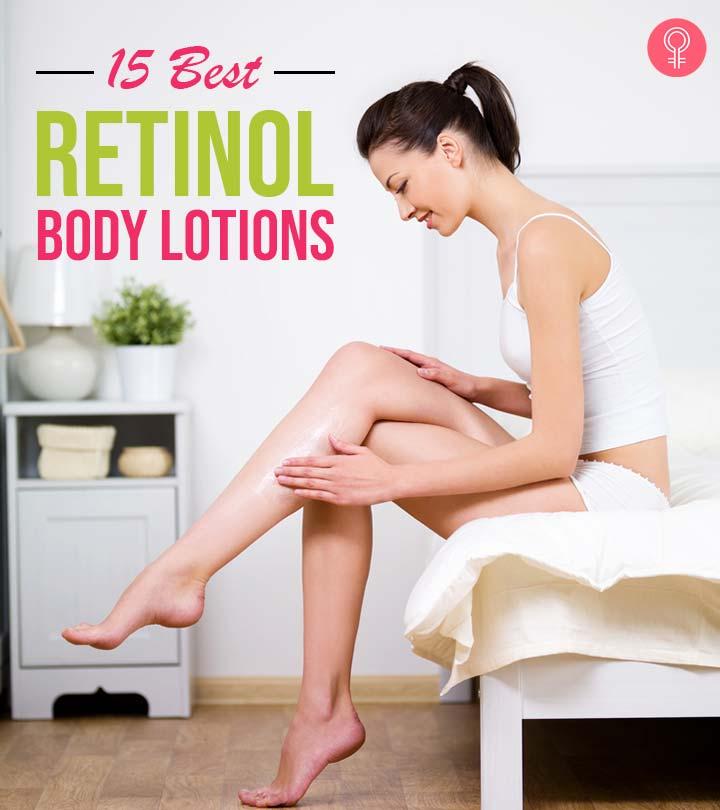 Retinol, a vitamin A derivative, is usually incorporated in anti-aging formulations to improve collagen and elastin production to keep the skin younger. The best Retinol body lotions help combat aging signs like sagging skin, fine lines, and wrinkles. These aging signs can appear on any part of the body. So, you must not restrict the usage of retinol formulations only to the face. Hence, try these body lotions that are formulated with retinol to keep your skin smooth, healthy, and with no signs of aging. Check out our list of the best body lotions mentioned in this article. Keep scrolling
Top 15 Retinol Body Lotions Of 2022
This moisturizer has a pH of 5.5 and claims to promote smooth and healthy skin by reducing sun damage and improving your skin barrier. It can be used on the face and body. It helps reduce fine lines and wrinkles and also improves skin hydration. It contains chamomile, black tea, and aloe vera extracts and is a 100% vegan product. In this YouTube video, you will find a detailed review of the Medix Retinol + Ferulic Acid Anti-Sagging Treatment.
Pros
Paraben-free
Alcohol-free
PEG-free
No animal-derived ingredients
Dye-free
Talc-free
Mineral oil-free
Cons
The fragrance may be an issue for sensitive noses.
This anti-aging cream can also be used as a body lotion. You can also use it on your face and neck. It contains hyaluronic acid that keeps your skin plump and hydrated. Apart from retinol, it also contains aloe vera and chamomile extracts that have skin-soothing abilities. It prevents skin sagging and wrinkles.
Pros
Paraben-free
Not tested on animals
Soothes irritation
Improves skin elasticity
Cons
The pump might not work properly.
This comforting moisturizer can be used on both the face and the body. It is developed with micro-encapsulated retinol that ensures maximum efficacy. It helps to boost skin firmness and elasticity and improves your skin tone and texture. If you want to know more about the benefits of NatureWell Retinol Advanced Moisture Cream, click on this video.
Pros
Clinically tested
Dermatologist-tested
Paraben-free
Dye-free
No animal testing
Cons
Contains mineral oil
Contains synthetic fragrance
This moisturizing cream combines retinol, a powerful anti-aging ingredient, and ferulic acid, an antioxidant. It claims to improve skin hydration levels by 88% and is excellent for both the face and the body. It contains aloe vera, black tea, and chamomile extracts that minimize sun damage and improve overall skin appearance.
Pros
Cruelty-free
Paraben-free
PEG-free
Sulfate-free
Formaldehyde-free
Dye-free
Mineral oil-free
Cons
Pump often doesn't work.
The fragrance might irritate sensitive noses.
This is an anti-aging body treatment that claims to reduce uneven skin tone, hydrate the skin, and keep it replenished to feel smoother and younger. This lightweight retinol body lotion can be applied to the entire body and used for spot treatment. This product is suitable for all skin types.
Pros
Non-greasy
Paraben-free
Cruelty-free
Fragrance-free
Cons
Quantity is not enough for the price.
Users may find the fragrance unpleasant.
This retinol body lotion has an ultra-moisturizing argan oil base that helps keep the skin hydrated and soft. It contains retinol and caffeine that improve skin tone, keep it firm, and make it feel rejuvenated. The nourishing botanicals in this body lotion help in brightening the skin and improving radiance.
Pros
Phthalate-free
No GMOs
Silicone-free
Cruelty-free
Cons
Contains mineral oil
Contains parabens
This moisturizing lotion contains hemp oil and retinol. Both these components work together to support the elasticity of your skin and keep it firm and smooth. It also claims to protect your skin from environmental oxidants and keep it healthy. It also contains hyaluronic acid, collagen amino acids, green tea, lemon, apple, and pomegranate extracts.
Pros
Paraben-free
Dye-free
Lightweight
Cons
The retinol body lotion by Puritan contains 100,000 IU of vitamin A (retinyl palmitate) per ounce. It contains coconut oil and vitamin E that keeps the skin moisturized, hydrated, and soft to touch. It can be used on the face and the body.
Pros
Paraben-free
Cruelty-free
Cons
This body lotion comes in a combo pack that also contains Arganatural Anti-aging Retinol Shower Gel. The body lotion contains retinol, caffeine, and hyaluronic acid and claims to reduce fine lines and wrinkles, make your skin firm and toned, and keep it hydrated. It is suitable for all skin types.
Pros
Pleasant fragrance
Lightweight
Non-greasy
Cons
Contains mineral oil
Contains parabens
This deeply nourishing body treatment is developed with the latest stem cell technology and contains an antioxidant complex that reduces skin sagging, keeps it smooth, and protects it from harmful free radicals. It contains hyaluronic acid that keeps the skin plump and reduces signs of aging. This video will offer you a deeper insight into the benefits of the Replenix All-trans-Retinol Smoothing Body Lotion.
Pros
Suitable for all skin types
Oil-free
Paraben-free
Fragrance-free
Hypoallergenic
Non-comedogenic
Cons
This body lotion is an all-in-one lotion that offers moisturization, exfoliation, and nourishment to your skin to make it look luminous and youthful. This retinol body lotion is a vitamin-enriched formula and contains ingredients like green tea extracts and vitamins A, C, and E. It keeps the skin nourished, moisturized, and soft. It is suitable for all skin types, especially dry skin.
Pros
Clinically proven
Lightweight
Non-greasy
Cons
Fragrance might irritate sensitive noses.
The key ingredient of this body lotion is mineral oil. That means this is not non-comedogenic. Hence, if you have acne-prone skin, avoid this product. It contains retinol and green tea extracts that help reduce age spots, discoloration, wrinkles, and fine lines. It also contains chamomile that has anti-inflammatory properties. It can be used as a face cream and a body moisturizer.
Pros
Paraben-free
Not tested on animals
Contains botanical extracts
Cons
This product contains two types of vitamin A – retinol and retinal – which help to gently exfoliate the skin and make it firm and smooth gradually. This is an overnight hydrating lotion. It contains a blend of antioxidants, caffeine, safflower seed oil, and bakuchiol that rejuvenates the skin. This product is only for the body and not the face.
Pros
Clinically proven
Paraben-free
Sulfate-free
Mineral oil-free
Cons
None
This retinol body lotion is formulated with vitamins A, C, D, and E, along with aloe vera and other botanical extracts. This product helps soothe your skin and keep it soft and nourished. It is suitable for all skin types, especially dry and aging skin, as it provides the necessary moisture boost to the skin to keep it plump.
Pros
Contains natural extracts
Pleasant fragrance
Cons
Contains parabens
Contains Imidazolidinyl Urea
Contains artificial fragrance and color
Contains mineral oil
This body lotion contains coconut oil and shea butter – two of the most skin-nourishing ingredients that help keep your skin soft and hydrated. Along with retinol, these ingredients keep your skin firm and moisturized and improve its overall appearance. It also contains collagen amino acids that keep your skin youthful.
Pros
Contains natural ingredients
Cons
Contains parabens
Contains PEG
If you are wondering how these retinol body lotions can help maintain the youthful glow of your skin, scroll down.
How Can A Retinol Body Lotion Take Care Of Your Skin?
Retinol is a derivative of vitamin A and is available in different forms. Usually, retinoids are stronger, and you need a doctor's prescription to use them. However, body lotions and skin care products use mild versions of retinoids, like retinol and its derivatives. It helps your skin in the following ways (1):
Reduces transepidermal water loss (prevents dryness)
Stimulates collagen production
Reduces UV-induced skin damage (like spots, pigmentation, etc.)
Improves fine lines and wrinkles
Reduces photoaging
Retinoids and their derivatives are considered one of the best anti-aging agents. But before you pick a retinol body lotion, you need to consider a few factors.
What To Look For Before Picking A Retinol Body Lotion?
It is quite obvious that you have to pick a product that says, "Contains Retinol."
However, the product may also contain different forms of retinol. Some are mild, less irritating, and take longer to show results, and some are high strength and give faster results.
Look for the following names in the ingredients list:
Weaker Type (slow results)
Retinyl Acetate
Retinyl Palmitate
Retinyl Propionate 
Stronger Type (for fast results)
Also, check for products that have at least 0.1% of retinol. Remember, you need to use the product for at least 3-6 months before you expect any visible results. You also need to ensure that you are using the product the right way.
How To Apply A Retinol Body Lotion
Retinol products should be applied at night because:
UV rays can break down the retinoids.
Your skin absorbs products better and repairs itself when you are asleep.
Also, if you are using retinol products, make sure you are using sunscreen during the daytime. Retinoids make your skin sensitive to sun damage, so using sunscreen is non-negotiable.
Why Trust StyleCraze?
Shiboli Chakraborti, the author of this article, is a certified skin care coach. She recommends using these retinol body lotions to improve collagen and elastin production and reduce the early signs of aging. She conducted extensive research into these products and went through all their reviews on multiple forums. She selected these products based on their ingredients and the absence of harsh elements like parabens.
Frequently Asked Questions
What percentage of retinol is considered safe?
Use a product that has a minimum of 0.1% retinol. Usually, all OTC skin care products have mild retinol, which is well tolerated. For a stronger dosage, you need to have a doctor's prescription.
What is the highest percentage of retinol?
The highest percentage of retinol that you will get without any prescription is 2.0%.
What shouldn't you mix or use with retinol?
Never combine AHA and BHAs with retinol. Using both can make your skin excessively dry and cause redness and irritation.
How often should you apply retinol body lotion?
To understand how your skin reacts to retinol, apply the body lotion twice a week at first. If the results are positive, you can start using retinol body lotions regularly. However, it will be wise to contact your dermatologist before adding retinol to your skin care regime.
Is retinol good for crepey skin?
Yes. In fact, retinol helps reduce the crepey appearance of your skin. Retinol restores skin elasticity and boosts collagen production to offer a smoother look to your skin.
Does retinol reduce cellulite?
Yes, retinol can reduce the appearance of cellulite in four weeks. If you use it for a longer period of time, you might find more improvement in your skin, including better elasticity and a youthful glow.
Recommended Articles