5 Best Retinol Creams For Beginners – 2022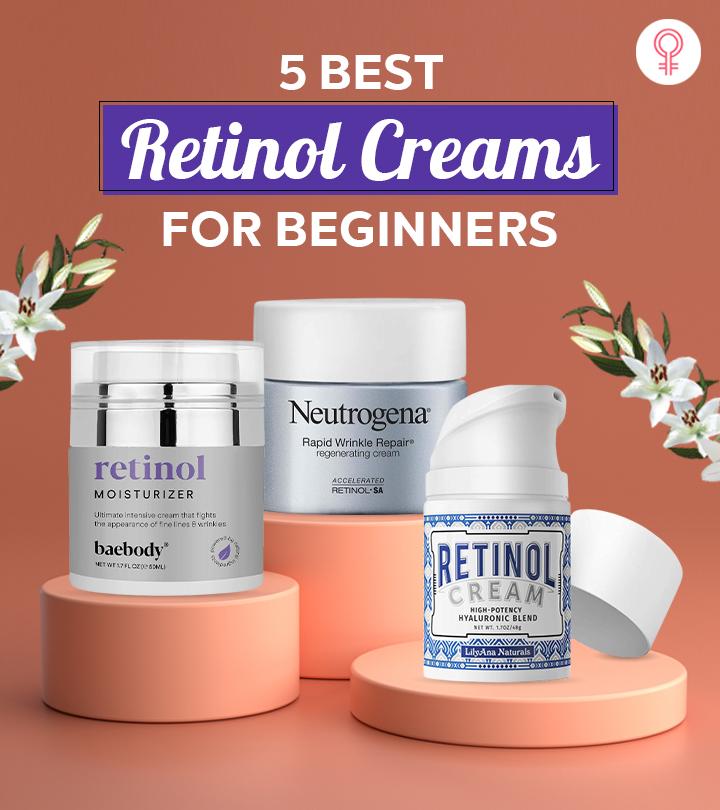 If you are new to the whole self-care game and don't know what to buy, start with the best retinol cream for beginners. Retinol has been used in several creams and gels to slow down the process of aging by penetrating the deeper layers of skin, which stimulates collagen production and regeneration. To say 'goodbye' to those fine lines and 'hello' to healthy and glowing skin, take a look at some of the best retinol creams to get you started. What are you waiting for? Scroll down to check them out!
Note: Be cautious while selecting a retinol cream as some of them can irritate your skin.
5 Best Retinol Creams For Beginners
The Retinol Correxion Sensitive Night Cream by RoC is an ideal choice for beginners. It is an overnight skin repairing cream that leaves your skin smooth and soft and reduces scars and wrinkles while you are sleeping. This cream is enriched with retinol that accelerates the removal of old skin cells that make your skin look dull, making your skin look vibrant and healthy. It also contains hyaluronic acid that hydrates and plumps the skin and reduces the appearance of wrinkles. Check out this review of the retinol cream on YouTube if you require more details about this product!
Pros
Lightweight
Non-greasy
Non-comedogenic
Value for money
No harsh chemicals
No artificial fragrance
Cons
This dermatologically tested cream from Baebody is ideal for combination, oily, and dry skin types. It is infused with accelerated retinol and other potent ingredients like vitamin B5, shea butter, and jojoba oil that form a powerful formula to fight skin discoloration and hyperpigmentation. This cream possesses anti-aging properties and helps visibly fade wrinkles and fine lines. If you are still unsure about this retinol product from Baebody Beauty, you can check this personal review video.
Pros
Lightweight
Non-greasy
Dermatologically tested
Hypoallergenic
Paraben-free
Phthalate-free
Mineral oil-free
Color-free
Sulfate-free
Value for money
Cruely free
Gluten-free
GMO-free
Cons
Unpleasant smell
Contains alcohol
The Neutrogena Rapid Wrinkle Repair Regenerating Cream is a beginner-friendly night cream suitable for all skin types. It is infused with accelerated retinol and hyaluronic acid that regenerate, moisturize, and smoothen the skin. The Glucose Complex in the formula strengthens the skin barrier and visibly fades wrinkles and fine lines. This super-effective moisturizer helps hydrate your skin and protects it from further damage. The repairing cream leaves your skin feeling younger and smoother. This retinol cream from Neutrogena can truly work wonders on your skin. You can take a look at a review of the product if you require more convincing.
Pros
Lightweight
A little goes a long way
Absorbed quickly
Cons
Overpowering fragrance
Can irritate the skin.
The La Roche–Posay Redermic Retinol Eye Cream visibly reduces the appearance of crow's feet, wrinkles, and dark circles around the eyes. It contains retinol and caffeine that reduce puffiness, while glycerin and sodium hyaluronate deeply hydrate the skin to make it soft, plump, and supple. The retinol cream is lightweight, quick-absorbing, and does not leave any greasy or sticky feeling post-application.
Pros
Ideal for sensitive skin
Lightweight
Non-greasy
Preservative-free
Fragrance-free
Dermatologically tested
Cons
Unpleasant smell
Expensive
The LilyAna Naturals Retinol Cream is specially formulated for acne-prone skin. It is infused with botanical hyaluronic acid, organic green tea, vitamin E, organic jojoba oil, shea butter, and retinol – nourishing ingredients known to fade signs of aging. The formula improves your skin's texture and diminishes fine lines and wrinkles. The cream penetrates deep into your skin to enhance your skin tone and restore its radiance. It can be used both day and night for optimal anti-aging benefits.
Pros
Lightweight
Non-greasy
Paraben-free
Sulfate-free
SLES free
Phthalate-free
Vegan
Cruelty-free
Cons
Over-the-counter retinol creams work a bit slowly, but the results are worth it. While incorporating retinol into your skin care routine, you will need a bit of patience and confidence to attain that flawless skin. Make sure you choose a cream that suits your skin type and addresses its needs. Now that you know about retinol and its fascinating capabilities choose the right one from our list of the best retinol creams for beginners.
Why Trust StyleCraze?
Shiboli Chakraborti, the author of this post, has a certification in skin care coaching. Retinol creams are one of the most effective ways to reduce signs of aging. So if you're new to using retinol creams, she eagerly recommends using the products mentioned above. She spent a substantial amount of time researching these creams and their reviews on many user forums. With benefits, like lightweight consistency, absence of harsh elements, dermatologist-tested, and value for money, these creams are sure to leave your skin looking and feeling youthful.
Frequently Asked Questions
Is it OK to use retinol every day?
Yes, it is safe to use retinol every day once the skin has adapted and developed tolerance. First-time users might experience irritation, dryness, and peeling upon use.
Should I use retinol every night?
Yes, it can be used every night. Initially, it should be applied once or twice to check the reaction of the skin. Retinols are photosensitive and should be applied only during the night.
Do you apply retinol before or after moisturizer?
If you have sensitive skin, apply moisturizer before retinol to reduce the chance of inflammation or redness.
Does retinol really get rid of wrinkles?
Yes, retinol reduces the appearance of wrinkles. It stimulates collagen production and exfoliates dead skin. It helps reduce wrinkles, dark spots, and breakouts.
Recommended Articles
The following two tabs change content below.