7 Best Retinol Creams Available In India
Turn back time and rejuvenate your skin for a flawless, radiant look!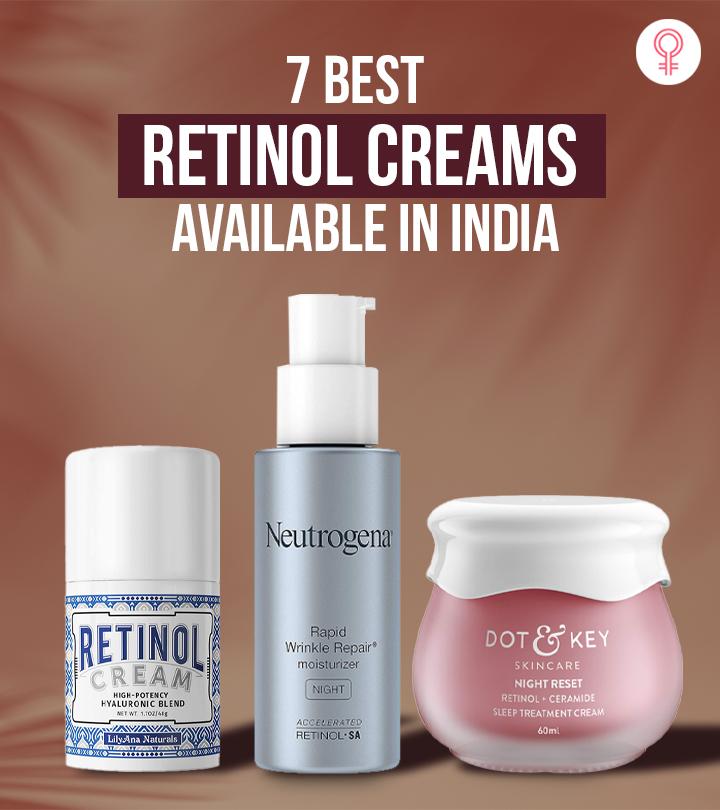 Retinol is a common ingredient found in many anti-aging products. It reverses sun damage (dark spots, fine lines, blemishes, and tan), evens out the skin tone, tightens enlarged pores, improves skin texture, and soothes inflammation. A daily cream is a great way to add retinol to your skin care routine. We have curated a list of the 7 best retinol creams available in India. Scroll down and check them out!
7 Best Retinol Creams In India
The Rapid Wrinkle Repair Moisturizer by Neutrogena is ideal for combination skin types. It is infused with accelerated retinol and other potent ingredients to fight the signs of aging and visibly fade wrinkles, crow feet, and fine lines. It also hydrates the skin and protects it from further damage.
The accelerated retinol is a combination of hyaluronic acid, glucose complex, and retinol SA. Hyaluronic acid helps replenish and rejuvenate your skin, while glucose boosts the retinol's effects on the skin. Retinol SA penetrates deep into the skin surface for optimal results. With regular use, the skin feels younger and smoother.
Pros
Lightweight
Absorbed quickly
Smells good
A little goes a long way
Cons
Price at the time of publication: ₹2321.0
The Retinol Correxion Deep Wrinkle Night Cream by ROC is enriched with an essential mineral complex that smoothens fine lines and fades wrinkles. The non-comedogenic and oil-free formula does not clog the pores and gives the skin a healthy appearance. This overnight skin repairing cream is ideal for those with a sensitive skin. It claims to show results as early as 12 weeks from the first day of use.
Pros
Lightweight
Oil-free
Non-comedogenic
Absorbed quickly
Value for money
Cons
Price at the time of publication: ₹24.97
The Retinol Cream by LilyAna Naturals is specially made for women with acne-prone skin. It is enriched with retinol, botanical hyaluronic acid, organic green tea, vitamin E, organic jojoba oil, and shea butter.
The cream smoothens and improves the skin texture while diminishing fine lines and wrinkles. It penetrates deep into the skin to improve the skin tone and restore radiance. The cream can be used any of the day for skin tightening and optimal anti-aging benefits. It is lightweight and does not create any greasy or sticky feeling post-application.
Pros
Lightweight
Non-greasy
Natural and organic ingredients
No harsh chemicals
Suitable for all skin types
Cons
Price at the time of publication: ₹14.99
The Retinol Face Cream by Wow Skin Science is enriched with aloe vera, shea butter, cocoa butter, almond oil, jojoba oil, Moroccan olive oil, aloe vera, hyaluronic acid, and retinyl palmitate. The retinyl palmitate is a derivative of Vitamin A that removes dead skin cells and protects the skin from sun damage. Aloe vera is rich in minerals and deeply hydrates, moisturizes, and nourishes the skin.
Moroccan argan oil contains vitamin E and fatty acids that deeply moisturize the skin, improve its texture, and boost radiance. The shea butter in this cream is rich in omega-3 fatty acids and phytonutrients that soothe irritated skin and repair damage. This formula fades pigmentation and protects the skin from premature aging due to free radical damage. It also evens out and brightens the skin tone and rejuvenates tired skin.
Pros
Lightweight
Gentle
Non-greasy
Absorbed quickly
No harsh chemicals
Cons
Price at the time of publication: ₹329
The Night Reset Sleep Treatment Cream by Dot & Key is specially made for women with combination skin. It is infused with natural ingredients like hibiscus, marula oil, evening primrose oil, and sea buckthorn berry. The hibiscus extract controls sebum production, unclogs pores, and makes the skin look younger. Marula oil is rich in essential fatty acids and antioxidants that nourish and protect acne-prone and aging skin.
Evening primrose oil moisturizes and soothes the skin to calm redness and irritation. Sea buckthorn berry is rich in vitamin E that hydrates and plumps the skin, while hyaluronic acid firms, hydrates, and brightens the skin. This cream improves skin elasticity, evens out the skin, and fades pigmentation, dark spots, wrinkles, and fine lines.
Pros
Natural ingredients
No harsh chemicals
Gentle
Soothing floral fragrance
Cons
Price at the time of publication: ₹556
The Retinol Advanced Anti-Aging Day Cream by St. Botanica is meant for combination skin. It contains ingredients like hyaluronic acid, retinol, vitamin E, and Matrixyl 3000. The retinol rejuvenates skin and boosts collagen production while smoothening fine lines and wrinkles. Hyaluronic acid deeply hydrates skin and keeps it plump and supple.
Vitamin E is rich in antioxidants and protects the skin from free radical damage. It also forms a protective layer on the top of the skin and seals in moisture. This cream also has SPF 30 that protects the skin from UVA/UVB damage. It is free of any harmful ingredients that may irritate or damage the skin.
Pros
Has SPF 30
Smells good
Dermatologist-tested
No harsh ingredients
Cruelty-free
Cons
Price at the time of publication: ₹629
The Retinol Face Cream by Himalayan Organics contains active botanical extracts that enhance skin elasticity, tighten the pores, and brighten the skin tone. The natural extracts also improve collagen production. This retinol infused cream has anti-aging properties that fight pigmentation, reduce dark spots, and fade fine lines and wrinkles. The formula imparts glow and restores radiance to the skin.
Pros
Lightweight
Non-greasy
Absorbed quickly
Smells good
No harsh ingredients
Cons
Price at the time of publication: ₹799
When used in the right way, retinol can make your skin vibrant. Here is how you can incorporate retinol creams into your skin care routine for better results.
How To Use Retinol Creams
Many complain that retinol irritates or is harsh on the skin. If you overuse retinol, the cell turnover is accelerated, and this makes the skin red and flaky. Use only a pea-sized amount and dab the product on your forehead, cheeks, and chin. Gently massage the product into your skin.
Do Not Forget To Moisturize
Retinols tend to make the skin dry and cause irritation. Follow up with a mild moisturizer that hydrates the skin without reacting with the retinol.
If You Are A Beginner, Start Slow
People tend to freak out when they see any signs of peeling or flaking in the skin. Peeling is a way of the retinol letting you know that it is getting the job done. If your skin gets irritated, you will have to start slow so that it adapts to it.
Start with 2-3 times a week see how your skin reacts to the retinol. Once your skin adjusts to it, start using the cream every alternate night. You will now have an idea about your skin's tolerance to retinol. If your skin reacts well to the retinol, up the usage to every single night.
Retinol makes the skin more sensitive to the sun. Since it dissolves and peels the top epidermal layer, the inner skin is directly exposed to sunlight. This can cause burning and discoloration. Remember to never skip the sunscreen once you start using retinol.
Precautions To Prevent Irritation
In case you have very sensitive skin, always do a patch test first. Dab a little product on the bottom of your jawline and wait for 48 hours. If there are no harsh reactions, you are good to go.
In case your skin gets very dry, flaky, or irritated, stop the treatment for a while. Start again with a lesser amount of the product or a milder concentration of retinol. To ensure the soft and fragile skin around your eyes stays safe, apply a thick moisturizer around the eyes before applying a retinol cream.
Here are a few points to keep in mind while choosing a retinol cream.
How To Choose The Best Retinol Creams
Choose A Concentration Suitable For Your Skin Type
The concentration of retinol in the cream decides its effectiveness. Retinols come in different strengths – the most common ones are 1%, 0.3%, 0.5% and 0.25%. If the concentration is not specified on the label or the description of the cream, it is usually below 0.25%. It is always best to start with a lower concentration and slowly build up to a higher one. If you have oily skin, try a product with higher concentration. Those with dry skin should go for a cream with a lower concentration.
Choose A Retinol Face Cream With Moisturizing Agents
Retinol can make your skin dry, so it is wise to look for a cream that contains moisturizing ingredients like shea butter, cocoa butter, ceramides, or hyaluronic acid. This will moisturize and hydrate the skin while minimizing any irritation.
Steer Clear Of Toxic And Harsh Chemicals
Always check the ingredients before buying a retinol cream. Steer clear of any ingredients that can irritate and damage the skin. Avoid creams with artificial fragrances, parabens, sulfates, silicones, mineral oils, petroleum, and formaldehyde.
Although retinol creams work slowly, the results are worth it. Make sure to choose a cream that suits your skin's needs and type. Now that you know about the best retinol creams in India, pick the one that suits you the best.
Frequently Asked Questions
How does retinol differ from other anti-aging ingredients or treatments?
Retinol works by increasing cell turnover, stimulating collagen production, and promoting skin renewal. This helps reduce the appearance of fine lines, wrinkles, and improve skin texture. Unlike some other anti-aging ingredients, retinol targets multiple signs of aging and can provide more comprehensive results.
Are there different strengths or concentrations of retinol available in creams?
Yes, lower concentrations like 0.025%- 0.05% are typically recommended for beginners or those with sensitive skin. Higher concentrations like 1% or more may be suitable for those who have used retinol before or have more significant skin concerns. It is essential to start with a lower concentration and gradually increase as tolerated to minimize the risk of irritation.
Can retinol creams be used to address specific skincare concerns, such as acne or hyperpigmentation?
Yes, retinol creams are versatile and can address various skincare concerns. Besides being effective against signs of aging, retinol can also help with acne by unclogging pores and reducing inflammation. Additionally, retinol's exfoliating properties can aid in fading hyperpigmentation and promoting a more even skin tone.
Can retinol creams be used in conjunction with other skincare products or treatments?
Yes. Retinol creams can generally be used in conjunction with other skincare products or treatments, but exercise caution. Combining retinol with other potentially irritating ingredients may increase the risk of sensitivity or dryness. It is best to introduce new products gradually and consult a dermatologist if you are uncertain about specific combinations.
Can retinol creams be used during pregnancy or while breastfeeding?
Avoid using retinol during pregnancy and breastfeeding. High doses of vitamin A (retinoids) have been associated with potential risks to the developing fetus. Pregnant or breastfeeding individuals should consult with their healthcare provider before using any skincare product containing retinol.
Recommended Articles